Social housing projects halted by capital shortage
Last update: 11:37 | 12/03/2018
VietNamNet Bridge – People with low-incomes are now confronting a crisis as the preferential loan package of VND30 trillion (US$1.3 billion) for affordable home purchases ended in 2016, with no workable alternative currently on offer.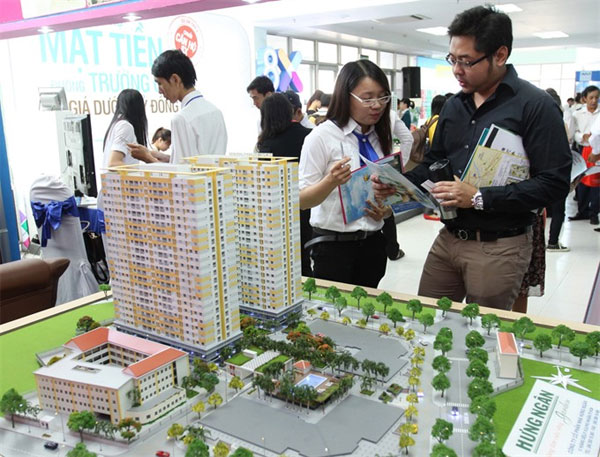 People visit an exhibition on social housing in HCM City. — VNA/VNS Photo Thanh Vu
In April 2017, the National Assembly Standing Committee granted the Viet Nam Bank for Social Policies (VBSP) VND2 trillion ($88 million) to implement the housing assistance programme for those who have contributed to the revolutionary cause. However, both homeseekers and enterprises were unable to access the preferential loans.
Hoang Nhat in Tan Binh District, HCM City, had to get a commercial loan with interest of 8 per cent per year when he bought a social house in Binh Tan District. The bank will cover 2 per cent of the interest for the first two years, but rates could rise after that. Nhat told the Tuoi tre (Youth) newspaper that he was afraid that the loan interest would rise unpredictably and beyond his ability to repay it.
Meanwhile, Nguyen Thi Lan in Binh Thanh District is still waiting for a preferential loan as she needs about VND500 million ($22,000) to purchase a house.
"I would rather wait than take a commercial loan because its interest rate may rise too high," she said.
Truong Anh Tuan, chairman of Hoang Quan Cooperation, said that the lack of preferential loan packages for social home purchases halted their 22 projects of constructing affordable homes. To raise market demand, enterprises have to offer clients interest rate subsidies.
"We are longing for the preferential loan programme. Without it, low-income people struggle to buy social homes," Tuan said.
A representative of Nam Long Investment Holding Company said that in 2018, only VND500 billion ($22 million) was funded for VBSP to support affordable home purchasers with low interest rates. Meanwhile, enterprises cannot enjoy the capital.
Dao Anh Tuan, head of the Student Credit Department under VBSP, said that the Governmental decree issued in 2015 assigned the bank to implement the social housing policy. However, as of 2017, there had been no capital allocated. Capital of VND500 billion funded by the State Bank of Viet Nam (SBV) this year is expected to be lended at the interest rate of 4.8 per cent a year, according to Tuan.
Borrowers include those who have contributed to the revolutionary cause, poor and near-poor households, low-income workers and State employees.
"The capital is the biggest obstruction as VND500 billion will be distributed to 63 localities. The number of people who can approach the loan will be limited," he added.
On the other hand, Nguyen Quoc Hung, head of the Department of Credit under SBV, said that only VND500 billion out of the preferential loan package of VND2 trillion would be disbursed in the near future. The rest will be gradually paid out by 2020.
According to him, the previous package of VND30 trillion has received VND7 trillion ($307 million) of repayment so far.
Nguyen Trong Ninh, head of the Department of Housing and Realty Market Management under the Ministry of Construction, suggested that the SBV fund commercial banks with the preferential capital for social housing as enterprises cannot access loans offered by SBV.
"The only way to help enterprises address financial difficulties is to provide an interest subsidy on loans provided by credit institutions," he said. 
Source: VNS