Hanoi works towards housing for everyone
Last update: 07:35 | 05/03/2018
Khuat Van Thanh, director of Hanoi Department of Labour, Invalids and Social Affairs, talks to the New Hanoi newspaper about the city's resolve to leave no one without a proper dwelling place.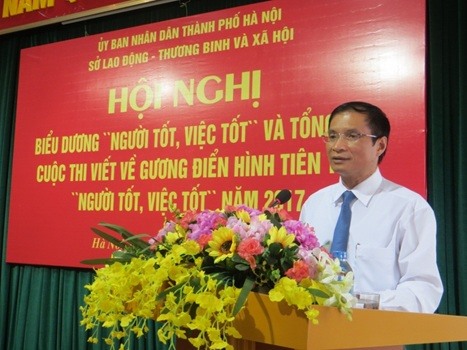 Khuat Van Thanh
What is your assessment of the city's work to help poor households gain decent living places?
With the goal of achieving a sustainable poverty reduction program, the Hanoi authorities have carried out a series of measures to support poor households to escape poverty. However, during the campaign we did face quite a lot of challenges, particularly finding resources to support the poor households to build their own houses or to repair their poor houses.
In the period 2009-11, the Hanoi People's People spent almost VNĐ180 billion ($7.9 million) from its budget while mobilising nearly VNĐ20 billion ($ 878,000) from the general public to build new homes or repair almost 12,300 old houses for poor families. In the period from 2012-17, more than 10,000 poor households in Hanoi received new houses which were built with money raised through various campaigns to help the needy to have a decent life.
Do the city authorities have any plans to support poor households to repair or to build their houses in 2018?
The Hanoi People's Committee has adopted Plan No 29 which is focussed on supporting households that meet the national poverty standards in the period 2011-15 and the Hanoi standards in the period 2011-15 and 2016-20.
Under these programmes, all poor households will receive financial support to repair their houses or to build new houses. We're committed to giving VNĐ45 million ($2,000) for each newly built house and VNĐ35 million ($1,500) for repairing an old house. In addition, each poor household is entitled to borrow VNĐ25 million ($1,100) without paying any interest rate during a period of 15 years if they build new houses. However, from the sixth year of the loan, the owner has to pay back at least 10 per cent of the loan value.
Under the Plan 29, in 2018, more than 4,000 households in Hà Nội will receive financial support from the city to either build or repair their old houses. However, most of the poor households are located in the outlying districts. For example, there are 752 affected households in Ba Vì outlying district, 653 households in Chương Mỹ outlying district, 473 households in Mê Linh outlying district, 467 households in Thanh Oai outlying district and 338 households in My Duc outlying district and others.
What will Hanoi do to achieve the goal of leaving no family without suitable dwellings?
Together with efforts of the municipal People's Committee, the Hanoi Chapter of the Việt Nam Fatherland Front and other mass organisations are committed to putting efforts to mobilise the general public and enterprises in the city to support the Fund for the Poor. For poor households with special circumstances, People's Committees and the Youth Unions at grassroots level will seek financial support to build new homes for them. Of course, such homes are not free of charge. The owners have 15 years to pay for the house without any interest requirements.
Will you please talk a bit further about the scheme to seek financial support to build houses for poor and needy families in Hanoi?
At present, Hanoi has already withdrawn the money from the Trust Fund from the Hanoi Bank for Social Policies to disburse to poor and needy families to either build or repair their houses. To have more money to help poor and needy families to build their new home, we have also called on enterprises and the general public to join hands to support the poor. For example in the "Humanitarian Arms" program last January, we were able to collect more than VNĐ99 billion ($4.3 million) for the implementation of our social security programmes.
We set a target that by October 17, 2018 all poor households will have satisfactory homes either through renovation or new construction.
Together with people nation wide, Hanoi vows to do its best to ensure that the funds raised to help the poor will go directly to the targeted people or households in a transparent and accountable manner. — VNS