Cheers to tears: male alcoholism hurts women
Last update: 06:00 | 05/03/2018
Hoang Xuan Son, an old man, is sitting on the bed to drink a cup of wine, just as he does every day.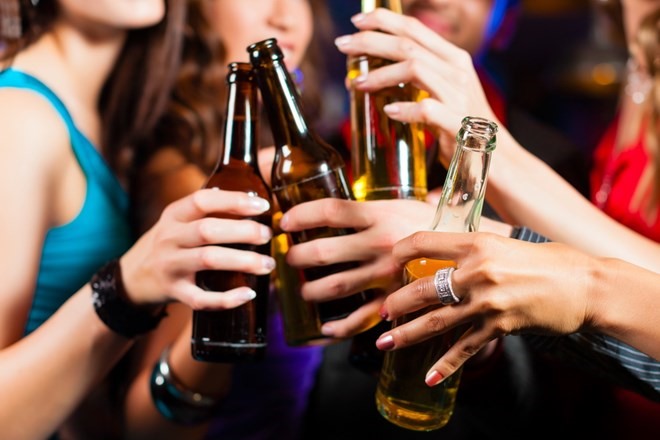 A recent study by the Preventive Health Department has confirmed that alcoholic drinks are the major cause of domestic violence and child abuse in Viet Nam, where beer and liquor consumption has been on the rise. - Photo vietnamplus.vn
The 69-year-old man lives in a small house with his wife on Hanoi's Phung Hung Street.
"I drink alcohol every day. I can not live without it," Sonsaid.
"Everday, he drinks over one litre with some meat only. Sometimes, he does not eat any rice for a week," Nguyen Thi Cay, Son's wife, told the Viet Nam News.
"For many years of drinking, his health has declined sharply and now he cannot walk by himself. He was blind two years ago but definitely not going to see the doctor for a check-up. He is on the bed all day," she added.
Many men drink alcohol every day. They drink for fun, for sadness or for any other reason. The burden weighs on their relatives, especially women and children.
Cậy said she was very sad but she did not know what to do and had to accept this life.
She refuses to buy wine for him so he seeks help from neighbours.
 "If he was too drunk, he shouted and insulted me and our children as well as our neighbours," she laments.
Two years ago, their house caught fire because he smoked while drunk and accidentally let his cigarette drop onto the blanket.
Many men like Son have suffered alcohol-related illnesses.
Nguyen Van Minh (not his real name) is just 48 years old, but he looks like an old man at the age of 60 with a gaunt body.
He is being treated at Addiction Department of the Central Psychiatric Hospital I because his liver was damaged by drinking too much alcohol over a long time. He also suffers kidney and liver failure.
Minh said he began drinking alcohol since he was 20. He was also sacked for drunkenness.
"I drink wine everyday, about two litres a day. I spend all my money on alcohol," Minh told Lao Dong (Labour) newspaper.
"All my family's daily expenses are covered by my wife."
He said he has also been in traffic accidents due to drinking alcohol.
His wife said it took him six months in Hospital 103 to give up drinking. But after coming home for a week, he drank again as soon as he met his friends.
Health experts have raised concerns over the negative health impacts of alcohol after seeing an increased drinking rate among the Vietnamese population and an increased volume of alcohol consumed in the country.
The latest report, produced by Ministry of Industry and Trade, shows that Vietnamese people drank more than 3.9 billion litres last year, a 10 per cent increase over 2016, and it is expected to increase to 4.6 billion litres in 2025, putting the country in the top 10 global consumers of alcohol.
Nguyen Trung Cap, head of Emergency Department of the Central Tropical Diseases Hospital, said that alcohol was an indirect cause for at least 30 diseases affecting many parts of the body including the nervous and digestive systems. Alcohol can severely affect foetuses in the womb, and both the mental and physical development of drinkers.
Every month, nearly 300 patients visit the hospital for liver disease, he said.
Vu Thi Hue, from Yen Bai Province, said her husband was just diagnosed with liver cancer due to drinking too much wine.
She said that he used to drink a lot and often hit her when drunk.
"Now he is ill so I have to work hard to earn money to care for him and our children," Hue said.
A recent study by the Preventive Health Department has confirmed that alcoholic drinks are the major cause behind domestic violence and child abuse in Viet Nam, where beer and liquor consumption has been on the rise. 
According to study, alcoholic drinks contributed to 34 per cent of all reported violence and abuse cases, the Thanh nien (Young People) newspaper said.
Many children said they witnessed or suffered abuse from parents who had alcoholic drinks and also were beaten and suffered physical pain.
Le Xuan Dong, an expert from the Centre for Studies and Applied Sciences in Gender-Family-Women and Adolescents, said to prevent domestic violence, it was important and necessary to limit the use of alcohol, but that that alone is not enough. It would be even more effective if awareness of gender equality was raised to promote the enforcement of domestic violence law.
Some plans to limit alcohol consumption have been discussed. As fortunes rise and interest in beer, cocktails and the like grows accordingly, the public's perception of alcohol consumption will take a long time to change. — VNS