Last update: 19:02 | 12/10/2017
History competition launched for senior high schoolers
A competition on history and national culture yesterdaybwas launched amongst senior high schoolers in public schools and continuous studying centers nationwide. 
Tbe competition has been held by the Communist Youth Union and the Ministry of Education and Training.
The two part competition includes online tests and video clip making. Online tests focus on the Vietnamese history and culture in the curriculum and dates of historic events, heroes, cultural celebrities, and outstanding Vietnamese in various fields of periods.
Total awards are worth at VND378 million ($16,632). In addition to official prizes, the organizer also give prizes to schools with a large number of participants and most video clips.
Hanoi cracks down on criminals
Police in Hanoi will take action against criminals across the city, aiming to prevent and detect those who bring weapons in the crackdown campaign from October 10 to January 10.
Also, police officers will curb criminals from intentionally injuring other, robbing and causing disturbance in public places.
To perform their task, police officers are divided into groups who will raid crowded public places or gather criminals and drug addicts in districts famous for disorders.
Criminal police station set up six groups to maintain order in 12 districts in downtown. As per the plan, over 100 groups of police traveled in street per night to detect criminals and arrest them for further investigation.
Hanoi to build new elevated road
The government of Hanoi City will start work next month on a new elevated road connecting Mai Dich overpass and Thang Long bridge as part of the capital city's third ring road, Dan Tri news website reports.
The Thang Long project management unit under the Transport Ministry said preparations for the project would be finished in a timely manner. The road requires an estimated VND5.3 trillion (US$233.2 million) which is sourced from Japan's official development assistance (ODA) loan and Vietnam's budget.
The four-lane road is 5.3 kilometers long and designed for a maximum speed of 100 kilometers per hour. It is expected to be up and running in early 2020.
The road, when in place, will boost socio-economic development in the west of the city, reduce traffic congestion, and improve its traffic network.
Sawaco proposes to increase water price
Saigon Water Corporation (Sawaco) has completed a water price increase project in the phase of 2017-2020, sent to authorized agencies for consideration, to have funds for improving water supply quality, safety and reducing water loss ratio to below 10 percent.
That was said by deputy director general of Sawaco Bui Thanh Giang a company party committee conference yesterday.
According to Mr. Giang, water loss ratio in HCMC was 42 percent in 2010, reducing to 32 percent in 2013. The ratio quickly dropped during this phase because the city approved new water price list creating funds for the company to implement solutions to tackle the issue. At present, it is still high and unstable at 26.34 percent.
Mr. Giang said that water loss reduction has been insufficient because underground work construction has affected water supply piles.
In addition, when spotting water leaking spots, the company cannot repair it immediately but wait till night to prevent from affecting traffic. This has contributed to the water loss volume increase.
Talking about the target of lowering the ratio to below 10 percent by 2020, Mr. Giang said that was a very difficult mission because of large investment capital, which only looks forward to water price increase.
At the conference, Ms. Vo Thi Dung, deputy secretary of the HCMC Party Committee, appreciated the company's efforts to supply clean water for households in the city and ensure quality.
About water price, the city People's Committee's policy is that the price must be able to make up costs. Therefore, the company's proposal to hike the price is suitable with the policy. Ms. Dung said she would work with the committee about the proposal.
Standing deputy secretary of Sawaco party committee said that Sawaco will continue developing water supply network in the city, striving to obtain the target that 100 percent of households will have clean water.
However, water supply plants' capacity now totals 2.4 million cubic meters a day but they have operated at only 1.8 million cubic meters because underground water exploitation has not reduced as per plan.
Mr. Le Huu Quang, head of Sawaco's customer service department, said that water supply network investment and underground water exploitation control must synchronize and accord plan. However, HCMC has been unable to control the exploitation of underground water.
The number of wells used by residents and businesses in the city has the capacity equivalent to two large water plants. Sawaco has attempted to install water meters for residents but tens of thousands of meters show 0 cubic meters a month.
District 12 has nearly 5,000 water meters, accounting for 15 percent in the district, use 0 cubic meter a month and nearly 21,600, making up 21 percent, run less than 4 cubic meters a month.
Similarly, 22 percent of customers in Hoc Mon district do not use water meters and 34 percent use very little.
Heavier penalties proposed for food safety violations
The Ministry of Health has asked other relevant ministries to join forces to inspect and impose stricter sanctions on food safety infringements, said Nguyen Thanh Phong, director of the Vietnam Food Administration (VFA) at the Ministry of Health.
Phong told the Daily that the ministry is amending Government Decree 38 guiding the implementation of the Law on Food Safety and proposing adjusting Government Decree 178 on financial penalties against violations of food safety regulations.
The HCMC government has informed the Prime Minister of results of the implementation of Directive 13/2016 on tightening of food safety management in the city in the first nine months of 2017.
According to data of the HCMC Food Safety Board, agencies in the city inspected 31,450 individuals and organizations producing food and providing food safety services and detected 9,420 violation cases.
Authorities imposed fines totaling  VND12.5 billion on 3,083 cases, culled some 13,640 cattle and poultry, got rid of more than 9.6 tons of meat and over 14 tons of vegetables in the period. More than 28% of the samples taken from farms and food and foodstuff production, processing and distribution companies failed to meet the food safety and hygiene standards.
HCMC is the first in the country to establish the food safety board, develop a safe food chain, and track the origin of pork and vegetables. However, city authorities said it is tough to control food quality as sanctions on vendors of contaminated produce and fresh food at wholesale markets are not strict enough.
The city has to import large volumes of food and foodstuffs from other provinces as agricultural products produced in the city can now meet 20-30% of local demand. Vegetables can satisfy only 30% of the city's needs, meat 10% and seafood 15-20%, according to the HCMC Food Safety Board.
PM inspects flood response in Ninh Binh province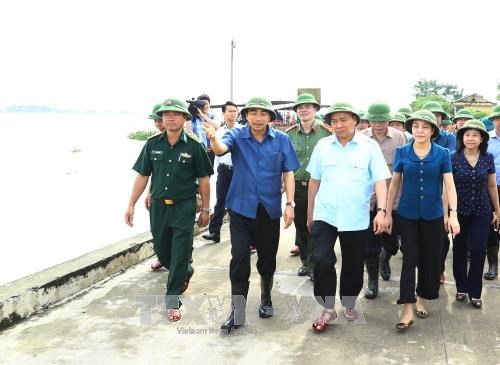 In the face of abnormal and serious flooding over the past few days, Prime Minister Nguyen Xuan Phuc cancelled a scheduled meeting with voters in Hai Phong City to travel to the northern province of Ninh Binh for a check of local dykes on October 12. 
The PM made an inspection of the Hoang Long River dyke which protects Ninh Binh city and National Highway 1A from the swollen river. Water level in the Hoang Long River in Nho Quan and Gia Vien districts reached 5.3m, higher than the record flood level in 1985.
According to Dinh Chung Phung, Vice Chairman of the Ninh Binh province People's Committee and deputy head of the provincial steering board for natural disaster prevention and search and rescue, the provincial authorities are considering allowing flood water to overflow some sections of the dyke to prevent the dyke from breaking. 
PM Phuc asked Ninh Binh to devise plans for rescue operations, evacuation of residents and flood discharge. 
The province was also urged to stay vigilant and keep close watch of dykes, dams and reservoirs in the locality. 
Northern mountainous provinces and part of the central region have been submerged widespread floods caused by in torrential rains on October 10 and 11. 
The death toll climbed to 29 people as of 5 pm on October 11, according to statistics of the National Committee for Search and Rescue. 
The fatalities included eight people in Thanh Hoa, six each in Nghe An, Hoa Binh, five in Son La and four in Yen Bai. 
 21 others are missing, with nine people in Yen Bai and five in Hoa Binh.
HCM City sees low enrollment rate in family health plans
Two years after the southern city of HCM City launched family health insurance plans, family coverage languishes at just 24 percent—a disappointing result that augurs ill for the Government's bid to achieve universal health care coverage by 2020.
The 2014 Law on Health Insurance and other regulations stipulate that under the family or household health insurance plans, every member of a family or household listed in the household registration book (excluding the deceased and the temporarily absent) must buy health insurance. The plans are designed to be more affordable than individual ones, which the Government hopes will spur enrollment.
Larger households pay lower premiums per member instead of paying the full price as each member applies for health insurance individually. The household's first member must pay 4.5 percent of his or her base salary; while the second, third, and fourth members would pay 70, 60 and 50 percent of the first member's required payment, respectively. After the fifth member, each person pays 40 percent of the first member's payment.
Nguyen Thi Thu, deputy director of the HCM City Social Insurance company, said one of the reasons the family plan enrollment rates remained low despite the financial incentives was that many households had unstable incomes. "Signing up for health insurance when family members are healthy often seems like a waste of money," she added.
This creates a problematic tendency for people to enroll in health insurance programmes only when they start to get sick—something that needs to change, especially when all public hospitals and medical centres in the city start to charge uninsured patients the full cost of their care beginning this month, according to Thu.
"The law requires family plan enrollment but since there are no punitive measures for those who don't comply, our hands are tied," Thu said.
In order to achieve universal coverage by 2020 and the target of 70 percent of health insurance card holders enrolling under the family plan, Le Van Phuc, deputy head of the Department of Health Insurance Policy of the Vietnam Social Security, said the most important task was to raise awareness of the benefits of the government-sponsored programme, cut down administrative procedures and improve health services delivery quality.
In addition, Phuc said, local governments must craft policies to support vulnerable demographic groups, such as people over age 70 and households near the poverty line, to ensure 100 percent coverage for these groups.
"With local engagement, social security units, and increased public awareness, I'm confident the health insurance coverage under the family plans would see a considerable improvement," he added.
HCMC removes trees for bridge construction
The Ho Chi Minh City Urban Traffic Management Zone No.1, the Greenery and Park Company and relevant units started chopping down trees along the sidewalks of Ton Duc Thang Street in District 1 yesterday for a new bridge. 
During the first phase of the plan, 258 old trees along the section of Ton Duc Thang Street will be chopped or relocated to facilitate the construction of bridge Thu Thiem 2 which will span over the Saigon River and connect District 1 and District 2.
Those that are unhealthy will be chopped down to reduce risks for passer-by while their healthy ones will be grown at Nong Lam (Agriculture and Forestry) University in Thu Duc District.
The timber will be used to make tables, chairs, and wood sculptures for public service.
Thai Consulate gives US$ 30,000 to poor cancer patients
Thai Consulate-General in Ho Chi Minh City and Department of Economy-finance of the Buddhism Shangha of Vietnam yesterday handed over nearly VND700 million (US$30,000) to poor cancer patients and child patients at the city's Oncology Hospital. 
Ms. Ureerat Ratanaprukse, the Thai consul in HCMC, gave the amount of $20,000 for supporting treatment charges of needy patients and children patients. She said that this fund is one of the charity activities of contribution to tightening friendship between the two countries.
Two gas stations caught selling diluted gasoline
Two gas stations in Diễn Châu and Quỳnh Lưu districts of the central province of Nghệ An have been found selling diluted, low quality A92 gasoline in large quantities.
A working group – including the provincial economic police in coordination with the provincial science department – on October 10, caught red-handed employees of Thanh Ngũ Co Ltd (Diễn Ngọc Commune, Diễn Châu District) offloading solvent-infused gasoline from its trucks to fuel tanks in gas stations, Vietnam News Agency reported.
The Thanh Ngũ company has two fuel tanks; the first one contained 3,000 litres of RON 92 gasoline, while the second one had about 7,000 litres. Inspectors also found two colouring powder bottles.
Vũ Thị Thanh, owner of the company, admitted that the 7,000 litres of gasoline contained in the second tank was not up to standard, and it had been mixed following the 'formula' of 50 per cent RON 92 + 50 per cent solvent, plus some colouring powder.
The driver of the solvent-carrying truck (with a capacity of 40,000 litres) was Ngô Quang Thúc, who worked for Kiên Lục company based in Quỳnh Mỹ Commune, Quỳnh Lưu District.
A follow-up investigation at Kiên Lục Company found another 10,000 litres of substandard RON 92 gasoline and one bottle of colouring powder.
The company confessed it had bought solvents from the southern city of Cần Thơ and then resold it to some to gas stations, while mixing the remaining with RON 92 gasoline to sell to customers.
The company also said it had sold 160,000 litres of solvent to Thanh Ngũ Co Ltd, another 40,000 and 200,000 litres to Kỳ Phương and Sáu Hằng 5 gas stations, respectively – all based in Ngọc Tân village, Diễn Ngọc Commune of Diễn Châu District.
According to the invoice of the Mekong gas company, under the State-owned Cần Thơ Petrolimex, the price for each litre of solvent is VNĐ10,600 (US$0.46), but RON 92 gasoline is nearly double the price, at VNĐ18,000 per litre ($0.79).
The fake gasoline containers, colouring powder bottles, and all related documents have been confiscated. The employees of the two companies have also been suspended, while the gasoline samples are being tested.
A deeper investigation is underway in order to uncover more culprits in this large-scale scam.
A92 gasoline remains the most popular type used in Việt Nam, however, the Government is trying to phase it out starting from 2018 in favour of more environmental-friendly biofuels.
Hungarian pianist performs in town
Hungarian classical pianist Adrienne Hauser will take the stage at the HCMC Conservatory of Music in District 1, HCMC at 7.30 p.m. on the evening of October 12.
Audiences to the upcoming concert will have the opportunity to enjoy some chamber and vocal works by renowned composers such as Franz Schubert, Liszt Ferenc, Antonin Dvorák, Eugen Suchon and Fryderyk Chopin. 
Organized by the Consulate General of Hungary in HCMC in partnership with the HCMC Conservatory of Music, the event is envisaged to mark the milestone when Hungary holds the Visegrád Group presidency during the 2017-2018 period, the Consulate General of Hungary said in a statement sent to the Daily yesterday. 
The Visegrád Group, better known as the Visegrád Four, or V4 is a cultural and political alliance of four central European countries – the Czech Republic, Hungary, Poland and Slovakia – for the purposes of further strengthening their European integration and promoting cooperation.
Born in 1967, Hauser pursued her passion for piano by taking master courses taught by renowned French pianist Yvonne Lefébure in Paris and grasped the third prize at the piano competition of the Hungarian Radio.
She has staged outstanding performances at the Chopin Festival in Poland, the Budapest Spring Festival, International Bartok Festival and Fazioli Festival.
The Hungarian artist is often invited to perform at leading Hungrarian orchestras under the baton of famous conductors. 
Her performance tours to England, Germany, Austria, Bulgaria, Spain, France, Portugal, Poland, India, Sweden, Greece, Italy and Switzerland have heaped praise from the international press and achieved enormous success from the public.
In 1998, Hauser set up the international piano festival called "Piano Feast in the East" in Eastern Hungary where she held the position of the artistic director.
The HCMC Conservatory of Music is located at 112 Nguyen Du Street, District 1, HCMC.
Cao Dai sect celebrates 91st founding anniversary
The 91st founding anniversary of the Cao Dai religion was celebrated in Ho Chi Minh City on October 12.
Head of the management board of the Nam Thanh oratory Nguyen Huu Nhon highlighted the development of the Cao Dai sect and called on Cao Dai dignitaries and followers to promote solidarity and patriotism to build and safeguard the nation.
The Nam Thanh oratory, previously known as Cau Kho oratory, was the founding place of the Cao Dai religion.
The management board of Nam Thanh oratory has actively implemented humanitarian programmes such as providing free health check-ups and treatment and medicines for poor patients.
From 2012 to 2017, the Nam Thanh oratory's health facility provided free examination and medicines for needy people and launched social charitable programmes worth around 3.7 billion VND (over 162,000 USD).
Founded in 1926, Cao Dai is one of the major religions in Vietnam, with 10,000 dignitaries, along with about 2.5 million followers in Vietnam and 30,000 living overseas. The religion has 1,300 places of worship in 37 provinces and cities nationwide.
Vietnam's defense ministry requests tighter management of drones
Vietnam's Ministry of National Defense has suggested tightening management over the use of camera drones throughout the country.
Colonel General Phan Van Giang, deputy minister of national defense, has released a document on the enhanced supervision of unmanned aerial devices and specifically, camera drones.
The use of drones has become quite complicated recently, Col. Gen. Giang said, adding that several users of such devices had failed to seek permission and flown over prohibited areas.
"Opposing forces can take advantage of such activities to capture images and videos, which may be aimed at distorting the truth or spreading propaganda," he said, "and to deploy explosives and harmful substances."
The defense ministry requested in the dispatch that local authorities tighten their management of the production, sale, ownership, and operation of camera drones.
The importation of these devices and related equipment should also be closely monitored, it added.
Using camera drones has become commonplace amongst Vietnamese photographers and filmmakers.
"A flying camera can cost from between a few hundred US dollars to more than $1,000," said a member of the Ho Chi Minh City photography association.
The devices are able to capture stunning photos from the air. Many great videos of famous attractions across Vietnam have been filmed using the so-called flying cameras.
In August 2015, the defense ministry required individuals and organizations to apply for a flying permit for any unmanned aerial device.
The Department of Operations under the General Staff of the Vietnam People's Army is in charge of granting permission for the use of drones, according to Decree No. 36.
APEC Film Week opens in Da Nang
The APEC Film Week 2017 began in the central coastal city of Da Nang on October 12, highlighting the various cultures and peoples of APEC members.
The event, which will run until October 17, aims to increase mutual understanding and expand economic cooperation in Asia-Pacific.
Eleven movies will be screened at the event, including 'My nhan' (Beauty) from Vietnam, 'I'm still here' from Peru, 'Tsukiji Wonderland' from Japan, 'My Paparotti' from the Republic of Korea, 'Children of China' from China, and 'Blue Moon' from Chinese Taipei.
Others such as 'Nokas' from Indonesia, 'The Age of Pioneers' from Russia, 'Jack of the Red Hearts' from the US, 'Violeta Went to Heaven' from Chile, and "The Dressmaker" from Australia are also expected to entertain audiences.
Following the APEC Year 2017 theme of 'Creating New Dynamism, Fostering a Shared Future', the film week is held by the National Committee on APEC 2017 and Vietnam's Ministry of Culture, Sports and Tourism.
Established in 1989, APEC comprises 21 economies, including Australia, Brunei, Canada, Chile, China, Hong Kong, Indonesia, Japan, the Republic of Korea, Malaysia, Mexico, New Zealand, Papua New Guinea, Peru, the Philippines, Russia, Singapore, Chinese Taipei, Thailand, the US, and Vietnam.
Etiquettes in the ancient palace
The talk about the etiquettes in dressing and eating styles of the royal class in Vietnam will take place on October 17 at Hoa Sen University at No. 8 Nguyen Van Trang Street in HCMC's District 1. The event named Etiquettes in the Ancient Palace is hosted by Cultural Community Discourse (CCD).
Researcher Trinh Bach will be the speaker of this program.  Left for the U.S. in 1972, he returned in 1995 and began the process of "digging", researching about royal artifacts from historiography archived in museums, libraries, and families of royal descendants, to arm himself with the knowledge about heritage from the royal palace.
After that, he became one of the key players in archiving materials about cultural etiquettes (mostly clothing and cuisine) in the royal families, as well as preservation and restoration of the Nguyen dynasty's artifacts.
Through the program, the host wishes to provide the audience with basic information on the types of royal traditional attires that the researcher has successfully restored, as well as the intersection between royal attires of China and Vietnam. 
Besides, the audience will get more information about royal dishes, the chefs that are specifically trained to serve the Emperor, how different dishes are used as offering in the royal palace, and examples of certain dishes. 
Languages used in this event are Vietnamese with English translation. The ticket price is VND150,000. The audience can book ticket at http://tinyurl.com/y9r47ut5.
Danang to build books park
The government of Danang City in Central Vietnam in collaboration with Daegu City of South Korea will construct a book-coffee park in the city to create a reading space for local residents and children.
The books park which will be located at Hoa Cuong Cultural House in Hai Chau District, Danang City will feature book titles in Vietnamese, English and Korean languages to meet diverse demands of readers.  
In addition, the park will be equipped with modern facilities to serve the demand for entertainment among kids.
The project costs US$45,000, with US$30,000 sponsored by Korea's Daegu City and US$10,000 coming from the authority of Hai Chau in counterpart funds while the remaining would be mobilized from private businesses.
Party chief meets with Hanoi voters
General Secretary Nguyen Phu Trong shared information regarding the situation in the country, as well as the Party's anti-corruption work over recent times, while leading the delegation of Hanoi's National Assembly (NA) deputies to meet with voters in Ba Dinh and Tay Ho districts, on October 12, ahead of the fourth session of the 14th NA.
At the meeting, the constituents expressed their pleasure at the recent development steps achieved by the country and the capital city, especially the positive outcomes in the Party and State's efforts against corruption, negative acts and wastefulness.
They also voiced their delight at the success of the recent sixth plenum of the 12th Party Central Committee, stating that the session's outcomes will help to create excitement and increase the people's trust in the Party and the State.
The voters called for the acceleration of the anti-corruption campaign, particularly at the grassroot level, whilst touching on many other issues, such as public debts, the equitisation of State-owned enterprises, the alarming deforestation and the downsizing and streamlining of the political apparatus.
General Secretary Trong applauded the wholehearted, frank and constructive opinions raised by the voters, noting that their contributory ideas would be fully noted and submitted to the NA and the relevant agencies for consideration.
The general situation in the country is witnessing a lot of positive transformations, with political, economic and social stability, he said, adding, however, that numerous difficulties and challenges still remain.
With regards to the handling of officials that commit violations, the Party leader shared the voters' stance that serious punishments are not always the best choice, but more importantly, punishments should help to enlighten violators and improve them as individuals.
In the afternoon, General Secretary Nguyen Phu Trong will meet with voters in Hoan Kiem district.
Workshop improves Vietnam's logistics workforce quality
A workshop on improving logistics workforce quality took place in Hanoi on October 12. 
Speaking at the event, deputy head of the Ministry of Industry and Trade's Department of Export-Import Tran Thanh Hai said only 1,300 – 1,500 out of over 3,000 logistics suppliers work actively in Vietnam. 
Though contributing about 2-3 percent of the gross domestic product, the logistics sector is rapidly growing. During 2017-2020, the country needs roughly 20,000 high-quality workers in the field, which is expected to surge to 200,000 by 2030. 
Statistics showed that Vietnam now records 15 logistics training establishments. However, the number of teachers remains limited. 
Asso.Prof Trinh Thi Thu Huong, Vice Dean of the Foreign Trade University's Faculty of Economics and International Business, urged the government to continue facilitating logistics activities while agencies concerned and businesses should work closely together to outline proper training schemes. 
The government should extend international cooperation with tertiary establishments to bring more scholarships to students and lecturers, he said. 
The event was co-hosted by the Ministry of Industry and Trade's Department of Export-Import and the EU – Vietnam Multilateral Trade Project (EU-MUTRAP).
Vietnam, Laos share experience in religious affairs
Vietnam and Laos shared experience in religious affairs at a conference held in the central province of Thua Thien-Hue on October 11.
Chairman of the Vietnamese Government's Committee for Religious Affairs Vu Chien Thang said the event took place at a time when the two countries are celebrating the 55th founding anniversary of diplomatic ties.
The bilateral effective cooperation in various fields, including religious affairs, has contributed to maintaining political stability and boosting social, economic and cultural development in each country, he said.
The Vietnamese Government's Committee for Religious Affairs will do its best to proactively and actively implement already signed agreements to further enhance the efficiency of bilateral cooperation in this sphere, Thang added.
At the conference, the two sides also shared experience in State management of religious activities.
Within the framework of the bilateral cooperation agreement on religious affairs for the 2014-2020 period, Vietnam and Laos have alternately sent nine high-level delegations to each other's nation and jointly organised conferences to exchange religious experience for nearly 100 officials.
The Vietnamese committee also dispatched lecturers to share religious issues at training classes for Lao officials at the invitation of the Lao Front for National Construction.
Work starts on modern cancer hospital in Can Tho
Work started on the construction of a 500-bed cancer hospital in the Mekong Delta city of Can Tho on October 11.
The groundbreaking ceremony was attended by former Prime Minister Nguyen Tan Dung and Szilveszter Bus, Deputy State Secretary of Hungary's Ministry of Foreign Affairs and Trade.
The Can Tho oncology hospital will include four buildings with a total floor area of 44,575 square metres on Nguyen Van Cu street, An Binh ward, Ninh Kieu district. The project has a total investment of 1,727 billion VND (70.5 EUR), of which 56.9 million EUR comes from the Hungarian government's official development assistance.
Addressing the event, the Hungarian Deputy State Secretary said Hungary is willing to provide training and transfer technology in the field for staff of the hospital, he pledged.
Vo Thanh Thong, Chairman of the municipal People's Committee, highlighted the Government's effort in improving the people's health care and protection.
Vĩnh Phúc woman earns billions of đồng from breeding hens
Starting in 2002 by breeding 2,000 hens, Nguyễn Thị Thêu, a woman from northern Vĩnh Phúc Province, now earns about VNĐ5 billion (US$224,000) a year and creates job for dozens of  workers.    
The farm, located on a hill separated from residential areas, at present has 100,000 chickens.
At the farm gate, is a well-designed disinfection system. The gatekeeper, a woman, said the owner was voted as an outstanding national farmer this year and was preparing to go to Hà Nội to receive the award.
The gatekeeper used disinfectant to spray any visitor and his/her vehicle before letting him/her to step into the farm. In the livestock sector, disease prevention is now seen as better than cure.
"Disinfection is part of the regulations. Anyone who wants to visit must go through the disinfection room," said the gatekeeper.
Thêu, born in Bình Định Commune, Yên Lạc District, said that Kim Long Commune, where her farm was located, was the hub of the provincial poultry industry.
According to her, in 1998, her family faced many difficulties caused by the small scale of operations.
Thêu and her husband left their homeland in Bình Định Commune and went to Kim Long Commune to rent a land plot for farming.
At first, her family rented a 10ha hill for breeding poultry. But soon she was able to buy the whole piece of land.
"In the initial period, capital was limited and my family only bred 2,000 hens," she said.
Over the years, the farm has increased its stock to 50,000 hens, she said.
The farm's scale was developing well until authorities in Vĩnh Phúc Province decided to build Tam Dương Industrial Park and her farm's land was needed for the project.
Urgently, she had to seek land to re-establish the farm. After negotiations with Tam Dương District authorities, she rented an 8ha-hill, about 1km from the old farm.
"My family again began excavating a site on the hill to build a new farm. At first, we built four breeding areas designed to hold 10,000 hens each."
The hill was separate from the residential area, so outbreaks of  poultry disease were kept at bay.
Each year, the breeding area was expanded and now, the farm has a total of 22 blocks, holding a total of 50,000 hens. 
Thêu said her family built the poultry breeding farm following a German model. Everything from the cooling system, fan, to the water filtration was in accordance with German standards.
She said that many poultry breeders didn't see the importance of clean feed and water and sanitation facilities. "That is wrong. Good food and clean water will affect the quality of chickens or any other animal."
At the farm, water for breeding chickens passes through a German standard filter system. As a result, chickens are rarely affected by disease. "We save a lot from medicine costs - and poultry avoid the risk of disease."
Thêu has experienced difficult days. Before 2002, the family lost money by breeding poultry and growing fruit trees ineffectively but then decided to buy 2,000 baby yellow-breasted chickens.
No raising techniques were supplied, so she had to read poultry books for more information. "I was lucky to learn how to grow chickens fast and healthy," she said "But a H5N1 flu pandemic killed the whole herd in 2004.
All her efforts ended up buried in lime pits. Her spirit collapsed but then her husband motivated her to carry on.
"The most importance is to know the techniques and strict measures on disease prevention," Thêu's husband said.
A bit sad at remembering the past, her face brightened up when she thought of the present, showing me a newly-built house and a five-seat car, all bought from chicken breeding.
To expand the business, in 2014 her family set up a poultry and aquaculture co-operative.
According to Thêu, after 19 years, she decided to leave her homeland and set up business on new land in the province's Kim Long Commune at a cost of  VNĐ50 billion.
The new farm provided about 50,000 chickens and 10,000 eggs per month. It also creates jobs to 66 labourers with wages from VNĐ4 million to VNĐ6 million, and four agricultural engineers on salaries of  VNĐ10-12 million a month.
Not only has Thêu enriched her own family, she is now selling baby chickens to local households on a 'pay later' basis.
As a result, many families have escaped from poverty and are on the way to enriching their lives.
Additionally, Thêu's family is enthusiastic about taking part in community activities in the district, such as assisting poor and underprivileged families, creating a study encouragement fund for children, donating up tens of million đồng.
In recent years, the farm has become a familiar ddress not only for farmers in Tam Dương District, but also in northern provinces of Lào Cai, Phú Thọ, Tuyên Quang.
After failure and success, Thêu draw from her experiences. "When we do a job, we must put prestige on the top."
Sharing her future plans, she said her family planned to expand domestic-breed chickens, such as the Đông Tảo from Hưng Yên Province, Móng from Hà Nam Province and Yên Thế from Bắc Giang Province to provide baby-chicken sources for farmers.
"Providing good baby chicken at affordable price helps farmers get their business grow," she said simply.
Mashup at Piu Piu
A "Mashup" featuring different genres of music will be held at Piu Piu in Hà Nội on October 21.
City-based DJs and producers Tddchil, Maraphoria, Mike Pham, Starchild and Ivy Phi will play trap, bass, hip hop, funk and soul music.
The show will start at 10pm at 97 Hai Bà Trưng Street in District 1. Admission is VNĐ50,000.
Quốc out for VBA season with injury
Young talent Nguyễn Xuân Quốc of the Thang Long Warriors will miss the rest of the Việt Nam Basketball Association (VBA) League season due to a knee ligament injury.
Quốc suffered the setback during the derby between Hanoi Buffaloes and Thang Long Warriors last Saturday at the Hà Nội University of Education Gymnasium which Thang Long Warriors won 71-61.
Quốc will soon have a surgery in the Philippines and is expected to need several months to recover before returning to competition. 
Phương and Giang win men's doubles title
Nguyễn Văn Phương and Trịnh Linh Giang won the men's doubles title at the National Tennis Championships held at Phú Thọ Tennis Club in HCM City yesterday. The pair, representing the team Becamex Bình Dương beat Lê Quốc Khánh and Nguyễn Hoàng Thiên of Hưng Thịnh HCM City 7-2, 2-6, 10-4 in the final.
In the women's singles final, 16-year-old Savana Lý Nguyễn of the Military team defeated Trần Thị Tâm Hảo of Hưng Thịnh HCM City 6-3, 6-1.
In the women's doubles, Nguyễn Từ Kim Ngân and Savana of Military crushed Trần Yến Nhi and Nguyễn Minh Huyền of Kiên Giang 6-0, 6-1 to take the title.
Today, Giang will face Phạm Minh Tuấn of Đà Nẵng in the men's singles final. Khánh and Hảo of Hưng Thịnh HCM City will fight Trần Thanh Hoàng and Ngân of the Military in the mixed doubles final.
VN needs fungi research: expert
Việt Nam should have a long-term programme on mycological research as the country has a tropical climate, a favourable condition for developing fungi, the chairman of the Vietnam Mycological Association has said. 
"In life, there are millions of various species of fungi. They involve many issues in life, including use as food for humans. Many species cause diseases or are used as medicine," Trịnh Tam Kiệt, chairman of the association, told the Việt Nam News on the sidelines of the Asian Mycological Congress 2017 conference, held in HCM City on Wednesday.
Compared to other countries in the world, Việt Nam's mycological research and application is 50 to 70 years behind, Kiệt said.
Only research on mushroom cultivation and other fungi applications in agriculture are studied in the country, even though Việt Nam has the potential to develop fungi as medicine for treating cancer or other diseases, he said.
The government should increase investment and create long-term, comprehensive programmes related to mycology in many sectors, he said, adding that more scientists in the country should study mycology.
Lê Thanh Liêm, vice chairman of HCM City People's Committee, said the city had recently made several investments in modern scientific facilities, mostly at the Biotechnology Centre and Hi-tech Agricultural Park.
These institutes, with teams of young scientists, have many significant contributions to agricultural science as well as mycology, according to Liêm.
Professor Lei Cai of the State Key Laboratory of Mycology at the Chinese Academy of Science's Institute of Microbiology said: "Diversity of fungi is largely ignored as a public concern", noting that there was a boom in emergent fungal diseases.
The Asian Mycological Congress 2017 was organised by the Mycological Society of HCM City. 
Kiệt of the association said that more than 250 participants from all over the world will have an opportunity to exchange experiences, technology and research work.
The congress, which ends on October 13, is focusing on basic to applied research on fungi in ecosystems, fungal biochemistry and physiology, and mushroom cultivation.
Quintessential musical event with award-winning pianist Van Anh Nguyen
The home of sophistication and elegance, Hôtel des Arts Saigon is thrilled to welcome back the Australian Award-winning pianist Van Anh Nguyen for musical performance with the ultimate pairing of premium Élite wines and exquisite Canapés.
Van Anh Nguyen is a passionate and versatile Australian-Vietnamese pianist, producer, and composer in addition to being a teacher, fashionista, blogger, and model. Incorporating music, fashion, lighting, DJs, and her contagious personality, any concert experience with Van Anh will leave you wanting more, to hear more, and to feel more. At the performance, Van Anh's partner and renowned DJ Mark Olsen will ensure an uplift atmosphere.
Born in 1987 in Sydney to Vietnamese refugee parents, Van-Anh started learning the piano at the tender and astounding age of 15 months from both of her parents (both of whom are professional musicians). By the age of four, she was accepted into the Young Artists Programme for gifted & talented musicians at the Sydney Conservatorium of Music.