Floods reach 40-year historic levels in many northern rivers
Last update: 11:36 | 12/10/2017
The National Centre for Hydro-meteorological Forecasting said flood water in many rivers could rise above the historic levels for the past four decades, urging localities to scale up vigilance.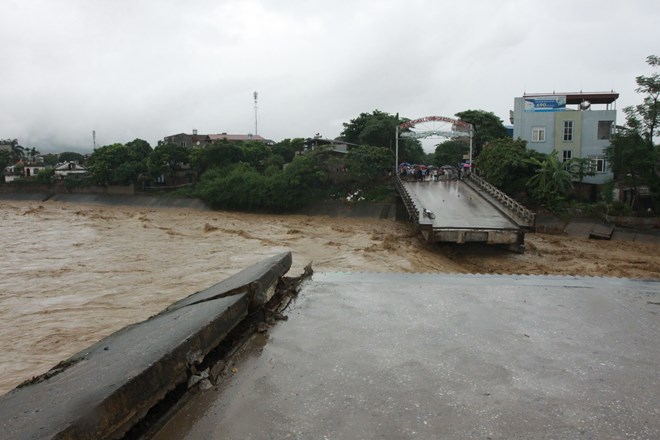 Hoang Long River in Ninh Binh province 
Water level in Hoang Long River in the northern province of Ninh Binh is projected to rise 1.2m higher than Emergency Level 3, the highest alarm level, and equivalent to the record flood level in 1985. 
Flood in the Ma River in the north central province of Thanh Hoa is also expected to reach the record level in 1980, which is one metre over the highest warning level. 
Two other rives in Thanh Hoa,  Buoi River in Thach Han district and Chu River in Tho Xuan district will also experience water level rises of 0.5-1m over the Emergency Level 3. 
Therefore, Thanh Hoa will suffer widespread flooding, while landslides may occur in its mountainous districts of Muong Lat, Thach Thanh, Quan Hoa, Quan Son, Lang Chanh, Ba Thuoc, Cam Thuy, Nhu Xuan, Nhu Thanh, Thuong Xuan, Yen Dinh and Tho Xuan. 
The water level of the Thao River in the northern mountainous province of Yen Bai is also projected to measure a metre above the highest alarm level. 
The level in the Red River in Hanoi may reach 10m, some 0.5 m above the first warning level.  
Aside from flooding, there are high risks of landslides in several northern mountainous provinces like Yen Bai, Phu Tho, Ha Giang, Tuyen Quang, Lao Cai, Son La and Hoa Binh. 
Due to a cold wave and the influence of a recent low pressure system, provinces from Thanh Hoa to Thua Thien-Hue continue to experience heavy rains on October 12, with total rainfall hitting 50-100mm in each locality, and even 150mm in coastal localities like Thanh Hoa, Nghe An and Ha Tinh. 
It is forecast that rains will reduce from October 12 afternoon and stop in the next two days before more rain can come with a new low pressure system at the weekend.
Statistics of the National Committee for Search and Rescue revealed that the death toll in northern mountainous provinces and part of the central region during widespread floods caused by torrential rains on October 10 and 11 climbed to 29 people as of 5 pm on October 11.
The fatalities included eight people in Thanh Hoa, six each in Nghe An, Hoa Binh, five in Son La and four in Yen Bai. 
 21 others are missing, with nine people in Yen Bai and five in Hoa Binh.
VNA