Last update: 15:12 | 04/10/2017
2017 EduCanada Fair in Vietnam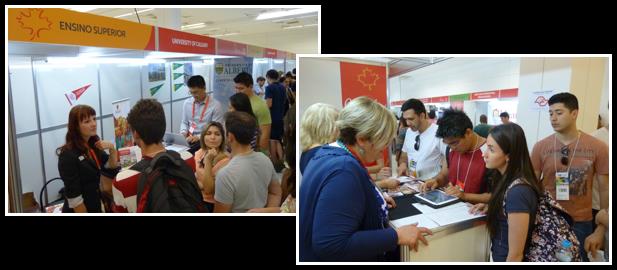 Up to 130 Canadian Institutions will participate in the largest ever 9th Annual EduCanada Fair in Vietnam.
The Consulate General of Canada in Ho Chi Minh City, in cooperation with the Embassy of Canada in Hanoi, is pleased to announce the 2017 EduCanada Fair taking place in Danang, Hanoi and Ho Chi Minh City from October 11 to October 15, 2017, with a record 129 participating Canadian institutions.  
The fairs are open to the public and will take place at Novotel Hotel in Danang on October 11 from 4:30pm to 8:00pm, at Melia Hotel in Hanoi on October 14 from 9:00am to 3:00pm, and at GEM Centre in Ho Chi Minh City on October 15 from 9:00am to 4:00pm.
Representing the full range of education options, from Kindergarten to Grade 12, college and university levels, as well as language programs, the participating Canadian schools are among the country's world-class institutions. 
This year, students will have the opportunity to meet with many of Canada's leading universities such as University of Toronto, University of British Columbia, University of Waterloo, University of Victoria, University of Alberta, Western University, Concordia University, Dalhousie University, University of Manitoba, University of Saskatchewan, York University, and University of New Brunswick, to name a few.
Canada spends more per capita on education than any other G7 country and welcomes more than 350,000 international students every year. In 2016, over 7,500 Vietnamese students were studying in Canada, ranking Vietnam 10th among source countries for international students. 
Canada's education system offers world-class faculty, cutting-edge research, competitive tuition fees, a diverse student population, and opportunities for graduates to gain international work experience.
 According to a 2016 survey by HSBC, Canada ranks 3rd for quality of education, life, and job prospects for international students.
Students and families are encouraged to take this opportunity to meet directly with the Canadian institutions, learn about Canada's education system and study options available, understand the visa application process and work opportunities for international students after graduation, as well as meet alumni and learn about their experience. 
A special seminar on applying for student visas will be led by a Canadian immigration official, aimed at providing the public with transparent and clear guidance on this topic of concern. 
Please visit the following website for the detailed program and list of participating institutions: www.giaoduccanada.org.
Children celebrate Mid-Autumn Festival

Celebrations all over Việt Nam in recent days have aimed to bring a joyful Mid-Autumn Festival to all children, particular those who are disadvantaged or live in the remote mountainous areas.
The biggest lantern parading festival in Việt Nam was held in Phan Thiết City in the central province of Bình Thuận, attracting huge participation of locals and visitors. The parade showcased hundreds of lanterns of all shapes and sizes, made by about 3,000 students from local secondary and primary schools.
According to the organisation board, the lantern parade created opportunities for children in the city to learn about traditional crafts and stories, in addition to promoting tourism in Bình Thuận Province. The festival has also been recognised as the biggest lantern parading festival in Việt Nam by Vietbooks magazine. The lanterns will be displayed on Nguyễn Tất Thành Square in Phan Thiết City from October 22-24, coinciding with Bình Thuận Tourism Day.
On October 2, many gifts were presented to disadvantaged children in the northern province of Ninh Bình and the southern province of Vĩnh Long as part of programmes to celebrate the Mid-Autumn festival. The children who attended the events in the two provinces experienced traditional activities like lion and dragon dancing, lantern parade and traditional games.
On the three nights of September 29, 30 and October 1, a programme entitled Đêm Hội Trăng Rằm (Full-Moon Festive Night) was held for children in remote and mountainous areas in the central province of Bình Thuận. Over 3,000 sets of gifts were given away.
Eighty sets of gifts were also awarded to disadvantaged children who have performed exceptionally well at school, as part of the full-moon festival held in the northern province of Bắc Ninh. In addition, the organization board honoured 72 individuals and groups for outstanding achievements in study, sports, arts and culture in both national and international contests this year.
SOS Children's Village in the southern province of Bến Tre coordinated with Viet Nam's Children Fund and the local Department of Labour, Invalids and Social Affairs to celebrate the festival on October 1. Attending the occasion, Vice Chairwoman of the Vietnamese National Assembly Tòng Thị Phóng and other representatives awarded 300 scholarships and gifts to local disadvantaged children.
On the same day, Phóng attended the programme Thắp Sáng Những Ước Mơ (Lighten up Dreams) jointly held by the Viet Nam Association for Protection of Children's Rights, the Association for Victims of Agent Orange/dioxin and Bến Tre Province's Association for the Protection of Children's Rights. She expressed the affection of state leaders for the 367 outstanding children from Bến Tre, Trà Vinh, Hậu Giang and Tiền Giang provinces. She also called for relevant organisations to work together in ensuring the rights and security of every child, particularly disadvantaged children.
President Trần Đại Quang has sent his warmest wishes to all Vietnamese children at home and abroad, as well as foreign children who are living in Việt Nam, on the occasion of the Mid-Autumn Festival.
In his letter sent to the children, the state leader applauded the children's academic performance at school, particularly those living in flood-hit areas.
"I praise you for your great efforts to become good students. I hope that you will continue to follow President Hồ Chi Minh's teachings to become good citizens and contribute to the building of a beautiful, strong and prosperous Việt Nam," President Quang wrote in his letter. "I wish that you will enter a new academic year with great achievements and celebrate a joyful Mid-Autumn Festival." 
Việt Nam – RoK Friendship Week begins in HCM City

The Việt Nam–Republic of Korea (RoK) Friendship Week was launched on Sunday in HCM City to celebrate the 25th anniversary of diplomatic relations between the two countries as well as the RoK's National Foundation Day (October 3).
The event was organised by HCM City's Union of Friendship Organisations, the RoK Consulate General in HCM City and the Youth Cultural House.
Huỳnh Minh Thiện, the chair of the friendship organisation, and Park Noh Wan, the general consul of the Republic of Korea in HCM City attended the event.
Vũ Văn Hoà, president of the municipal Việt Nam–RoK Friendship Association, said Việt Nam and RoK had achieved progress in improving the two countries' trade, investment, culture and education ties.
While about 140,000 Vietnamese people, including 50,000 workers and 10,000 students, are currently staying in South Korea, about 140,000 Koreans, mostly businesspeople, are living in Việt Nam.
Hoà thanked the RoK Consulate General, the RoK Businesspeople Association and the RoK community in the city for their valuable contributions to the bilateral relationship.
Consul General Park Noh Wan said more such events would connect the entrepreneurs and people of the two countries.
In addition to photo exhibitions capturing memorable moments of Việt Nam and RoK's strategic partnership over the last few years, artistic performances were also highlighted.
On the occasion, the RoK Businesspeople Association in HCM City presented 46 scholarships to university students with outstanding academic records and 20 bicycles to disadvantaged students.
Sharp rise in hand, foot and mouth disease in Cần Thơ

The number of children infected with hand, foot and mouth disease in Cấn Thơ has sharply increased since last month, according to the Preventive Medical and Heath Care Centre in the southern city.
The centre said by last weekend, the number of patients in the first nine months of the year had increased by 13.5 per cent compared to the same period last year. Of the city's nine districts, Ô Môn District saw the highest increase with 78.7 per cent compared to the same period last year.
The Cần Thơ Children Hospital reported it received an average of 100 cases of hand and foot-mouth disease daily, mostly children aged two or three years old from around the 
city and other provinces in the Mekong Delta area including Sóc Trăng, Hà Giang, Vĩnh Long and An Giang.
According to the hospital's statistics, there has also been an increase in the number of infants under a year old hospitalised due to hand, foot and mouth disease. 
Doctors and experts at the hospital appealed for authorities to improve local peoples' awareness of the disease by providing information about preventive medical programmes and helping them get admitted to hospitals in a timely fashion for treatment to avoid severe consequences.

Hà Tĩnh province tackles dengue fever

Authorities in the central coastal province of Hà Tĩnh have taken measures to tackle dengue fever in Thạch Hà District and Kỳ Anh Township.

The provincial's Preventive Medicine Centre has supplied dozens of litres of chemicals to be sprayed to get rid of mosquitoes in areas hard-hit by dengue fever.

Workers from the centre were also dispatched to dengue hotspots to help local residents kill mosquitoes.

A 25-year-old man from the district's Thạch Long Commune was diagnosed with dengue fever on September 22, a few days after which 14 others in the commune contracted the disease.

All the patients were initially treated in Thạch Hà Hospital, three of whom have recovered and left the hospital. Nine others are now being treated in Kỳ Anh Hospital and Kỳ Long Commune's Health Clinic.

Bình Dương kids learn about nutrition, physical development

More than 10,000 students in 12 primary schools in the south-eastern province of Bình Dương attended a programme on nutrition education and physical development which ended on Monday.

The programme, which began on August 28, was held by the province Health Education and Communication Centre in co-operation with dairy company FrieslandCampina Việt Nam.

Educational experts and nutritionists from the centre and company taught the students the basics of proper nutrition and exercising and told them about the benefits of drinking milk.

A child should drink two glasses of milk every day and have physical activities for one hour for comprehensive physical and intellectual development, the experts said.

The students were also taught that they should not skip a single meal. They should eat three proper meals every day comprising all four groups of essential nutrients, namely carbohydrates, protein, fat, and vitamins, they were told.

This knowledge was instilled through interesting talks and plays, with the talks ending with flash mobs.

The programme also provided 10,000 glasses of milk to the attending students.

The programme on nutrition education and physical development was aimed at reducing the rates of malnutrition and obesity among pre-school and school-aged children.

It also hoped to prevent a deficiency of calcium and micronutrients in the children.

It also helped improve their awareness and habits.

The programme was held as part of a campaign called Nutrition-Exercising-Healthy initiated by FrieslandCampina Việt Nam based on the concept of daily diet, nutrition and exercise affecting a child greatly.

According to a survey on nutrition in Southeast Asia conducted by FrieslandCampina Việt Nam in co-operation with Việt Nam's National Institute of Nutrition, more than 50 per cent of children under 12 do not get enough calcium, vitamins A, B1 and C and iron from their daily meals and drinks.

A shortage of vitamin D too persists though the country gets a lot of sunshine.

While rural areas have a problem of malnutrition and shortage of micronutrients, obesity and overweight are on an upward trend in urban areas.

School age is the time for children to rapidly develop their physical strength, brain and personality.

Germany's 27th National Day marked in Ho Chi Minh City

The Consulate General of Germany in Ho Chi Minh City on October 3 held a ceremony to mark the 27th anniversary of Germany's National Day (October 3).

At the event, German Consul General Andreas Siegel stressed that Vietnam and Germany have seen development in cooperation in politics, economics, culture, science and education over the years. 

Close collaboration will help both sides to enhance bilateral relations, economic relations and aid the two peoples in the future, he underscored.

On the occasion, Huynh Cach Mang, Vice Chairman of the municipal People's Committee, said that Ho Chi Minh City is proud to made contributions to Vietnam-Germany relations, which were elevated to a strategic partnership in 2011.

Over the years, the Vietnamese southern hub and German localities have bolstered delegation exchanges and enhanced cooperation in various fields, he stated, adding that Germany is the sixth largest trade partner overall and the biggest trade partner in the EU of Ho Chi Minh City. Two-way trade in 2016 reached 1.93 billion USD in 2016, he said.

Netherlands readies to support HCM City's climate change adaptation

The Netherlands is willing to share experience and cooperate with Vietnam's southern economic hub of Ho Chi Minh City to cope with climate change.

Dutch Ambassador to Vietnam Nienke Trooster made the remark at a meeting with Secretary of the municipal Party Committee Nguyen Thien Nhan in HCM City on October 3.

New Consul General of the Netherlands in HCM City Carel Ritcher was also present at the event to discuss issues of mutual concern.

The Netherlands is helping HCM City carry out projects on water resources management, flood prevention, climate change adaptation, and saltwater intrusion.

Ambassador Trooster said a regulated reservoir – a joint project between Rotterdam city and HCM City – in District 4 is expected to help the Vietnamese metropolis prevent flooding.
Dutch experts will provide Vietnamese project staff with solutions to prevent subsidence, saltwater intrusion, and manage water resources, she added.

She lauded the cooperation potential between the Netherlands and HCM City and hoped Dutch businesses could cooperate and invest in the city in fields such as aviation and semiconductor production.

Vietnam, US share experience in criminal law enforcement

Law experts of Vietnam and the US are taking part in a seminar that opened in Hanoi on October 3 to gain an insight into each country's criminal laws and judicial procedures and share experience in law enforcement.

Trinh Xuan Toan, head of the Office of Vietnam's Central Steering Committee for Judicial Reform, said the two-day seminar is the first of its kind on criminal laws and judicial procedures between Vietnam and the US. It is part of activities to implement the two countries' cooperation in human rights and judicial reforms promotion, and law enforcement and criminal justice support, agreed during a visit to Vietnam by then US President Barack Obama in May 2016.

He stressed that judicial reform is one of the critical tasks in the building of a socialist law-governed State of the people, by the people and for the people. Since a judicial reform strategy was issued over 10 years ago, Vietnam has amended and issued a number of legal documents on the apparatus of agencies with judicial activities. It has also revised policies on the training, selection and appointment of judicial officials.

Judicial activities have had better quality and approached the targets of protecting justice, human rights and the rights and legitimate interests of agencies, organisations and individuals, he added.

Brett Blackshaw, US acting vice ambassador to Vietnam, welcomed Vietnam's efforts in law system perfection and judicial reforms to better ensure the fundamental rights and freedoms for all people in line with the 2013 Constitution.

The US government pledges to provide maximal assistance for Vietnam in judicial reforms so as to enhance the two countries' relations, he noted.

At the two-day seminar, the Office of the Central Steering Committee for Judicial Reform will give an overview of Vietnam's criminal justice system and new revisions to the Penal Code, the Criminal Procedure Code and relevant legal documents. US experts will talk about ensuring equality among parties during trials at US courts, operations of investigation and prosecution agencies, and the apparatus and operations of agencies with legal aid activities, among others.

Participants are set to discuss issues of shared concern, including Vietnam's criminal laws and judicial procedures and the US's experience in criminal justice. They will also suggest solutions to increase the quality of criminal justice law enforcement in Vietnam.-

WB releases report on expanding opportunities for the urban poor

The World Bank on October 3 announced its report "Expanding Opportunities for the Urban Poor" through a video conference connecting its offices in East Asian-Pacific countries, including Vietnam. 

Speaking at the event, WB Vice President for the East Asia-Pacific Victoria Kwakwa said the common challenge is how to bring opportunities to people in cities, from migrant workers living in the suburbs to underpaid workers in factories, so that they could benefit more from urbanisation and contribute to stronger growth. 

WB urban development expert Judy Baker, author of the report, said rapid urbanisation poses both challenges and opportunities, adding that measures to improve urban inclusion are practical, effective and necessary. 

The report said Vietnam's urbanisation is growing rapidly by 3.2 percent annually, doubling population growth of the country, mostly in Hanoi and Ho Chi Minh City. Up to 23 percent of young people aged 15-21 have moved to urban areas over the past five years. 

It underscored the need to take a flexible and multidimensional approach to controlling housing supply, facilitating the supply of low-cost housing and involvement of private firms in home building and rent, and linking transport with outlying areas.

According to the report, the 3 percent urbanisation growth in the region has lifted 655 million people out of poverty over the past two decades. However, the number of regional people living in slums is the highest worldwide. Up to 250 million people live in cramped living conditions with the shortage of necessary services and could face risks regarding flooding. 

It urged municipal authorities to adopt multidimensional approach to planning, considering economic, regional planning, social inclusion issues to promote economic growth and reduce poverty. 

The report suggested connecting poor workers with labour market, investing in synchronous planning, respecting citizens' rights to cities, strengthening local governance, building a data system to help citizens make evidence-based decisions, among others. 

Hanoi steps up cooperation with Belgian localities

Belgian businesses and localities are expected to boost cooperation with Hanoi in healthcare, cultural heritage preservation, and environment, according to a city official.

At a meeting with Belgian Secretary of State for Foreign Trade Pieter De Crem in Hanoi on October 3, Vice Chairman of the municipal People's Committee Nguyen The Hung said the city will create the best conditions for Belgian firms to explore the market.

He thanked Belgium for helping Hanoi upgrade the Imperial Citadel of Thang Long and implement clean water projects.

Hanoi will work with the Embassy of Belgium in Vietnam to celebrate the 45th founding anniversary of Vietnam-Belgium diplomatic relations in 2018, he added.

De Crem said his visit to Vietnam aims to enhance trade between the two countries and between Belgian localities and Hanoi.

He hoped the two countries' enterprises will have enjoy win-win cooperation in the future.

Vietnam's longest 3D painting amazes locals in Hanoi

A massive 3D painting, considered the longest of its kind in Vietnam, on corrugated galvanized iron has attracted attention in Hanoi with its lively depiction of the country's traditions, folklore and attractions.

The artwork, measuring over 300 meters long and standing some three meters high, is composed of 40 paintings completed on metal sheets running along the entrance to the Goldmark City condominium on Ho Tung Mau Street in Bac Tu Liem District.

Twenty artists were involved in the piece, which took roughly a week to complete.

The four themes of Vietnamese folklore, the Mid-Autumn Festival, Dong Ho painting and scenic attractions in Vietnam are brought to life in colorful 3D paintings that have wowed locals since they first appeared.

The Mid-Autumn Festival, typically celebrated on the 15th day of the eighth month in the lunar calendar, is a special occasion for families in Vietnam.

This year, the celebration falls on October 4, when the harvest moon reaches its fullest.

Dong Ho painting is a style of Vietnamese folk painting originating from Dong Ho Village in northern Bac Ninh Province.

The woodcut art is adorned with elements of everyday life to express the thoughts and wishes of the Vietnamese people, and considered a reflection of traditional esthetic value, common social philosophy, and the humanitarian desires of the people.

"The paintings are intriguing, in both esthetic and educational terms," said Mai Viet Dung, a 27-year-old from Hanoi. "I only wish there were more paintings that depict the lifestyle and customs of different regions of Vietnam."

"I think the paintings have been done with care," said Nguyen Bich Khuyen, an undergraduate at the Hanoi University of Culture. "I will definitely revisit this place with my friends for some group photos."

The collective artwork has been confirmed as the longest 3D painting in Vietnam by Vietnam's Book of Records (Vietkings).

HCM City expects to welcome more foreign visitors later this year

The number of foreign arrivals to Ho Chi Minh City is likely to rise by 20-25% compared to the same period last year based on tours which have been booked for the latter months of the year, according to travel operators in the city.

A representative from Fiditour said that markets will see an increase in visitors from the EU, Australia, the US and China while a representative from Vietravel said they are predicting a year on year rise in visitor numbers from China and Southeast Asia. 

Bui Ta Hoang Vu, Director of HCM City Department of Tourism, said the City plans to launch a string of events and festivals to promote its charming beauty and attract more visitors for the remaining months of this year, such as Nghing Ong Festival and the International Marathon.

According to the General Statistics Office of Vietnam, Vietnam welcomed more than 9.4 million foreign tourists during the first nine months of this year, up 28.4% against last year's corresponding period.

Nghinh Ong festival kicks off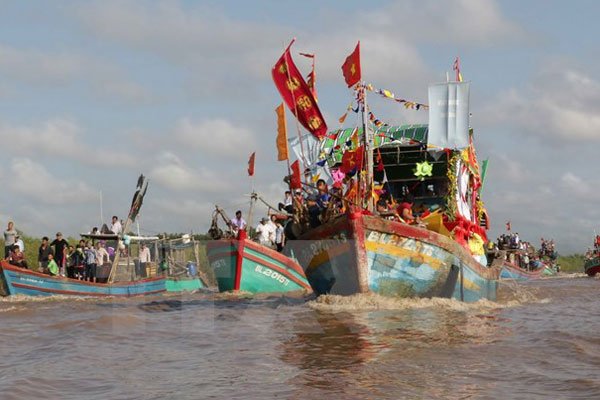 The 2017 'Nghinh Ong' (Whale Worship) Festival kicked off in the coastal town of Can Thanh, Can Gio district, Ho Chi Minh City, on October 3.
The annual festival is an event for fishermen to show their respect for the whale and their gratitude for a bumper catch. In 2013, the festival was officially regconised as a National Intangible Cultural Heritage by the Ministry of Culture, Sports and Tourism.
Speaking at the opening ceremony, Huynh Thanh Nhan, director of the Ho Chi Minh City Department of Culture and Sports, said that, with aim of promoting the traditional value of folk festivals, this year's Nghinh Ong festival features many activities in commemoration of the soldiers who sacrificed their lives to protect the country, as well as commemorating the founders of the land. The event is considered as an opportunity for local people to introduce their history, culture and destinations to visitors, he added.
The three-day festival, from October 3-5 (the fourteenth to sixteenth days of the eighth lunar month), features a series of rituals and festive activities, including a pilgrimage to Rung Sac (Sac Forest) War Martyrs Cemetery to remember the soldiers who sacrificed their lives to protect the country, a rite to pay tribute to the founders of the land and a ceremony for local fishermen to celebrate their bumper catch.
The organisers will organise exhibitions showcasing photos and objects of the Can Gio Mangrove Biosphere Reserve and the fishing activities of local fishermen and arrange a cuisine street to introduce the specialties of the coastal district.
The event will also feature a procession from the sea to Ong Thuy Tuong Temple (Temple Worshiping the Whale), a release of lanterns on the sea, folk games, lion dances and other traditional performances.
The event is expected to attract around 100,000 visitors.
Publishing sector struggles to promote Vietnamese literature abroad

In the context of international integration, the Vietnamese publishing sector has struggled to promote Vietnamese literature abroad due to their unprofessional working manner and the lack of a long-term vision. A functional agency, the provision of favourable policies by the Government and a strong staff of translators are required to further advertise Vietnamese publications to readers worldwide.
Vietnam joined the Berne Convention for the Protection of Literary and Artistic Works in 2014 and became a member of the World Trade Organisation two years later. The country is also a member of the Asia Pacific Publishers Association (APPA), the ASEAN Book Publishers Association (ABPA) and the International Standard Book Number (ISBN).
Vietnam's membership status in the organisations is of significance to the creation of a favourable environment for the development of Vietnam's publishing sector in the international integration process.
Since 2007, the Vietnamese publishing sector has participated in international book fairs and exhibitions in Germany, Russia, China, Cuba and the US with its own booth as an official member. Previously, Vietnam only showcased their publications at booths of other publishers at such events or attended them under the sponsorship of friendship organisations.
In addition, Vietnam has also been active at book fairs in Russia, China, France, Germany, Denmark and Sweden, where Vietnamese publishers and book distributors have sought cooperation with international partners and introduced Vietnamese publications to book distributors in the host countries.
Participating at international book fairs provides a good opportunity for the publishing sector and those working in the sector to promote the culture, land and people of Vietnam to international visitors.
In the domestic market, the annual Vietnam International Book Fair and Exhibition, hosted by the Ministry of Information and Communications, together with book fairs in Hanoi and Ho Chi Minh City have contributed to raising the habit of reading among people from all walks of life and broaden the understanding about Vietnam among visitors, foreign students, researchers on Vietnamese culture and foreigners who are working and living in Vietnam.
However, the organisers in Vietnam have not yet fully taken advantage of the opportunities brought about by the book fairs as they have been solely interested in inviting as many as foreign publishers to the event as possible rather than boosting activities related to the sale and transfer of copyrights in the book publishing industry.
The organisers have also not noticed the fact that not all publishing houses own the copyright of the books they release as the selling and transfer of the books are in the hands of book companies. Therefore, by sending invitations to publishers and writers without inviting book companies to the book fairs, the organisers have narrowed the success of book publishing rights activity.
In addition, a number of Vietnamese book companies have shown a one-way vision in their operations. Instead of promoting and advertising the copyrights of Vietnamese publications in order to introduce Vietnam to the world, they have only tried to win the copyrights of the world's best-selling books and publish them in Vietnam, which has led to the modest number of Vietnamese books being released abroad.
Three major solutions have been suggested to address the shortcomings witnessed in the popularisation of Vietnamese publications to the world.
Firstly, there is an urgent need of a functional agency which should design a long-term strategy for promoting Vietnamese books among international readers. It is not necessary to establish a brand new agency of its kind as one of the State-run organisations and agencies, which are currently tasked with managing and directing the publishing sector, can be used.
The agency will compile a list of of selected Vietnamese publications to be translated into foreign languages, supervise and assess the translation, and then hold promotional programmes to popularise the books abroad. The agency's operation will be funded from the State budget and other non-State financial resources.
In many ASEAN countries and others around the world, the work is assigned to the publishing association of the country under the sponsorship of the Government. In 2015, the Indonesian Government spent US$ 15 million for the national publishing association to attend the Frankfurt Book Fair as a Guest of Honour. Previously, the association received US$ 4 million from the Government to translate 100 outstanding Indonesian literary works into English and German, in order to promote the works at the Frankfurt Book Fair. The investment then contributed to a two-fold growth in the tourism revenue of the country two years later.
Secondly, it is important to create a strong team of translators in English and other commonly-used foreign languages, such as Russian, Chinese, France, German, and Spanish. Experts who are fluent in foreign languages and experienced in the field of copyrights are also crucial to boost the purchase and exchanges of copyrights of Vietnamese publications.
The building of supportive policies and mechanisms for the publishing sector are also required to foster the popularisation of Vietnamese books abroad. We can learn experience from the foreign embassies in Vietnam, which established a fund to assist the translation, promotion and publication of their literary works in Vietnam. If Vietnamese embassies abroad can perform the same tasks then Vietnamese publications can certainly find a position in a foreign readers' reading list.
In addition, Overseas Vietnamese, particularly writers, translators and students who have made efforts to promote Vietnamese literature should be promptly honoured to encourage their further contributions to the work.
Substandard cosmetic producers fined for violations

Inspectors from the Department of Health in Ho Chi Minh City yesterday issued fines to several substandard cosmetic manufacturers which committed violations.  
Thai Ngoc Nguyen Company in 116 Cau Xeo Street in Tan Phu District received a fine of VND125 million ($5,500), Tung An Commercial Company in 113 Le Lam Street in Tan Phuc District was fined VND80 million, Loi Phong Company in F2/44B village 6 in Binh Chanh District was asked to pay a fine of VND60 million and Minh Phuoc in 1055/77 Quang Trung Street in Go Vap District was fined VND30 milion.
All above-mentioned companies were fined because their product information file failed to meet the requirement, its content was adjusted without authority's permission.
Moreover, they did not follow Good Manufacturing Practices (GMP) of cosmetic products or equal level; additionally, they put on advertising whose content had not been censored by authority.
On the same day, informed by residents, health inspectors paid unscheduled visits to three dental officers in Tan Binh District detecting that they were operated illegally.
When inspectors asked the licence, three dental officers representatives could not show license and practicing certificates; accordingly inspectors asked Anh Linh Dental office in 57 Banh Van Tran Street in ward 7; Phuong An office in 95 Bau Cat Street in ward 14 and Nhan Tam in 22 Pham Van Bach Street in ward 15 to stop operation until they have license.

Preschoolers receive lunch support of $5.2

As per the new guidance of inter-departments of Education & Training; Finance and Labor, Invalids and Social Affairs, preschool students in private and public facilities would receive lunch support for full-day .
 
The government will give support to four types of special preschoolers. Kids aged three to five study in preschools; kids whose parents live in island, mountainous or disadvantaged districts, orphans and kids with disabilities and kids from low-income families will receive support of VND120,000 ($5.2) for lunch.
The support will be in nine months. Each case will be supported in three years for maximum.
The expenditure is taken from the state budget revenue plan for the education sectors and from district budget.
Public preschools will receive the amount to spend gradually or give directly to kids' parents while private facilities, the departments of education and training receive the amount and they will work with schools to implement the guidance.
Poor kids welcome Mid-Autumn Festival on Book Street

More than 800 disadvantaged children from open homes and shelters in the city and neighboring provinces late last week participated in scores of exhilarating activities to welcome the Mid-Autumn Festival on Nguyen Van Binh Book Street in HCMC's District 1.
The two-day event titled "Trung thu mo uoc" (Mid-Autumn Dreams) was filled with laughter of young kids from low-income families and has heaped praise from not only local residents but also international visitors by humanitarian values and the jubilant atmosphere.
Despite unfavorable weather with heavy rains, hundreds of children had tons of unforgettable memories and wonderful moments to enjoy a huge range of activities such as traditional folk games, lantern decoration, statue painting, drawing and story-telling. 
Notably, those kids aged between four and 16 jumped for joy when admiring sparkling lion dance performances, magic shows and music programs.
Those kids attending the two-day event brought home their favorite books donated by bookstores on the book street as a special gift for the Mid-Autumn festival while city dwellers and those from abroad to the event grasped a chance to purchase books with discounts of 10% to 30%.
Hoang Minh Phuc, a ten-year-old student from Anh Linh shelter in HCMC's District 7, explains to the Daily at the event on Saturday that he had an unforgettable experience of celebrating early Mid-Autumn Festival with his peers and teachers on the crowded and busy book street with exciting games and nice gifts, helping him preserve a beautiful memory in his childhood.
Meanwhile, Tran Thi Mai, a 27-year-old teacher from SOS Go Vap Children's Village in HCMC, says the annual event is really a meaningful social activity to bring joy to unlucky kids on the occasion of the traditional festival and nurture the love of reading among youngsters, adding that more entertainment activities dedicated to underprivileged children will be held in the coming time.    
Organized by the HCMC Book Street Company Limited in partnership with the 24-hour Book Company Ltd, the annual event has received generous support from businesses and organizations, proving efforts of the community to bring sweet smiles for less fortunate kids and contribute to promote the reading culture among children. 
The book street on Nguyen Van Binh road in close proximity to two of HCMC's landmarks, the Post Office and the Notre Dame Cathedral, was opened for public viewing in January last year. Since then, the site has become increasingly popular among local youths, students, photographers and foreign tourists, especially bookworms.
Japan needs more nurses and caregivers from Vietnam

The Ministry of Labor, Invalids and Social Affairs plans to recruit 240 nurses and paramedics who will be sent to Japan as guest workers in a program under the Vietnam-Japan economic partnership agreement.
Chosen candidates will attend a free 12-month Japanese language course, according to the ministry.
The Overseas Labor Management Department under the ministry and Japanese agencies will introduce qualified candidates to Japan's hospitals and healthcare facilities.
Vietnamese nurses can get a monthly salary of 130,000-140,000 Japanese yen (US$1,152-1,241) while the average monthly pay for paramedics is 140,000-150,000 yen. In case they can get career-training certificates and are offered official positions, their incomes would double to 270,000-300,000 yen a month.
Since 2012, the department has joined hands with Japan to recruit and organize five Japanese language courses for 960 nurses and paramedics. Of them, 673 graduates are working at hospitals and healthcare centers in the Northeast Asian country.
Those interested in the program should submit their application to the department at 41B, Ly Thai To Street, Hoan Kiem District, Hanoi City from October 2 to October 22. The ministry will organize entrance examinations in Hanoi on November 11 and HCMC on November 13.
  
VNA/VNS/VOV/SGT/SGGP/TT/TN/Dantri/VNEVET