Last update: 15:57 | 12/09/2017
Prime Minister urges accelerating university project in Hoa Lac
Prime Minister Nguyen Xuan Phuc has urged accelerating land clearance for the construction of the Vietnam National University-Hanoi, which is at the core of a planned university town in Hoa Lac area, Hanoi's suburban Thach That district. 
At a working session with Hanoi officials and the management of the university on September 12, the PM reiterated the Government's resolve to build the town. 
Under the approved project, the Vietnam National University-Hanoi campus in Hoa Lac, 30km to the west of Hanoi, will cover 1,000 ha, housing 8 member schools, five research institutes, 10 research training centres and other facilities. It will provide working and accommodation space for around 63,500 students and 6,550 staff members. 
The project was started in 2003 but has been stalled due to problems in land clearance and capital arrangement.
The PM stressed that the Government will support the university in the hope that it will be the locomotive for tertiary education in the country.  
He listened to and gave opinions on the university's proposals on adjusting the detailed construction planning and building a specific financial mechanism for its operation. 
The Vietnam National University-Hanoi, ranked 139th in Asia last year, currently has 29,397 undergraduate and 7,729 postgraduate students. It is now Vietnam's largest university.
Vietnam sends nearly 79,000 workers abroad in 8 months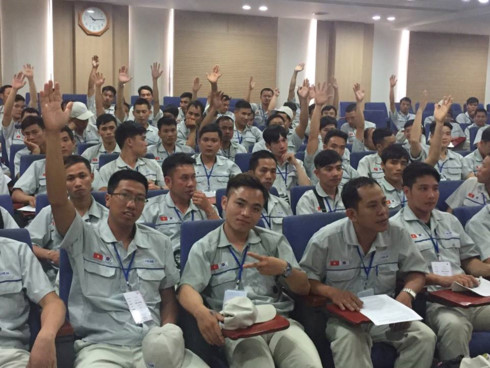 Around 78,938 workers, including 29,496 women were sent abroad to work as guest workers in the first eight months of this year.
The number reaches 75.16% of this year's plan, according to the Overseas Labour Management Department under the Ministry of Labour, Invalids and Social Affairs.
Taiwan was the largest employer with 39,746 Vietnamese guest workers, followed by Japan with 31,225.
In August alone, 9,989 workers, including 3,448 females went to work abroad, 5,881 of whom went to Taiwan and 3,482 to Japan.
Other countries like Saudi Arabia, Malaysia, Algeria, and Turkey received Vietnamese workers but just a few. Particularly, the Republic of Korea, as the traditional employer, only received 153 Vietnamese workers.
Hanoi to have more waste-to-energy plant
A waste treatment plant capable of generating electricity will be built in Nam Son waste treatment complex in Hanoi's suburban Soc Son district.
An agreement to this effect was signed in Hanoi on September 11 by the Hanoi Urban Environment Company (URENCO), the T&T Joint Stock Company, and three enterprises from the Republic of Korea (RoK), namely Sudokwon Landfill company, the Korea Engineering Consultant Corps and the Samyoung Plant.
URENCO General Director Le Anh Tuan said the project, approved by the Hanoi Party Committee early this year, has total cost of over 13.1 million USD, funded by the World Bank and the RoK's Ministry of Environment.
The construction of the facility will take 15 months.
Once completed, it is expected to produce 5MW of electricity annually for 15 years.
Mekong festival debuts in Germany
The Mekong Ländertag (Mekong Subregion Festival) was held on September 10 at the Templehof-Schoneberg community college in Germany.
This biennial event was organised by the community college and friendship associations between Germany, Vietnam, Laos, Thailand, and Cambodia.
Jutta Kaddatz, head of culture and education at Tempelhof-Schöneberg district in Berlin, Germany, stressed that the local government supported the event.
The festival was also an opportunity to promote the images of the Greater Mekong Subregion countries and their people, and contribute to enhancing mutual understanding and cooperation in the region. 
Seminars on overseas Vietnamese workers in Germany and their integration into the host society were held in the Vietnam Cultural Space Pavilion. Additionally, Wilfried Lulei, Chairman of the German – Vietnam Council shared his personal experiences on the landscapes, people, culture, and politics of Vietnam at the seminar.
The event also featured traditional art shows of Vietnam, Thailand, Laos and Cambodia. A photo exhibition, titled "GLAD to be here", running until October 20 also formed part of the festival. Siegfried Sommer, Chairman of the Germany-Vietnam Friendship Association, said the event helps to deepen the friendship between Vietnam and Germany.
Vietnam, Cambodia news agencies eye tightened connections
The Vietnam News Agency (VNA) and Cambodia's news agency Agence Kampuchea Presse (AKP) discussed measures to elevate bilateral cooperation during talks in Hanoi on September 12.
The two sides also informed each other about their respective development in recent years and reviewed the implementation of existing cooperation agreements.
VNA Deputy General Director Nguyen Hoai Duong welcomed the AKP delegation's visit, which took place during the Vietnam-Cambodia Friendship Year marking the 50th founding anniversary of the two countries' diplomatic ties.
He noted that aside from using the AKP's information, the VNA has reported on Cambodia's situation and bilateral relations in a timely, precise and objective manner.
In the Vietnam-Cambodia Friendship Year 2017, the VNA opened a column on 50 years of the two countries' relations on its news outlets, providing updated news and information for the Foreign Ministry and domestic and foreign press agencies so as to enhance the effectiveness of communication about the countries' special ties.
The Deputy General Director voiced his belief that the VNA-AKP cooperation will continue to be strengthened, helping to develop their countries' friendship, cooperation and mutual assistance.
The VNA is also ready to share development experience with the AKP, he added.
At the talks, AKP Deputy General Director Keo Chandara thanked the VNA for supporting and cooperating with his agency, recalling how VNA experts had wholeheartedly helped the SPK, the predecessor of the AKP, during its first days. 
This assistance and sentiment are a symbol of the friendship between the two agencies as well as between the two countries, he said, expressing his hope for stronger cooperation, especially in personnel training and technical support.
The two deputy general directors also agreed on ways to step up the effectiveness of text and photo news exchange. In the short term, the two sides will work closely in the supply and use of information about the APEC Economic Leaders' Meeting, which will be held in Vietnam's Da Nang city later this year.
On the occasion, the VNA presented technical equipment as gift to the AKP.
Hanoi's new rapid bus route showing signs of overloading: report
Hanoi's new Bus Rapid Transit (BRT) route is becoming overcrowded during rush hours, the city's Department of Transport said in a report September 10.
The buses have a capacity of 90 passengers, but some are carrying up to 115 during peak times, the report said. On average, the buses carry 70 passengers during peak hours, and around 20 during off-peak hours.
The BRT route was launched in January and runs 14.7 kilometers (9.1 miles) between Kim Ma and Yen Nghia, two of the city's most populated areas. A one-way ticket costs VND7,000, or around 30 cents.
Approximately 13,000 people use the service each day, and eighty percent of them are students and office workers. 
The BRT system has earned a reputation for being "highly reliable", the report said. "The BRT system has encouraged more people to use public transport in Hanoi. Over the past eight months, there have been no serious traffic jams on the route."
A survey of 2,000 passengers found that 23 percent had shifted from motorbikes, xe om (motorbike taxi) and taxis to the BRT.
But authorities in Ho Chi Minh City don't seem to be convinced. After assessing Hanoi's BRT route, the southern metropolis has decided to scrap plans for a BRT of its own, saying that the project would not attract enough passengers to justify its cost.
Garment workers in Thanh Hóa end strike
Garment workers of S&H Vina company decided to end their strike and return to work on Monday after the company's leaders pledged to provide benefits and lift "nonsense" regulations.
Some 6,000 garment workers of S&H Vina company in Thành Tâm Ward, Thạch Thành District of Thanh Hóa Province, went on strike last week claiming they were subject to inhumane conditions at the company.
The strike began on Wednesday after a factory manager told the workers not to sleep on sheets used to cover stock during their breaks. 
Some workers complained the company offered only one-day monthly leave in case of accidents, sickness or the death of a relative, and three days notice had to be given to be counted as a reasonable absence.
Hà Long Biên, the district's trade union president, told online newspaper Zing.vn that the company committed to provide full pay to the workers for the four-day strike.
Meanwhile, Ngô Tôn Tẫn, Trade Union president of Thanh Hóa Province, said the trade union had collected the demands and recommendations of the workers, including a basic salary increase, no deduction of wages in case of sickness, accidents or other unexpected events and a better maternity policy.
Sickness leave or a day off in case of an unexpected important family event must be counted as annually-paid leave, workers said.
The company agreed to lift the regulations on taking days off due to sickness or death of a family member, a representative of the workers said.
Days taken off for sickness or attending funeral services of a relative would not be deducted from the wages, he added.
According to Tẫn, the company has accepted 10 out of 16 demands of the workers and promised to fulfill them.
Some other demands could not be met because they depend on the company's business results. However, the provincial trade union would continue to monitor the company's implementation of workers' demands.
Japan funds upgrade of Can Tho University
A project for upgrading Can Tho University is to be executed in the next five years using a US$105.9 million loan from Japan's official development assistance (ODA).
The Japanese government will also offer a grant of US$3.5 million for a technical cooperation project with the university in the Mekong Delta.
The investment will help Can Tho University improve its training and scientific research quality so that 90% of its graduates can get jobs after graduation, said Ha Thanh Toan, president of the university, at the opening ceremony of the new school year.
Bui Van Ga, Deputy Minister of Education and Training, stressed that the increasing number of unemployed graduates is unavoidable if the school still uses the current curriculum. He required Can Tho University to update its programs based on standards at other universities in the world.
In the context of international integration, knowledge and skills of graduates from Vietnamese universities must be equivalent to those offered at universities in the world, Ga added.
Toan told the Daily that Can Tho University will try to enhance the quality of graduates meeting actual demand in the Mekong Delta and the whole country. It plans to launch at least seven high-quality BA programs, 16 postgraduate and three international programs, and develop international student exchange programs.
The university will also focus on the application of hi-tech in agriculture, fishery and environment, research on education, society and humanity, information technology and communications, natural resource management, and economy and market development.
Da Nang to build first multi-storey car park
The Da Nang City People's Committee has approved a plan for the construction of the first large-scale car park in the central city, with eight storeys.
The parking lot will be built at 255 Phan Chau Trinh in Phuoc Ninh ward, Hai Chau district, in the city center. On a total area of more than 1,000 sq m, it will also include a green space and public services.
The People's Committee assigned the Department of Transport to coordinate with consultancy units to implement the plan, with research on technology solutions that ensure the construction will not affect the local environment.
The car park will help meet the increasing demand stemming from resident and tourist numbers rising in recent years, according to the Committee. A lack of public parking results in vehicles parking on the road, especially large buses, during the summer months, causing traffic congestion.
Earlier, Da Nang also approved a private unit investing in an underground parking lot with capital of VND194.7 billion ($8.5 million), to be deployed to 2018. The project has a total construction area of over 4,000 sq m with a capacity of 309 cars and 3,090 motorbikes, at the Tran Cao Van - Dong Da - Ong Ich Khiem intersection in Hai Chau district.
Both plans are part of adjustments made to Da Nang's master plan to develop a city-wide vehicle parking strategy to 2020 with a vision to 2030.
Car parking is now required to account for between 2 and 4 per cent of the total land area in any new urban development. Existing parking lots will remain unchanged, but vacant land lots will be converted into car parks.
The existing 66,150 sq m inter-provincial coach station straddling the districts of Cam Le and Lien Chieu on the northern side of the city and another covering 63,000 sq m in Hoa Vang district on the southern side of the city will also remain unchanged.
There will also be five new truck stops covering a total of 46,752 sq m and six bus stations for the local Bus Rapid Transit (BRT) system on a total area of 48,220 sq m.
In addition, 158 public car parks will be built around the city on a total area of over 3.8 million sq m. Of these, 22 are in Hai Chau district, 14 in Thanh Khe district, 30 in Lien Chieu district, 24 in Son Tra district, 32 in Ngu Hanh Son district, 16 in Cam Le district, and the remainder in Hoa Vang district.
These adjustments will help to perfect the city's traffic network by fully tapping into favorable locations, ensuring closer links between the inner-city and the suburbs, and upgrading existing local arterial roads and building new ones.
Art performance marks 60th anniversary of Vietnam Stage
A special art performance celebrating the 60th anniversary of Vietnam Stage will be held at the Vietnam-Soviet Cultural Friendship Palace in Hanoi on September 26.
Many famous artists across the country will join in the event, such as People's Artists Hoang Dung, Hong Van, Lan Huong, Tu Long, Trung Hieu, Ngoc Binh; Meritorious Artists Hoai Linh, Thu Huyen, Xuan Bac, Kim Tu Long, Thoai My, Mai Le and more.
Vietnamese circus artist brothers Giang Quoc Co and Giang Quoc Nghiep whose performance by scaling 90 stairs in 52 seconds on the steps of Girona Cathedral in Spain was recognized by Guinness World Records in December, 2016 will also participate in the show.
The event will present to audiences traditional performing arts, including Tuong (Classical opera), Cheo (Traditional Folk Theater), Hue singing dramatic plays and comedies, and gong performance by ethnic minority artists.
Young mother and children found dead in Hanoi guesthouse
A young woman has been found dead with her two small children at a guesthouse in Hanoi on Monday.
The bodies were found at around 1am on September 11 at Dong Tay Guesthouse in Hoang Mai District when the staff checked their room after not seeing them come out for a long time.
According to a police report, after being unable to call the guests, the guesthouse staff unlocked their room and find the 29-year-old woman, Nguyen Thi N, dead hanging in the bathroom while her two sons, aged two and six, were lying in the bed dead with various injuries.
Police are investigating the case.
Around 15,000 people receive free cancer screening and treatment
A free cancer screening programme has been simultaneously launched at 18 medical facilities throughout eight provinces and cities across the country, targeting the early detection of several cancers for around 15,000 people. 
Local people wait for their turn for a screen for breast, cervical and colorectal cancer at Hanoi's Vinmec Times City Hospital under a free cancer screening programme launched from September 9 to October 18.
The programme, taking place from September 9 to October 18, is sponsored by the Supportive Fund for the Cancer Patients - Bright Future, K Hospital, Thien Tam Fund and Vinmec hospital system, under Vingroup, in collaboration with the relevant hospitals.
It aims to raise public awareness on cancer prevention and early detection, while creating habitual routine of screening for the early detection of cancer.
It is expected that 15,000 people in eight provinces and the cities of Hanoi, Hai Phong, Quang Ninh, Phu Tho, Quang Nam, Da Nang, Ho Chi Minh City and Can Tho will be benefit from the programme for screening of the three most common cancers in Vietnam, breast cancer, cervical cancer and colorectal cancer.
Specifically, through the initial screening, detected cancer cases will be supported by Vingroup's Thien Tam Fund at up to 70-100% of the treatment costs at the Vinmec International General Hospital systems across the country.
According to statistics, each year there are approximately 126,000 new cases of cancer in Vietnam, including 12,500 breast cancer, 5,700 cases of cervical cancer and around 13,500 cases of colorectal cancer. Late detection is one of the leading causes of death for cancer patients.
With the message of "Cancer - prompt screening for timely treatment," the programme is expected to provide an opportunity for early screening and timely detection of the disease to optimise treatment and improve the quality of life for the community.
Associate Professor, Dr. Nguyen Thi Xuyen, former Deputy Minister of Health cum President of the Supportive Fund for the Cancer Patients - Bright Future, emphasised that cancer is a large burden on public healthcare and through this meaningful programme, local people will be given an opportunity to get the best possible examination and treatment, while helping raise awareness among the community about cancer prevention.
The programme is a realisation of the previously signed cooperation agreement between Thien Tam Fund, Bright Future Fund, K Hospital and Vinmec International Hospital. Accordingly, the concerned parties will make full use of their potential on facilities, staff and expertise to provide disadvantaged cancer patients access to the most advanced treatment technologies and to promote cancer prevention among the public.
Le Khac Hiep, Vice President of Vingroup expressed his belief that through this partnership, more and more people across Vietnam would have a better life.
Photo exhibition honors love of country
A photo exhibition titled "Color of the life that I love" took place at Hanoi exhibition house on September 9.
The event displayed 108 pictures by 108 authors, describing landscapes, daily life of Vietnamese people, friendship and the capital.
The authors are members of the 91-94 photography club. They were graduates from high school academic years between 1991 and 1994 in Hanoi.
They were born during the national liberation fight and grown in the process of industrialization and modernization of the country.
Requiem for Vietnamese martyrs held in Myanmar
A requiem for martyrs who laid down their lives to safeguard Vietnam's sea and island sovereignty took place at Dai Phuoc pagoda, the first Vietnamese pagoda in Myanmar, on September 10.
Participated by nearly 200 Vietnamese expatriates in Myanmar, the event featured the ceremonies of offering flowers and incense and lighting up candles.
In his speech at the requiem, Venerable Thich Thien Ngoc, head of the pagoda, said it is the first time Dai Phuoc pagoda has held such event, which aims to commemorate Vietnamese martyrs.
On the sideline of the requiem, documents and photos on Vietnam's sea and island sovereignty were displayed on the pagoda's yard.
Began in April 2016, the construction of Dai Phuoc pagoda is completing auxiliary facilities. The pagoda is now a spiritual location in Yangon for the Vietnamese community in Myanmar, attracting crowds of Vietnamese Buddhist followers and foreigners.
Sympathies sent to Cuba on big losses in hurricane Irma
The top leaders of Vietnam on September 11 offered sympathies to Cuba on big losses caused by hurricane Irma in the Caribbean country.
The sympathies were sent by Party General Secretary Nguyen Phu Trong, President Tran Dai Quang and Prime Minister Nguyen Xuan Phuc to Raul Castro Ruz – First Secretary of the Communist Party of Cuba Central Committee, President of the Council of State and President of the Council of Ministers of Cuba.
Cuban media reported on September 10 that Irma, the strongest hurricane ever recorded in the Atlantic Ocean, affected all localities but did not cause human losses in the country.
Power was shut off in big cities of Cuba, including Havana capital, as the hurricane left down trees and power lines.
Workshop talks university-industry development in Can Tho
A workshop discussing how to build University – Industry Learning and Development through Innovation and Technology (BUILD-IT) took place in the Mekong Delta city of Can Tho on September 11. 
Speaking at the event, Secretary of the Steering Committee for the project Dao Phong Lam said BUILD-IT leverages deep and diverse government-industry-academic partners that share a goal of tightly linking science, technology, engineering and math instruction in Vietnamese higher education institutions. 
The project builds on the success of the Higher Engineering Education Alliance Programme (HEEAP) which aims to develop experienced university leadership, construct innovative and effective curricula and promoting university engagement. 
At present, Can Tho University (CTU) is adopting models recommended by the project. Accordingly, enterprises offer a list of requirements for graduates, provide them with necessary tools for experiments and commit to hiring them after graduation. 
Meanwhile, the university will design appropriate curricula and assess teaching quality based on innovation and technology, towards meeting businesses' requirement.
The event was co-hosted by the CTU and Arizona State University.
Outgoing Cuban Ambassador pledges to further ties with Vietnam
Outgoing Cuban Ambassador to Vietnam Herminio Lopez Diaz vowed to continue making contributions to the development of bilateral relations at a meeting with Party General Secretary Nguyen Phu Trong in Hanoi on September 11.
The diplomat thanked significant support he had received from the Party, Government and public agencies throughout his tenure in Vietnam over the past four years.
He expressed his pleasure with progress made in Cuba-Vietnam ties, particularly in cooperation between the two parties, and partnerships in the sectors of trade-investment, agriculture, defence, security, and people-to-people exchange.
He said he appreciates Vietnam's sharing its theoretical and practical experience on economic reform with Cuba.
Party General Secretary Nguyen Phu Trong lauded Ambassador Herminio Lopez Diaz's excellent services during his tenure in Vietnam.
He asked the diplomat to convey his message of sympathies to President Raul Castro, the Party, State and people of Cuba over heavy losses caused by hurricane Irma.
The Vietnamese Party and people always stand side by side with the Cuban Party and people, the Party chief stated, adding his wish for bilateral engagements to thrive across sectors and mutual close coordination at multilateral forums.
Exhibition on Hoang Sa, Truong Sa held in Ha Nam province
A photo exhibition, entitled "Vietnam's Hoang Sa, Truong Sa: historical and legal evidence", opened at Nam Ha prison in the northern province of Ha Nam on September 11. 
Speaking at the event, Director of the provincial Department of Culture, Sports and Tourism Le Xuan Huy said the Vietnamese State has long established, exercised and defended its national sovereignty over Hoang Sa (Paracel) and Truong Sa (Spratly) archipelagoes and other islands and territorial waters in the East Sea since the monarchy time. 
It is a long-term and continuous historical process written in history of Vietnam and other countries worldwide, including China, he said.
The exhibited materials and photos affirm Vietnam's sovereignty as well as its sovereign and jurisdiction rights over territorial waters, continental shelf and exclusive economic zone of Hoang Sa and Truong Sa archipelagoes, Huy added.
On showcase are more than 200 photos, documentaries and documents, including those issued by the Vietnamese feudal regime from the 17th to 20th century and others written in ancient Chinese, French and Vietnamese languages, maps and atlases, asserting Vietnam's sovereignty over Hoang Sa and Truong Sa archipelagoes.
Photos depicting activities of soldiers and people on Hoang Sa and Truong Sa islands, and contributions of the provincial Party Organisation and local residents to the country's seas and islands have been also displayed.
Localities mark Ho Chi Minh's death anniversary
The 48th death anniversary of President Ho Chi Minh (the 21st of the 7th lunar month) was marked in many localities with such activities as incense offering ceremony in the traditional style and exhibitions of photos on the national hero.
In the late president's home province of Nghe An, provincial officials joined members of the president's paternal and maternal families (Nguyen Sinh and Hoang Xuan) at an incense offering ceremony on September 11 (the 21st of the 7th lunar month) in the Kim Lien relic site, which preserves the house where Ho Chi Minh was born as Nguyen Sinh Cung and lived in the early years of his life.
Many families in Kim Lien village, the home village of the late president, also observed the commemoration at their home.
People also flock to the Kim Lien relic site to pay respect to the president.
On the occasion, the Department of Culture and Sports of Nghe An province is hosting a photo exhibition on President Ton Duc Thang, a close friend of Ho Chi Minh, at Kim Lien relic site.
The same day, a commemoration was held in Bien Hoa city, the southern province of Dong Nai.
A photo exhibition on President Ho Chi Minh is underway in the city.
President Ho Chi Minh, name at birth Nguyen Sinh Cung, was born on May 19, 1890 and passed away on September 2, 1969 (the 21st of the 7th lunar month). In Vietnamese tradition, the death anniversary is commemorated based on the lunar calendar.
Thua Thien-Hue strives to capitalise on solar energy potential
Thua Thien-Hue is working to tap into solar energy potential, with the central province ripe for developing solar power.
Thua Thien-Hue has up to 1,893 sun hours a year, alongside relatively high solar radiation of 4.33 kWh per square metre each day. With good natural conditions from April to October, the province is qualified for efficient use of solar panels.
The province is also home to more than 100km of coastline and a number of deserted areas with flat terraces, factors which also aid the building of solar power plants.
However, investment in solar power in Thua Thien-Hue has fallen short of potential. Although many solar power projects have been registered, only Phong Dien solar power plant project has been licensed. The project has capacity of 35MW in Dien Loc commune of Phong Dien district, invested in by the Gia Lai Power Joint Stock Company.
To help the province with energy saving and climate change mitigation, the Norwegian Church Aid has assisted Thua Thien-Hue to carry out a project improving the community's capacity to respond to climate change in vulnerable areas.
Through this project, Thua Thien-Hue has supported the use of solar energy in Vinh An hamlet of Phong Binh commune, Phong Dien district. It also installed solar power systems with capacity of 1.5kWh each on two fishing boats in Phu Vang district. The systems have reportedly helped each boat save 20 litres of oil per day.
Solar lamps have also replaced high pressure sodium ones along Ton Duc Thang street, working continually at night. Each solar lamp can save 438kWh of electricity a year compared to a 100W high pressure sodium lamp.
Director of the provincial Department of Industry and Trade Nguyen Thanh said climate change is occurring around the globe and impacting everything. Saving energy will help ease pressure on natural resources and reduce greenhouse gas emissions, helping mitigate climate change.
Thua Thien-Hue recently publicised locations zoned for solar power projects for investors consideration. 
These locations include 127ha in Dien Mon and Dien Huong communes and 100ha each in Phong Chuong, Phong Hien and Phong Hoa communes of Phong Dien district, along with 170ha in the Cham May Lang Co Economic Zone in Loc Thuy and Loc Tien communes of Phu Loc district.
Province strives to recover fishery resources
The fishery sector of central Thừa Thiên-Huế Province has been releasing breeds of aquatic animals into the sea with the aim to enrich fishery resources following the sea environmental accidents last year.
Along with releasing breeds, the sector has also enhanced measures to protect breeding areas in the sea.
Hà Văn Duy, official of Quảng Điền District's Department of Agriculture and Rural Development, said the district in co-ordination with the provincial fishery sector recently released 80,000 shrimp breeds and 60,000 crab breeds in the sea, lagoons and Máy Bay Isle's fishery resource protection area of the district.
Besides this, the department also asked local fishermen to pay more attention to fishery resource protection by fishing regulated sizes of aquatic animals and avoiding overfishing, Duy said.
The sea environmental pollution accident that happened more than one year ago has badly affected sea resources and the lives of local fishermen.
Recovering fishery resources is an urgent task, according to fishery officials.
Fishery resources in the 22,000ha-Tam Giang-Cầu Hai Lagoon are getting exhausted following the environmental accident, along with overfishing.
"Fishery resources last year were more abundant than this year because of the impact of the the sea environmental accident," Nguyễn Văn Duy, chairman of the Fishery Association, said.
"Besides this, overfishing is also a reason for exhaustion of fishery resources," he said.
In recent years, the lagoon in Quảng Điền District has become a hot spot of illegal exploitation of fishery resources.
This year, the Quảng Điền District has allocated over 2,500ha of water surface to 14 fishery sub-associations to protect aquatic resources.
Three aquatic resource protection areas on 100ha of water surface were formed in the district -- Vũng Mệ in Quảng Lợi Commune, Máy Bay Isle in Quảng Ngạn Commune and Trộ Kèn Isle in Sịa Township. These areas have helped to reduce overfishing and illegal exploitation, helping in the recovery of aquatic resources.
So far, there are total 23 aquatic resource protection areas in the whole lagoon, with 600ha of water surface protected seriously.
"The protection areas have created an environment for aquatic flora such as seaweeds and algae, which are food resources for marine animals, including a special fish of the lagoon which had disappeared for years," Nguyễn Quang Vinh Bình, head of the provincial Fishery Development Department, said.
Every year, the fishery sector releases shrimp, crab and fish breeds into the water to recover aquatic resources, Vinh said. 
Road widened to reduce traffic jams
Nguyễn Thi Định Road from Mỹ Thủy Intersection to Cát Lái Port in HCM City will be widened to reduce traffic jams in the area.
The estimated investment for a 1.9km stretch of the road is VNĐ1.44 trillion (US$63.3 million), of which VNĐ850 billion (US$34 million) will be spent on clearing the land.
The area from Mỹ Thủy Intersection to Cát Lái Port sees a great deal of traffic from container trucks every day, which causes terrible congestion.
The city has adopted several measures to reduce traffic jams in the area, such as traffic divergence and building up intersections.
The road widening effort will help improve the traffic situation.
The investor, the Urban Traffic Management Centre No 2, said the project had been approved by the city's council in 2016.
The road will be widened to 60m, with six lanes for cars, and four lanes for mixed vehicles. 
Duẩn wins ninth stage of Tôn Hoa Sen Cup
Yesterday, Lê Văn Duẩn won the ninth stage of the VTV International Cycling Tournament, Tôn Hoa Sen Cup.
Duẩn, of the team VUS-HCM City, finished first in the 175km race from Quảng Ngãi to Quy Nhơn City. He completed the course in 4:31.28 with an average speed of 38.679kmh.
Nguyễn Thành Tâm and Huỳnh Thanh Tùng of the Military Zone 7 team were the runners-up. Tùng also won the white jersey, given to the best young cyclist.
Duẩn also won the green jersey as the best sprinter with 177 points, followed by Lê Nguyệt Minh, also of VUS-HCM City, with 134 points.
Changpad Kritsada of Thailand retained the yellow jersey for the best overall time of 26:04.36 after nine stages, followed by Jiung Jang of the Korail Cycle Team and Ronald Lomomtos of the Philippines NSI.
In the team rankings, Philippines NSI took the lead with a time of 78:13.22. VUS-HCM City and Korail Cycle Team moved into second and third place, respectively.
Today, cyclists will compete in the 10th stage around the central square of Quy Nhơn City, a course of 10km.
Int'l expo attracts 30,000 visitors
More than 4,400 meetings were conducted between buyers and sellers at the 13th International Travel Expo HCM City that wrapped up on September 9.
The three-day event attracted 30,000 visitors, including more than 14,000 trade visitors, according to the city's Department of Tourism, the expo's organiser.
Trần Thị Bảo Thu, marketing and communications manager at Fiditour, said the company received nearly 6,000 bookings for domestic and foreign tours, while tours to foreign countries accounted for 65 per cent of bookings.
"The company received more than 200 successful meetings with foreign partners, especially companies from Europe and Northern Asia that sought cooperation opportunities for MICE (Meetings, Incentives, Conventions and Exhibitions) tourism," she said.
The Saigontourist Travel Service Company saw a year-on-year increase of 30 per cent in revenue at the expo, reaching a total of VNĐ7.4 billion (US$326,000), according to Đoàn Thị Thanh Tra, the company's marketing and communications manager.
A representative of Vietravel said the company had worked with many international buyers who wanted to learn about Vietnamese travel markets.
Vietravel sold nearly 1,000 bookings on the first day of the event, with foreign tours accounting for 550 of the bookings.
Tours to Thailand at prices from VNĐ5.99 million ($264), South Korea from VNĐ9.59 million and Taiwan (China) from VNĐ8.99 million also sold well.
Phạm Thanh Quy from the city's District 10 said she bought two vouchers worth VNĐ1.9 million ($83) each to stay one night at the Grand Hồ Tràm Strip in Bà Rịa-Vũng Tàu Province. The price, which was much lower than the normal fees, also included a shuttle bus to the resort.
Bùi Tá Hoàng Vũ, director of the city's Department of Tourism, said the city planned to develop MICE tourism as one of the city's key tourism products, and would improve cooperation with countries in the Mekong region to diversify intra-regional tourism products.
The number of tourists from Thailand and Malaysia visiting Việt Nam has risen in the last few months, he said. 
Vietnamese, Cambodian youths conclude friendship meeting
The Vietnam Youth Federation (VYF) rounded off the Vietnam – Cambodia youth friendship meeting 2017 on September 11.
Speaking at the ceremony, Vice President of the VYF Central Committee Vu Minh Ly said the gathering strengthened mutual understanding and trust between the sides and helped educate the participants on Vietnam - Cambodia traditional ties.
Ly stated Vietnamese youths stand side by side with their Cambodian peers to cement the two countries' relations.
Kim Rithy, Vice President of the Cambodian Union of Youth Federations' Central Committee, said the event helped Cambodian youths understand the history of Vietnam and of Vietnam – Cambodia relations during both wartime and peace.
The meeting took place from September 9 to 11 with the participation of 50 Cambodian delegates. It featured talks between leaders of the two youth federations and activities in Ho Chi Minh City and Binh Duong.
PM okays UNICEF-funded comprehensive childcare project
Prime Minister Nguyen Xuan Phuc has approved a UNICEF-funded project on childcare development and renovating the healthcare system in Vietnam. 
The project hopes to strengthen the medical system's capacity of maternal and child care aiming to expand coverage and improving the quality of integrated early childhood development, including healthcare services, nutrition and hygiene, especially among vulnerable children. 
It will run from 2017-2021 in Hanoi and the provinces of Gia Lai, Kon Tum and Dien Bien, costing more than 5.1 million USD in non-refundable aid, with more than 16 billion VND (761,000 USD) and items worth in excess of 8 billion VND sourced from the Vietnamese government. 
The PM asked the Health Ministry to review and carry out the project.
Hanoi's traffic solution contest concludes in suspicious secrecy

A contest launched by Hanoi's administration and transport department in January to seek breakthrough solutions to its chronic traffic congestion has just closed in a complete media blackout.
The contest organizers advertised a whopping grand prize of US$200,000 in cash for the winning idea, in addition to one second prize of US$100,000 and US$25,000 in credit support for any entry with a complete and qualified proposal.
Launched on January 12, the contest accepted entries submitted by domestic and international consulting companies no later than April 27.
Despite the winner announcement date initially set for May, it was not until last Friday that an awards ceremony was held in suspicious secrecy at the headquarters of the municipal People's Committee.
According to sources of Tuoi Tre (Youth) newspaper, there was no winner of the grand prize, while the second prize went to a joint entry submitted by the Vietnam Institute for Urban and Rural Planning (VIUP), Nikken Sekkei Civi Engineering LTD (NSC), and Nikken Sekkei Reseach Institute (NSRI).
Five other shortlisted submissions received US$25,000 in credit support each.
No information regarding the awards ceremony was made known to local media or the public in advance, while reporters who arrived at the administration's headquarters on Friday, September 8, had the door shut to their faces for not having an invitation letter.
Those that waited patiently outside were only able to have a swift interview with a representative of one of the winning entries, who refused to provide any specific detail.
As of Monday (September 11), no information on the winning solutions or reportage of the awards ceremony could be found on the official site of either Hanoi's administration or the municipal Department of Transport.
Ngo Manh Tuan, deputy director of the department, said the city had chosen not to publish the winning solutions just yet, while claiming that the awards ceremony had been "held in public" and that there had been "nothing to hide."
Tuan refused to respond to further questions, asking reporters to submit their written inquiries instead.
Meanwhile, Luu Duc Cuong, acting director of VIUP, said the institute was under no obligation to announce its solution, for the responsibility rested on the administration of Hanoi.
Cuong said accusations that the contest organizers were trying to hide the winners' details were "petty" and "not worth paying attention to."
Northeast Vietnam bridge collapse kills 3, injures 2
Three people were killed and two seriously injured when a bridge under construction in northeast Tuyen Quang Province collapsed on Sunday, September 10, reported local officials.
Luong Thi Thin, chair of Ngoc Hoi People's Committee, confirmed the accident occurred art roughly 2:30pm after a support structure on the bridge connecting the villages of Ngoc Hoi and Xuan Quang in the district of Chiem Hoa gave way.
The accident sent five men and tons of concrete and steel plummeting into the river below.
There are fundamental questions on how the bridge was constructed that authorities are considering, said Mrs Thin., and a thorough investigation into the cause of the accident is underway.
Two of the men have been rescued but at least three have been confirmed dead and are still trapped in the water beneath the structure, Mrs Thin noted, adding that it is just too dangerous to safely get to and remove their bodies. 
Nguyen Vinh Hien wins first prize at flycam photography contest
Nguyen Vinh Hien, a native from the Mekong Delta province of Vinh Long, grasped the first prize for his photo "Ca Mau Cape" at a photo contest titled "Vietnam from above", the first competition for flycam photography enthusiasts in the country.
Organized by the HCMC Photography Association in conjunction with Phuong Nam Printing Co. Ltd., the contest received nearly 3,400 entries by 358 professional and amateur photographers from 53 provinces and cities across the country after more than four months of launching the contest.
Nguyen Ha Quoc Anh, director of Phuong Nam Company and a member of the judging panel of the contest, told the award ceremony last Saturday on Nguyen Van Binh Book Street in HCMC's District 1 that Hien's first-prize photo highlighting the breathtaking beauty of the cape in the southernmost region received compliments from the judging panel for its new angle and meaningful message in nurturing national pride and love for the country.
The best 100 award-winning photos displayed on the book street depict picturesque natural landscapes of different regions in Vietnam, ranging from the north-west to the southernmost province of Ca Mau.
Those who are interested in photography can drop by the book street to admire the award-winning photos from now until September 19. Visitors will have a chance to buy their favorite photos with a price of VND1.5 million each and all the proceeds from photo sales will be granted to a scholarship fund named "Chap canh uoc mo" to raise funds for building bookcases for poor children in rural areas.
VN, Japan archive agencies sign MoC

A memorandum of co-operation (MOC) was signed in Hà Nội on Tuesday morning between the State Records Management and Archives Department of Việt Nam and the National Archives of Japan.

The signing ceremony was part of the domestic department's international co-operation programme this year, which aimed to boost the friendship between the two countries.

Đặng Thanh Tùng, director of the archives department of Việt Nam, said via the MOC, the two sides are expected to exchange experiences with archiving and managing documents as well as to share documents related to culture and history.

The MOC was an important milestone to mark the establishment of co-operation between the two archive agencies and laid the foundation for them to join hands in other activities in the coming time.

One of the major activities was to co-organise an exhibition of documents on the co-operation between the two governments so far to celebrate the 45th anniversary of diplomatic relations between Việt Nam and Japan.

Takeo Katoh, director of the National Archives of Japan, said after the signing ceremony, a series of activities would be conducted to celebrate the anniversary in 2018.

The first activity was to collect documents related to co-operation between the two countries in the past, he added.

Việt Nam and Japan officially established diplomatic relations in September 1973.

HCM City police break large-scale gambling ring

HCM City police have crushed a large-scale gambling ring after more than three months of following their movements.

The city police on Monday raided 11 illegal internet gambling dens and illegal lotteries organised by the ring, arresting seven and seizing more than VNĐ5 billion (US$220,000) in cash and various exhibits.

The ring was headed by Trần Văn Mười Hai, born in 1975 and residing in HCM City, and a Chinese man. The duo had organised cock fights, illegal lotteries and high-stakes internet gambling, worth over a trillion đồng (millions of US dollars).

Hai co-operated with Chinese-Malaysian gamblers to release fake gambling results, causing several fights with other gangs.

The police are now expanding the investigation.