Last update: 20:43 | 17/07/2017
Wild 'deadly' mushrooms poison 13 in Son La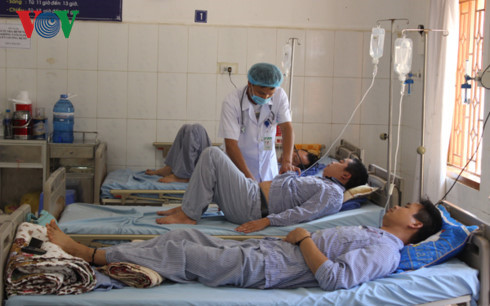 The Vietnam News Agency reports that 13 residents of the northern province of Son La remain hospitalized in critical condition after they consumed wild deadly mushrooms on the evening of Friday (July 14).
The victims developed symptoms including abdominal pain, nausea, vomiting, diarrhoea and dizziness about two hours after consuming the mushrooms at dinner and all were rushed to the emergency room at Son La General Hospital.
All the patients were admitted on the same day where they were treated with fluids and given prescriptions. Among them the youngest person is 7-years-old and the oldest person is 68.
Doctor Luong Bao Chung of Son La General Hospital said people suspected of having mushroom poisoning should seek medical attention immediately and should bring along any available remnant for identification.
He also warned the public that they should not pick wild mushrooms for consumption as it is difficult to distinguish edible mushroom species from inedible ones and some types can be deadly.
Deputy PM hails role of Vietnamese community in Singapore
Deputy Prime Minister Truong Hoa Binh spoke highly of the role of the Vietnamese community in Singapore in connecting the two countries during a visit to the Vietnamese Embassy in Singapore on July 15.
Talking to representatives from the Vietnamese community and staff of the Embassy and Vietnamese representative offices in Singapore, the Deputy PM said he hopes each member of the community will promote solidarity and support each other to contribute to the host country's prosperity.
He also asked the community to assist with their home country's development using their knowledge and experience.
The Deputy PM also took this occasion to brief the overseas Vietnamese community on the country's socio-economic situation, as well as opportunities and challenges it is facing, and the implementation of State's guidelines and policies, especially in building a constructive and creative government, maintaining political stability, speeding up economic integration, and protecting territorial sovereignty.
Deputy PM Truong Hoa Binh is making an official visit to Singapore from July 13-15 at the invitation of Singaporean Deputy Prime Minister Teo Chee Hean.
During the three-day visit, Binh held talks with and attended a banquet hosted by Deputy PM Teo Chee Hean, paid courtesy calls to President Tony Tan Keng Yam and PM Lee Hsien Loong, attended a luncheon hosted by Chief Justice Sundaresh Menon.
Memorial site inaugurated to commemorate Gac Ma soldiers
A memorial site dedicated to 64 naval soldiers killed in the battle to defend Gac Ma island in Vietnam's Truong Sa (Spratly) archipelago was inaugurated at a ceremony in Cam Hai Dong commune, Cam Lam district of the central province of Khanh Hoa on July 15. 
Addressing the event, Vice President of the Vietnam General Confederation of Labour (VGCL) Tran Thanh Hai said the Gac Ma memorial site is a symbol of patriotism, the resilient spirit of the army and people of Vietnam as well as the national solidarity in safeguarding national independence, sovereignty and territorial integrity.
He expressed deep gratitude to Vietnamese Heroic Mothers, war invalids and families of martyrs and revolutionary contributors.
Construction work on the memorial site started in March 2015. The highlight of the site is a monument featuring the naval soldiers holding hands in an "eternal circle" to safeguard the national flag symbolising the national sovereignty on Gac Ma island. The battle happened on March 14, 1988.
The work was built with money contributed by workers and public servants nationwide through trade union organisations under a programme launched by the VGCL.
On the occasion, the VGCL also received 20 billion VND (880,200 USD) from trade unions across the nation for the second phase construction of the area and a memorial site for Hoang Sa soldiers in Ly Son island of the central province of Quang Ngai.
The VGCL also presented gifts worth 30 million VND (1,320 USD) to 11 families of fallen soldiers.
War invalids, martyrs' families remembered on anniversary
President of the Vietnam Fatherland Front Central Committee Tran Thanh Man visited and presented gifts to Heroic Mothers and war invalids in the central city of Da Nang on July 15, on the occasion of the 70th War Invalids and Martyrs' Day (July 27).
Man affirmed that the Party and State always pay attention to caring for families of people who rendered service to the nation, including Heroic Mothers, martyrs and war invalids.
He asked Da Nang city to do more to support the preferential policy beneficiary families, both materially and spiritually.
On the day, Politburo member and Deputy Prime Minister Vuong Dinh Hue led a working delegation to lay wreaths and offer incense at the Road No.9 National Martyrs' Cemetery and Truong Son National Martyrs' Cemetery in the central province of Quang Tri to commemorate people who laid down their lives for the national liberation and reunification.
Defence Minister Gen. Ngo Xuan Lich visited and presented gifts to war invalids and wounded soldiers who are under treatment at the Thuan Thanh sanatorium in northern Bac Ninh province.
On this occasion, the Defence Ministry granted an ambulance, 104 air conditioners, and one desktop cardiograph worth 1.9 billion VND (83,619 USD) to the sanatorium. 
The facility is caring for 96 war invalids who have lost their ability to work.-
Thanh Hoa tightens relations with Laos' province
The central province of Thanh Hoa will provide 8 million USD during 2017-2020 to help the Lao province of Houaphanh build transport, cultural and educational facilities in order to strengthen the two localities' close diplomatic and cooperative relations.
Thanh Hoa also pledges to create favourable conditions for the two countries' people to intensify economic ties and cultural exchanges to build a border line of peace and friendship.
Over the past years, the two provinces have maintained regular visits of all-level delegations. Earlier this year, they signed a cooperation agreement in the socio-economic and security fields during a working visit by Thanh Hoa's leaders to Houaphanh.
Thanh Hoa has stepped up economic partnership with Houaphanh. At present, 16 local enterprises are exporting their products to the Lao province. Local investors' operations have also proved effective, contributing to the Lao province's economic growth.
Last year, the two police forces coordinated in detecting 25 drug smuggling cases involved over 40 people.
They also worked together in the fight against the trading of counterfeit money and weapons, and human trafficking, and in preventing illegal religious activities.
ASEAN +3 Junior Science Odyssey closes
The sixth ASEAN Plus Three Junior Science Odyssey (APT JSO-6) wrapped up in Hanoi on July 14.
The event, held by Vietnam for the first time, is among activities organised to celebrate the 50th anniversary of ASEAN's establishment and carry out ASEAN's action programme on science, technology and innovation for 2016-2025.
Speaking at the closing ceremony, Deputy Minister of Science and Technology Tran Quoc Khanh said that the science camp's achievements will serve as catalyst to encourage gifted students to pursue their passion.
Khanh thanked the ASEAN Secretariat, ASEAN Plus Three Centre for the Gifted in Science (ACGS), the ACGS in the Republic of Korea (RoK) and relevant Vietnamese agencies for their support in organising such a successful event.
This year event drew the participation of 180 students, teachers and observers.
The students competed in physics, chemistry, and biology; and conducted research and cultivated creativity via poster presentations and lab skills assessment while the teachers shared experience in education for the gifted in science and attend a workshop on promoting STEM (Science, Technology, Engineering, and Mathematics) for students through applications of renewable energy.
The organising board presented 50 awards to the winners, including nine gold, 20 silver and 21 bronze awards.
Odyssey is an annual competition being organised since 2012 for talented students aged between 13 and 15 in the science and technology fields and is aimed at nurturing future scientists and engineers.
Students in Dak Nong discuss ways to prevent child abuses
The Central Highlands province of Dak Nong held a forum on July 14 to discuss measures to prevent violence and abuses against children.
The forum drew nearly 100 students from high and secondary schools representing over 160,000 local children in eight districts and towns in the province.
At the forum, participants raised questions for provincial leaders on urgent issues such as alarming violence at schools, sexual abuse against children, cheat in exams and child marriage.
The children also expressed their wish to live in a safe, healthy and friendly environment, thus helping them develop comprehensively.
Local leaders pledged to increase communications campaigns and tighten management over information, especially through the Internet.
They also stressed the need to increase physical activities for school students, thereby minimizing their use of technological devices.
Provincial leaders also asked local departments, sectors and schools as well as families of children to pay more attention to issues related to children, thus effectively dealing with problems facing children and building a more healthy environment for them.
On the occasion, the People's Committee of Dak Nong presented 71 gifts to poor students with outstanding academic performances.
Project on improving resilience to climate change adopted
Prime Minister Nguyen Xuan Phuc has adopted a project on improving the resilience of vulnerable coastal communities to climate change-related impacts. 
Funded by the Green Climate Fund via the United Nations Development Programme, the project will be carried out in Hanoi and the northern province of Nam Dinh, the central provinces of Thanh Hoa, Thua Thien-Hue, Quang Ngai, Quang Binh and Quang Nam, and the southernmost province of Ca Mau from 2017 to 2021 at a total cost of more than 41.79 million USD. 
It will improve the resilience of local houses amid climate change impacts, offer support to households in disaster-prone areas, increase coverage and quality of mangrove forests, reduce gas emissions and increase biodiversity. 
A system of information regarding natural disaster and climate risks in support of decision-making and planning will also be launched.
Binh Phuoc eyes hi-tech agricultural cooperation with Japan
The southern province of Binh Phuoc wants to cooperate with Japan in developing hi-tech agriculture, said a local official.
Speaking at a meeting with the Murayama Memorial Japanese Language School (JVPF – Murayama)'s HCM City branch on July 14, Secretary of the provincial Party's Committee Nguyen Van Loi expressed his hope that the school will serve as a bridge connecting the province with Japanese enterprises in training human resources and sharing experience in developing smart agriculture.
Director of the school's HCM City branch Vu Quang Luan suggested the province send local students to Japan to learn about hi-technology agriculture, while Japanese farmers share with the locality their hands-on experience in the field.
The school will enhance cooperation in training and connect with relevant organisations to better consume local farmers' products, Luan said.
Loi urged agencies and sectors to facilitate the flow of Japanese investments into the province, particularly in hi-tech agriculture.
Currently, over 1,000 hectares have been zoned off for hi-tech agriculture in Loc Ninh, Hon Quang districts and Dong Xoai township to lure foreign and domestic investors.
JVPF – Murayama is a Japanese language training centre supported by the Japan-Vietnam Peace and Friendship Promotion Council (JVPF) with former Japanese Prime Minister Murayama as its president.
Work starts on 1.5 trillion VND clean water plant in Bac Giang
Construction on a 1.5 trillion VND (65.21 million USD) clean water plant began in the northern province of Bac Giang on July 14. 
The project is divided into two stages with the first one from 2016-2018 and the second from 2020-2022. The respective capacities will be 19,500 cu.m and 59,000 cu.m per day and night. 
Once operational in late 2018, the DNP-Bac Giang plant will supply water to Lang Giang district, urban areas in the south and southwest of Bac Giang city, Noi Hoang and Huong Gian communes in Yen Dung district, Van Trung commune in Viet Yen district, concentrated industrial zones and clusters and nearby areas. 
Speaking at the groundbreaking ceremony, Chairman of the provincial People's Committee Nguyen Van Linh asked the DNP-Bac Giang Company to continue working closely with local authorities to offer site clearance compensation and speed up the progress of the project in line with legal regulations.
Conference seeks ways to prevent child abuse
Improving capacity for officials at local levels in protecting children and strengthening communications to raise children and their families' awareness of children's rights and related laws are among effective ways to save children from violence and sexual abuse, heard a conference in Ho Chi Minh City on July 14.
Statistics of the Ministry of Public Security and the UNICEF showed that averagely, about 1,800 serious child violence cases are reported each year, including about 1,000 sexual abuse ones.
Meanwhile, the Ho Chi Minh City People's Procuracy revealed that from 2012-2015, the agency investigated 966 sexual abuse cases, mostly against children, with 826 defendants.
However, participants held that the figures have yet to reflect the real situation, as many child sexual abuse cases were not reported with different reasons.
According to Nguyen Van Tinh, deputy head of the Office for Child Protection and Care under the Ho Chi Minh City Department of Labour, Invalids and Social Affairs, unhealthy entertainment products are part of reasons behind the alarming violations and sexual abuses against children – the most vulnerable group.
Meanwhile, there remain limitations in receiving and handling of child violence and abuse cases, he said.
Nguyen Thanh Huyen, Vice Director of the Criminal Police under the municipal Public Security Department said that most child abuse cases cannot find witnesses, while the victims are not aware of the consequences.
Many victims and their families do not cooperate with authorised agencies, especially in sexual abuse cases, in fear of harm to their reputation, he said.
Dang Hoa Nam, head of the Department for Children Affairs under the Ministry of Labour, Invalids and Social Affairs, stressed the need for stricter punishments on those committing violations against children and conceal the cases.
Lao alumni in Vietnam meet in Vientiane
Lao alumni who studied at the Vietnam People's Army schools and academies met at an exchange in Vientiane on July 14. 
Speaking at the event, Lieut. Gen Vilay Lakhamphong, Deputy Defence Minister and Director of the General Political Department of the Lao People's Army, hailed the significance of the exchange in the context that the two countries' Parties, governments, armies and people are celebrating the Laos-Vietnam, Vietnam-Laos Year of Solidarity and Friendship, the 40th anniversary of the signing of the Treaty of Amity and Cooperation (July 18) and the 55th anniversary of bilateral diplomatic ties (September 5). 
Lakhamphong said the event affords Lao alumni a chance to recall their unforgettable memories in Vietnam, adding that many of them are holding important positions in the Lao People's Army and the Lao People's Revolutionary Party.
He stated that the officers and soldiers of the Lao People's Army will do their best to foster the special solidarity, fighting alliance and comprehensive cooperation between the two countries. 
In his speech, Deputy Director of the General Department of Politics under the Vietnam People's Army Maj. Gen Le Hien Van attributed the past victories in the national liberation and reunification and the current national development to the valuable and effective support of the Lao Party, State, army and people. 
He expressed hope that the Lao alumni in Vietnam would continue serving as a bridge fostering traditional friendship and comprehensive collaboration between the two armies.
Earlier, similar events were held in the north, south and central of Laos in April, May and June, respectively.
Khanh Hoa invests in water supply for islands, mountainous areas
The south central coastal province of Khanh Hoa plans to invest 477 billion VND (nearly 21 million USD) in building water supply systems, with priority given to islands, coastal and mountainous areas. 
As part of the investment, a water supply system for Tri Nguyen Island in Nha Trang City is under construction at a cost of 40 billion VND. Residents on the island suffer from water shortage in the dry season from March to August every year, when local wells are contaminated by salt water intrusion. 
The Khanh Hoa Water Supply Company has laid a 800m-long water pipe from the mainland to the island and is building other supporting works. About 3,500 residents on the island will benefit from the project.  
Water plants to be built from now to 2020 include a 50 billion VND facility in Van Ninh district and a 40 billion VND plant in Ninh Hoa town.  
As of early July, 94 percent of the rural population in Khanh Hoa have access to hygienic water. The province aims to raise the rate to 100 percent by 2025.
Workshop seeks solutions to child sexual exploitation in tourism
A consultation workshop to evaluate and analyse Vietnam's legal framework and give feedback to measures to fight child sexual exploitation in tourism and travel, took place in Hanoi on July 14.
The event, jointly organised by the Ministry of Justice, United Nations Office on Drugs and Crime (UNODC), Japan International Cooperation Agency (JICA), offered a chance for participants to understanding more about Vietnam's legal system in the field. 
Nguyen Thi Kim Thoa, Director of the Ministry's Department of Criminal and Administrative Law said many countries around the world, including Vietnam, are facing challenges related child sexual abuse in general and child sexual tourism in particular. 
The international integration policy across fields and national policy on tourism development brought both great economic benefits and challenges to Vietnam, including issues concerning the increase of child sexual crime, and child sexual tourism in particular, she said. 
These require the government to have strict legal policies to ensure behaviours related to child sexuality must be strictly handled and prevented as well as Vietnam's international commitments to protecting and promoting rights of children are implemented, she said.
Christopher Batt from UNODC office in Vietnam said the agency made evaluations on laws in Cambodia, Laos, Thailand and Vietnam-, and built a report "Child sexual exploitation in travel and tourism: a brief analysis of domestic legal frameworks" in the countries. 
Since the report was released, Vietnam and the countries have promoted efforts to reform legal regulations, while making adjustments to criminal laws on child sexual exploitation, he noted. 
A revised report on the work has been drafted to update and analyse new legal frameworks of each country. The report will give specific recommendations on the ongoing legal reform, serving a foundation for the government of the four countries to promote legal reform, thus increasing effectiveness of the fight against crimes related to child sex tourism, Christopher stressed. 
Participants said it is necessary to take comprehensive response solutions in enforcing laws and enhance coordination at national, regional and international levels in the work. 
In Vietnam, laws related to child sex tourism have been approved by the National Assembly, including the 2015 Criminal Code, the 2015 Code of Criminal Procedures and the 2016 Law on Children, which have helped reinforce a legal foundation for implementing the work.
Vietnamese youths and summer of volunteers
The summer youth volunteer campaign 2017 from June 1st to August 31st encourages young people to build new-style rural and civilized urban areas.
Campaign activities aim to promote the pioneering role of youths in socio-economic development and ensuring social security and defense in remote, border, and island areas.
The 2017 summer volunteer campaign focuses on activities like building or upgrading 550 bridges in rural areas; building or repairing 600km of rural roads; teaching science and technology to 60,000 rural youths; constructing 300 houses for social beneficiaries; providing free medical examinations, treatment, and medicine for 50,000 people; and upgrading 1,000 recreation areas for children.
Le Quoc Phong, the first Secretary of the Vietnam Youth Union, says the vanguard spirit and working style of each volunteer are important factors.
"Devotion is the key to volunteer youth movements. The spirit of the volunteers can help youth programs meet society's expectations and young people's aspirations," Phong added.
In response to this year's theme, Thua Thien-Hue province's Youth Union has called for the construction of 12 houses of gratitude, startup consultation for 2,000 youths, and free swimming lessons for 500 children. 700 youth union members have participated in land clearance for access roads to playgrounds for children in Hong Tien commune as well as an initiative to provide free medical examinations and treatment.
Tran Gia Cong, Secretary of the provincial Youth Union said "During this year's campaign, local youths will focus their assistance on: communes which have almost completed the criteria for new-style rural villages; 19 communes with a poverty rate over 25%; 29 extremely disadvantaged communes; and coastal communes. We hope that the youth will uphold their vanguard role, volunteer spirit, talent, and strength to make their native land more prosperous and civilized."
Summer volunteer activities in Dak Lak province focus on the construction of new-style rural areas and civilized urban residential areas, and programs to show gratitude to Vietnam's heroic mothers.
Other activities include constructing houses of gratitude for former youth volunteers; providing free medicine to 500 people in Ea Wer commune, and delivering training on preventing child sexual abuse.
Y Trul Nie, a member of Krong Buk commune's Youth Union in Dak Lak province, said "This is one of the meaningful ways youth union members can devote to helping disadvantaged people. On the upcoming Vietnamese War Invalids and Martyrs' Day, July 27, we should honor those who rendered great service to Vietnam's revolution."
The highlights of this year's volunteer youth activities in Can Tho City are environmental protection and development of rural infrastructure.
Tran Van Quang, Deputy President of the Students' Association of Tay Do University, said "This is the third time I have taken part in a summer youth volunteer campaign. I follow a motto: win the heart of the locals while staying with them and win their trust by doing whatever they need. I want to join efforts with the local authorities to develop new-style rural areas, upgrade roads, and visit the martyrs' cemetery."
HCM City to restrict but not ban motorbikes by 2030
Following Hanoi and Da Nang, Ho Chi Minh City has also come up with a roadmap to limit private vehicles in order to ease traffic congestion.
The proposal, submitted to the transport department on July 15, would have the city focus on developing public transport and gradually restricting private vehicles from downtown streets and areas prone to congestion by 2030.
Under the first phase from now until 2020, Ho Chi Minh City would increase parking fees, restrict parking for motorbikes and impose a toll on vehicles entering the city center. 
The city would also develop its bus network and encourage the use of buses over private vehicles, while continuing to expand pedestrian zones.
After 2020, the city would develop a metro system and a Bus Rapid Transit (BRT) system, while limiting the number of newly-licensed private vehicles. The roadmap would also see the city restrict and eventually ban motorbikes from downtown streets and areas prone to congestion by 2030.
However, Bui Xuan Cuong, director of the Department of Transport affirmed the city would not ban motorbikes by 2030 and the proposed roadmap would only be used as a guideline.
"Only when it's proven that the city's public transport is capable of meeting people's travel demand will we consider banning motorbikes," Cuong said.
But transport expert Luong Hoai Nam said the plan to develop the city's bus network, and hence the entire proposal, would fail unless the city goes through with the 2030 motorbike ban.
According to Nam, unless the city bans motorbikes, most people will not buy bus tickets, making the bus network unable to grow as it wouldn't be profitable enough to attract investors. Therefore the city's public network would never be able to meet travel demand.
Tran Anh Tuan, another expert, suggested adding a framework for assessing private vehicles' environmental  impact. 
Earlier this month, Hanoi approved a proposal to ban motorbikes from the city center from 2030 to reduce traffic congestion, despite strong opposition from experts and the public.
The capital city will also impose restrictions on cars, but not a blanket ban.
35 solutions proposed to tackle Ho Chi Minh City traffic congestion
As many as 35 different suggestions to tackle traffic congestion in Ho Chi Minh City were put forward at a meeting on Friday, attracting debates and arguments from around 50 local scientists, experts and officials.
The proposed solutions fall into two categories, with 19 strategies aiming to develop and expand the municipal public transportation system, and the other 16 focusing on curbing personal vehicles in the southern metropolis.
The 'public transportation' group includes such suggestions as deploying buses that run on eco-friendly fuel, providing more buses that can accommodate wheel-chair users, or adding more 16-seat mini-buses to the city's fleet. Experts have backed the mini-bus idea, saying this kind of vehicle is more suitable to the small and often over-crowded streets in Ho Chi Minh City.
Other experts also proposed developing lanes exclusively dedicated to buses, instead of having them run on the same lanes with other vehicles.
Another proposition is to build a railway connecting the city's Tan Son Nhat International Airport with the Long Thanh International Airport in the adjacent Dong Nai Province, which is expected to be completed by 2025.
Ho Chi Minh City authorities are also slated to launch two river bus routes Binh Quoi – Bach Dang, and Bach Dang – Lo Gom, in the near future.
On the other hand, experts also said the root of the problem is personal vehicles, so the solutions should focus on this type of vehicle.
To this end, experts proposed imposing fees on all cars getting in and out of Ho Chi Minh City, or limiting the number of motorbikes and cars which can be registered to run for Uber or Grab, the two app-based taxi services.
Many experts also favored a solution to penalize vehicles which have reached their expiration date and are thus no longer roadworthy.
The city could also earmark money from its budget to buy old or expired motorbikes in order to reduce of the number of unroadworthy motorbikes on the street, Dr. Luong Hoai Nam suggested.
Dr. Pham Xuan Mai, dean of the Transportation Technique Department of the Ho Chi Minh City University of Technology, estimated that the city should have 21,000 buses if it plans to ban motorbikes by 2030.
Given the current fleet of public bus of only 2,000 units, Mai said the municipal government should seek more funding in order to reach that goal.
Du Phuoc Tan, from the Ho Chi Minh City Institute for Development Studies, said each neighborhoods of the city should implement different solutions to curb traffic problem, especially the 37 congestion hotspots that plague the city residents for years.
To ensure that the solutions and suggestions fit the needs of local residents, the Ho Chi Minh City Department of Transport will carry a survey on approximately 30,000 people in the city.
The survey began at the start of July and aims to gather opinions of people across 24 districts with questions centering on various aspects of transport.
Upon receiving results from the poll, experts and scientists will finalize their solutions to better reduce the nightmare traffic in the southern metropolis.
24-year-old man crushed to death by speeding garbage truck
A 24-year-old man died on the spot after a speeding garbage truck rammed into his motorbike in the city of Phan Thiet in Binh Thuan Province on the evening of Friday (July 14), reported Zing Online Newspaper.
The deceased was identified as Nguyen Tan Thanh, 24, a resident of the city of Phan Thiet.
Police said the incident occurred around 10pm. The speeding truck, carrying garbage, hit his motorbike from the left. Thanh was crushed under the truck and died instantly on the spot.
There is no mention made of whether traffic police arrested the driver or sent him for medical tests to ascertain whether he was under the influence of alcohol or drugs at that time.
There were conflicting initial reports that may indicate that the truck was being driven in a reckless manner as the driver tried to overtake the motorcycle from the left and was driving too fast for traffic conditions.
New programme promotes social initiatives
The Centre for Social Initiatives Promotion (CSIP) and the Vietnam Club for Management and Start-up on July 14 launched a programme in HCM City dubbed En Xanh (Green Swallow) 2017 to honour social business initiatives.
The programme seeks to promote people and social enterprises who have innovative and sustainable business solutions to solve social and environmental issues.
Organised on a national scale, it aims to be a long-term programme to gather and promote social business initiatives and through them foster a sustainable social initiative eco-system.
Pham Kieu Oanh, CSIP's founder and director, said over the years Vietnam has faced many environmental and social challenges that required innovative and effective solutions.
Many businesses, organisations and individuals have pioneered community initiatives to address social and environmental issues, but they are usually spontaneous and fragmented, she said, adding that besides, there is no eco-system to support these social initiatives, limiting their spread as well benefit to the community. 
Oanh also noted that environmental and social issues have become complex, requiring the co-operation of all enterprises, social organisations and State agencies.
According to her, the launch of the programme is expected to create a foundation for every initiative, big or small, to spread and bring about more benefits to the community. 
Social enterprises, businesses with initiatives that benefit low-income people, initiatives to address social and environmental issues, start-ups with social initiatives and social organisations are encouraged to join the programme.
Registration will remain open until July 20 and a ceremony to honour outstanding entries will be held on August 19 in Hanoi.
Vietnam Railways unveils new HCM City - Nha Trang route

Vietnam Railways will open a new Ho Chi Minh City to Nha Trang route on July 15, reports the Vietnam news Agency.

The first train on the route, SNT1, departs Nha Trang at 8:06pm and arrives in Ho Chi Minh City at 4:04am. It has five stops on the route at Nha Trang, Thap Cham, Bien Hoa, Di An and Ho Chi Minh City.

The second train on the route, SNT2, departs Ho Chi Minh City at 8:30pm and arrives in Nha Trang at 5:27am. It has the same five stops as SNT1.

Prices for a one-way ticket run US$12.70-US$22.00 (VND280,000-485,000). Passengers who purchase tickets at least 20 days in advance will receive discounts ranging 20-30%. 

U22 squad quietly confident and ready to go

Coach Hoang Anh Tuan doesn't plan to lose any sleep as he and the rest of the U22 squad get ready to open their SEA Game bid this August 14 in a tough matchup against Timor Leste.

After Timor Leste they face Cambodia on August 16, Thailand on August 18, Indonesia on August 21, and the Philippines on August 24.

The team will scrimmage and occasionally suit up for fun competition in the Republic of Korea in the final days leading up to kick off the big game before leaving August 11 for Malaysia.

PM commemorates fallen soldiers in Son La

Prime Minister Nguyen Xuan Phuc offered incense in tribute to fallen heroes and soldiers at the historical memorial site for the Tay Tien Regiment 52 in Moc Chau town in the northern mountainous province of Son La on July 16.

The event was part of the activities to mark the 70th anniversary of the Day of War Invalids and Martyrs (July 27) and the 50th founding anniversary of Vietnam-Laos diplomatic relations.

The Tay Tien Regiment 52 was set up on February 27, 1947. During the French resistance war (1945-1954), Moc Chau was the gathering place of the regiment, from where the soldiers spread out to fight across the northwest and upper Lao fronts, contributing to the victory over the French.

The Tay Tien historical site was inaugurated on August 20, 2016, becoming a centre for historical education and a typical cultural historical work in a master plan for Moc Chau tourism development.

Also on July 16, the PM visited the family of Nguyen Thanh Lam, a veteran in Moc Chau Farm, who is disabled as a result of the toxic Agent Orange/Dioxin sprayed by the US during the wartime.

He later visited a processing and packaging chain at Moc Chau milk factory of the Moc Chau Dairy Cattle Breeding Joint Stock Company whose predecessor was the Military Farm established on April 8, 1958, by soldiers of Regiment 280 (Division 335) after the liberation of the northwest.-

Fallen Vietnamese soldiers in Laos commemorated

Candles were lit at the Vietnam-Laos martyr cemetery in the central province of Nghe An on July 15 to remember more than 11,000 Vietnamese volunteer soldiers who laid down their lives in Laos during wartime.

Speaking at the ceremony, Deputy Prime Minister Vuong Dinh Hue spoke highly of the two countries' treasured friendship throughout their struggles for national independence in the past.

Vietnamese volunteer soldiers considered Laos as their second homeland and received great affections from local residents, he added.

The Deputy PM noted the event aims at calling for community support for veterans who are having a difficult life after coming back from the war.

On the occasion, Hue presented gifts to heroic mothers and families of people who rendered service to the nation.

As part of the commemoration, there was a talk show where former Vietnamese soldiers in Laos told their stories.

Nationwide blood donation campaign comes to Binh Dinh

More than 1,500 blood donors have taken part in a festival in Quy Nhon city, the central province of Binh Dinh as part of the  Hanh Trinh Do (red journey),  a nationwide annual blood donation drive.

The two-day event concluded on July 16 and collected a total of 1,244 blood units.

During the festival, the Hanh Trinh Do organising board honoured 33 individuals and groups of donors for their outstanding contributions. 

Initiated by the National Institute of Hematology and Blood Transfusion in 2013, the red journey is scheduled to travel 28 provinces and cities throughout July this year. It is expected to collect at least 45,000 blood units.

Last year, the drive toured 27 cities and provinces nationwide to provide advice on blood donation and thalassemia – a genetic blood disease – to 500,000 local people and collected 20,790 units of blood.

Since its inception, the campaign has gathered more than 150,000 units of blood.

Vietnamese, Lao embassies in RoK hold friendship exchange

The Vietnamese and Lao embassies in the Republic of Korea (RoK) organised a get-together in Seoul on July 15 to celebrate the two countries' 55th diplomatic relations anniversary (September 5, 1962-2017) and 40 years of signing their Friendship and Cooperation Treaty (July 18, 1977-2017).

Speaking at the event, the Vietnamese and Lao ambassadors reviewed the development of Vietnam-Laos ties in five and a half decades.

They stressed that the relationship had been nurtured by generations of their leaders through different wartime periods when the two countries stood side by side to fight common enemies till final victories. 

Both sides agreed on the importance of the friendship in the current time for the development of each nation as well as for peace and security in the region and in the world.

It is necessary to educate the younger generations on the special partnership, they said, noting that there will be more joint projects between the two embassies in the future.

As part of the gathering, a friendly sport exchange and a concert took place.

Play on Vietnam-Laos ties premieres in Vientiane

A play based on real stories about Vietnamese volunteer soldiers in Laos during wartime took stage at the Lao national cultural centre in Vientiane on July 14.

With its script written by renowned Lao artist Hongnakhon Thumphala, the play, named "Sharing a trench", depicts the friendship and mutual support between Lao and Vietnamese soldiers while protecting a strategic spot in the northern Lao province of Xiengkhuang in 1972. In their last battle together, the Vietnamese soldier takes a fatal bullet for his Lao companion, who survives and continues to fight till victory.

The play ran in 90 minutes with the participation of 80 actors and actresses, making it one of the biggest plays Laos has conducted this year.

Audiences filled the centre to watch the play, which was specially arranged by the performing art department under the Lao Ministry of Information, Culture and Tourism to praise the two countries' solidarity and amity.

The ministry said "Sharing a trench" will be staged in other provinces and cities across Laos in the coming time.

NA Chairwoman visits Con Dao ahead of Martyrs' Day

National Assembly Chairwoman Nguyen Thi Kim Ngan hailed Con Dao district in the southern province of Ba Ria – Vung Tau for ensuring social welfares for ex-revolutionaries during a working session with local authorities on July 15. 

The NA leader said she is pleased to see that more visitors are travelling to Con Dao – a special national relic site with vast forest coverage, clean marine environment and 16 islets in the southeast. 

Con Dao should focus on infrastructure development to facilitate people's travel and boost tourism, she said, promising to convey the district's proposal on upgrading Co Ong airport and increasing daily flight frequency to the Transport Ministry. 

The top legislator asked the district Party Committee and authorities to follow the province's Resolution on socio-economic development, with priority given to improving educational quality. 

In the long term, the district should develop human resources by offering more foreign languages training to students and developing tourism and high-quality agriculture. 

The district authorities reported that Con Dao achieved and surpassed half of the yearly plan in the first six months, notably the tourism sector which earned 534 billion VND (23.21 million USD), or nearly 66 percent of its target and the State budget which met roughly 61 percent of its plan. 

The same day, the NA Chairwoman paid floral tribute to martyrs and patriots in the Hang Duong Cemetery on the occasion of the 70th anniversary of the Day of Invalids and Martyrs (July 27). 

She offered incense at the tombs of late Party General Secretary Le Hong Phong, patriot Nguyen An Ninh, and heroes of the people's armed forces Luu Chi Hieu and Vo Thi Sau. 

Con Dao prison accommodated more than 20,000 prisoners throughout its 113 years. 

Among 1,921 graves of martyrs in the Hang Duong Cemetery, more than 700 ones have had their names and native lands identified.

During her stay, Ngan also called at Phu Hai prison and Con Dao relic museum, and presented gifts to families of war heroes.

Volunteers sought for APEC 2017

The central coastal city of Da Nang is gearing up for the upcoming APEC Economic Leaders' Week, slated for November this year. One of the important preparations is selecting volunteers for the event.

In preparation for the most important event of the year, besides improving necessary infrastructure, Da Nang city is now selecting over 400 volunteers who are students of universities in the locality.

The eligible volunteers are not only qualified in foreign languages but are also conversant with the local area, hard-working, enthusiastic and high responsibility. Those who have volunteered in earlier vast activities and events will be prioritized.

Thousands of students of universities and colleges across the city are now applying for the post. For them, this is not only a chance to improve their knowledge, but also to contribute to the important event while introducing the image of Vietnam and its people to international friends.

The volunteer selection procedure is now being strictly conducted. After being selected, the volunteers will receive training to best serve the event.

Vietnam firms to join Thai organic expo

Several Vietnamese firms will participate in the 7th Organic and Natural Exhibition (ONE 2017), slated to be held at Queen Sirikit National Convention Centre in Bangkok from July 27 to 30. 

The enterprises are NTEA Co. Vien Phu Green Farm Co and Vina Samex JSC. They will showcase organic farm produce such as rice, tea as well as food, cosmetics and pharmaceuticals. 

Hosted by the Thai Ministry of Commerce, ONE 2017 is the largest exhibition on organic and natural products in the region. It aims to improve the image of national and international certified products, add value and expand the market accordingly. 

The forthcoming event, spreading over 10,000 sq.m, will host more than 200 exhibitors and showcase products from ASEAN countries. It is estimated that more than 45,000 visitors will attend the exposition, with the total sales value being 32 million THB (nearly 1 million USD).

Business matching platforms for national and international certified organic businesses, which allow buyers a great opportunity to find out potential partners and suppliers, will be held on the sidelines of the expo. 

Typically, an organic symposium will also be included to give participants more insights into the organic sector, especially on the differences between organic and general products.

Vietnamese Goods Week 2017 to be held in Thailand

The second Vietnamese Goods Week in Thailand will take place at the Central Plaza Ladprao in Bangkok, Thailand, from July 27 to August 2, according to Saigon Giai phong newspaper.

The event aims to introduce Vietnamese products to Thai customers and balance bilateral trade.

Nearly 40 businesses are expected to sell products at more than 20 pavilions, mainly confectionary, beverage, tea, coffee, packaged food, spice, fruits and garment-textiles.

Vietnam and Thailand are implementing trade promotion programmes towards boosting two-way trade to 20 billion USD by 2020.

Made-in-Vietnam goods are thought to have potential in the Thai market, notably fruits and dried fruits, spices and seafood.

The Ministry of Industry and Trade warned that Thailand has strict requirements on quality and food safety.

Therefore, to secure a firm foothold in the market, businesses need to improve product quality, reduce production costs and promote their goods.

The ministry suggested investing in packaging with full information on the products in Thai or English to attract customers.

The first Vietnamese Goods Week was held in Thailand in 2016 with almost 150,000 visitors.

Alarming pollution in Hanoi sparks concern among locals

Hanoi residents are suffering the city's worst air quality ever, with alarming pollution readings spooking attendees at a recent seminar.

Chairman of the Hanoi People's Committee Nguyen Duc Chung acknowledged that odor and air pollution in the capital have deteriorated on a daily basis, with emissions from motorbikes and automobiles the main contributors.

In early July, the municipal People's Council agreed to a plan to improve the management of vehicles to curb traffic jams and the general level of environmental pollution in the city for the 2017-20 period, with a vision toward 2030.

The scheme includes a ban on motorcycles inside the inner city by 2030.

Speaking at the seminar, Nguy Thi Khanh, director of Green ID, a pro-green energy organization based in Hanoi, voiced her concerns at the worsening pollution readings already recorded during the 2015-20 period.

Hanoi's 2016 Air Quality Index (AQI) value, calculated based on the PM2.5 annual mean concentration, was twice as high as the safe limit set out by the World Health Organization (WHO), experts said at a seminar on pollution and public health in Hanoi in January 2017.

PM, or Particulate Matter, is the term for a mixture of solid particles and liquid droplets found in the air.

PM2.5 particulates, which are fine particles with diameters of 2.5 micrometers or less, are as thin as 1/30 the width of a human hair, and therefore can easily pass through lung tissues and be absorbed into the bloodstream, causing adverse health effects, Khanh said at a workshop earlier this year.

According to a Green ID survey conducted in 2016, the PM2.5 annual mean concentration in Hanoi was 50.5 micrograms per cubic meter of air.

Hanoi suffered 123 days of excessive PM2.5 levels in 2016 as stipulated in Vietnamese standards, and 282 days according to the World Health Organization's air quality guidelines.

"During the first quarter of this year, the average AQI value has inched up even compared to 2016," Khanh added.

Professor Nghiem Trung Dung, from the Environment Science and Technology Institute under the Hanoi University of Science and Technology, put the pollution down to exhaust fumes from motorbikes.

Chung, the municipal chairman, concurred, citing results yielded by 10 environment monitoring stations throughout the city in 2016.

"The number of vehicles has risen by 20-30 percent year on year, resulting in the relentless increase in emissions," Dung noted, adding the delay in checking carbon dioxide emissions from motorbikes has worsened the situation.  

The country had planned to begin checking CO2 emissions from motorbikes in 2010 in Hanoi and Ho Chi Minh City, but the scheme was deferred until 2018.

A pilot program launched some 10 years ago to provide 'check-ups' on motorbikes revealed that up to 80 percent of bikes did not meet requirements, he added.

The majority of the 1,400 respondents in a sociological survey recently conducted by Green ID urged more control be exerted on traffic vehicle emissions, and industrial production and construction discharges, Khanh disclosed.

Hanoi is currently home to approximately six million motorbikes, up to 2.5 million of which are in poor conditions, Chung said.

In order to execute the plan to prohibit all motorcycles from the inner city by 2030, authorities will start minimizing the use of two-wheeled vehicles, depending on traffic infrastructure and the capacity of each area, before enforcing a blanket ban.

Certain policies, including offering monetary assistance, are also being considered to encourage residents to hand over their worn-out vehicles.

The municipal administration has adopted several approaches simultaneously to alleviate pollution, including setting up another 80 monitoring stations throughout the city to provide comprehensive parameters and planting one million trees in the 2016-20 period.

Since the beginning of 2017, the city has also purchased more than 100 new-generation dust sucking trucks, and has worked to make sure overseers of construction sites have their trucks cleansed to avoid dropping construction materials on the way, and spray water to dampen road surfaces while dismantling structures.

Boat repairs need oversight

Bình Định Province People's Committee has urged sectors and localities to work together to tackle low-quality steel-hulled fishing vessels and to direct fishermen to use quality shipbuilding facilities.

Deputy Chairman of the provincial People's Committee Trần Châu on July 11 asked Nam Triệu and Đại Nguyên Dương shipbuilding companies to urgently identify failures in machines, equipment and the ship's hulls once inspections are finished.

The two companies were also asked to agree a contract witnessed by the provincial Department of Agriculture and Rural Development to commit to repairing damages as soon as possible to minimise economic losses and quickly resume fishing.

The provincial Department of Agriculture and Rural Development was directed to moblise a team of specialists to instruct and supervise the repairs.

The two companies were ordered to replace all non-synchronous main engines on the vessels and replace Chinese steel shells with South Korean ones at standardised level A. They also must repaint the ships following maintenance procedures and repair or renew the electricity system.

Phan Trọng Hổ, director of Bình Định Province's Department of Agriculture and Rural Development said that the repairs require supervision from technical specialists and the use of shipping register documents.

The department will also invite an independent monitoring unit to check the replaced equipment. The agricultural sector is to instruct fishermen to select monitoring units in suitable for each vessel, he said.

The shipbuilding units have submitted repair measures, however, they have not met the requirements of the local People's Committee.

Bình Định Province's Department of Agriculture and Rural Development submitted a report to Prime Minister Nguyễn Xuân Phúc and proposed to Ministry of Public Security to investigate and prosecute cheating shipbuilders for criminal liability.

The committee also proposed the State Bank of Việt Nam order commercial banks to extend loan repayment deadlines for owners of broken ships.

Under Decree 67 (dated July 7, 2014), ship-owners who are building steel or new-material ships with total main engine capacity between 400CV and 800CV can borrow from commercial banks a sum of money which does not exceed 90 per cent of total costs.

The preferential interest rate is 7 per cent per year, of which ship-owners are required to pay only 2 per cent per year while the State budget pays the remaining 5 per cent.

Earlier in May this year, fishermen in Bình Định Province reported that 18 ships built under Decree 67 had become degraded. An inspection conducted on these steel-hulled ships showed that the ships failed to follow requirements as committed in the contract in terms of ship's shell quality.

District-level hospital performs first knee replacement surgery on hemophiliac patient

Doctors at Thủ Đức District Hospital on July 12 successfully performed the first knee replacement surgery and ligament reconstruction on a patient with hemophilia A, a genetic disorder of blood clotting.

Hemophilia A is one of three types of the genetic disorders of blood clotting which can cause hemophilic arthropathy, known as joint disease, because of repeated bleeding into joints, Dr Nguyễn Thị Bích Uyên, deputy head of the hospital's general internal medicine department.

Bleeding into joints may occur after an injury or spontaneously, she said.

The 23-year-old patient from the northern province of Thái Bình had been treated at the hospital's department since 2016.

Tests showed that he had serious joint degeneration, a torn internal ligament and a stretched ligament on the outside of the right knee.

A surgery for knee replacement and ligament reconstruction needed to be performed, the hospital's doctors said, adding that it is difficult to perform such as surgery on the patient with hemophilia A.

The risk of bleeding during and after the surgery is very high, they said.

That is reason why many hospitals, which the patient visited previously for treatment, were reluctant to perform the surgery.

The patient said that he wanted the surgery to be able to walk without pain.

After hearing his wish, the hospital's doctors decided to perform surgery.

Now, he is recovering. There is no bleeding and he is getting physical therapy for rehabilitation.

The hospital is providing treatment for 100 patients with hemophilia.

The country has a total of 6,000 patients with hemophilia, but only 2,373 of them receive treatment, according to HCM City Blood Transfusion and Hematology Hospital.
Tây Ninh city to trial electric buses
The Tây Ninh Province Department of Transport has green lighted Tây Ninh Tourist Trading Joint-stock Company's proposal to operate electric buses on a trial basis in downtown Tây Ninh city and Hòa Thành District from early next year.
They will go around the foot of Bà Đen (Black Virgin) Mountain and the city's main streets and to Long Hoa Market in Hòa Thành District.
A total of 20 14-seater buses will be used.
Tourists can hire these buses by the hour.
Now the company uses 14-23-seat electric buses to transport tourists inside the Bà Đen Mountain National Tourism Area. In future the company hopes to expand the electric bus services city-wide to improve traffic, protect the environment and dovetail with urban and socio-economic development plans. — VNS
HCM City holds summer camp for workers' children
The HCM City Young Employee Assistance Center held a summer camp in Cần Giờ District on July 13-14 for workers' children aged 11-16.
The camp, which 300 children attended, offered a wide range of activities related to southern agricultural life, salt production and the military feats of soldiers at the Sác Forest military base.
The activities promoted collaboration and real-life problem-solving skills, and historical and environmental knowledge.
The camp took place at the city's Youth and Children Outdoor Activities Centre in Long Hòa Commune. 
Dong Thap works to promote local tourism features
The Mekong Delta province of Dong Thap is working to promote local tourism through three kinds of tourism, namely eco tourism, historical site tourism and community-based tourism.
The province has worked to turn each attraction into unique tourism products to draw tourists. For example, the Dong Sen-Go Thap art architecture and archeological complex in Thap Muoi district has the theme of lotus kingdom and spiritual culture.
Meanwhile, Tram Chim National Park, home to about 200 different bird species, has focused on Dong Thap Muoi's natural bird park. It has held experience tours that allow tourists to become farmers or visit birds in their breeding season. Flower field tours are also on offer, according to Le Hoang Long, Director of the Tram Chim National Park.
Aiming to become a flower city of the southern region, Sa Dec city has launched a green tourism model at Sa Dec flower village, housing more than 2,000 flora species across 470 hectares. The city has also invested in infrastructure development to improve the environment in the village.
The tourism sector of Dong Thap province has also promoted local specialities, especially lotus-based products. Other local delicacies, such as Sa Giang shrimp chips and Lai Vung fermented pork rolls, have been honoured by domestic and international organisations.
Local farmers have been encouraged to invest in eco-farms to diversify local tourism and attract tourists to eco-holidays. For instance, Le Van Ngot, owner of a 4-hectare lotus plantation, offers various services for tourists to visit lotus field and make lotus-based dishes themselves.   
Due to all these efforts, Dong Thap province welcomed 1.6 million visitors, including more than 40,000 foreigners in the first six months of the year. Its total revenue from tourism exceeded 300 billion VND, increasing by 39.14 percent against last year and making up 52.17 percent of the yearly plan.
The local tourism sector aims to lure 3.5 million tourists with earnings of 900 billion VND to 1 trillion VND by 2020 and become one of the most attractive destinations in the Mekong Delta region.
Children's singing and dance festival begins this weekend
The annual singing and dance festival for children Búp Sen Hồng (Pink Lotus) will be held in HCM City from July 17-19.
The festival will attract more than 3,000 children from 38 children's houses in southern provinces and 24 districts' children houses in HCM City.
The organiser, the Hồ Chí Minh Communist Youth Union, will award prizes for best performances and performers.
During the festival, the participants will meet and stage performance for needy children in districts 2, 6, 7, 8, 10, Hóc Môn and Thủ Đức. They will also visit the city's historical sites.
The festival's opening ceremony will take place at 7 pm on July 17 at the Hòa Bình Theatre, 240 3 Tháng 2 Street, in District 10.
Plan to promote social initiatives     
The Centre for Social Initiatives Promotion (CSIP) and the Viet Nam Club for Management and Start-up on July 14 launched a programme in HCM City dubbed En Xanh 2017 to honour social business initiatives.
En Xanh (Green Swallow) seeks to promote people and social enterprises who have innovative and sustainable business solutions to solve social and environmental issues.
Organised on a national scale, it aims to be a long-term programme to gather and promote social business initiatives and through them foster a sustainable social initiative eco-system.
Pham Kieu Oanh, CSIP's founder and director, said over the years Viet Nam has faced many environmental and social challenges that required innovative and effective solutions.
Many businesses, organisations and individuals have pioneered community initiatives to address social and environmental issues, but they are usually spontaneous and fragmented, she said.
Besides, there is no eco-system to support these social initiatives, limiting their spread as well benefit to the community, she said.
Environmental and social issues have become complex, requiring the co-operation of all enterprises, social organisations and State agencies, she said.
The launch of the programme is expected to create a foundation for every initiative, big or small, to spread and bring about more benefits to the community, she said.
Social enterprises, businesses with initiatives that benefit low-income people, initiatives to address social and environmental issues, start-ups with social initiatives and social organisations are encouraged to join the programme.
Registration will remain open until July 20 and a ceremony to honour outstanding entries will be held on August 19 in Ha Noi.
Yesterday's event also featured a discussion on social business initiatives and their advantages and disadvantages.
Speakers agreed that social enterprises are vital to meeting the needs of a developing country like Viet Nam where businesses and government struggle to address the continuing problems of poverty, social inequality and environmental pressures. 
Hoài takes second stage of Return to Trường Sơn Cycling Tournament
Nguyễn Tấn Hoài of Domesco Đồng Tháp won the second stage of the Return to Trường Sơn Cycling Tournament yesterday.
Hoài finished the 150km race from Hà Nội to Thanh Hóa Province with a timing of 3 hours, 22 minutes and 48 seconds.
Lê Nguyệt Minh, who got married early this month, was second. The cyclist of the VUS-HCM City team crossed the finish line just a hair gap after the winner.
Lê Ngọc Sơn of Gạo Hạt Ngọc Trời An Giang was third.
The first stage of 50 laps around Hoàn Kiếm Lake was won by Nguyễn Cường Khang of the HCM City Youth squad.
After two stages, Khang maintained his lead in the tour with a total timing of 4:33.24s.
He was followed by teammate Nguyễn Minh Việt and Minh.
An Giang Plant Protection took the top position in the team ranking. HCM City Youth crew came second and Bike Life Đồng Nai were third.
The third stage will see the riders tour the 187km from Thanh Hóa to Hà Tĩnh Province today.
Ly Son Island restricts plastic bag use
The authority of Ly Son Island District off Quang Ngai Province has issued a directive calling on local residents to minimize the use of plastic bags in an effort to build a clean and green island.
The district encourages the islanders and tourists to refrain from using plastic bags, especially at restaurants and hotels.
In the short run, the directive will be applied on a pilot basis on Be Island of An Binh Commune of the district.
The island has become a favorite destination for local and international tourists. However, the island is facing serious pollution as more than 10 tons of garbage is discharged a day but the only waste treatment facility can incinerate 1.5 tons while the remainder is being piled up there, leading to pollution.
Doctors save myocardial infarction Taiwanese
The General Hospital in the central province of Nghe An yesterday said that doctors have saved a Taiwanese man suffering acute myocardial infarction.
41-year-old Chang Chia Ming, expert in Vung Ang Economic Zone in Ha Tinh Province July 12 experienced acute myocardial infarction. He was rushed to the hospital when he had terrible chest pain, breathing problem threatening his life.
Through examination, doctors found out that Taiwanese man's heartbeat slowed down; consequently, doctors had to put a pacemaker - a medical device implanted in the chest that stimulates heart contractions via small electrical impulses and then take X-ray which showed that the man's right coronary artery is totally blocked.
Accordingly, doctors performed a surgery to remove the blood clot and place a coronary stent - a tube-shaped device placed in the coronary arteries that supply blood to the heart, to keep the arteries open in the treatment of coronary heart disease.
The man was off the danger list.
Dong Thap Tourism and Culture Week 2017 to be held in December
Dong Thap Tourism and Culture Week 2017 will be held at Phuong Nam Cultural Tourism Area in the province from December 10-31, said the provincial People's Committee.
The event themed "Itinerary connecting Phuong Nam (southern region) cultural heritages" will include a lot of activities, such as week of cai luong (Vietnam's southern folk music and stage performance), the 88th death anniversary of President Ho Chi Minh's father - Junior Doctor Nguyen Sinh Sac, a green agricultural products trade fair, handicraft village exhibition, Vietnamese high-quality products fair , Mekong Delta – Dong Thap Industrial Trade Fair 2017, food fair and other entertainment activities.
Dong Thap received more than 1.6 million visitors, including over 40,000 international tourists and earned a revenue of VND300 billion from the beginning of this year to date, up 40 percent from last year 
The event is an opportunity to promote investment and images of the land and people of Dong Thap to visitors at home and abroad, as well as enhancing the development of the provincial tourism industry.
Province's destinations have recently attracted many travelers, such as the revered Nguyen Sinh Sac grave site, Xeo Quyt relic, Gao Giong ecological tourist area, Tram Chim National Park, Go Thap Archaeological Area, Sa Dec flower village, Huynh Thuy Le's ancient house.
An eco-friendly tour has been launched at Tram Chim National Park in Tam Nong District. Visitors will enjoy a 12km-long route on electric car and a solar-powered boat in 35 minutes.
Tram Chim National Park was recognized as World Ramsar Site in 2012. It is spread over an area of 7,313 hectares and has abundant flora and fauna species with over 130 species of vascular plants and is home to over 100 species of vertebrate animals, 40 species of fish, and nearly 200 types of water-birds.
Meanwhile Huynh Thuy Le's ancient house which was built in 1895 is home of the main character in French writer Marguerite Duras's novel "The Lover" in Sa Dec town. It has been listed as one of Vietnam's most impressive destinations by the Vietnam Federation of UNESCO Associations
Nam Dinh resumes V-League place after seven years of absence
Nam Dinh has officially been promoted to the V-League next season after beating Viettel with the close score of 1-0 in the second last round of the 2017 National First Division Tournament on July 15.
Nam Dinh fans had been waiting for seven years to see their favourite football team return to the national top-tier league for Vietnam's strongest clubs; and now their long-awaited dreams have come true.
A solitary goal scored by Viet Tu in the 24th minute was enough to gift Nam Dinh the win needed to secure them a direct place in the 2018 V-League despite there being one round left to play.
After 13 rounds, Nam Dinh won a total of 23 points, three points ahead of second-place team Hue FC, who still have one game in hand.
Nam Dinh's direct promotion will not be affected regardless of the result of the 14th clash between Hue and Dak Lak, as the northern team overwhelmed Hue in head-to-head meetings so far in the tournament, with a 1-1 draw in the first leg and a 3-1 victory in the second leg.
The last time Nam Dinh competed in Vietnam's top-tier football competition was seven years ago under the name of Megastar Nam Dinh. At that time, Nam Dinh and Song Lam Nghe An remained the only two teams to be present in all V-League seasons since 2000.
Nguyen Ngoc Hao, who led Nam Dinh to the runner-up finish at the V-League 2004, returned to manage his hometown in the 2010 season's first leg, but failed to save Nam Dinh from being relegated as V-League bottom-place finishers. That poor result forced Hao to quit the "hot seat" as the team's manager once again.
The northern team went on to be relegated further after landing in bottom position at the 2011 First Division tournament. It was not until four years later that Nam Dinh resumed their First Division campaign.
Despite securing a place in next year's V-League season, there is still a lot of work for Nam Dinh manager Nguyen Van Sy and his players to do if they want to survive on the toughest playing ground in Vietnamese football.
Thousands stuck on Co To Island as storm hits
More than 5,000 visitors including 30 foreign tourists have been stuck on several islands in the northern province of Quang Ninh due to Storm Talas.
According to Quang Ninh Province Steering Committee for Natural Disaster Prevention and Control and Search and Rescue, all boats stopped working from 6 am yesterday morning, July 16 because of the effect of Storm Talas in the central region.
As a result, 5,126 visitors are stuck on the islands, including 30 are international tourists.
There are 3,500 tourists being stranded on Co To Island alone with 14 are international tourists. The local authorities have ordered hotel and guesthouse owners to help accommodate stranded tourists and not raise the prices. 523 boats and ships safety went to the shelters.
Chairman of Co To Island Hoang Ba Nam said, "Agencies and border guards were asked to monitor the storm to inform tourists as early as possible. Boats and ships won't be allowed to operate on July 16 and 17."
Quang Ninh Province has 7,512 vessels, including 516 offshore fishing boats. The Department of Fisheries said they had informed all fishing boats and fisheries unions about the storm. The water levels of local lakes are at safe level and the dyke system is stable.
The local coal industry also reinforced their dumping sites, cleared the drainage system and made plans to evacuate nearby residents. Local authorities were asked to monitor reservoirs, lakes and make plans to evacuate residents living under on-going constructions on the hills. Cam Pha City authorities evacuated 64 households in a dilapidated apartment building.
Aquaculture farms were relocated and the departments of transport must keep a close eye on the situation to regulate the traffic.
Deputy PM Trinh Dinh Dung directs response to storm Talas consequences
Deputy Prime Minister Trinh Dinh Dung chaired a teleconference in Hanoi on July 17 with ministries, agencies and localities to direct response to the consequences of storm Talas, the second hitting Vietnam this year. 
Dung, who is also Chairman of the National Steering Committee on Search and Rescue, asked for rallying resources and vehicles of border guards and naval forces for search and rescue of crewmen aboard the coal ship VTB26 in the central province of Nghe An. 
The Border Guard High Command's Steering Board for Disaster Prevention and Control and Search and Rescue reported that the storm sank VTB26 vessel with 13 crewmen on board and 4,700 tonnes of coal, which anchored at Hon Ngu sea in Nghe An. 
As of 11:30 the same day, 7 out of the 13 crewmen were found alive, and one was dead. The remaining five are being searched for. 
Dung urged provincial authorities to promptly check and assess losses caused by the storm, provide timely support for families of victims, including food and home repair. 
Localities were also asked to evacuate residents out of areas prone to flash flood and landslides, and direct transport, industry and trade, information and communications, agriculture and rural development sectors to focus on rebuilding efforts while ensuring smooth travelling, sufficient electrical supply and safety of dams and reservoirs. 
The Nghe An provincial People's Committee said as of 5am on July 17, the storm killed one person, blew roofs of 2,751 houses, inundated 300ha of watermelon and uprooted thousands of trees.
Central provinces from Thanh Hoa to Thua Thien-Hue reported downpours measuring from 70-100mm, with 100-200mm of rains reported in Nghe An through to Quang Binh. 
As an effect of the storm, more rains of between 100-200mm are forecast for northeast and north central localities on July 17 and 18.
Vietnam's top leaders send anniversary congratulations to Laos
Vietnam's top leaders have sent flower baskets and messages of congratulations to their Lao counterparts on the occasion of the 55th anniversary of the two countries' diplomatic ties (September 5) and 40 years of the signing of the Treaty of Amity and Cooperation (July 18).
Vietnam's Ambassador to Laos Nguyen Ba Hung on July 17 handed over the flower baskets and messages of congratulations of Party General Secretary Nguyen Phu Trong, President Tran Dai Quang, Prime Minister Nguyen Xuan Phuc and National Assembly Chairwoman Nguyen Thi Kim Ngan to Party General Secretary and President Bounhang Volachith, Prime Minister Thongloun Sisoulith and NA Chairwoman Pany Yathotou of Laos via the Lao Ministry of Foreign Affairs.
Laos' Foreign Minister Saleumxay Kommasith thanked the Vietnamese senior leaders and affirmed that over the past 55 years, the Vietnam-Laos relations have recorded outstanding developments in all fields.
The Foreign Ministry of Laos pledges to work with its counterpart and the Embassy of Vietnam in Laos to nurture and intensify the bilateral ties, he added.
Ambassador Hung said that amid complicated and unpredictable regional and global situations, the two countries should maintain close coordination to bring their relations to a new height in order to meet their people's aspirations and interests.
He vowed to collaborate with the Lao Foreign Ministry in organising activities in celebration of the Laos-Vietnam Friendship and Solidarity Year 2017.
The diplomat affirmed that the Vietnamese Party, Government and people always treasure and will do their utmost to ensure the two countries' relationship lasts forever.
National report on ICCPR implementation tabled for discussion
The national report on the implementation of the International Covenant on Civil and Political Rights (ICCPR) was the centre of discussion at a seminar held by the Justice Ministry in Ho Chi Minh City on July 17. 
Addressing the seminar, Deputy Director of the Department of International Law Nguyen Linh Kha said the report, the third drafted so far, has highlighted civil and political rights that were stipulated in the 2013 Constitutions and institutionalized in legal documents. 
She noted that Vietnam has joined seven UN conventions on human rights, including the ICCPR. The country has seriously followed the Universal Periodic Review (UPR) mechanism and participated in several key UN mechanisms on human rights, such as the UN Human Right Council in the 2014-2016 term, the UN Economic and Social Council for 2016-2018. The country has also actively engaged in dialogues on human rights with many countries. 
Participants, including experts and delegates from relevant agencies and organisations, acknowledged the country's efforts in enforcing the ICCPR. They agreed that the work is facing difficulties due to the incomplete legal framework, the uneven levels of development among regions, deep-rooted customs and beliefs, and changes in international situation. 
Le Khac Quang from the Vietnam Lawyers Association suggested that the report should also deal with factors affecting the convention's enforcement such as economic impacts and guiding viewpoints. 
Deputy Minister of Justice Nguyen Khanh Ngoc said the report was drafted on a multi-dimensional approach with the aim of reflecting the enforcement of the ICCPR in Vietnam in an objective fashion. 
Opinions contributed at the seminar will serve as reference for the drafting board to refine the report before submitting it to the UN Human Rights Committee. 
The ICCPR was adopted in 1966 and came into force in March 1976. It currently has around 170 members.
Nearly 1.5 million ethnic minority households get preferential loans
More than 1,473,000 ethnic minority households across the country have been benefiting from preferential credit programmes with total loans worth up to 40 trillion VND (over 1.76 billion USD), reported the Vietnam Bank for Social Policies (VBSP).
The VBSP said it has been providing loans totalling 166 trillion VND (7.31 billion USD) under 18 preferential credit programmes and other projects decided by the Government.
Preferential credits have benefited all ethnic minority households in extremely disadvantaged, remote and isolate communes, hamlets and villages. Some households have borrowed capital from several programmes.
The loans have brought in practical results, contributing remarkably to economic development and improving living conditions of households and ethnic minority families in particular.
The VBSP has focused on enhancing the efficiency of policy credits, particularly in the northwest, Central Highlands and southwest regions while working with local socio-political organisations to carry out the job. 
Minister, Chairman of the Government's Committee for Ethnic Minority Affairs Do Van Chien said the preferential credit programmes implemented by the bank have helped households, particularly ethnic minority families, stabilise their lives and reduce poverty sustainably.
However, Chien stressed the need to increase technology transfer and expand stable markets for products, while concentrated production zones should be developed in ethnic minority-inhabited areas.
Over 200 cellphones seized from man in Quảng Ninh
Customs officials have seized 204 mobile phones from a 24-year-old man in the northern province of Quảng Ninh.
The Customs Department's Mobile Control Team last weekend stopped Ngô Quốc Cường, a resident of Móng Cái City, while he was driving a four-seater car and found that he was carrying a carton full of mobile phones - 191 iPhones and 13 Samsung mobiles.
Cường could not produce documents or explain the origin of these mobile phones, which are collectively worth around VNĐ1 billion (US$43,850).
Further investigations are underway.
Laos artists tour northern Việt Nam
A concert featuring Laotian artists and celebrating the country, its people and the relationship between Việt Nam and Laos will be held at the Hà Nội Opera House tonight.
The artists will perform a repertoire of traditional dances, music and songs, including a song titled Hà Nội-Vientiane by a Laotian composer. The programme will begin at 8pm.
Hà Nội-Vientiane, to be sung by a group of women artists, honours the close, special relationship between the two countries and its people, which was established a long time ago and has been nurtured ever since. The song praises a friendship that is "deeper than the water of the Mekong River".
The singers will also perform two other songs, which praise the natural beauty of Laos and the important role its youth play in the country's development and progress.
The other highlight of the event is a khaen (Lao panpipe) performance by women artists. The Lao panpipe is a traditional instrument that is played at almost all ethnic group festivals in Laos.
After their Hà Nội show, the artists will perform at Lam Sơn Theatre, in the central province of Thanh Hóa, on July 19, and at the Municipal Theatre in the northern city of Hải Phòng on July 21. All shows are free for the audience.
The events are being held to celebrate the 55th anniversary of Việt Nam-Laos diplomatic ties, and the 40th anniversary of the signing of Việt Nam-Laos Treaty of Friendship and Co-operation.
Singer releases album to pay tribute to war veterans
Singer Phạm Phương Thảo has released her DVD-CD album called Tri Ân (Gratitude) to pay tribute to fallen soldiers on the occasion of the 70th anniversary of War Veterans Day, which falls on July 27.
Thảo had nurtured this idea for years and she spent a year completing her album. The album features eight songs, including Mẹ Việt Nam (Vietnamese Mother); Mười Đóa Sen Thơm (Ten Fragrant Lotuses) to pay tribute to the young unmarried girls who helped with the logistics work at Đồng Lộc, a strategic T-junction road that was heavily bombed by American forces during the war in Việt Nam; and Ân Tình Mẹ (Paying Tribute to Mothers).
"We have devoted ourselves for this album because it is our way to pay tribute to soldiers and mothers whose sons dedicated their youth to the country," Thảo said at a press conference last week.
The music video features footage of all the three regions of Việt Nam, with support from three directors - Phạm Đông Hồng, Việt Hương and Dương Lan Hương.
Phạm Phương Thảo was born in 1982 in the central province of Nghệ An and won "Favourite Singer" at the Sao Mai Television Singing Competition in 2003. The singer is well-known for the folk music genre.
National Defence Sports Centre 5 top swimming competition
The National Defence Sports Centre 5 were at the top of the National Junior Swimming Championship on July 16, after three days of the competition.
The event is being held at the Mỹ Đình National Sports Complex in Hà Nội.
So far, the team have won 16 golds, seven silvers and four bronzes.
Currently, the National Defence Sports 4 come second, with 13 golds, 10 silvers and three bronzes. Long An finish third with 11 golds, eight silvers and five bronzes.
In the boys' 100m butterfly race (for 14-15 year), Trần Hưng Nguyên of the National Defence Sports Centre 5 triumphed with a time of 58.89secs. Võ Dư Trương of the National Defence Sports Centre 4 and Nguyễn Hà Khang of Vĩnh Long were the runners-up.
On the women's side, Nguyễn Thị Thanh Thảo of Đồng Nai took the lead at 1:07.12, while Tôn Nữ Mỹ Ngọc of Đà Nẵng and Nguyễn Hoàng Dung of Bến Tre finished at second and third places, respectively.
In the boys' 400m freestyle (14-15 years), Nguyên of Centre 5 triumphed again, with a time of 4:14.70. Võ Minh Khang of Long An took the silver medal, while Trương of Centre 4 won the bronze.
In the boys' 400m freestyle (12-13 years), Bùi Hữu Hiếu of Cần Thơ won the gold medal with a time of 4:19.20. Nguyễn Văn  An of Hải Dương and Trương Việt Vũ of HCM City took the silver and bronze medals home, respectively.
In the 800m freestyle for girls (14-15 years), Nguyễn Hoàng Dung of Bến Tre won the gold medal after clocking a time of 10:14.95. Trần Thị Diệu Hiền and Huỳnh Thị Ngọc Thy of Long An were the runners-up.
The Quảng Bình team also won a gold medal on July 16 in the girls' 1500m freestyle category, thanks to Mai Thị Linh who completed it in 17:57.92. Trần Thị Hồng Cẩm of Long An and Lê Thị Loan of Centre 5 won the silver and bronze, respectively.
The annual event, which has the participation of 220 swimmers from 24 teams, will end on July 18.
Trains cancelled as Talas wreaks havoc for commuters
Hundreds of trains throughout Vietnam have been suspended due to the destructive force of Talas, which has now been classed a tropical storm, the Vietnam News Agency has reported.
Hanoi Railway reported 'severe disruption' with the storm downing thousands of trees and utility poles making passage on many of the railroads impossible with many trains cancelled until at least July 18.
Ten overland trains on the North-South route – SE1, SE3, SE4, SE17, SE18, SE19, SE20, QB1, NA1, NA2 – were delayed until July 18 due to the storm stranding upwards of 4,000 passengers.
All trains running to and from Hanoi-Vinh on the SE35 and SE36 routes were also cancelled indefinitely on July 17.
Workers finished clearing and reopened the Thanh Hoa-Vinh route at 7:30am on July 17.
The Vietnam Railway Corporation has handed out thousands of free meals and drinks for passengers whose travel has been disrupted by the devastating forces of tropical storm Talas.