Illegal gold mining destroys arable land in Hoa Binh
Last update: 21:47 | 17/07/2017
VietNamNet Bridge – Many households in Hoa Binh Province have destroyed their farms to mine gold illegally, falsely informing local authorities that they are digging shrimp ponds.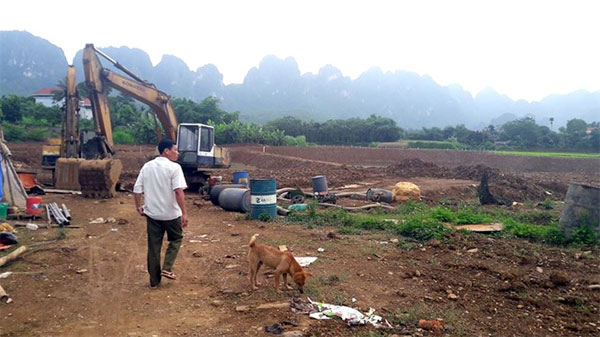 Farm land in Dong Hoa 2 Hamlet, My Hoa Commune in northern Hoa Binh Province is used for gold mining. Many households in Hoa Binh Province have destroyed their farms to mine gold illegally. — Photo hoinhabaovietnam.vn
Some have even sold their own land to illegal gold miners.
Local authorities have admitted their impotence, saying that they need more higher-level support to deal with the problem.
In Kim Boi District's Mi Hoa Commune, the illegal gold mining has been blatant. With many machines like excavators, bulldozers, drilling and pumping machines operating in each plot of land, the din is deafening.
The damage to the top soil has been severe, with the digging going down to four or five metres.
A plot of land belonging to commune resident Dinh Cong Diep, located on the main road in Dong Hoa 2 Village, is a deep hole. Miners can be seen panning for gold just a few steps away.
Diep told online newspaper danviet.vn that he was digging a fish pond because growing rice on the land was not bringing much profit.
To avoid the attention from local authorities, Diep has covered his "pond" with a black net and planted some banana trees outside.
Many other residents are doing the same.
Quach Cong Trình, head of Dong Hoa 2 Village, claimed there were no gold mining activities, adding that the residents were switching from rice cultivation to fish farming.
However, the switching process has being going on for three years.
Particularly noteworthy is that the illegal gold mining area is located right in front of the Mi Hoa Commune's People's Committee.
Chairman of the committee, Bui Xuan Hoan, said his office has tried its best to protect local agricultural land from being destroyed by illegal gold mining.
He said that 20 years ago, part of the Boi River passing the commune had been seriously destroyed by a rumor saying that there was gold under the riverbed. After searching in vain for a short time, the miners, mostly from outside, left the area.
However, four years ago, some residents in the commune surprisingly discovered pieces of gold when digging wells. The story spread quickly, and all residents began digging up their land in the hope of striking it rich.
So far, no gold has been found, but agricultural land had been seriously destroyed.
Hoan also said that since 2013, the committee has conducted many inspections, suspending illegal gold mining by five households and seizing 30 machines. In three cases, fines of VND2 million (US$88) each have been levied.
However, these measures have failed to top households from continuing their exploitation.
Hoan said the People's Committee has recorded 20 households selling their arable land to gold miners.
It has held meetings between local residents and police, and encouraged miners to stop their behavior. It has also reported the situation to authorities in Kim Boi District as well as the provincial administration. Provincial police have inspected the area, but the situation has not improved.
The committee has currently asked the local electricity company to stop power supply to households violating the law, and continued reporting on the situation to district, he said. 
VNS