'Road of Death' a testament to rash driving
Last update: 11:11 | 09/05/2017
VietNamNet Bridge – The shocking traffic accident that claimed 13 lives last weekend in the Central Highlands, and several such mishaps of late, underscore a failure to check rash driving at many levels.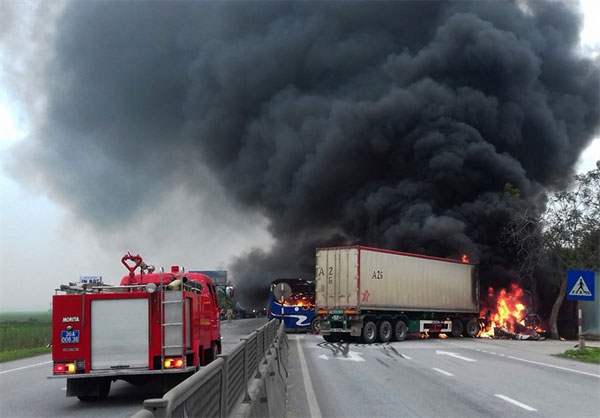 A head-on collision on National Road 1A (on the section that passes through central province of Thanh Hoa), between a 30-passenger sleeper coach and a container truck moving in the opposite direction fortunately claimed no lives last March. Passengers and drivers made it out before flames started to consume the two vehicles. — Photo courtesy of the local firefighter police
Barely a month earlier, on April 12, another accident on National Highway No 1 claimed two lives and injured many other passengers. The sleeper bus in question was moving in the south-north direction, passing through the central province of Ha Tinh, when it hit the highway's concrete divider and overturned.
The previous month, on the same national road, this time in the section that passes through the southern central province of Ninh Thuan, a sleeper bus crashed into a motorbike moving in opposite direction. The motorbike's driver was dragged several metres to die a gruesome death, causing a jam on the highway.
The frequency with which accidents have occurred over the past several years on National Highway No 1 has prompted many to call it the "Road of Death," for the mere act of traveling on this highway is already considered 'courting dangers.'
Many locals say the road is cursed with bad luck, and this view gains traction with every accident and death.
Driver error
The reality is that drivers of vehicles using the highway are often exceeding the speed limit by 30-50 per cent, showing an extreme lack of concern for passengers whose safety lies entirely in their hands.
This wanton irresponsibility and recklessness has persisted despite efforts by traffic patrols to control rash driving, including speeding.
Drivers have come up with new ways to defy regulations, even deliberately deactivating legally mandated 'black boxes' so as to avoid monitoring by provincial transport department and other national traffic watchdogs.
Buses with bed bunks, called sleeper coaches, have proven attractive for overnight travel between provinces, and while the recent string of accidents would worry passengers, the lack of viable alternatives mean that they take their lives in their hands each time they travel.
After the latest devastating accident, Deputy Prime Minister Truong Hoa Binh, currently serving as head of the National Traffic Safety Committee, directly oversaw relief operations.
Deputy head of the committee, Khuat Viet Hung, and Deputy Transport Minister Le Dinh Tho have visited the accident site and personally called on the families of the dead and injured.
"The prevention of violations must happen at the very initial stage, and the bus operators themselves should get tough in handling safety violations committed by their drivers," Hung said.
While the official response to accidents have followed the protocol of relevant agencies being asked to quickly investigate the cause and punish violators, these have not proved to be an effective deterrent.
The Gia Lai accident also exposed a serious dearth of monitoring of black boxes on passenger coaches, especially at local levels.
Nguyen Manh Tuan, Deputy Director of the My Dinh Bus Station in Ha Noi – one of the largest in the region, said bus operators and local authorities have to set this right.
Station managers must inspect buses more thoroughly before allowing them to leave the station, not letting any overcrowded bus or those having defective 'black boxes' to get out, he said.
Tuan also said station managers must co-ordinate with police forces patrolling the highway to gain better oversight on the buses.
Phan Thi Thu Hien, Deputy head of the Viet Nam's General Department of Road Transport, said that speeding will attract heavy fines from now on.
To ensure traffic safety, police will be deployed 24/7 at high-rise sections of important highways, in order to aid timely discovery and prevent violations, especially during festival time, Hien said. 
Traffic accidents, most of them road accidents, claim 20 lives a day on average in Việt Nam. The annual economic loss caused by road traffic accidents is estimated at 2.9 per cent of the  national Gross National Product, translating to a loss of VND 340 billion (US$15 million) a day.
VNS