No excuses: beating up a doctor is sick
Last update: 06:30 | 21/04/2017
VietNamNet Bridge – The attack was brutal and sudden. After examining a young girl, a doctor in Ha Noi was explaining to her parents that she was afflicted with the rota virus and might need to be transferred to another hospital when the father went berserk.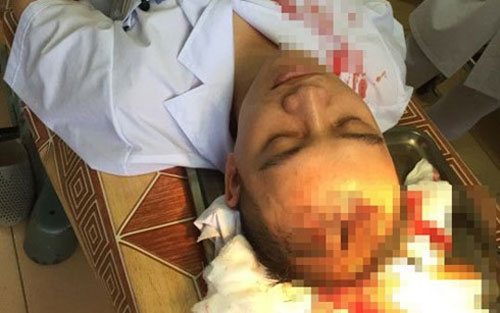 A doctor was attacked by patient's family in Thach That General Hospital. 
The doctor was him times on the head with a thick glass. He fainted and the wound itself required seven stitches. His condition stabilized sometime later, but he was still suffering from headaches and nausea.
There is something seriously wrong when doctors, who have the noblest job of saving lives, are badly beaten up by patients or their relatives.
This is not to say that doctors and medical workers are infallible. Far from it, but inflicting violence on them is not the answer, whatever the provocation. What do we have laws for?
This is the fourth serious assault on medical staff in Viet Nam since the beginning of this year, and there have been dozens of such incidents over the last five years, according to the Ministry of Health.
In 2013, at a general hospital in Thai Binh Province, two doctors were stabbed by a patient's family, one of them fatally. Their crime? They had pronounced the patient dead an hour after treatment in the emergency ward.
While this was the most serious incident, yelling of insults, threats of violence and actual violence, as also damage to hospital property are not uncommon, and have become an occupational hazard for the medical profession.
It is time that the nation, leader, experts and the lay public, sat all aspects of this problem, unflinchingly, and find solutions to root out such violence from our society.
Work ethics
Overloading of hospitals and malpractices by medical staff, including doctors, are part of the problem.
Public hospitals in Viet Nam, especially at the central level, have been overloaded for years, with three to four patients being forced to share a bed, while private hospitals are functioning at just 50-60 per cent of their capacity, according to the Viet Nam Social Security (VSS) administration.
While no official statistics have been compiled, the practice of bribing medical staff with 'envelopes" is common enough for many people to say it is an unwritten law at public hospitals.
And as if this weren't bad enough, doctors sometimes do the unthinkable.
In 2013, a 39-year-old woman in Ha Noi died on the operating table while undergoing a breast enhancement procedure at a private clinic. The doctor who performed the operation dumped her body in the river.
The same year, Ha Noi Police prosecuted ten health officials from Hoai Duc Hospital for duplicating around 1,000 blood test results for up to 2,000 patients, and one can only imagine the potential consequences in terms of disease diagnosis and treatment.
The Government has responded to these crises with campaigns like "Say no to envelopes" (2011) and "Changing styles and attitudes of health workers towards patients' satisfaction" (2015), and set up hotline numbers for citizens to report wrongdoings in the health sector. 
High pressure
While the lack of medical ethics has to be deplored, we cannot ignore the constant pressure that doctors and other medical staff work under, especially given the overwhelming number of patients who visit public hospitals.
In a developed country, a doctor may see about 10 patients per day, while a doctor in a Vietnamese public hospital would have to deal with 100 per day. This means working 10-16 hours per day, nearly double normal working time.
A 2015 survey by Medscape, a leading online global destination, found 46 per cent of surveyed US doctors saying they were exhausted. Stress and exhaustion have a serious toll. It is said that an average of 300 doctors commit suicide in the US each year.
A similar survey of Vietnamese doctors has not been done, but we can guess that the situation is even more serious.
We should also acknowledge that hundreds of thousands of medical workers in the country spare no efforts to save people's lives, to provide patients with relief from pain, and study hard day and night to find ways to cure patients.
There are doctors who go out of their way to raise funds for poor patients. For example, a doctor in the northern mountainous province of Ha Giang stood for many days at a local market to solicit funds for treating twin babies of a poor ethnic minority mother last year. There are many such instances reported around the country.
The girl whose father beat up the doctor was discharged in good health from the Thach That Hospital two days after the incident. 
Not miracle workers
Patients should understand that successful treatment does not depend on doctors alone. It depends a lot on patients and their families themselves, co-operating with doctors and nurses during the whole treatment process.
Many doctors and health workers complain they feel they are sitting in a "hot chair" at work, and this is pressure that is neither good for the healthcare providers nor for the patients.
If any medical worker is found to violate regulations or act unprofessionally in any way, they should be punished by law, not vigilante action.
In 2016, the Health Ministry reprimanded 213 medical staff, stripped rewards and commendations from 78, and dismissed 13 for various violations.
Not unique
Violent in hospitals is not unique to Viet Nam. It has been reported in many countries around the world. The US recorded over 150 cases of shootings in hospitals in just two years (2010-2011); 28 per cent of the victims were doctors, nurses or other medical workers. A 2014 survey by the Scientific American magazine revealed that 80 per cent of nurses in the US have reported attacks on them.
In response to the situation, the US recently updated regulations to strictly punish attackers of medical workers with sentences up to five years in prison and fines of up to US$15,000, depending on the level of infringement.
Viet Nam should have a zero tolerance policy for violence against medical workers. This is needed to protect both doctors and patients, and improve the quality of healthcare provided.
In fact, the wellbeing of our entire healthcare sector and therefore, that of all the nation's citizens and our society as a whole depends on it.
Khanh Van
VNS