Cut in unemployment payments good for firms. And for workers?
Last update: 06:30 | 21/04/2017
VietNamNet Bridge – Nguyen Thi Hai Van, head of the Employment Department of the Ministry of Labour, Invalids and Social Affairs, speaks to Dân Tri.com.vn about the Government's decision to cut employers' contributions to the unemployment fund.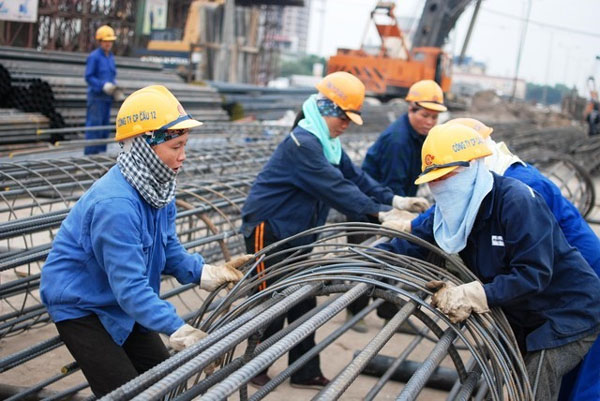 Female workers at a construction site. 
Why has the Ministry of Labour, Invalids and Social Affairs asked the Government to cut 0.5 percent from employers' contribution to the national unemployment insurance scheme?
To help enterprises overcome difficulties, the Government has adopted several measures, including extending deadlines for payment of value added  and income taxes, lower land rental price, extending deadlines for paying land use fees for enterprises facing financial difficulties.
The Ministry of Labour, Invalids and Social Affairs (MOLISA) has also proposed reducing employers' contributions for their workers to the Unemployment Insurance Fund from 1 percent to 0.5 percent. If our proposal is accepted, the fund will be reduced by about 25 percent per annum. In 2016, the Unemployment Insurance Fund collected VND 11,728 billion ($517.2 million) from employers nation wide
According to our calculation, enterprises can save about VND3 trillion ($132.3 million) a year, so no doubt it will help cut down costs and ease pressure on enterprises to raise prices. And finally, it will help enterprises increase their competitiveness.
On April 7, 2017 a Government resolution was approved adjusting employers' contributions to the Unemployment Insurance Fund to 0.5 percent, as proposed by the MOLISA.
The adjustment will take effect once it's approved by the National Assembly and be in effect until Dec. 31, 2019.
The decision is good for employers, but not for workers. Do you agree?
Cutting down unemployment insurance costs for employers is one way of preventing layoffs. Both the rights of employees and employers regarding unemployment insurance will be fully guaranteed.
In some countries, both the employees and employers have to pay the same percentage of unemployment insurance. But the percentage is changed annually depending on the expenditure projection for that year.
However, in Viet Nam both the employee and employer each have to pay 1% and the central Government contributes a maximum rate of 1%.
The Unemployment Fund is not statics. It is subject to change periodically. That's why I think the decision is right given the sluggishness of the economy.
Might the unemployment fund become unbalanced in the future?
During the writing of the proposal we have to calculate very carefully various scenarios, including the Law on Unemployment Insurance; the collection/spending on unemployment and others.
It is projected that by 2020 the Fund will remain safe and benefits of both the employers and workers will be protected.
VNS