Last update: 12:51 | 20/03/2017
Standing next to an old motorbike on a footpath near an intersection, an old man watches the steady stream of people passing by. 
He sits here every day, waiting for someone to come and ask him for a ride. Such "xe om" (motorbike taxi) drivers are found in all parts of Vietnam. 
Recently, though, the time between customers has been increasing and on some days there is no one asking for a ride. 
The appearance of different transport services via mobile phone apps, or "technology xe om", has changed the life of "traditional" providers like the old man. 
Old job, new trade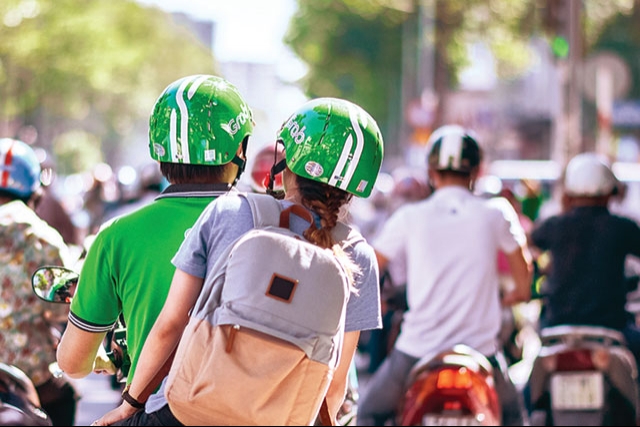 Working as a xe om driver for more than ten years, 45-year-old An can earn about VND200,000 to 300,000 ($9 to 13) a day. 
Together with his wife's daily income of VND100,000 to 200,000 ($5 to 10) as a street vendor, it's generally been enough to rent housing, buy food, and pay for their two children's schooling. 
In recent years, though, their life has become a struggle as his income has fallen due to fewer customers. 
His new competition, driving for Grab Bike, Uber Moto, Go-Ixe, Gogox, and Easygo, are easy to see with their uniforms and always seem to have customers.
Though she has a motorbike, 28-year-old Kim Lien still uses xe om quite often, like when she doesn't feel like driving during peak hour or when she goes out at night with friends. 
She used to just walk to the nearest intersection to find a xe om. 
Now, though, she need only tap on an app on her phone and wait a few minutes. 
A driver will contact her to confirm the exact address and pick her up. 
"I now don't have to worry about not finding a xe om when it's late or if I'm somewhere that's deserted," she said.
Traditional xe om drivers usually stay in one place and wait for customers all day. 
This saves on gas, compared to driving around looking for customers. 
Most of their customers are therefore regulars, who live or work nearby. 
Meanwhile, "technology xe om" can be anywhere. 
When there is a request, the nearest driver has 30 seconds to accept or it is directed to the second-nearest driver. 
Convenience is a bonus in "technology xe om" but not the key factor in attracting customers. The key factor is price. 
With traditional xe om drivers, customers usually have to bargain over the price, which depends on the distance and the "relationship". 
A new customer is usually charged more than a regular, according to Ms. Lien. 
"Technology xe om" companies offer a fixed price, like a taxi, for every kilometer travelled. 
The distance and cost are clearly shown on the app and is usually cheaper than a traditional xe om.
Ms. Lien normally pays a traditional xe om driver VND50,000 ($2.2) for the 4-km trip from her home to work or sometimes VND40,000 ($1.8). 
Using "technology xe om", she pays just VND21,000 (92 cents) outside of peak hour and VND32,000 ($1.4) during peak hour.
Along with the competitive price, the service is also better, as customers can give reviews on the driver after each trip. 
Drivers therefore try to offer a good service to get more customers and a bonus from the company. Better service also results in tips sometimes, according to Quang Minh, a driver with Grab Bike.
Despite the lower cost of "technology xe om", Minh said, drivers earn a higher income.
 Thanks to the app, they do more trips than traditional xe om drivers. 
He can get 10 or 15 trips a day, while traditional xe om driver may only have five or six. 
After paying the 15-20 per cent commission to the company, he earns a stable daily income of VND250,000 to 300,000 ($11 to 13).
Compared to the country's GDP per capita of $2,200 in 2016, according to World Bank data, the income to be earned under this new model for an old job is alluring for many unskilled workers. 
Moreover, the work requirements are also quite simple. With a good motorbike and a smartphone, anyone can be a "technology xe om". 
After applying, applicants are given an account and trained on how to use it as well as provided uniforms and helmets.
The easy and convenient job has attracted a large number of young people, especially students and freelancers with spare time. 
From a few trips every day they can earn VND3 to 4 million ($130 to 180) a month quite easily. 
Others have also changed from other low-income jobs and become full-time "technology xe om" drivers.
Outdated tradition
Meanwhile, traditional xe om drivers are finding it hard to adjust to modern times. 
Some, though, have started working for "technology xe om" companies, but they are mostly young and not the archetypal middle-aged xe om driver. 
"All you need is a motorbike that's less than ten years old and a smartphone, which sounds simple but isn't for people like me," said 55-year-old Nguyen Ba, who has worked as a xe om driver for about 15 years. 
"My bike is about 20 years old and I can't afford a new one. And a smartphone is expensive given what I earn." 
He also struggles with new technology, he explained, which is an obstacle for many of the older xe om drivers.
The earnings of traditional xe om drivers is now mostly based on regular customers; old people and middle-aged housewives who can't drive a motorbike and are likewise unfamiliar with new technology. 
Some expats still choose traditional xe om drivers, as they see them everywhere and the price difference is not a big deal. 
Some never drive, and have a regular xe om driver who knows their schedule and where they go, whether for work or play. 
"My regular xe om driver is reliable and also gives me a good price, which is better than using an app and having a different driver every time," said James Douglas, an English teacher from UK. 
However, such customers are not enough to cover the decline in business. 
The average income of a traditional xe om driver is now just VND100,000 to 150,000 ($4.5 to 6) a day. 
"I don't know what to do," said An, "Maybe I'll have to find another job. But I've worked as a xe om driver for a long time and I don't know what other work I could do."
Mr. Bui Trinh, an economic expert at the General Statistics Office, said that good quality and low cost is always appreciated. 
In the modern world, he said, technology plays an increasingly important role as it helps promote development and create jobs for many people. 
In all sectors, workers are required to adapt to new circumstances. 
He advised traditional xe om drivers to learn how to use new technology and invest in a smartphone and a new motorbike, perhaps by taking out a loan and making monthly repayments, which are now easier to access. 
"They have to change their ways, even if it's hard to accept," he said. 
"This is the way of the world now." Companies involved in "technology xe om" services, he added, should consider offering support to traditional drivers as they try to adapt. 
VN Economic Times