Three young men make protective jackets for motorbike drivers
Last update: 07:15 | 03/07/2018
VietNamNet Bridge - A life-jacket for motorbike drivers, the first of its kind in Vietnam, has been invented by three young engineers.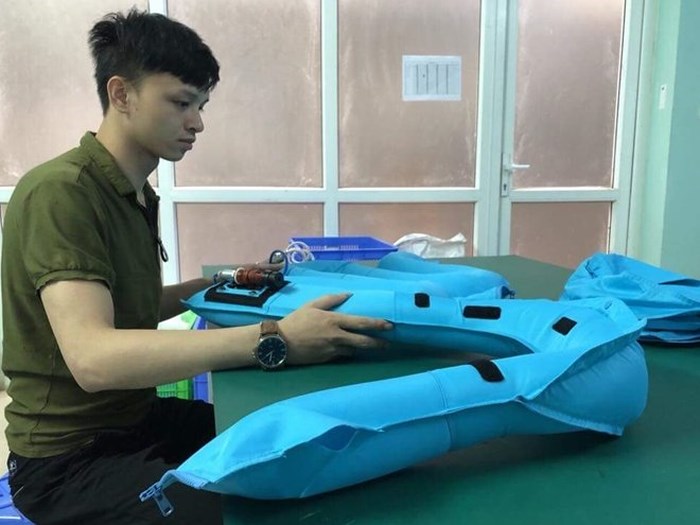 Nguyen Trong Xuyen
Nguyen Trong Xuyen, 29, one of the the engineers, said it took them one year to complete the work.
Xuyen, who worked as a designer for Nissan Automobile, said that in some countries, motorbike drivers use protective jackets. However, the products are expensive and bulky.
Nguyen Van Phuong, 26, and Nguyen Van Long, 32, who are also engineers, and graduates of the Hanoi University of Science and Technology, worked with Xuyen on the project.
The three engineers gave up jobs at large corporations and spent VND2 billion to work on the protective jacket.
The jacket was introduced on Facebook in April 2018. When accidents occur, it inflates and serves as a buffer against crashes, thus reducing the risk of injury.
The jacket is connected to the motorbike with a plastic buckle and zipper. When collisions occur, air is pumped into the airbag and inflates it. 
The special characteristic of the product is its low production cost, just VND2 million, which is cheaper than a Japanese product of the same kind, which sells for VND10 million.
Since the product relates to the safety of motorbike drivers, the three engineers were cautious in all phases of the invention process, from material selection to testing.
Xuyen's Japanese friends who worked with him at Nissan said the product has high quality and surprisingly low prices. 
In Vietnam, motorbikes remain the most popular means of transportation. Half the population of 93 million Vietnamese own a motorbike, according to the Ministry of Transport.
In related news, a smart control device which ensures safety for drivers was invented by Nguyen Van Sy, an 11th grader at the Phan Chau Trinh High School in Quang Nam province.
If the alcohol concentration is above 0.2 mg/liter, the device will turn off the motorbike IC power cable, while the LCD screen will display the alcohol concentration and the alert will show 'not safe'. The motorbike engine will automatically stop and the driver cannot ignite the vehicle.
Meanwhile, a high school student in Hue City has invented a smart helmet that helps curb the drunk driving, thus helping minimize traffic accidents caused by drunk people.
Traffic accidents nationwide killed 2,788 people and wounded 4,636 others in the first four months of the year, according to the Office of the Public Security Ministry and the Vietnam Maritime Administration.
RELATED NEWS
Hanoi to restrict motorbikes in 2018
Gear-motorbike market cutthroat for manufacturers
Mai Chi