Techmart 2018 kicks off in Hanoi
Last update: 09:46 | 17/05/2018
IT Techmart, a fair featuring technological advances and specialised electronic devices kicked off in Hanoi on May 16. The event gathered 40 booths from universities and enterprises in technology field. 
Products on high demand at the mart are cloud computing, automation technology in agriculture and big data security.
 "70-80 percent of private businesses and companies in the urban area are aware of QR code. Through the techmart, we hope this solution will be more popular among businesses," said Tien Duy, staff at HACODE Solution JSC.
4.0 technologies are now commonly seen in data transfer and automation in the three main fields of biotechnology, physics and especially digital technology. Accessing to updated foreign technologies and bring them to Vietnam is considered a right move of enterprises.
Tran Dac Hien, the director of National Agency for Science and Technology Information added that the techmart offers a chance for science and technology institutes, universities and businesses to introduce their latest research, while connecting demand and supply in IT, creating a market in the field.
The annual event updates enterprises with the latest IT trends and research both at home and abroad, and at the same time, helps them introduce their products to the customers.
Symposium talks information technology amid Industry 4.0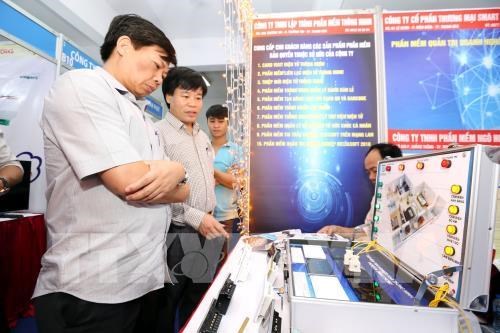 Visitors to the IT Techmart 2018 in Hanoi
A symposium on information technology (IT) amid the Fourth Industrial Revolution (Industry 4.0) took place in Hanoi on May 16, looking into features, opportunities and challenges of Industry 4.0 and development orientations for the IT sector in Vietnam.
According to experts and economists, Industry 4.0 is driven by the strong development of digital technology, in which IT plays a critically important role. It will create "unprecedented" things greatly affecting the economy, society, production methods, as well as humans.
Technologies in Industry 4.0 are inevitable technological trend to which Vietnam must adapt to keep up with developed countries around the world, they noted.
In May 2017, Prime Minister Nguyen Xuan Phuc issued Directive 16/CT-TTg on enhancing the capacity of accessing Industry 4.0, which requested ministries and localities to provide the best conditions for the development of Industry 4.0 in Vietnam.
Participants said this directive showed that the Government leader paid special attention to this issue and considered it as an opportunity to develop the country in a fast and sustainable manner.
At the event, experts and representatives of universities, research institutes and businesses and organisations operating in IT-related fields discussed Industry 4.0 issues, including safety and security of Party and Government agencies, application of artificial intelligence (AI), Internet of Things (IoT), application of IoT in agriculture, and integrated platform in an e-Government. 
Advanced technologies and solutions in Vietnam and other countries were introduced to update participants about the features, opportunities and challenges of Industry 4.0.
They also suggested ways to orient the development of IT towards the demand of each sector in the time ahead.
The symposium, part of the IT Techmart 2018, was organised by the National Agency for Science and Technology Information under the Ministry of Science and Technology.
VNA