Latest Bphone 2017 introduced
Last update: 12:07 | 09/08/2017
The Bkav Corporation officially introduced the Bphone 2017, the second version of its Bphone, the first made-in-Viet Nam smartphone, on Tuesday.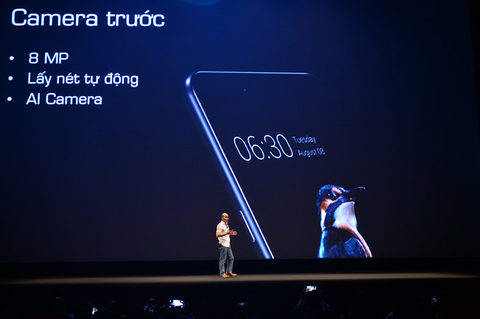 Bkav officially introduced the Bphone 2017 on Tuesday. 
The Bphone 2017 is built with the newest version of Android. The phone works with Qualcomm Snapdragon 625, a chip popular around the world for its efficient power management.
The phone is also designed with dual-SIM technology, supporting 4G connections and quick 3.0 fast-charging battery.
The phone's camera is equipped with an 8-megapixel front camera and a 16-megapixel rear camera. With this version, it offers music in 32bit/384kHz, satisfying lossless music lovers.
Bphone 2017 also features water and dust resistance along with anti-virus and anti-spam software.
Besides Bphone 2017, Bkav also introduced a flagship gold version, equipped with the Qualcomm Snapdragon 835 and double cameras. However, the gold version will not be sold in Viet Nam but abroad.
The price for Bphone 2017 is set at VND9.789 million (tax included) and will go on sale from August 19. 
VNS