Sustainable productivity key to survival: Asian Productivity Organisation
Last update: 16:36 | 19/05/2017
Sustainable productivity is the only way for the world to deal with changing business models driven by fast changing technologies, according to the Asian Productivity Organisation.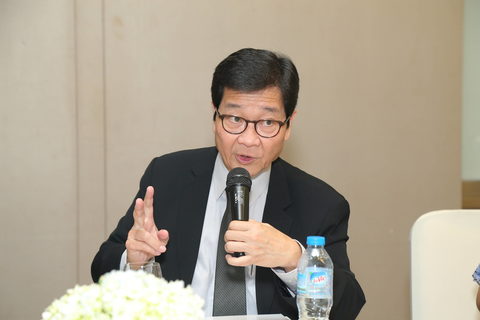 Dr Santhi Kanoktanaporn, secretary-general of the Asian Productivity Organisation, says disruptive technologies are changing the world as we know it, and businesses that fail to keep up with the changes will perish. 

Dr Santhi Kanoktanaporn, APO's secretary-general, said the world has experienced an unprecedented rate of change in every field, including the internet, mobile phones and knowledge.
The fast changing and newly emerging technologies today not only attempt to make current products better, but "also disrupt or kill current products or organisations. This kind of innovation we called disruptive innovation."
In an interaction with the media in HCM City last week, he said: "One of the technologies coming very fast and that is very important is artificial intelligence.
"If you put this box – an artificial intelligence -- into a car then you do not need to drive a car, it will take you to the destination you want. That's why we call it disruptive because if you have a car you drive yourself, in future you cannot sell it."
The other emerging disruptive technologies include Fin Tech (financial technology) and hyperloop (a new way to move people and things at aircraft speed for the price of a bus ticket).
With Fin Tech, "In the very near future we will not use money any more. The banking industry is very scared of this because it will take away financial transactions."
Businesses have to be able to know which ones would be disruptive to survive, he said.
A key issue for the APO is to enable member economies to deal with the uncertain global business environment driven by newly emerging technologies that are drastically altering business models and shortening product life cycles.
To meet the challenge, he urged member nations to focus on sustainable productivity initiatives.
"The key to sustainable productivity lies in the organisation's ability to shape its environment to take advantage of the shifting market environment or risk being shaped by them."
He described the five basic steps for any organisation in any country to follow for survival in a rapidly changing situation: "Be trend literate, act in a timely manner, leverage tools for advance notice, manage and combine trends to create value, and shape the future by acting on what we see."
To support sustainable productivity, the APO has built a platform using artificial intelligence to monitor emerging global trends, he said.
Trap of success
Talking about challenges for Vietnamese companies wanting to adopt sustainable productivity, he called the challenges the "trap of success."
"Not just in Việt Nam but everywhere, if you are working on this area today and are very successful and you think it will be successful for another five years and stick to that business."
But businesses need to know what is changing to catch up and remain successful, he said.
He cited the examples of Nokia and Kodak, which used to be very successful, asking "where are they now?"
According to Deputy Minister of the Ministry of Science and Technology Tran Viet Thanh, sustainable development is one of the fundamental criteria in reforming Việt Nam's model of economic growth as well as its most significant goal.
Kanoktanaporn said in preparation for an incoming wave of new technologies Prime Minister Nguyen Xuan Phuc has issued a directive to strengthen the country's ability to access Industry 4.0.
The APO, which was established in 1961, has 20 member countries, including Viet Nam. 
VNS