Programing competition 'Vietnam AI Hackathon 2017' launched
Last update: 16:31 | 18/05/2017
Vietnam AI Hackathon 2017 - the biggest artificial intelligence competition in Vietnam – will take place in F-Ville software village in Hanoi-based Hoa Lac High Tech Park.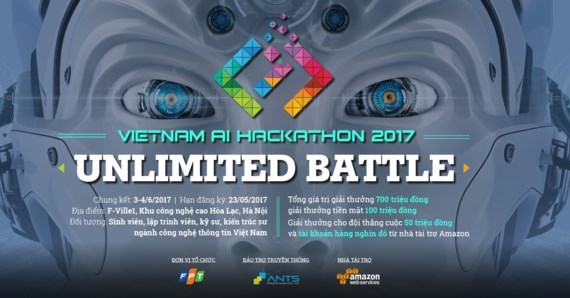 The competition is set to take place on 3rd and 4th of June, 2017.
The theme of the competition is 'Developing Artificial Intelligence Application and Delivering Unlimited Experience to Users'. The number of members for each team will be at least two or five in total. 
May 23rd is the deadline for team registration and May 26th is the final date for submitting team members' list.
The contest is expected to create a playground for Vietnamese technology community to develop the ideas that make up the application, products to bring Interesting experience for users based on artificial intelligence.
To register, entrants should enter the website https://tech.fpt.com.vn/hackathon. From 23rd to 30th May, ideas will be submitted to the organizers and assessed to qualify 30 teams for the preliminary round (from May 30th to 31st) in which team leaders will participate in an interview regarding ideas and the ability to apply technology, and 15 teams will be chosen to go through the final round.
The total prize will be up to VND700 million, including 100 million in cash. The winning team will receive VND50 million in cash, presents and an account with thousands of US dollars from Amazon and support of FPT in 6 months to develop their product.
Judges at Vietnam AI Hackathon 2017 are Mr. Nguyen Hoa Binh – Chairman of NextTech Group, Mr. Le Hong Viet – Chief Technology Officer of FPT, Dr. Dang Hoang Vu – Head of Science – FPT Corporation.
SGGP