FPT Software to earn $200 million from auto-tech solutions
Last update: 17:14 | 17/04/2017
 FPT Software expects to earn US$200 million through the sale of automotive technology solutions and employ 8,000 people by 2020, the company said.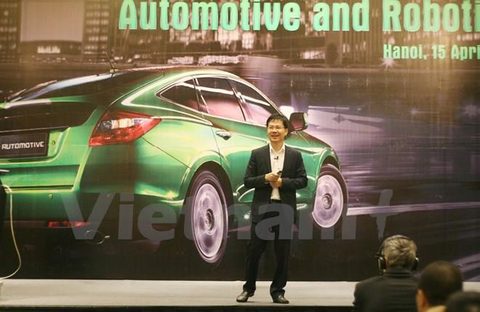 A representative of FPT Global Automotive discusses automotive trends and technology at the meeting.
Around 300 experts, engineers and students from the field of information technology participated in a conference on Automobiles and Robots in the Fourth Industrial Revolution held by FPT Software and Vietnamworks on Saturday.
A representative of FPT Software said the company has been concentrating on developing new technology trends for the past three years, in which automobile technology is an important sector.
Last year, FPT Software established a unit specialising in automobile solutions with around 1,000 employees. So far, it has taken up 150 automotive technology projects for customers in South Korea, Japan, Europe and the US.
FPT Software also announced that it plans to hire 1,000 engineers and specialists in automotive technology solutions this year. 
VNS