Last update: 17:29 | 10/07/2018
Ambassador highlights good results in Vietnam-Cambodia economic ties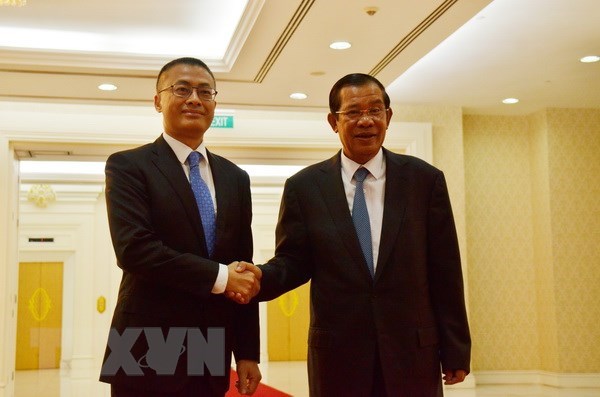 Vietnamese Ambassador to Cambodia Vu Quang Minh (L) at a meeting with Cambodian Prime Minister Hun Sen
Vietnamese Ambassador to Cambodia Vu Quang Minh emphasised the goods results of the bilateral economic cooperation in an article published on the Khmer Times newspaper on July 10.
In the article, entitled "Cambodia-Vietnam economic cooperation yielding good results", the diplomat highlighted some economic achievements of Cambodia in recent years. 
According to the latest figures of the Ministry of Economy and Finance of Cambodia, the country has made impressive economic performances over the last few years. Its gross domestic product (GDP) rose by nearly 7 billion USD from 2013 to 2017, reaching 22.1 billion USD last year and it is likely to reach 24.5 billion USD by the end of 2018.
Thanks to strong economic growth, the country's per capita income has risen remarkably from 393 USD in 2013 to 1,435 USD in 2017 and is expected to rise to 1,568 USD by the end of this yar, he noted.
Ambassador Minh attributed Cambodia's such impressive growth partly to the good results of economic ties with Vietnam in recent years.
Two-way trade between Vietnam and Cambodia in 2017 reached about 3.8 billion USD, up more than 25 percent from 2016.
Of the total, Vietnam's exports to Cambodia was 2.77 billion USD, rising 26.1 percent against the previous year. Vietnamese key exports to Cambodia included steel and iron products (521 million USD, up 69.7 percent year-on-year) and oil and petrol (375 million USD, up 30 percent).
Meanwhile, Vietnam's imports from Cambodia reached 1 billion USD, a year-on-year increase of 40.6 percent, mainly timber and wood products (214 million USD, up 16.9 percent), cashews (168 million USD, up 46 percent) and rubber (138 million USD, up 64 percent).
The ambassador wrote that leaders of Vietnam and Cambodia have agreed to enhance the comprehensive cooperation between the two nations. As a result, they intend to raise the bilateral trade value to 5 billion USD in the coming years.
With regards to investment, up to now, Vietnam has had 196 investment projects in Cambodia with a total registered capital of 2.94 billion USD, primarily focusing on agriculture and forestry. Vietnam is also among the top five foreign investors in Cambodia. Cambodia, in its turn, is running 18 projects in Vietnam with a total investment capital of 58.12 million USD.
About 835,000 Vietnamese tourists visited Cambodia in 2017, making Vietnam the second-largest source of tourists to Cambodia, after China.
Minh said the two countries signed the Framework Agreement on Vietnam-Cambodia Economic Connectivity in 2017, and they are working on the details of the Master Plan. On March 31, they signed the Double Taxation Avoidance Agreement. The countries are also completing negotiations to sign the Agreement on Border Trade. 
Furthermore, the recent 16th Meeting of the Vietnam-Cambodia Joint Committee on Economic, Cultural and Scientific-Technological Cooperation took place in Hanoi on May 17 with great success. It laid out specific orientations for multi-faceted cooperation between Vietnam and Cambodia, especially in economic sectors.
The diplomat added: "I do believe that these economic frameworks will greatly help facilitate and further promote economic relations between the Government of the Socialist Republic of Vietnam and the Royal Government of Cambodia, especially in the fields of trade, investment and tourism."
Deputy Defence Minister receives Indian, Israeli military attachés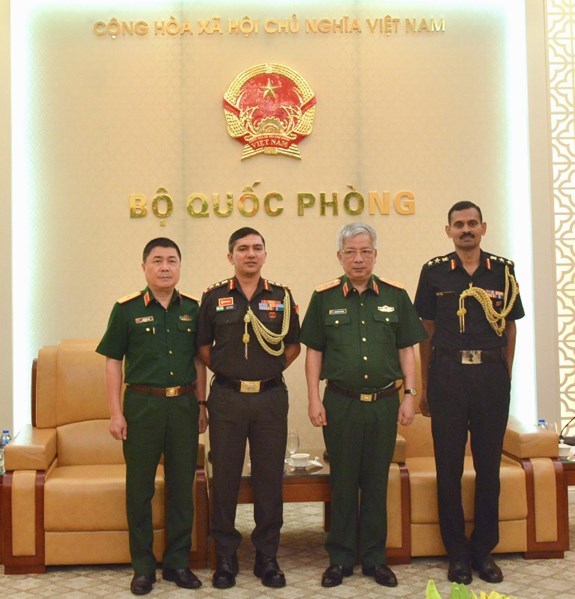 Deputy Defence Minister Nguyen Chi Vinh (second from right) in a group photo with Indian military attachés Colonel PS Punia (first right) and his successor Colonel Varandan Kumar ((second, from left) (Photo: qdnd.vn)
Deputy Defence Minister Sen. Lt. Gen. Nguyen Chi Vinh hosted separated receptions on July 9 for the outgoing Indian, Israeli military attachés in Hanoi and their successors.  
Receiving Indian military attachés Colonel PS Punia who came to say good-bye and his successor Colonel Varandan Kumar, Deputy Defence Minister Vinh said Vietnam – India defence relations have recently been expanded continuously toward effectiveness. 
The Vietnamese official acknowledged the contributions of Colonel PS Punia to the bilateral ties during his tenure, and asked the military expert to continue to foster the relationship between the two nations and armies in his new post.
The same day, Vinh also met outgoing Israeli military attachés Taibel Yaakov and his successor Bloria Hamama.
The deputy defence minister lauded the role of Taibel Yaakov in promoting bilateral defence ties in his tenure, hoping the Israeli officer to continue boosting cooperation, and mutual trust and understanding between the two nations and their armies.
Welcoming Bloria Hamama, Vinh said the Defence Ministry of Vietnam will create favorable conditions for her to fulfill her missions.
Minister urges synchronous measures to deal with natural disasters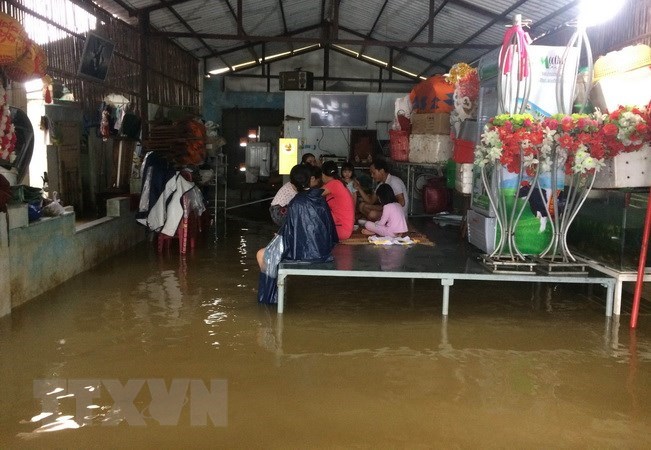 A house is flooded in the central province of Thua Thien-Hue 
Minister of Agriculture and Rural Development Nguyen Xuan Cuong has asked relevant agencies to take synchronous measures to deal with possible natural disasters. 
At a meeting of the Central Steering Committee on Disaster Prevention and Control in Hanoi on July 9 to review its first-half work, Cuong, who is also head of the committee, emphasised the need to implement the Government's Resolution 76/NQ-CP dated June 18, 2018 on natural disaster prevention and Resolution 120/NQ-CP dated November 17, 2017 on sustainable development of the Mekong River Delta in adaptation to climate change, and other documents. 
The National Centre for Hydrometeorological Forecasting should pay special attention to forecasting and warning work, promptly providing weather forecast bulletins for agencies at all levels, as well asdevise plans and measures to improve forecasting capacity and infrastructure, he said. 
The centre was urged to closely coordinate with international hydro-meteorological organisations, ministries, agencies, localities and press agencies in natural disaster response.
He also asked cities and provinces to make plans on repairing and upgrading reservoirs and prioritise the participation of private businesses in disaster prevention, especially those applying technology.
As heard at the meeting, 75 people have been killed or remained missing while 48 others suffered injuries due to natural disasters in the first six months of 2018.
Total economic losses reached 868.5 billion VND (37.73 million USD).
According to the committee's report, a total of 14 types of natural disasters have occurred in the country, including two typhoons, two tropical depressions, 88 thunderstorms, seven flash floods and landslides, seven strong wind spells over the seas, four extreme cold spells and others.
In total, 509 houses have been destroyed while another 12,571 sustained damage.
As many as 15,000 hectares of rice and 1,700 hectares of industrial plantation also suffered damage, while nearly 9,000 fowls and 17,000 cattle were killed due to natural disasters.
Minister Cuong said that the weather events in the first half of the year were abnormally extreme compared to the average statistics in the last 20 years, citing the "rare cases" of record rainfall in the northern region in June and 40-41 Celsius degree heat wave in the northern and central region in recent weeks.
According to the National Centre for Hydrometeorological Forecasting, in the remaining half of 2018, Vietnam may face 12-13 typhoons, with at least four or five making landfall.
Several households across the country are still unable to move to their settlement domiciles, as the country is still reeling from the impacts of natural disasters last year and in first half of 2018.
Tran Quang Hoai, permanent member of the committee, requested that all concerned parties follow the Government's orders on natural disaster prevention and alleviation, which would see a focus on upgrading forecasting infrastructure and warning systems for those in high-risk areas.
Multiple-platform communications, including social media sites like Facebook, in addition to conventional methods like public speakers, TV, radio and websites will also be promoted to make sure that the public is aware of incoming threats in a timely manner.
NA Chairwoman gives direction in Hai Phong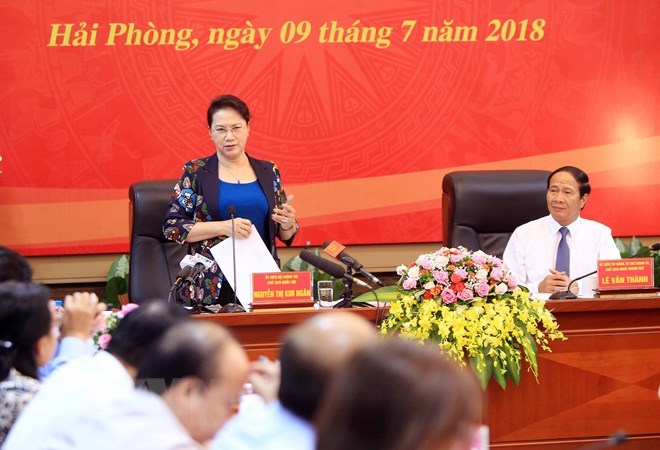 National Assembly Chairwoman Nguyen Thi Kim Ngan is speaking 
National Assembly Chairwoman Nguyen Thi Kim Ngan on July 9 asked the northern port city of Hai Phong to build on past achievements by upgrading transport infrastructure and stepping up new rural development and restructure aspects of agriculture. 
During a working session with the municipal authorities, Ngan urged the city to continue conducting social welfare policies for people with disabilities, veterans, poor households, and former revolutionaries; as well as focus on the fields of science-technology, healthcare, education, and training, national defence-security, and social safety and order. 
Hai Phong's room for development remains huge, she said, adding that the city needs to closely follow resolutions issued by the Party Central Committee, the National Assembly and the Government to develop itself along lines that match up to its existing and potential advantages. 
Regarding the city authorities' suggestion to build a high-speed railway connecting Hanoi and Lao Cai directly with the Hai Phong international port, Ngan said it should follow the master plan for the north-south railway. 
The city should pay attention to party-building in non-state enterprises, cooperatives, and non-public administrative units as a way of continuing to realise the resolution adopted by the fourth plenum of the 12th National Party Congress, said Ngan. Resolution No.18-NQ/TW on renewing and streamlining political apparatus looks to strengthen party-building and rectification; prevent and drive back degradations in political thought, moral virtues, and lifestyle; and monitor the behaviour of 'self-evolution' and 'self-transformation' in internal affairs.
Secretary of the municipal Party Committee and Chairman of the municipal People's Council Le Van Thanh said after two and a half years of implementing the resolution adopted by the 12th National Party Congress and that by the municipal Party Committee's 15th Congress, Hai Phong has achieved comprehensive progress. 
Public investment has proved effective and socio-economic infrastructure has been upgraded, while the State budget collection has grown. Improving the business climate has turned Hai Phong into one of the localities most attractive to domestic and foreign investors. 
Since 2016, the total foreign direct investment in the city topped 5 billion USD, including 3 billion USD in 2016, nearly 1 billion USD in 2017 and over 1.25 billion USD in the first half of this year. 
The rate of poor households under multidimensional standards has been brought down to 2.06 percent and is to be reduced to 1.41 percent this year. 
The municipal Party Committee suggested that the top legislator back the Politburo's issuance of a new resolution on building and developing Hai Phong city between now and 2030 with orientations toward 2045. 
In the afternoon of the same day, the NA Chairwoman offered incense at Bach Dang Giang relic site in Thuy Nguyen district. 
Earlier in the morning, she attended a ceremony to inaugurate Vingroup's Vinmec Hai Phong international general hospital, the seventh of its kind in the Vinmec healthcare system. 
She also visited VinGroup's VinFast electric motorbikes and automobiles manufacturing plant in Dinh Vu-Cat Hai industrial park. 
HCM City ready to undertake any diplomatic missions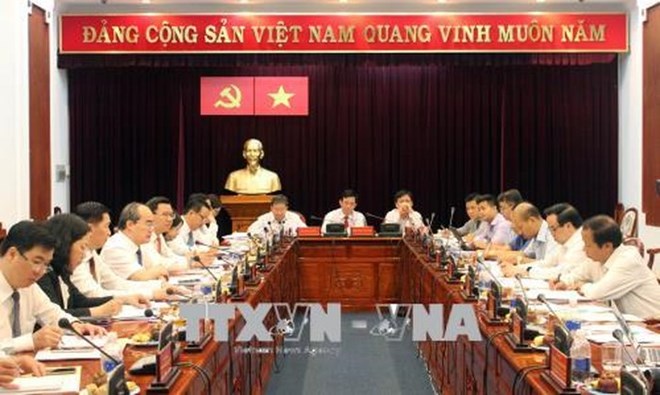 At the working session 
Ho Chi Minh City is ready to undertake any diplomatic mission and will actively work on them for the country, said Secretary of the municipal Party Committee Nguyen Thien Nhan on July 9. 
During a working session in the city with a delegation led by the head of the Party Central Committee's Commission for External Relations, Hoang Binh Quan, Nhan also said tourist arrivals in the city have grown by around 25 percent each year. 
Over the recent years, the city has fostered friendships and cooperation ties with Vietnam's neighboring countries and strategic partners, and stepped up diplomatic activities with foreign localities and coordination between local enterprises and foreign partners, he said. 
For his part, Quan lauded the city for effectively undertaking several diplomatic works, including the reception of delegations, management of non-governmental organisations and information for foreign services, as well as its important contributions to relations with neighboring countries such as Laos, Cambodia, and other important traditional partners. 
He asked the city to become a model of external work for other localities nationwide by further improving the quality of overseas working trips; effectively realising signed agreements to foster trust and long-term cooperation with foreign partners; strengthening and improving the political and economic efficiency of people-to-people diplomacy; and actively supporting the Party's and State's external work in the future. 
During 2017 and the first half of this year, Ho Chi Minh City actively launched comprehensive diplomatic activities channelled through the Party, administration, and people in the pillars of politics, economy, culture, people-to-people diplomacy, and overseas Vietnamese work, thus contributing to improving its stature on the international arena, especially in Southeast Asia. 
The city welcomed over 200 foreign delegations, effectively held the city leaders' working trips abroad to tighten friendship and promote trade, and actively stepped up economic diplomatic activities. 
In the near future, the city will continue to synchronously launch the Party's and State's external activities and people-to-people diplomacy; realise signed agreements with foreign localities; actively prevent negative impact from global integration; and perform the work related to overseas Vietnamese appropriately. 
Can Tho, RoK agree to step up cooperation in various areas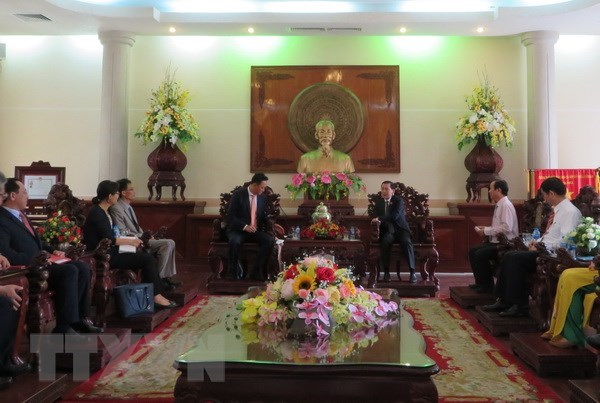 At the working session 
The Mekong Delta city of Can Tho and the Republic of Korea will strive to promote cooperation in the areas of infrastructure construction, trade, tourism, and people-to-people diplomacy between the two sides. 
The agreement was reached between leaders of the province and RoK Ambassador to Vietnam Kim Do Hyon in their working session on July 9, during which the diplomat highlighted the fruitful relationship between Vietnam and the RoK. 
In Can Tho city alone, the Korea-Vietnam Incubator Park (KVIP) and the Can Tho-RoK Centre have already been established, he pointed out, adding that the city has become an attractive destination for both enterprises and tourists from the country. 
Given this context, the ambassador suggested Can Tho prepare policies and infrastructure for continued bilateral cooperation, and pledged that he will push forward the launch of charter flights from the RoK to Can Tho.
Can Tho boasts a lot of advantages for tourism development. However, the city should improve its accommodation system in order to make holidaymakers stay longer, he said. 
In reply, Chairman of the municipal People's Committee Vo Thanh Thong committed to providing the best possible support in terms of policies, administrative procedures, and land for RoK investors, particularly in infrastructure construction, high-tech machines, and logistics. 
Can Tho is home to 10 RoK projects with a combined capital of 250 million USD, with the most noteworthy being the KVIP, according to the official. 
The city has zoned off 197ha of land to build a high-tech park, about 3km away from the KVIP, he said, noting that it would be convenient for RoK enterprises to invest in the park which is expected to, together with the KVIP, form a modern technological area in the Mekong Delta. 
In the tourism sector, Can Tho has implemented a range of programmes aiming to lure investors in infrastructure development, intensify personnel training, promote tourist sites, and diversify tourism products, Thong told his guest. 
He said apart from an 18-hole golf course which is scheduled to be put into service in 2018, the city plans to build another 17-hole course, stressing that incentives will be offered to RoK investors in the project. 
What is more, progress has been made in people-to-people diplomacy, with the organisation of many Korean language and culture teaching classes, he said.
Party chief receives US Secretary of State
General Secretary of the Communist Party of Vietnam (CPV) Central Committee Nguyen Phu Trong (R) receives US Secretary of State Mike Pompeo 
General Secretary of the Communist Party of Vietnam (CPV) Central Committee Nguyen Phu Trong received US Secretary of State Mike Pompeo on July 8.
This was Pompeo's first visit to a Southeast Asian country since taking office.
During a meeting with Party leader Trong after arriving in Hanoi on July 8 afternoon, Pompeo praised Vietnam's contributions to helping resolve regional issues.
He welcomed the fruitful and diverse cooperation in various sectors between the two countries, saying the US wants to strengthen its comprehensive partnership with Vietnam.
Pompeo said the US will continue helping Vietnam in its efforts to overcome the war consequences.
He told the host that the US backed the Association of Southeast Asian Nations (ASEAN) to play a central role in the Indo-Pacific region, while voicing his support for freedom of navigation and peaceful settlement of disputes in the East Sea in line with international law.
The US will also continue accelerating the denuclearisation of the Korean peninsula based on recent high-level agreements, he added.
Party General Secretary Nguyen Phu Trong highly appreciated the US Secretary of State's visit, saying it will help promote the implementation of bilateral agreements.
A closer Vietnam-US engagement will build deeper trust and understanding between the two countries, he said.
He expressed his belief that the Vietnam-US relations will continue growing for the sake of peace, stability and development in the region and the world.
Condolences to Japan over losses caused by floods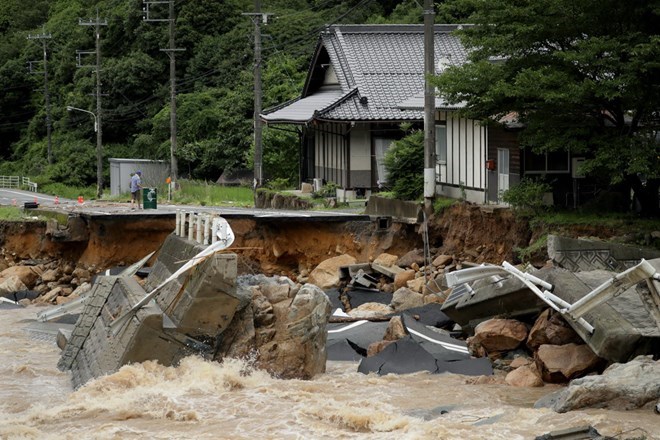 The Japanese government puts the death toll caused by floods and landslides at 48, with 28 others presumed dead (Source: EPA/EFE/VNA)
Vietnamese Prime Minister Nguyen Xuan Phuc on July 8 sent a message of condolences to his Japanese counterpart, Shinzo Abe, over great losses in humans and property caused by the recent floods and landslides.
The same day, Deputy Prime Minister and Foreign Minister Pham Binh Minh also expressed his sympathy to Japanese Foreign Minister Taro Kono. 
Searches continued on July 8 night for victims of heavy rainfall that hammered southern Japan for the third straight day, as the government put the death toll at 48, with 28 others presumed dead, the Associated Press (AP) reported. 
The Japanese government's spokesman Yoshihide Suga said the whereabouts of 92 other people were unknown, mostly in the southern area of Hiroshima prefecture. More than 100 reports of casualties had been received, such as cars being swept away. Some 40 helicopters were out on rescue missions.
International Day of Cooperatives observed in Hanoi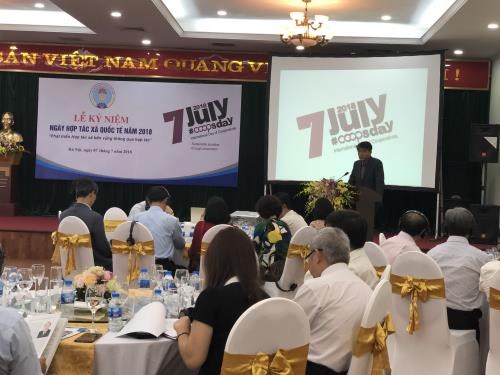 The Vietnam Cooperative Alliance (VCA) held a ceremony on July 7 to mark International Day of Cooperatives  (Coops Day) in recognition of contributions made by cooperatives to development 
The Vietnam Cooperative Alliance (VCA) held a ceremony on July 7 to mark International Day of Cooperatives  (Coops Day) in recognition of contributions made by cooperatives to development. 
Speaking at the event, Hau A Lenh, Vice President and Secretary General of the Vietnam Fatherland Front (VFF) Central Committee, said the International Cooperative Alliance represents 2.6 million cooperatives and nearly 1.2 billion members in more than 100 countries worldwide. 
In Vietnam, there are about 13 million members of over 20,000 cooperatives which have created jobs for 30 million people, significantly contributing to the country's growth and economic reform, especially in agricultural restructuring, he said. 
As a member of the VFF, the VCA has protected legitimate rights and interests of cooperatives and constructively responded to emulation movements launched by VFF Central Committee, Lenh added.
Chang-Hee Lee, Director of the International Labour Organisation (ILO) in Vietnam, said the ILO has worked to help organise training courses for Vietnamese cooperatives. 
Besides, the organisation has provided technical assistance for the VCA in identifying region-based minimum wage for cooperatives in 2017, he said. 
VCA Vice President Nguyen Manh Cuong said in 2018, cooperatives have become major partners in implementing the United Nations Sustainable Development Goals.
In 2018, cooperatives will focus on completing the goals relating to clean water and sanitation, affordable and clean energy, sustainable cities and communities, responsible consumption and production, and life on land.  
The International Day of Cooperatives is celebrated annually on the first Saturday of July. The aim of this celebration is to increase awareness on cooperatives, highlight the complementary goals and objectives of the United Nations and the international cooperative movement, underscore the contributions of the movement to the resolution of the major problems addressed by the United Nations and strengthen and extend partnerships between the international cooperative movement and other actors.
In 1992, following a concerted lobbying effort by the cooperative members of the International Cooperative Alliance (ICA) and COPAC members, the United Nations General Assembly proclaimed the International Day of Cooperatives by the UN by resolution 47/90 of 16 December 1992.