RoK Foreign Minister visits Vietnam
Last update: 13:04 | 10/03/2018
President hosts RoK Foreign Minister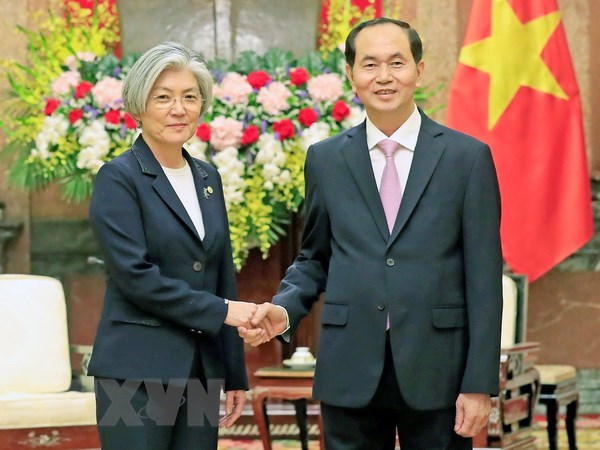 President Tran Dai Quang shakes hand with Foreign Minister of the Republic of Korea Kang Kyung Wha on March 9. 
President Tran Dai Quang hosted Foreign Minister of the Republic of Korea Kang Kyung Wha in Hanoi on March 9, expressing his delight at the robust development of the bilateral cooperation in various areas over the past 25 years, particularly after the two countries raised ties to strategic partnership in 2009.
The RoK has become Vietnam's most important partner, ranking first in foreign direct investment and second in trade, ODA and tourism while Vietnam is the RoK's fourth largest trade partner and more and more Vietnamese are working and living in the East Asian nation, the President told FM Kang, who is on an official visit to Vietnam at the invitation of Deputy Prime Minister, Foreign Minister Pham Binh Minh.
President Quang praised the "Miracle on the Han River" and congratulated the RoK on its recent socio-economic development and the success of the Pyeongchange Winter Olympics 2018 hosted by the country.
He suggested the two countries further increase bilateral cooperation, adding that Vietnam looks forward to the RoK's enhanced support in technology, and sustainable development.
He hoped the RoK facilitates Vietnamese agro-forestry and seafood products to enter the Korean market, fosters two-way trade and continues providing Vietnam with ODA.
The President stressed Vietnam welcomes the RoK's new Look South policy for peace, cooperation and development, and wanted the two countries to step up coordination in regional and international issues of mutual interest as well as support at regional and international forums.
Vietnam welcomes and is ready to greet RoK President Moon Jae-in's State visit to Vietnam, he said.
Foreign Minister Kang Kyung Wha, for her part, thanked President Quang for his hospitality. 
Vietnam, RoK should expand ties to more areas: PM
Prime Minister Nguyen Xuan Phuc (R) receives RoK Foreign Minister Kang Kyung-wha in Hanoi on March 9 
Vietnam and the Republic of Korea (RoK) are developing cooperation in many traditional aspects very well, and they should expand their ties to other fields in the time ahead, Prime Minister Nguyen Xuan Phuc told RoK Foreign Minister Kang Kyung-wha in Hanoi on March 9.
The host leader said the two countries' cooperation has been developed in a rapid, effective and trustworthy manner. While political ties have been reinforced, economic and trade partnerships have been growing strongly, bringing benefits to both sides.
He welcomed the RoK's New Look South policy with the aim of promoting peace, stability and development, which considers Vietnam a key partner.
The two countries share many similarities and interests in bolstering bilateral cooperation. To strengthen their relations, they should continue enhancing mutual trust through maintaining mutual high-level visits and meetings, he noted.
He asked the countries to promote economic, trade and investment cooperation in a balanced, stable and effective fashion. They also need to take measures to boost bilateral trade to 100 billion USD in 2020, promote trade balance, and remove quarantine obstacles to facilitate the export of Vietnamese agro-forestry-fishery products, including star apple, to the RoK in 2018.
PM Phuc expressed his hope that the RoK will continue to be the top investor in Vietnam, involving in major infrastructure projects, renewable energy development, equitisation of State-owned enterprises and restructuring of local commercial banks.
At the meeting, he also asked the country to step up technology transfer, help Vietnamese businesses to participate in the production chains of RoK firms, and assist Vietnam in developing support industries.
The Vietnamese Government will create the best possible conditions for RoK companies to successfully operate in the country. RoK businesses are welcomed to invest in infrastructure development such as the North-South Expressway and Long Thanh Airport, he noted, adding that more favourable conditions will be provided to attract the RoK's high technology investment.
The PM asked the RoK Government to increase receiving Vietnamese workers, especially skilled ones, foster tourism cooperation to bolster people-to-people exchange and mutual understanding, and increase direct air routes.
As both are coastal nations, Vietnam hopes the RoK will share its experience in developing a sea-based economy and support Vietnam and ASEAN's viewpoint on the East Sea issue.
For her part, Minister Kang Kyung-wha thanked the Government and PM of Vietnam for supporting activities of Samsung, whose mobile phones manufactured in Vietnam have been exported to around the world.
She affirmed that her country pays special attention to the cooperation between the RoK and ASEAN, including Vietnam, which plays a very important role in this relationship.
The RoK is scheduled to host an ASEAN-RoK special summit in 2019, and it hopes that Vietnam will support this event so that both sides can intensify cooperation, she said, adding that her country backs Vietnam's viewpoint on the East Sea issue.
The official said there are many Vietnamese people in the RoK and vice versa, which is a precious asset of both countries. The RoK Government is making efforts to support the Vietnamese community in her country.-
Vietnam – key partner in RoK's New Look South policy: official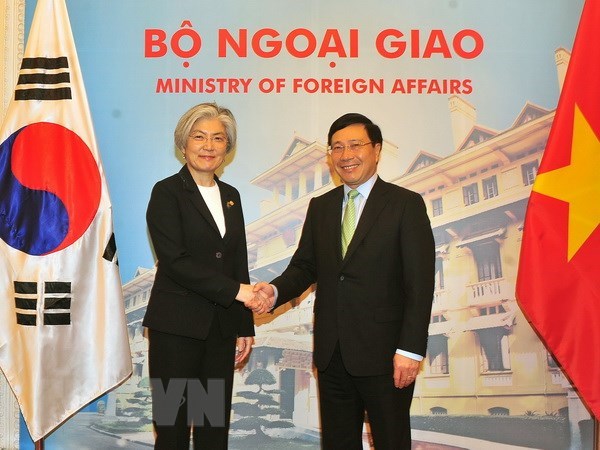 Vietnamese Deputy Prime Minister and Foreign Minister Pham Binh Minh (R) welcomes RoK Foreign Minister Kang Kyung-wha in Hanoi on March 9 
The Republic of Korea (RoK) is implementing the New Look South policy, in which Vietnam is a key partner, and it wants to further intensify relations with the Southeast Asian nation, said RoK Foreign Minister Kang Kyung-wha.
She made the remark during talks with Vietnamese Deputy Prime Minister and Foreign Minister Pham Binh Minh in Hanoi on March 9.
Minh congratulated the RoK on the successful PyeongChang 2018 Olympics, which contributed to promoting dialogue in the Korean Peninsula. 
At the talks, the two sides reviewed the outstanding achievements in bilateral ties recently, especially since the establishment of a strategic cooperative partnership in 2009. They also discussed measures to enhance the countries' strategic cooperative partnership as well as regional and international issues of shared concern.
They noted with satisfaction the progress in Vietnam-RoK relations, agreeing to increase high-level exchanges and meetings so as to boost mutual understanding and political trust and create a favourable environment for strengthening ties in all fields.
The officials also agreed to tighten links between the two foreign ministries in order to promote their countries' cooperation. While economics, trade and investment will be developed in a stable, balanced and sustainable manner, mutual understanding between Vietnamese and Korean people and tourism cooperation will also be consolidated.
Deputy PM Minh affirmed that on the basis of the consistent foreign policy of independence, self-reliance, multilateralisation and diversification of relations, and intensive integration into the world, Vietnam always attaches importance to developing relations with the RoK. 
It wants to work with the RoK to share experience, bolster development cooperation, trade liberalisation and regional connectivity, and keep peace, security and stability in the region and the world, he noted.
He applauded the RoK's engagement investing in big infrastructure projects, equitising State-owned enterprises, and restructuring commercial banks in Vietnam. He asked the country to accelerate the assessment of some agricultural and aquatic products of Vietnam like star apple, rambutan, longan, lychee, and some pork and chicken products in 2018.
Minh also called on the RoK to boost technology transfer, help Vietnamese firms to take part in production chains of the RoK businesses which are investing in Vietnam, and support the establishment and operation of a Vietnam-RoK technology transfer centre. He proposed the two sides soon re-sign the standard memorandum of understanding on sending and receiving Vietnamese labourers in the RoK.
Additionally, the countries should promote the organisation of the third round of negotiations on a judicial assistance agreement in civil and trade matters to create a legal basis for resolving issues relating to their citizens, the Deputy PM said, asking the RoK to provide optimal conditions for the granting of tourist visas to Vietnamese citizens and the opening of direct air routes between the two countries so as to foster tourism ties.
Regarding international and regional issues, both sides agreed to continue the close coordination and effective cooperation at multilateral mechanisms such as the United Nations, the Association of Southeast Asian Nations (ASEAN), the Asia-Pacific Economic Cooperation (APEC), the Asia-Europe Meeting (ASEM), and the Mekong-RoK.
They hailed efforts to promote dialogue and peacefully solve the nuclear issue of the Democratic People's Republic of Korea. They also supported the maintenance of peace, security and stability and the settlement of disputes by peaceful means in the East Sea in line with international law.
Minister Kang Kyung-wha highly valued Vietnam's socio-economic and international integration accomplishments over the past years, particularly the successful APEC Year 2017.
The RoK's Foreign Ministry will keep working closely with Vietnam to promote the implementation of high-level agreements in a substantive and effective fashion, thus helping to bring the Vietnam-RoK strategic cooperative partnership to a new height, she added.
VNA