NA discusses socio-economic development, budget
Last update: 17:16 | 31/10/2017
The National Assembly (NA) on Tuesday started a two-and-a-half day discussion about the social-economic development and budget estimates for 2018.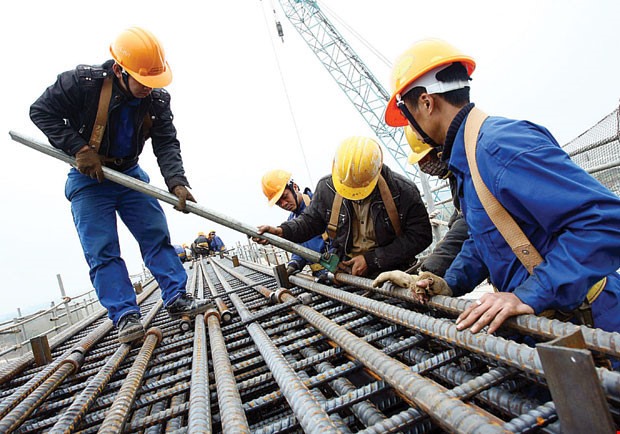 National Assembly deputies express concerns over slow disbursement of public investment. 
Burning issues such as public debts, disbursement of public investment and solutions to boost growth were also brought to the table.
NA deputy Hoàng Quang Hàm of the northern province of Phú Thọ, said that GDP growth statistics had a problem - often low in the first quarters of the year, and then posting miraculous growth rates in the remaining quarters. "This is an abnormal and illogical performance," Hàm said, urging the Government to clarify it and come up with a solution to ensure substantial and efficient growth.
Hàm expressed concern over the tense budget situation and inefficient public investment, adding that the sum of VNĐ80 billion allocated for major national projects failed to be disbursed during the past three years. Or another clear example was that the project of Long Thành International Airport had not been included in the capital allocation plan for 2018, although its feasibility study report was expected to be passed at this NA meeting.
Hàm said that public debt was at 62.2 per cent, nearing the ceiling, while budget collection might fail to fulfill the medium-term plan. Public debt was forecast to reach VNĐ4.2 quadrillion by 2020 and 7-8 per cent of the total budget spending would have to be used for paying interest, estimated to average at VNĐ100 billion per year. By 2020, the country would have to borrow additional loans worth around VNĐ262 billion, given the tense debt repayment pressure if no improvements were made.
Still, there was misspending, inefficient investments and stagnant projects. "The fiscal policies must be adjusted towards increasing collections, reducing expenses and prioritising paying debts," he said.
NA deputy Dương Xuân Hòa of the northern mountainous province of Lạng Sơn, said that it was necessary to have a comprehensive evaluation of the implementation of public investments, as well as clarifying accountability for low disbursements and inefficient investments.
Regarding foreign direct investment (FDI), NA deputy Phạm Trọng Nhân from the southern province of Bình Dương, said that Việt Nam should not attract FDI at all costs but focus on quality. Nhân said that around 50 per cent of FDI companies reported losses but many kept expanding investments in Việt Nam, citing Oxfam's statistics that the developing countries, including Việt Nam, failed to collect $170 billion due to transfer pricing. In addition, many FDI projects used outdated technologies and caused severe environment pollution, he said.
Meanwhile, FDI companies were provided with a number of preferential incentives, which domestic firms could not access. "Policies to boost the private economic sector must be enhanced to enable them to become drivers of growth," Nhân said, highly appreciating the Government's effort in improving the business climate. "In attracting FDI, there must be strict regulations about technology transfer, local procurement rates and environment protection."
During the morning session, NA deputies also urged the handling of loss-making projects to be sped up, the quality of privatisation of State-owned enterprises to be enhanced, measures to improve and promote the participation of Việt Nam into a global value chain to be improved and administrative reforms to be hastened.
Improvements in natural disaster prevention suggested
NA deputies also urged the enhancement of the forecasting capacity of natural disasters and their prevention.
Deputy Đỗ Trọng Hưng of Thanh Hóa Province, said that it was critical to have a comprehensive evaluation of the damage caused by recent natural disasters to the country's economic growth, especially in the agriculture sector. Hưng said that support must be provided to suffering localities.
In the long term, the forecasting capacity must be improved, he said.
NA deputy Ma Thị Thúy from the northern province of Tuyên Quang, said that natural disaster prevention must be integrated into the socio-economic development plan. Thúy stressed that forest protection and plantation must be enhanced together with strict punishments for illegal deforestation.
According to NA deputy Sùng A Hồng of Điện Biên Province, incentives should be provided to difficult localities to narrow the gap in socio-economic development with other regions, adding that mountainous provinces had poor infrastructure and transport connectivity, making it difficult to attract investments.
Under the Government's report about socio-economic development results in 2017, all of the 13 indicators would be fulfilled and even exceeded. The Government said that the GDP growth rate target of 6.7 per cent this year would be within reach, projecting growth for 2018 at around 6.5-6.7 per cent. — VNS