PM expects more Brazilian investments in Vietnam
Last update: 10:06 | 12/09/2017
Both Prime Minister Nguyen Xuan Phuc and Brazilian Foreign Minister Aloysio Nunes Ferreira have expressed their hope that more and more Vietnamese and Brazilian would invest in each other's countries.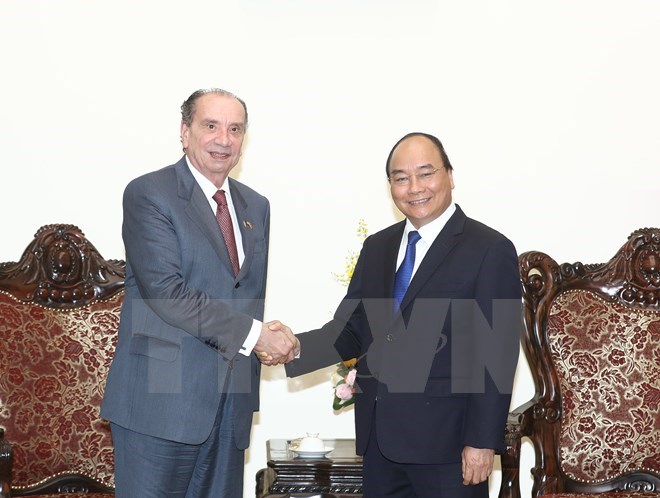 Prime Minister Nguyen Xuan Phuc (R) receives Brazilian Foreign Minister Aloysio Nunes Ferreira
During a reception for Ferreira in Hanoi on September 11, PM Phuc described the Brazilian minister's official visit to Vietnam as important event to promote multifaceted cooperation between the two countries, noting that despite geographical distance, they have a traditional friendship.
Minister Ferreira said he and the Brazilian people also have special sentiment towards Vietnam and admire its struggle for national liberation in the past and socio-economic achievements at present.
Briefing the host about the earlier talks with Deputy PM and Foreign Minister Pham Binh Minh, Ferreira said the two sides discussed cooperation orientations in the time head as well as multilateral issues of mutual concern. They shared the same view on various issues at international forums such as the United Nations and the World Trade Organisation.
The minister said he is impressed with the continuous growth of bilateral trade, reaching 3 billion USD in 2016, adding that the two countries should enhance ties in other aspects like science-technology, security-defence, education-training and agriculture.
Brazil wants to export a number of products to Vietnam, including beef, and the country is also pushing forwards with reforms and hopes to attract more Vietnamese investment, he noted.
At the meeting, Ferreira also handed over the Brazilian President's letter of invitation to PM Phuc to pay an official visit to Brazil.
Expressing his thanks to the Brazilian President for the invitation, the Government leader suggested the sides increase the exchange of high-ranking delegations which will serve as a foundation for stronger cooperation in other fields.
Echoing his guest's view on the impressive trade growth, PM Phuc said the two countries need to foster partnership to multiply trade revenue in the near future.
He emphasised the inter-governmental committees' role in mulling over cooperation directions, especially in trade, investment, culture and other spheres.
Brazil is a big market with a population of 200 million while Vietnam has almost 100 million people, which is a potential and opportunity for their enterprises to cooperate in investment and business activities, he stressed.
Vietnam wants Brazilian firms to invest in the country, PM Phuc said, asking the two sides to work together to remove obstacles and create the best possible conditions for their businesses' investment and business partnerships.
Deputy PM: Vietnam wants to enhance cooperation with Brazil
Deputy Prime Minister, Foreign Minister Pham Binh Minh (L) shakes hands with Brazilian Foreign Minister Aloysio Nunes Ferreira 
Vietnam highly evaluated Brazil's growing position in the international arena and wants to enhance its comprehensive cooperation with the South American country, Deputy Prime Minister and Foreign Minister Pham Binh Minh has said.
During his talks with Brazilian Foreign Minister Aloysio Nunes Ferreira in Hanoi on September 11, Minh applauded the guest's official visit to Vietnam, which takes place at a time when the two nations are celebrating the 10th founding anniversary of comprehensive partnership.
While expressing his admiration for Vietnam's great and comprehensive achievements over the past three decades of reform, Ferreira affirmed that Brazil has advocated a foreign policy of diversification of relations, in which Brazil has considered Vietnam a leading partner in the Asia-Pacific region.
Both ministers held that Vietnam-Brazil cooperative ties have been developing positively in all spheres, including politics with regular visits and meetings by senior leaders, ministries and sectors. 
Two-way trade has increased by three times since 2010 to 3.1 billion USD in 2016 and reached 1.9 billion USD in the first seven months of 2017, up 9 percent over the same period last year.
Vietnam and Brazil have also maintained close cooperation at international organisations and multilateral forums, especially in the United Nations and the World Trade Organisation (WTO).
The ministers affirmed that the two countries still hold a lot of potentials for stronger cooperation, particularly in the fields of agricultural and aquatic product production and processing, manufacturing, bioenergetics, infrastructure construction, aviation and transport.
For the time ahead, the ministers agreed to increase the exchange of visits by senior leaders, ministries and sectors and support relations through Party, parliament and locality channels.
On this occasion, Minh asked Ferreira to convey President Tran Dai Quang's greetings and invitation to Brazilian President Michel Temer to officially visit Vietnam. Meanwhile, Ferreira also handed over President Temer's letter of invitation to President Quang to pay an official visit to Brazil in 2018 in order to strengthen the bilateral comprehensive partnership.
The ministers consented to effectively uphold the mechanism of the Inter-governmental Committee for Economic-Commercial and Scientific-Technological Cooperation and to hold its third meeting in the first half of 2018.
They concurred to regularly maintain the political consultation at the foreign deputy minister level and speed up negotiations towards the signing of a frame agreement on technical cooperation, an agreement on investment support and cooperation, and a government-level memorandum of understanding on educational cooperation, among others.
The two sides also agreed to make greater efforts to raise the bilateral trade value to 10 billion USD in the next few years and further promote cooperation in the areas of culture, training, tourism and sports through concrete programmes and projects.
The two sides promised to cooperate closely and support each other at international organisations and multilateral forums, and foster cooperative ties between the Association of Southeast Asian Nations (ASEAN) and the Southern Common Market (MERCOSUR).
Minh took this occasion to thank the Brazilian Government for backing Vietnam's candidacy for a non-permanent seat in the UN Security Council in the 2020-2021 term and urged Brazil to soon recognise Vietnam's market economy status as well as its candidacy in other international organisations.
The ministers also exchanged in-depth discussions and viewpoints on regional and international issues of mutual concern. Regarding the East Sea issue, the ministers supported the settlement of sovereignty disputes through peaceful measures, on the basis of full respect for the diplomatic and legal process and in accordance with international law, including the  United Nations Convention on the Law of the Sea 1982 (UNCLOS).
Minister Ferreira invited Deputy PM and Foreign Minister Minh to officially visit Brazil at a convenient time.
Earlier the same day, under the witness of Deputy PM and Foreign Minister Pham Binh Minh, Foreign Minister Aloysio Nunes Ferreira and Minister of Transport Truong Quang Nghia signed an agreement on maritime shipping cooperation between the two governments.
VUFO leader receives Brazilian Foreign Minister
VUFO Secretary General Don Tuan Phong (R) and Brazilian Minister of Foreign Affairs Aloysio Nunes Ferreira
Secretary General and Vice President of the Vietnam Union of Friendship Organisations (VUFO) Don Tuan Phong hosted a reception in Hanoi on September 11 for Brazilian Minister of Foreign Affairs Aloysio Nunes Ferreira. 
Phong told his guest that as a socio-political organisation specialised in people-to-people diplomacy, the VUFO is tasked with fostering friendship between Vietnamese people and citizens of other countries, supporting the global fight for peace, national independence and democracy and popularising Vietnam. 
He said VUFO groups 65 member bodies at the central level, including the Vietnam – Brazil Friendship and Cooperation Association (VBFCA). The association has improved mutual understanding between Vietnam and Brazil. 
Phong asked the minister to proprose the Brazilian government to encourage mass organisations to enhance exchanges with Vietnam at both central and local levels and help the VBFCA and its partners to grow. 
Ferreira, who is in Vietnam from September 9-12, underscored the importance of promoting bilateral people-to-people collaboration, adding that nearly 25,000 Brazilian people visit Vietnam each year. 
He suggested exploring cooperation in sports, music and cuisine to popularise each country's culture. 
According to him, some Brazilian localities want to visit and seek partnerships in Vietnam. He said the two countries should strengthen connectivity among localities, contributing to educating young generations about bilateral ties.
VNA