Hanoi reaps admin reform rewards
Last update: 21:49 | 17/07/2017
VietNamNet Bridge – Tran Huy Sang, Director of the Ha Noi Internal Affairs Department tells Ha Noi Moi (New Ha Noi) that the capital city has obtained tangible benefits from its consistent focus on deepening its administrative reforms.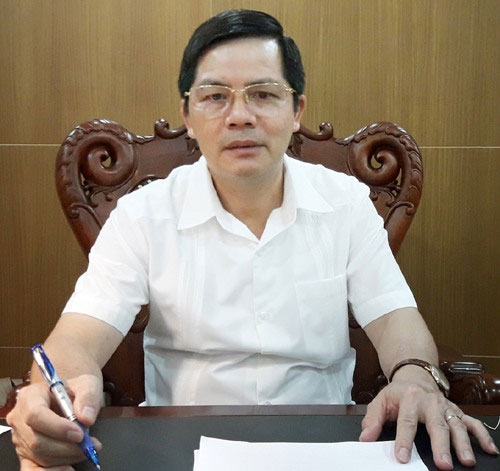 Tran Huy Sang, Director of the Ha Noi Internal Affairs Department. — Photo hanoimoi.com.vn
The 2016 administrative reform index ranked Ha Noi third among 63 provinces and cities in the country. How was this achieved?
The capital city's Party Committee as well as the People's Committee identified administrative reform as a key political task last year. Thus, there was constant focus on improving management of the reform process.
The municipal administration at all levels mobilised the participation of different sectors in resolving issues related to furthering the reform process. The aim was to make it transparent, comprehensive and effective.
The administration also amended and supplemented regulations in a timely manner in accordance with the 2015 Law on Local Government Organisation. It carried out regular assessments and consolidated the governance apparatus, targeting effective management decisions.
Alongside these activities, due attention was paid to streamlining and orienting the personnel department towards a more qualified, efficient public sector workforce.
The city also intensified its focus on application of Information Technology in administrative procedures, making it easier for both citizens and businesses.
As a result, positive changes have been seen in taxation, customs and business registration procedures, as well as in the issuance of investment and land use certificates.
These changes have, in turn, facilitated business development in the city.
Can you elaborate on some of the results achieved with specific figures?
In 2016, the city carried out its largest ever personnel re-organisation. Ha Noi was one of the first localities to undertake drastic, comprehensive measures to restructure is personnel following the Politburo's Resolution No. 39 -NQ/TU on streamlining and restructuring the civil service sector.
The reorganisation of 22 administration departments was completed, and the number administrative branches was reduced from 401 to 280. The number of admin offices was brought down from 204 to 158, and there was remarkable reduction in the number of office heads and deputy heads.
The city also succeeded in reducing the number of construction project management boards from 70 to 41.
After reviewing its entire administrative system, the city promulgated last year a series of decisions and announcements on standardising a total of 658 admin procedures, completely simplifying 475 of these in 12 areas. The city has adopted plans on simplifying the remaining 183 procedures.
What were some of the innovative steps that Ha Noi deployed in the reform process? What were the practical results obtained?
The capital city last year implemented a pilot scheme on granting trade licences to foreign investors right at the office of the Planning and Investment Department, shortening traveling and waiting time for enterprises by 50 per cent and 60 per cent respectively.
The procedures for issuing birth certificates and social health insurance cards for children under six can now be done online in more than 30 districts with a total of 586 communes and wards. This has cut short the time taken from seven days to just two or three days.
Other initiatives include many IT applications, including the installation of resident notification system, online declaration of temporary residence for business establishments, online procedures for licensing automobile transportation business, the installation of software for online enrollment in kindergartens, and grades 1 to 6. These have definitely helped reduce travel costs and time for people.
Have the reforms succeeded in attracting investment and boosting growth?
The business community has appreciated the city's timely reform efforts, particularly in shortening procedures for granting business establishment certification. Last year, the city attracted 445 new foreign investment projects with a registered capital of US$2.8 billion, with the fastest recorded increase of 18 per cent in the number of newly established enterprises to 22,666.
Such positive outcomes helped create momentum for Ha Noi to exceed its development target in the first six months of 2017. The city achieved a higher growth rate than the same period last year at 7.37 per cent.  Budget revenues increased year on year by 18 per cent. Social investment has also increased by 9.9 per cent.
Despite this progress, several enterprises have complained about increasing hardship. How can the city support them in overcoming their problems?
Alongside its assessment process, the city attaches great importance to communicating with enterprises. It is always willing to listen to their opinions and provide feedback at the earliest. An annual dialogue with business has been held for several years now.
A conference jointly organised in November last year by the city People's Committee and the Viet Nam Chamber of Commerce and Industry (VCCI) collected many opinions from enterprises, giving authorities an understanding of the problems.
In the most recent conference themed "Hanoi 2017 - Cooperation on investment and development" held by the city People's Committee, more than 1,000 domestic and international delegates, including about 800 investors and enterprise representatives shared their views on the business environment in the city.
The administration reiterated its determination to continue its admin reforms, targeting greater convenience, transparency and flexibility in the business environment. 
VNS