Leaders pay tribute to late President on birth anniversary
Last update: 10:58 | 18/05/2017
Party, State and Front leaders paid tribute to President Ho Chi Minh at his mausoleum in Hanoi on May 18 on the occasion of the late leader's 127th birth anniversary (May 19, 1890).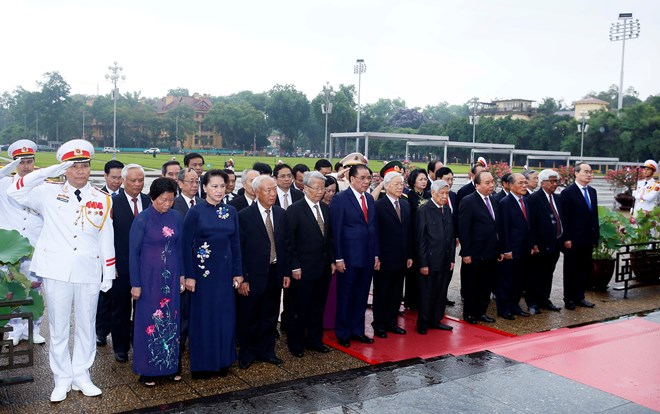 Leaders pay tribute to late President at his mausoleum
They included Party General Secretary Nguyen Phu Trong, Prime Minister Nguyen Xuan Phuc, Chairwoman of the National Assembly Nguyen Thi Kim Ngan and President of the Vietnam Fatherland Front Nguyen Thien Nhan, together with former Party, State and National Assembly leaders, war veterans and representatives from ministries and sectors.
They recalled the life and career of the late President, who devoted his entire life to the national liberation cause and worked tirelessly for peace and progress in the world.
President Ho Chi Minh led the nation to success in the struggle for national independence and in establishing the Democratic Republic of Vietnam following the August Revolution in 1945. He passed away in 1969.
Also in the morning, officials from the Defence Ministry, the Ministry of Public Security, and Hanoi paid homage to the late President.  
They later laid a wreath at the Memorial to War Heroes.
President Tran Dai Quang also led a Party, State and Ho Chi Minh City official delegation to pay tribute to President Ho Chi Minh at the Ho Chi Minh museum in the City on May 18 on the occasion of the late leader's 127th birth anniversary (May 19, 1890).
They also laid a wreath and offered incense at the President Ho Chi Minh Statue Park in District 1 with the aim to show their gratitude to the late leader who had devoted his whole life for Vietnam's struggle for national liberation and national unification. 
President Quang then met outstanding children in the city and visited an exhibition at the Ho Chi Minh Museum.
The exhibition showcased more than 150 documents and photos featuring the late leader's life and career.
Also on the day, the municipal People's Committee launched a tree planting campaign 2017. 
VNA