Vietnam, New Zealand strengthen ties
Last update: 10:45 | 09/05/2017
Prime Minister Nguyen Xuan Phuc held a reception for visiting Trade Minister of New Zealand Todd McClay in Hanoi on May 8.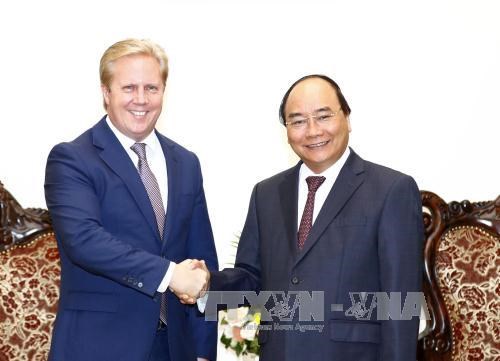 Prime Minister Nguyen Xuan Phuc (R) and Trade Minister of New Zealand Todd McClay
He expressed his hope that the visit will contribute to promoting the bilateral trade relations between Vietnam and New Zealand in the coming time. 
The PM suggested the two nations continue their close and effective coordination to promote common benefits within APEC and other multilateral economic links, thus making the APEC Ministers Responsible for Trade Meeting slated for May 20-21 in Hanoi and related Ministerial Meetings successful.
He said he wishes that two-way trade will increase in the coming time, with more and more investors from New Zealand will land in Vietnam.
PM Phuc welcomed and spoke highly of the viewpoint of New Zealand on respecting the international law, particularly the 1982 United Nations Convention on the Law of Sea (UNCLOS), in addressing the East Sea-related issues, contributing to maintaining peace, stability and development in the region.
He also extended thanks to the Government of New Zealand for supporting Vietnam in training human resources and expected that the country will continue its assistance in the field.
For his part, Minister Todd McClay underlined the growing bilateral trade between Vietnam and New Zealand, hoping that it will further thrive in the time to come.
The two sides will reach the goal of doubling the bilateral trade value, the guest said, adding that his ministry and Vietnam's Ministry of Industry and Trade need to discuss concrete and effective measures to realise the target.
New Zealand also wishes to contribute to the success of APEC Vietnam 2017, he affirmed.
VNA