High tides damage 20-m anti-flood barrier in Can Tho
Last update: 16:07 | 11/10/2017
VietNamNet Bridge – High tides over the last few days damaged a 20-metre section of an anti-flood construction work along riverbanks in Can Tho City's Ninh Kieu District, affecting the property of dozens of households yesterday.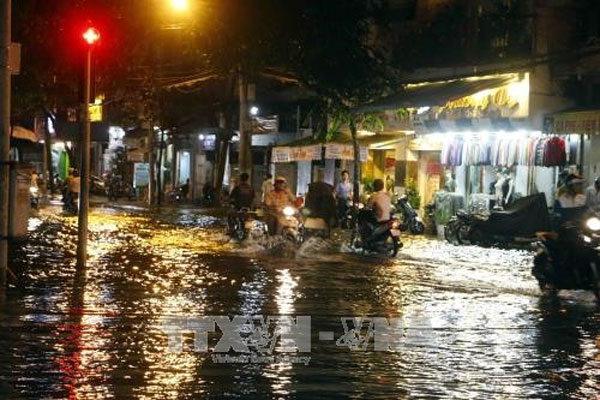 High tides caused serious flooding on Phan Dinh Phung Street in Can Tho City on October 7. — VNA/VNS Photo Thanh Liem
The damage occurred at area 3 on Khuong Islet in the district's Cai Khe Ward.
Several roads in the city centre were deeply flooded in the early morning and late afternoon.
Dozens of households lost household goods and fish cages that were swept away to river.
Nguyen Van Giau, a local resident, said his home and dozens of other households were suddenly flooded by the tides in the early morning.
Another resident, Bui Van Day, 67, said his house was submerged by water higher than 0.5 metres.
"Flood waters came so fast. All my household tools and goods were destroyed or damaged, and four pigs died of asphyxiation", he said.
Duong Tan Hien, chairman of the district's People's Committee, said after receiving information from residents, the district mobilised military forces to help local residents.
By the afternoon yesterday, some of the problems had been resolved but the area was still flooded. To save orchards and reduce damage to the households, authorities will pump water out of the area.
The Southern Hydro-Meteorological Station has predicted that tides in Can Tho City will exceed two metres, more than the 0.26m on October 10.
VNS