Forests destroyed in northern Dien Bien province
Last update: 10:48 | 09/10/2017
More than 8,000sq.m of special-use forests were destroyed in just three months between July and September in Dong Met village, Pa Khoang commune, Dien Bien district, in the northern mountainous province of Dien Bien.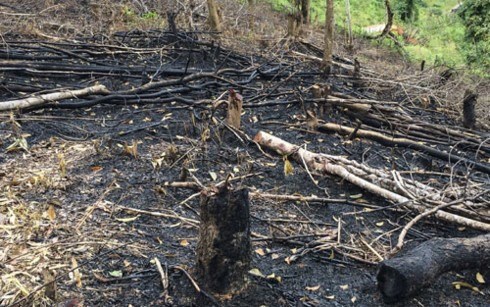 Trees cut down and burned by Hoa Anh Dao Company (Photo: vov.vn)
Special-use forests are established for primary purposes of preserving the natural environment, specimens of the national forest ecosystem, gene sources of forest organisms, scientific research and protection of historical relics and landscapes. 
According to the provincial Department of Agriculture and Rural Development, from July 15 to August 4 this year, more than 6,520sq.m of forests in two areas of zone 717b were found chopped down and burned. In September 27, another area of 1,790sq.m was found destroyed.
Tran Le, director of Hoa Anh Dao (Cherry Blossom) Joint Stock Company,  confirmed issuing direct orders for deforestation to plant cherry blossom trees. However, authorised agencies did not allow Le to switch the land use purpose from special use to another purpose.
In July this year, the provincial People's Committee allowed Hoa Anh Dao company to work with local agencies to review the land stock and expand the  cherry blossom planting area in Muong Phang commune, in preparation for an upcoming cherry blossom festival to be held in November and December.
However, Hoa Anh Dao company took advantage of this policy to destroy forests for special purposes, claiming they took land to plant the cherry blossom trees.
According to the provincial Department of Agriculture and Rural Development, serious deforestation in the province is the result of Tran Le's low awareness about legal documents on forest protection and the cherry blossom event organisation.
The areas where trees were cut down were located far from the residential areas and difficult to access due to complicated terrain. Forest patrols are not conducted regularly here, while measures against violations are ineffective.
The provincial agriculture department has proposed criminal penalty for the violators.
VNA