Overexploitation of riverbeds puts dyke systems at risk
Last update: 11:32 | 20/04/2017
VietNamNet Bridge – Prolonged exploitation of sand and coarse gravel in rivers is changing currents and causing embankment erosion, which puts the dyke systems under risk, the Dyke Management Department under the Ministry of Agriculture and Rural Development said on Tuesday.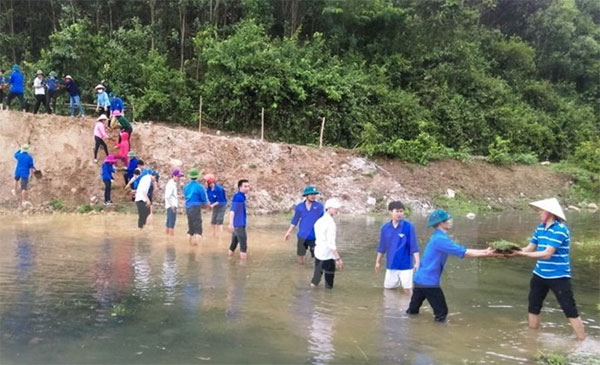 Workers carrying out dike reinforcement. 
Overexploitation will ruin a dyke's structure (which may not be visible to the eye) and make it weak and at the risk of collapsing during floods, warned Vu Xuan Thanh, director of Dyke Management Department.
"Large-scale sand and gravel exploitation in rivers is becoming more and more common in many localities across the country," Thanh told online Vietnamplus.vn.
The agency said sand and gravel exploitation is taking place at 93 river sections, which have 118km of dykes running along them. There are 737 erosion spots that cover 1,257km nationwide.
Many businesses misuse riverbed dredging projects for illegal sand and gravel exploitation, which cause erosion of the riverbank, Thanh said.
For example, the dredging project in Cau River went 17m deep into the riverbed compared to permitted depth of 2.81m. Similarly, the dredging project on Luoc River in the northern province of Hung Yen dredged into a protected space on Mai Xa embankment, which has threatened the safety of the construction.
The Cat Bi embankment in the section of Hong River between Ha Noi's Phu Xuyen District and Hung Yen Province's Khoai Chau District is in the danger of collapsing any time.
Prolonged and illegal exploitation have made riverbeds deeper and changed currents, Thanh said. According to statistics, the Lo, Hong and Duong riverbeds have become three to six metres deeper in the past 10 years. The flow from Hong River to Duong River has risen to 39 per cent from 24 per cent.
In many river sections with deeper beds, water often cannot be pumped out for irrigation. The surrounding residential areas also see land erosion, reveal statistics.
The main reason for this ruthless exploitation is that authorities are granting too many licences and not keeping a close check on dredging activities, Thanh said. Moreover, local governments have also not defined violations.
To solve the problem, Thanh suggests that relevant offices and local governments work closely together and assign responsibilities to specific officials, who will then be in charge of granting licences for sand and gravel exploitation. Provinces should also disseminate information on the importance of protecting dykes, regulations, and flood and storm preparedness, Thanh said.
VNS