Experts search for ways to protect Hoan Kiem Lake
Last update: 12:14 | 17/02/2017
Upgrading the water environment of Hoan Kiem (Sword) Lake is necessary and urgent work, Vo Tien Hung, General Director of the Hanoi Sewage and Drainage Co Ltd., said.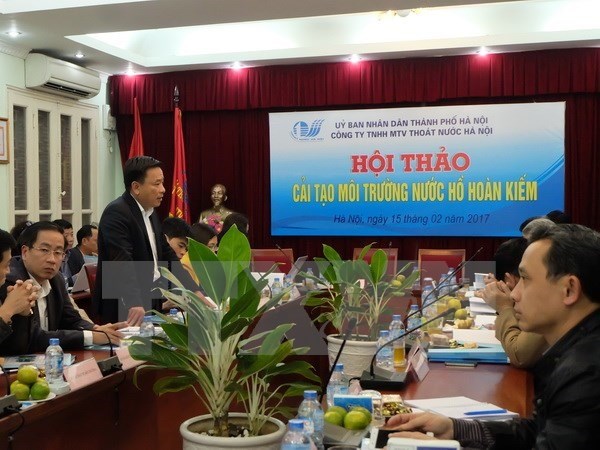 Speaking at a conference on improving the water environment of the lake held in Hà Nội on February 15, Hung said work should be divided into two parts -- dredging mud and clear up waste at the bed of the lake; and treating and maintaining the lake water's quality. 
He estimated that time for dredging mud at the bed of the lake, which is more than 10ha, should be some 69 days.
The lake water will be treated with the Redocy 3C, a substance made by Germany, based on a sole order of the Hanoi authority.
The treating process was approved by the municipal Department of Construction.
Reports presented at the conference showed that the lake was unable to self-clean. Fish, fauna and flora in the lake were not protected and supplemented properly, so organic chemical in the lake did not become food, but instead became polluted substances.
Mud in the lake bed is becoming thicker and thicker, affecting the living environment of fauna because the mud contains a lot of heavy metal and poisonous air.
Besides this, the density of fugitive flora has increased more and more. As a result, the amount of oxygen has decreased, affecting the existence of different fauna and flora in the lake during the past years.
Representatives at the conference said Hoan Kiem Lake is an important cultural and spiritual place of residents in Hanoi and the country. Therefore, every plan of upgrading the lake should be considered carefully and should protect the ecological system inside the lake.
Agreeing that upgrading the lake is an urgent task, Professor Ha Dinh Duc, an expert specialising in Hoan Kiem Lake, said if the lake is not upgraded, it could become a bog and lose useful aquatic animals and plants.
Upgrading should be divided into two stages, he said. The first stage is upgrading the lake and the second stage is assessing the upgrade's affect on aquatic animals and plants in the lake.
"If the upgrade is not careful, useful seaweed and microorganisms which create the specific green colour of the lake can die," he said.
Director Hung from the Hanoi Sewage and Drainage Co Ltd said a well should be dug to supply water for the lake more actively.
Pham Tuan Long, Vice Chairman of the Hoan Kiem district People's Committee, said the district will improve education, so that residents and tourists will not discharge waste into the lake.
The district will ask enterprises and trading stores around the lake to sign commitments on obeying regulations on environmental protection to better take care of the lake, he said.
VNA