Conference calls for collaborative effort to train students for Industry 4.0
Last update: 14:13 | 09/03/2018
Collaboration across industry, academia and government is needed to both retrain the existing workforce and better prepare the next generation of graduates from secondary schools and universities to achieve optimal success with the fourth industrial revolution, a two-day conference heard in HCM City.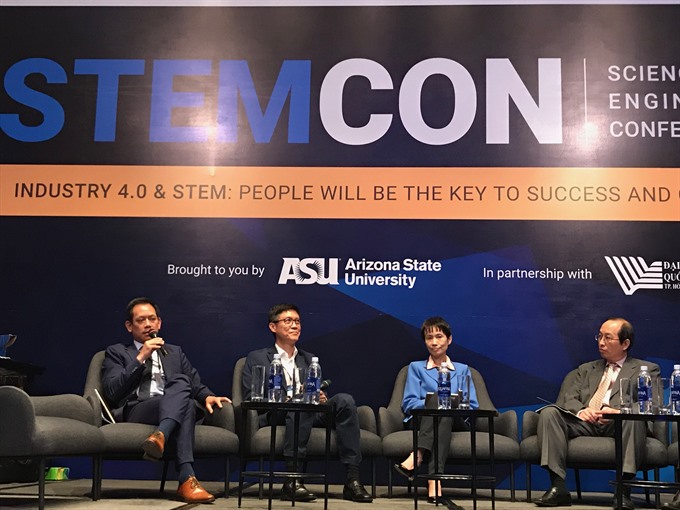 A panel discussion on how to train students to adapt to Industry 4.0 being held at a conference in HCM City on Thursday. 
The fourth industrial revolution or Industry 4.0 refers to the trend of automation and data exchange in manufacturing, considered the fourth revolution since the 18th century.
Speaking at the "Industry 4.0 & STEM (STEMCON): People are the Key to Success and Competitiveness" conference held on Thursday in HCM City, delegates said the collaboration would help train students better.
Enterprises could provide machinery and equipment to universities, and set up open labs for their students, they said.
The conference organisers said global markets recognise that Industry 4.0 would require a massive transformation in leadership, professional and technical skills, workplace culture, and the recruitment and training of the new and existing workforces.
"Already today we are seeing low-cost labour rapidly falling to advanced automation, and traditional manufacturing approaches needing to be changed or replaced.
"This requires new skills and competence in areas such as programming, data and analytics, artificial intelligence, machine learning, robotics, systems integration, cyber security and software development."
See Chong Chan, managing director of First Solar Viet Nam, said universities should continue innovating to train their students in these skills.
New graduates have low collaborative skills and do not understand the importance of working together, he said.
Their training should include many different subjects like science, technology, engineering, and maths, he added.
Universities should invite foreign talent to offer professional advice on training programmes to develop creation and co-operation skills in students, he added.
Dr Pham Thai Lai, president and CEO of Siemens Limited Vietnam, said students should be trained to take full advantage of artificial intelligence, which is used widely in industry.
Dr Vu Dinh Thanh, rector of the HCM City University of Technology, said universities in the country face challenges in training students to adapt to Industry 4.0 due to their shortage of facilities.
Training programmes at universities including the HCM City University of Technology should focus on interdisciplinary instead of individual sectors, he said.
It is very important to collaborate with companies for training, he added.
Other delegates suggested that students should be trained to master technologies and mine and analyse data.  
Hosted by Arizona State University of the US and the Vietnam National University-HCM City, the conference saw two days of interactive plenary and technical sessions, panel discussions, seminars and exhibitions. — VNS