Alex Ferguson - an inspiration for Vietnamese IMO gold medalist
Last update: 16:45 | 09/10/2017
VietNamNet Bridge - After completing question #5 which featured Sir Alex Ferguson and MU, Phan Nhat Duy, student at the Ha Tinh High School For The Gifted, gained momentum to go on with the rest of the paper and win the gold medal in the International Maths Olympiad (IMO) 2017.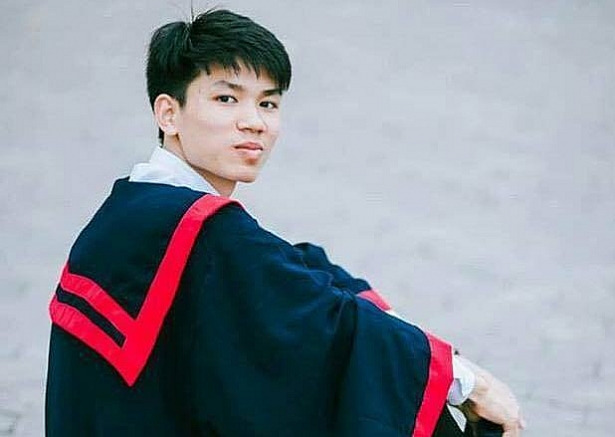 Phan Nhat Duy
Duy started dreaming of participating in an International competition in Mathematics when he was in his first year of high school. 
He finally got the chance in his final year after passing several challenging examinations to be selected as one of six representatives of Vietnam in the IMO 2017.
"I love playing football very much, it is my best choice to unwind when dealing with stress," Duy said.
Duy particularly admires Manchester United and the club's former coach, Sir Alex Ferguson, the one who made MU the greatest club in UK's football history by 20 times winning the national championship.
On the first day of the competition, Duy faced disappointment as he did not give the correct answer to some questions. 
Thanks to the encouragement from his teachers who accompanied the team, he quickly found self-confidence and did his best to make a breakthrough.
On the following days, surprisingly, Duy's favorite football team - MU and his idol Sir Alex Ferguson were featured in a mathematical combinations question. The football fan's mind was immediately refreshed when his eyes caught the familiar names.
Duy afterwards quickly completed the quiz, and creating momentum for the contestant to go on with the rest of the paper.
Duy finally got a 25 mark, the score that won him his dream gold medal, as we all know. "When the result was released, I was overwhelmingly astounded, pleasant and emotional. I gave my teacher a big hug and cried on his shoulders. Right after that, I made a phone call to my family and relatives, my parents were so happy that they burst into tears, too."
Talking about Duy, Le Phi Hung, vice principal of the high school for the gifted in Ha Tinh province, praised Duy's intelligence and innate capability in mathematics. 
"He has his unique way of dealing with amathematics problem, which is sometimes very different from the teachers' approach. I learn a lot from him."
At the moment, Duy is planning to apply for admission to the Faculty of Mathematics, Hanoi University of Science, and afterwards seek a scholarship to study abroad.
VNF/VNN