Parents' association should not be money collectors
Last update: 09:56 | 07/10/2017
VietNamNet Bridge – Recently, a father of two secondary students in HCM City sent a letter to the Government asking for the dissolution of parents' associations in schools.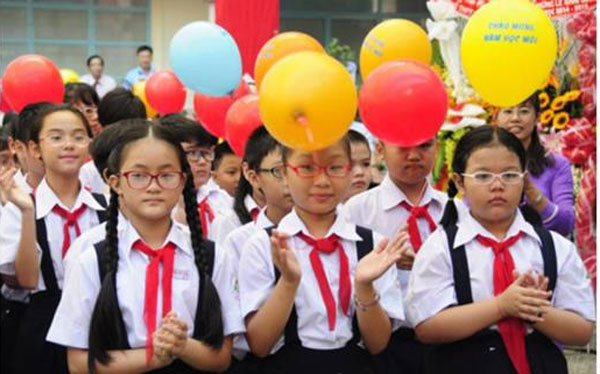 Illustrative image -- File photo
Why the ire towards these seemingly mild, inoffensive collections of helpful parents? Binh, the father, had a reason. One week into the new school year, his family received a letter from the association asking for a so-called voluntary financial contribution to make a wooden floor for a classroom.
Binh flatly refused.
Many thousands of parents nationwide share his concern about the "voluntary" fees.
For many years, it has been a back-to-school tradition: parents receive a long list of projects, from installing air conditioners to organizing after-school activities to providing water for students to hiring caretakers for trees in the schoolyard. And all of these projects require parents' financial support.
Most of parents pay the fees even if they're annoyed about the burden, because they worry that their children will lose face if it is discovered that their parents didn't pay.
Binh, however, refused the fees and insisted that they were reasonless. He argued that there was no way the air conditioners or wooden floor could be broken after one year of use.
Binh's letter to the Government spurred an outpouring of support from parents who have shared his resentment, but kept it quiet, for a long time.
They praised the "brave" father's argument that parents' associations should not be able to manipulate parents into supplying the school with unending money.
In any country, the basic role of the parents' associations is to bring schools, students and parents together to further improve education quality and support students and parents.
But in recent years, the role of associations has changed for the worse.
Many schools and principals, hiding under cheerful-sounding label of "socialising education"—which actually just means parents share more financial burdens with public schools—have  lobbied parent associations to raise funds for schools because the schools are not allowed to collect any fees beyond the basic ones.  
In an interview with the website zing.vn, Dr. Vu Thu Huong, a lecturer at the Ha Noi Pedagogic University, expressed her support for the idea of dissolving the parents' association in schools.
According to the lecturer, the associations in recent years have become "gun-folders" for collecting excessive donations, while they do little to improve students' classroom experiences.
Notably, the parent associations agree with the school's proposals and collect money but do not supervise the fund expenditures.
In fact, many schools and principals have been discovered to use the fund for improper purposes, and even for personal spending.
Thus, many parents, and even some educators, have concluded that parents' associations are ripe targets for financial abuse.
Wise and polite fund-raising
Before we hastily dissolve the associations, however, we should consider other possibilities. Although the status quo is irritating and untenable, we ought to ensure that schools have vehicles for promoting parental involvement and gaining support for extra projects. Otherwise, our children's education could be damaged.
We can look abroad for examples of how parent associations ought to work.
In other countries, parents' associations voluntary fundraisers for schools are normal and popular. But they go about this project differently than the way Vietnamese associations operate.  
Frankly, they raise funds wisely and politely.
My friends, who have been living in the United States and United Kingdom for more than 15 years and have secondary school-age children, said that the roles of parents' association in the countries are the same as in Viet Nam. They support the school and students' education activities and act as bridges between parents and schools. Fundraising is part of this job.
Normally, the association would meet with the school's leaders and find what the school needs money for in the new school year. The fund-raising activities would be carried out during the school year.
They raise funds in many ways instead of just collecting cash from parents. For example, they organise charity fairs, cake sales, disco nights, or called parents to contribute school supplies, or set up carpools for student field trips.
The funds could be used for many other activities such as building a new library, equipping labs or buying more toy castles in the playgrounds.
Contribution was absolutely voluntary. Raising funds by this way was actually effective and did not put undue pressure on parents.
The job of parent associations was to turn activities into cash. My friend said last school year, his son's school raised more than US$150,000, which was used for upgrading the school's facilities.
At some schools, strong and active associations could raise millions of dollars. Importantly, the fundraising must be transparent, supervised by the associations and clearly communicated to each parent.
Thus, Vietnamese parent associations should adopt some of these methods. But we shouldn't dissolve them altogether. Hopefully Binh will find this a suitable compromise. 
Chu Lan Huong
VNS