Principal's hip-hop dance brings inspiration to students
Last update: 15:24 | 09/09/2017
VietNamNet Bridge – School years throughout Viet Nam usually start with dry sermons by school principals and sombre school songs.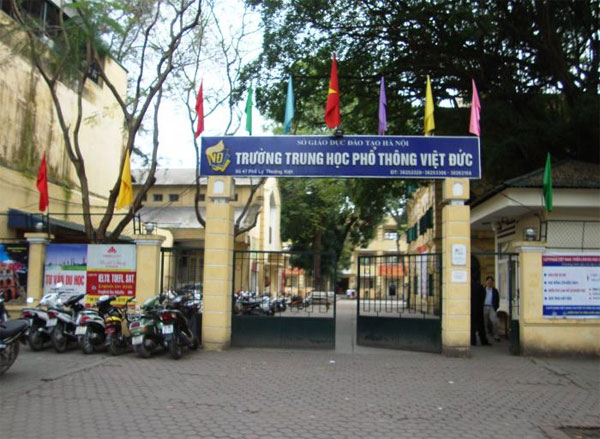 Viet Duc High School in Ha Noi -- File photo
But at Viet Duc High School in Ha Noi, the principal is moving to quite a different drumbeat – hip hop.
For teachers and students of Viet Duc High School, this year's opening ceremony will be an unforgettable memory, as they enjoyed a hip-hop dance and beat-boxing performed by principal Nguyen Quoc Binh.
The image of the principal dancing to a hip-hop beat has energised the educational atmosphere, making the ceremony an even more festive day for students.
With the hip-hop dancing and beat-boxing, everything around the school seems more exciting, and beautiful smiles lit up students' and teachers' faces.
Many students expressed their pride to be a member of the Viet Duc High School and happiness to have such a stylish principal.
Binh's performance was even more surprising as he is not a young teacher and will retire next year.
Why was he ready to shed his strict appearance to entertain the young people?
Binh said that during his career, he tried a lot to change his thinking about students so that they could understand each other better.
Students change continuously year to year, and even during the school year. If teacher did not catch up with their thinking, his teaching would suffer, he said.
"I always hope that I and my students are closer, friendlier and more equal. International education methods showed me that if the teacher is only strict, he/she will not be successful," said Binh.
Sharing Binh's view, Tran Thanh Tu, teacher of a high school in Ha Noi, believes that the closer teachers and students are, the more successful they will be.
"Teachers, and especially principals, should create a friendly image with students via activities such as extracurricular and volunteer work. Then we will have a better educational atmosphere," she said.
"If teachers give the students a compliment, encouragement, or a funny story, the results can be tremendous," she said.
"The most important thing to do is have belief in the students. With their faults, teachers should forgive, love and believe in them," said Tu.
With such lovely actions, the principal and the teachers will go down in students' hearts.
Nguyen Xuan Hung, a 12th grader of Nhan Chinh High School in Ha Noi, said he loved friendly teachers.
"Once last year my teacher gave me some candy. It was small but I was very happy, and always smile when I remember it," he said.
Hung and his friends hope to have teachers with gentle manners but still severe enough to keep discipline in class.
Agreeing that opening ceremonies for the new school year should bring joy to teachers and students instead of prolonged speeches, Tran Kim Yen, a psychological teacher of the Ha Noi Metropolitan University, said that a teacher now must be serious at work, yet still friendly.
"A teacher should be a sister, brother, or a friend so that students can believe in them. Then they can share their views and ask for advice," she said.
To reach this point, the teacher must create a dear image in students' mind and help students resolves their difficulties, which sometimes they even cannot share with their parents, said Yen.
In my opinion, a teacher has happiness that no other career gives. It is the happiness of seeing their students grow up.
Teachers and managers in the educational sector should fan their own flames and spread their inspiration to students. The closer teachers and students are, the brighter the flame will be, and the better the educational results will be. 
Thu Trang
VNS