Online Math, English competitions to be suspended
Last update: 18:00 | 21/08/2017
VietNamNet Bridge – The Ministry of Education and Training decided to temporarily stop online Math and English competitions from the new school year 2017-18 for a more in-depth review, said deputy head of Secondary Education Department Nguyen Xuan Thanh.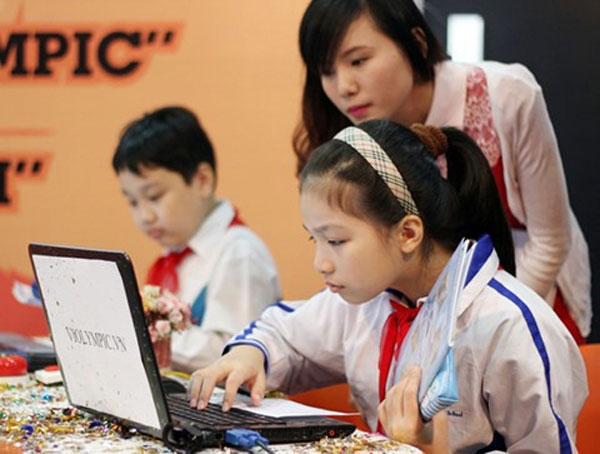 The Ministry of Education and Training ordered online Math and English competitions to stop. — Photo news.zing.vn
"Knowledge competitions such as online Math and English contests have met requirements of applying knowledge acquired from subjects learned at school. However, the competitions which have been organised for many years need a thorough review in terms of format and content to meet requirement of students' capacity enhancement following educational reform criteria," Thanh said.
It means the schools will no longer use results of these competitions to get priority for admission to grades six and 10 (the first grades of lower and upper secondary schools).
Thanh said this removal will not affect admission results of specific schools.
Thanh said online contests for students are held voluntarily after school.
In May, the ministry asked local departments of education and training and secondary schools under the ministry's management to reduce the number of competitions for teachers and students because there are too many competitions causing overlap and pressure for both. The number of competitions is proposed to be cut by half
Many of the competitions, according to Thanh, simply check students' knowledge and limit their opportunities to practise, experience and develop soft skills. Many prove impractical and face social opposition.
The ministry asked local departments to only hold competitions attached to the secondary curriculum to help students participate in activities to experience creativity relevant to the requirement of developing students' capacity.
The ministry also asked schools to avoid using results of competitions held by local departments of education and training and students' achievements in international contests to assess student performance for new school year 2017-18.
Students who obtained high results in these competitions will also not be granted admission priority. 
Source: VNS