100 million textbooks printed for school year
Last update: 11:10 | 11/08/2017
VietNamNet Bridge – The Viet Nam Education Publishing House Limited Company has printed more than 100 million copies of textbooks for the 2017-2018 academic year.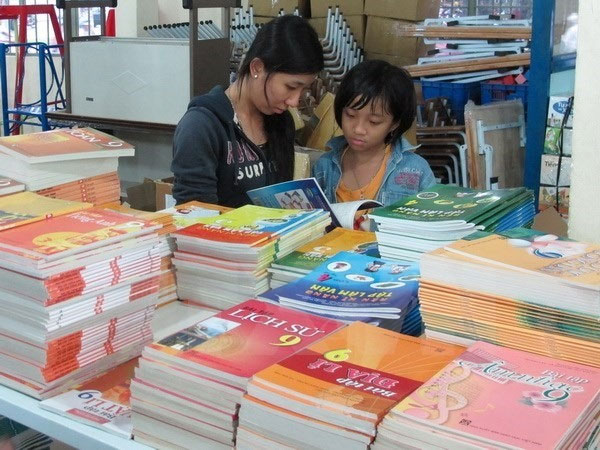 More than 100 million copies of textbooks have been published since August to meet student demand in the upcoming academic year. — Photo: VNA/VNS
The company has also printed more than 95 million copies of different books, maps and pictures used by teachers in the classroom.
The prices are posted on the company's website www.nxbgd.vn, at bookstores, and at companies that sell books and devices for students.
The company is also providing discounts for students before the new school year begins, and has set up inspection teams to ensure that the market for educational books is stable.
The company's board has co-operated with relevant agencies to solve the problem of illegal printing of textbooks, with many already detected and reported to authorities.
Hai Anh Co.Ltd in Ha Noi, for example, was found printing 30,000 English textbooks illegally. Thien Phu Package and Printing Factory and Hai Chien Package and Printing Company in Ha Noi was also printing English textbooks illegally.
Parents and students have been advised to buy books at bookstores of the Viet Nam Education Publishing House Limited Company and companies supplying books and equipment for schools.
Nguyen Duc Thai, chairman of the member council of Viet Nam Education Publishing House, said it would continue to publish books and documents for 4,228 schools taking part in the learning and teaching programme called Viet Nam Escuela Nueva, which started in the 2012-2013 academic year.
The Ministry of Education and Training is encouraging students to present their used textbooks to poor students or school libraries.
VNS