Honeywell Educators at Space Academy welcomes eight Vietnamese participants
Last update: 10:48 | 12/07/2017
Honeywell (NYSE: HON) and long-term partner, the US Space & Rocket Center (USSRC), welcomed more than 200 middle school teachers from 33 countries and 45 US states and territories to Honeywell Educators at Space Academy (HESA).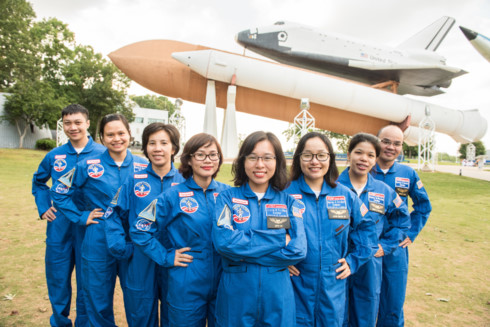 Eight Vietnamese teachers will participate in Honeywell Educators at Space Academy's STEM training programme
This year marks a record number of participants from Vietnam, with eight teachers. Over the course of two consecutive weeks, from June 14 to 27, teachers experienced a unique opportunity to re-ignite their passion for science, technology, engineering, and math (STEM) education.
Honeywell Hometown Solutions, the company's corporate citizenship initiative, in partnership with USSRC, created this award-winning scholarship programme in 2004. 
Since then, HESA has graduated 2,776 educators from 62 countries and 52 US states and territories, reaching more than three million students around the world. Of this number, 16 have attended from Vietnam.
"Technology is changing exponentially. Things we once held as impossibilities are reality—we are on our journey to Mars," said Dr Deborah Barnhart, CEO and executive director of USSRC. 
"Educating the next generation of leaders and learners is key to global success. Exploration improves quality of life for all humanity through discoveries in science and engineering. The Honeywell Educators at Space Academy programme unites teachers with exciting tools and methods to change the lives of students around the globe."
The programme includes 45 hours of classroom and laboratory instruction focused on science, space exploration, and leadership skills development. 
Teachers will participate in astronaut-style exercises, such as high-performance jet simulation, scenario-based space missions, coding challenges, land and water survival training, and interactive flight dynamics programmes. 
Through these exercises, teachers learn how to reinvigorate their classroom with ideas, lessons, and other materials.
"HESA has encouraged me to expand my understanding and pursue STEM teaching," said Hoang Thi Hien, teacher at Lawrence S. Ting School (LSTS), also known as Dinh Thien Ly School. 
"Every activity is part of a comprehensive experience to enhance teachers' in-depth knowledge and skills. This is an unmatched opportunity every middle school educator should grasp in their teaching career."
"As a leading technology and software company, Honeywell places a great importance on educating our next generation of scientists and engineers," said Mike Bennett, president of Honeywell Hometown Solutions. 
"The teachers who attend the academy understand the importance of STEM education better than anyone. They use these lessons to keep their students engaged and passionate about science, technology, engineering, and math."
"We are delighted to see the increased number of Vietnamese teachers participating in HESA, which means more students will have the opportunity to be inspired by STEM-fuelled teachers," said Mai Trang Thanh, president of Honeywell Indochina. 
"Beyond giving effective exposure to STEM, the Honeywell Educators programme has encouraged students' scientific enthusiasm—a key factor for innovation and productivity for the country's sustained economic growth."
HESA candidates complete a rigorous application process. Qualified teachers are awarded scholarships, round-trip airfare, tuition, meals, and accommodations, thanks to the generous support of Honeywell and its employees.
VIR