Violent incidents creating unsafe school environment
Last update: 13:37 | 14/02/2017
VietNamNet Bridge - A series of recent child abuse cases have caused parents to feel insecure about sending their children to school.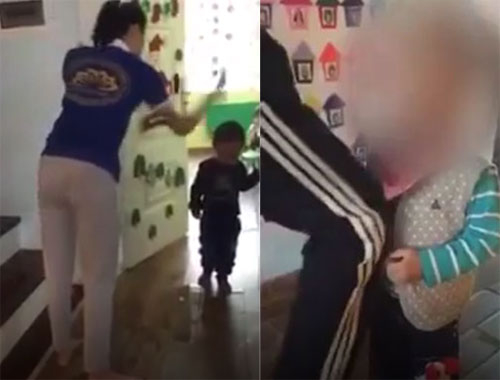 In early February, a teacher at Sen Vang Kindergarten in Hanoi was found beating a child with a slipper.
Also in February, Tran Chi Kien, a student of Nam Trung Yen Primary School was hit by a car which broke his leg when he was playing in a schoolyard. The boy was brought ito hospital and had to undergo surgery. The headmaster of the school and another teacher were in the car.
A series of recent child abuse cases have caused parents to feel insecure about sending their children to school.
At first, the headmaster denied the fact the student fell on the ground when running. Later, she admitted she was in a car entering the school yard on that day, but said she did not know if the car hit the student.

On February 9, when Pham Thi Manh in Dong Huong Ward of Thanh Hoa City came to Thanh Xuan Nam Kindergarten to pick up her granddaughter Pham Thu Phuong, 27 months old, she discovered many bruises on her thighs.

Later, Ngo Thuy Linh, a teacher at the school, admitted that she beat the child with sticks.

Last November, a clip showing images of a proctor of Nguyen Hien Secondary School striking the head of a male student was posted on the internet.

In early 2016, another child abuse case was discovered at Hoa Phuong Nursery School in Kon Tum City. Like many other cases, government agencies and the school's board of management only dealt with the case after the information about the abuse appeared on the internet.

Many teachers show irresponsibility and deceitfulness, say educators.

Tran Dinh Su, a teacher, said on national television channel VTV that the behavior of Nam Trung Yen Primary School's headmaster was 'serious' and 'unacceptable'.

"The teacher not only tells lies, but also teaches students to tell lies and submit to falsehoods," he commented. "This will spoil the nation's education."

Some analysts, when commenting about child abuse cases, called these the 'dark corners' of the schooling environment.

Bich Phuong, a parent in Hanoi, said she won't send her children to kindergartens without cameras.

"I will only leave my children at school if I am sure I can keep watch over their activities at school," she explained.

However, it seems that cameras and hi-tech devices are not enough to make parents feel insecure. 

Phan Tuan, a parent in Cau Giay district, said camera cannot protect children. "There are corners in classrooms which are out of CCTV focus," he said, adding that education quality depends on teachers' responsibilities. 
Le Vi