Last update: 08:30 | 10/07/2018
Vinamilk's products present in 43 countries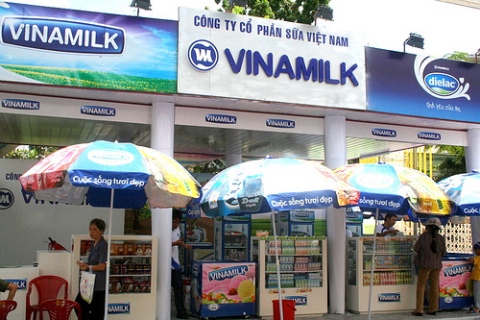 Dairy giant Vinamilk's products have hit supermarket shelves in 43 countries and territories across five continents.
Vinamilk has ten large-scale Global GAP farms nationwide with all its 120,000 dairy cows imported from Australia, the US and New Zealand. Four years ago, a Vinamilk dairy farm in the central province of Nghe An became the first in Southeast Asia and the third in Asia to receive a Global GAP certificate. This means the farm met domestic and international quality and safety standards.
Every day, the firm collects some 750 tonnes of fresh milk from its farms and 8,000 farming households daily, enough to produce three million glasses of milk per day.
The company plans to increase its herd of cows to 200,000 in 2020 to double its daily fresh milk output.
Currently, Vinamilk owns 13 plants, including a mega-factory in the southern province of Binh Duong. Equipped with advanced technology in automation, the factory operates on an automatic basis, from the feedstock input to the final produce storage under the control of the central computing system.
The milk factory can meet the demand for liquid milk for the entire Vietnamese market. It can provide 400 million litres of milk per year and productivity will be raised to 800 million litres after Vinamilk expands the factory.
After gaining a foothold in foreign markets with its traditional items of powdered milk for infants and toddlers and condensed milk, Vinamilk has recently begun the export of fresh milk, yogurt and fruit juice.
Since 1997, the dairy giant has earned 2 billion USD from exports. It is working to expand operations abroad, especially in emerging markets like Laos and Myanmar.
It has also paid attention to market research activities to expand its presence in new markets in Africa.
Regarding domestic markets, Vinamilk was the most chosen consumer brand in Vietnam for four consecutive years from 2014-2017, according to the 2018 edition of Kantar Worldpanel's Brand Footprint report.
With high Consumer Reach Points, Vinamilk was the most chosen dairy brand in Hanoi, Da Nang, Ho Chi Minh City and Can Tho, and rural areas across the country in 2017.
Vinamilk is aiming for revenue of 55.5 trillion VND (2.46 billion USD) and post-tax profit of 10.75 trillion VND (477 million USD) this year, up 8.5 percent and 4.6 percent, respectively. 
How Vietnamese firms can keep international talent     
Most Asian companies, including those doing business in Viet Nam, believe it is becoming increasingly difficult to recruit international talent though 40 per cent (75 per cent in Viet Nam) plan to increase their international headcount in the next 12 months, according to a new report.
"How to attract and retain the right talent to grow your business internationally," by London-based professional recruitment firm Robert Walters said the greatest challenges are due to the high salaries expected by applicants despite lacking the skills required.
Adrien Bizouard, country manager, Robert Walters Viet Nam, said: "With this report, targeted at Asian companies looking to internationalise, we hope this serves as a strategic roadmap on how to equip Vietnamese businesses with the talent they need."
In Viet Nam, when asked "What are the top three reasons for leaving their previous Asian companies," 57 per cent of the respondents indicated low transparency in company decisions and changes compared to only 35 per cent in Asia.
This was followed by the lack of professional training and personal development programmes (55 per cent). The third reason (53 per cent) was they could not see a progression in their career paths.
Besides common motivating factors such as pay and benefits or company reputation, promotion opportunity was by far the most popular response (63 per cent) to the survey question on what motivates international talent to work in an Asian business.
The report suggested that Vietnamese companies should build their employer proposition to attract talent by providing a competitive salary range and highlighting their expansion strategies for the future besides identifying and promoting their advantages over Western companies.
Vietnamese companies should build and maintain a unique company culture through fostering close relationships within the firm at all levels, and create a culture of collaboration and teamwork which could turn into an advantageous factor, it said.
"They should provide structured training and career development programmes that would support employees in professionally shaping their careers with the option of implementing a job rotation programme to allow staff to gain an overview of the business and variety of skills."
Asian companies are growing in international status and changing the global business landscape: 40 per cent of the companies in the latest global FORTUNE 500 list are Asian, more than from any other continent.
The need for international growth was recognised by a majority of the survey's respondents, with 70 percent of Asian firms and 67 per cent of Vietnamese firms stating that they plan to grow their international footprint within the next three years.
The report was based on interviews with more than 5,000 HR professionals, hiring managers and candidates in China, Indonesia, Malaysia, Philippines, Singapore, Thailand, Taiwan, and Viet Nam.
VN seeks stronger ties with Brazil     
Addressing a Viet Nam-Brazil trade and investment forum with the participation of representatives of about 100 enterprises from both countries, Deputy Prime Minister Vuong Dinh Hue highlighted the potential for bilateral cooperation.
On Tuesday, the Deputy PM visited Sao Paulo, the largest financial and industrial hub of Brazil and one of the most important in the Americas, as part of his ongoing visit to Brazil.
Viet Nam had recorded a high growth rate over the past decade, and would be a gateway for Brazil to access ASEAN markets and free trade areas of which Viet Nam is a member, while Brazil could help Viet Nam penetrate the South American trade bloc (MECOSUR), he said.
Deputy PM Hue expressed his belief that ties between the two countries would thrive in the future through specific programmes. Viet Nam could become a top importer of Brazil's maize and soybean, and would consider buying beef from the country, he said, suggesting that Brazil import more coffee, tra fish and shrimp from Viet Nam. He underscored that Viet Nam was willing to co-operate with Brazil in farming machine manufacturing, safe agricultural production, tourism, education and training, and pharmaceuticals.
Alencar Burti, President of the Sao Paulo Chamber of Commerce, said that the forum created a chance for Viet Nam to attract more investment from Sao Paulo, and foster partnership between the business communities of both sides.
Along with the agreements signed on aviation, agriculture and cooperation deals between the Chambers of Commerce and Industry of the two countries, Viet Nam and Brazil finalised agreements on defence, especially in the defence industry, while heading towards the signing of an investment protection agreement and another on double taxation avoidance.
Earlier the same day, at a meeting with Ambassador Rubens Barbosa, President of the Federation of Industries of Sao Paulo State (FIESP), Deputy PM Hue proposed that the FIESP strengthen cooperation with Viet Nam's big cities such as HCM City, while engaging in the restructuring and acquisition of State-owned enterprises as well as the reform of banking system and the construction of agricultural processing plants in Viet Nam, thus deepening involvement in Viet Nam and ASEAN markets.
During his stay in Sao Paulo, Deputy PM Hue also held meetings with some leading enterprises and business associations of Brazil such as the Brazilian Association for Fisheries Promotion (ABRAPES), the Brazilian Association of Fisheries Industries (ABIPESCA), aerospace companies Embraer and Avibras and Eurofarma medical company. 
Vinatex reports 14% surge in profits     
Vinatex, the nation's premier textile and garment company, reported a pre-tax profit of VND394 billion (US$17.3 million) for the first half of this year, a 14 per cent year-on-year rise.
Its revenues were up 7 per cent to VND9.3 trillion.
Vinatex targets profits of VND787 billion on consolidated revenues of over VND20.3 trillion this year, representing a rise of 5 per cent and 10 per cent, respectively.
It plans to pay dividends of 6 per cent for 2018. 
Central bank lowers dollar rate to keep exchange rate steady     
The State Bank of Viet Nam (SBV) has stepped in to steady the dollar-dong exchange rate by selling the greenback on Tuesday at 1 per cent lower than the previous day's rate.
Commercial banks were able to buy from the central bank's Operation Centre at VND23,050.
The SBV also cut the daily reference exchange rate by VND5 to VND22,630 to the dollar. With the current trading band of 3 per cent, the ceiling rate for banks during the day was VND23,309 and the floor rate was VND21,951.
Following the move, Vietcombank reduced both buying and selling rates by VND5 to VND23,000 and VND23,070, but other lenders continued to hike their rates.
BIDV increased both by VND20 to VND23,010 and VND23,080.
Techcombank's buying rate was VND22,980, up VND50 from the previous day, and selling rate was VND23,080.
Earlier SBV Governor Le Minh Hung had told an online conference between the Government and localities that the central bank was willing to intervene in the foreign exchange market if supply or demand problems arose.
The dollar has appreciated significantly against the dong recently.
According to Nguyen Duc Do, deputy head of the Economics and Finance Institute, besides the appreciation of the dollar following the US Federal Reserve's recent interest rate hike and the accelerating US-China trade war risk, there is also a psychological factor at play following rumours that the rate would remain upward bound.
But he expects the SBV to take strong measures to prevent the dollar from strengthening to much against the dong to prevent a repeat of the dollar hoarding a few years ago.
Besides, it also needs to keep the exchange rate steady to enable the Government to achieve its goal of keeping inflation below 4 per cent this year, he added.
VME returns to Ha Noi in August     
The Viet Nam Manufacturing Expo (VME) 2018 will return to Ha Noi in August, showcasing a wide range of machinery and industrial know-how from over 200 brands.
The event's organiser - Thailand's Reed Tradex - delivered the information at a press conference held in the capital on Wednesday.
"In recent years, Viet Nam made strategic moves to speed up the manufacturing sector towards a new industrial revolution - Industry 4.0," Suttisak Wilanan, Deputy Managing Director of Reed Tradex said.
"Manufacturers can't ignore calls for abilities in customisation, precision, high-speed production, and the transformation from analog to digital operations in the era of Industry 4.0. Those who fail to do so will fall behind their customers' growing demands," he said.
He added that in the era of Industry 4.0, integration of several new technologies have opened up new kinds of automated systems such as 'collaborative robots', or Cobots - a robotic system designed to safely work alongside humans.
During VME 2018, Reed Tradex will co-ordinate with Universal Robots to organise a practical 'Cobot Showcase' in order to promote the potential applications of Cobots, while working closely with human operators.
The forthcoming event will be also held along with four others to create a comprehensive platform for manufacturing, Suttisak Wilanan said.
These events include Viet Nam Sheet Metal – an extraordinary edition of Viet Nam's only sheet metal fabrication technology and machinery exhibition and Viet Nam Electronics Assembly – an international exhibition on machinery and technologies for electronic parts and components manufacturing industry. Two others are Robot X – the most comprehensive series of events on industrial robots in ASEAN and Industrial Components & Subcontracting Viet Nam – a sourcing platform for industrial parts and components.
Business-matchmaking activities to support all participants finding the right target agents, suppliers or future business associates and a competition to search for the best welding master and encourage Viet Nam's industrialists to see the importance of upgrading their welding skills will be also held on the sidelines of VME 2018.
The three-day event will open its doors at the Ha Noi International Exhibition Centre on August 8. 
TMV's first batch of automobiles enters Việt Nam
Toyota Motor Việt Nam (TMV) has imported 200 cars through Hiệp Phước Port in HCM City after six months of suspending imports to Việt Nam.
This is the first batch of automobiles from the Japanese automaker since the Government's decree 116 went into effect early this year.
The firm previously said they were unable to meet Việt Nam's stringent checks of imported vehicles under Decree 116 on the production, assembly, import and warranty of automobiles, which was issued just as Việt Nam eliminated tariffs on automobiles imported from ASEAN members. 
Under which, this new batch of automobiles, imported from Thailand, will enjoy zero per cent import duties and have to pay only special consumption tax and value-added tax.
The firm is making necessary import procedures for the batch, which is expected to roll out to the market next month.
According to report from the General Department of Customs, the total import value of cars reached 8,534 units, worth more than US$223 million. Of which, imports from Thailand made up 84.5 per cent, reaching 7,212 units. 
Value of coffee exports to Indonesia soars
The value of Vietnam's coffee exports to Indonesia saw a sharp rise in the first five months of the year, according to the Ministry of Agriculture and Rural Development (MARD).
The country recorded an 8-fold increase in export value to Indonesia, reaching US$102 million, up 97.1% against the same period last year.
Indonesia are driving up their imports of Vietnamese coffee as it is reasonably priced and has a good quality for the purpose of processing instant coffee, domestic consumption or re-export.
Vietnam's coffee exports also posted a sharp increase to other markets such as Russia (up 76.8%), the Philippines (54.1%), Algeria (10.8%), and Japan (5.8%).
In the first half of the year, coffee exports are estimated to reach 1,042 million tons worth US$2.01 billion, up 11% in volume but down 4.7% in value compared to the corresponding period last year.
Germany and the US remained the two largest importers of Vietnamese coffee in the first five months with export values hitting US$209 million and US$174 million respectively.
The average export price of coffee stood at US$1.929 per ton in the first half of the year, down 14.23%, while the export price for June was US$1.914 per ton, down 2.3%.
On the domestic market, the coffee price was on a downward trend in June, hovering at VND36,000 per kilo, down VND700 per kilo against the corresponding period of the previous month.
According to the International Coffee Organization (ICO), the global coffee output for the 2017-2018 period is estimated to increase 1.2% to 159.66 million sacks (60kg). The US Department of Agriculture (USDA) predicts that the global coffee output for the 2018-2019 period will reach 171.2 million sacks.
Vietnam textile firm bets on eco-friendly products
While higher prices and low awareness have limited consumption in the domestic market, one firm is optimistic that this will change.
For price conscious Vietnamese consumers, an organic product more expensive than its normal version is not an attractive option, but one firm has decided to be persistent.
The Phong Phu Textile and Garment Company introduced its made-in-Vietnam eco-friendly towel brand last December, attracting media attention as one of the first firms in the country to produce an organic textile product.
The Mollis Organic towels are made from 100 percent organic cotton. No genetically modified organism, chemical fertilizer or pesticides are used in the making of this product, the company asserts.
The company would strive to bring organic products to its customers although their production costs are high and profits uncertain, Pham Xuan Trinh, CEO of the Phong Phu Textile and Garment Company, told VnExpres International.
The company prices its organic towels from VND60,000-VND250,000 (US$2.62-US$10.91) depending on the size, about 20% higher than conventional products, while made-in-China towels are sold for just VND15,000 (US$0.65).
Since awareness of the importance and advantages of organic products is relatively low among a majority of Vietnamese consumers, Phong Phu is struggling to sell its organic towels to local customers.
"We'll continue to invest in organic products despite low profits with the hope that one day Vietnamese customers will see the true value of organic products," he said.
The company spent VND4 billion (US$174,600) last year on research and development for its organic products.
As Vietnam's conditions are not currently suitable for growing organic cotton, the company imports its material from Bangladesh, India and Israel. The processing and manufacturing processes happen in Vietnam.
The company has so far exported its organic towels to Japan and South Korea, aiming at the high-income customers in these countries.
Phong Phu recorded a profit of VND149 billion (US$6.5 million) in the first half this year, a growth of 7% from the same time last year, but most of it came from conventional non-organic products, including towels and denim jeans.
Vietnam, UK cooperate in building information model development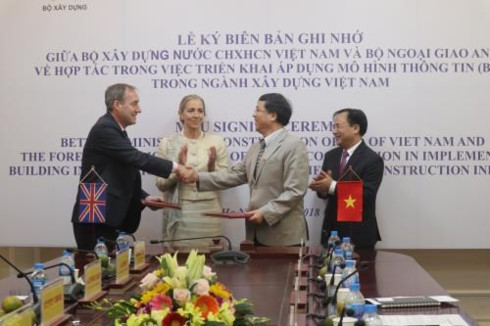 Vietnam's Ministry of Construction and the UK's Foreign and Commonwealth Office on July 5 signed a memorandum of understanding (MoU) on cooperation in applying a building information model (BIM) in Vietnam's construction industry.
As part of activities in the global technical infrastructure programme funded by the UK Government's Commonwealth Fund, this aims to build a master strategy of digitalisation in the field in Vietnam. 
Under the MoU, the UK Government, through the UK's digital construction institute, will work with the Steering Committee of BIM (Ministry of Construction's Institute for Construction Economics) to develop standards and guidelines and support the implementation of a number of BIM pilot projects in Vietnam. 
Deputy Minister of Construction Nguyen Van Sinh said that Vietnam is in the period of renovation and development, so its demand for construction investment is very large.
In recent times, the Government and the Ministry of Construction have always paid special attention to managing the investment efficiency of projects, he noted. 
Vietnam's goal is to strengthen the control of quality, transparency and publicity of construction investment projects, in order to shorten construction progress and reduce losses.
According to Sinh, the Prime Minister approved the BIM project in construction and operation of projects in Decision No. 2500 / QD-TTg dated December 22, 2016 with the aim of improving productivity, quality and efficiency in the building sector.
The UK has extensive experience in urban development and management, planning and construction, and it is also very successful in the BIM model, he noted, adding that cooperation with the UK side is hoped to help Vietnam complete institutions and standards in construction activities, thus early applying the BIM model in construction investment.
Baroness Fairhead, Minister of State for Trade and Export Promotion at the Department for International Trade of the UK said she was impressed by Vietnam's great potential and demand for both public and private technical infrastructure projects. 
The UK has built a world-class system for using BIM in public works to save construction costs, she stressed. 
With its experience, the UK Government would like to provide information about the BIM application for Vietnam, thus helping the Southeast Asian nation successfully implement this model. 
UK companies, which boast expertise in executing high-quality infrastructure projects around the globe, can help Vietnam implement investment projects in this field efficiently and sustainably, she affirmed. 
The application of BIM in the construction industry is expected to contribute to raising productivity, quality and efficiency in construction investment activities and operation management. This is an important solution to approach the 4th Industrial Revolution of the construction sector.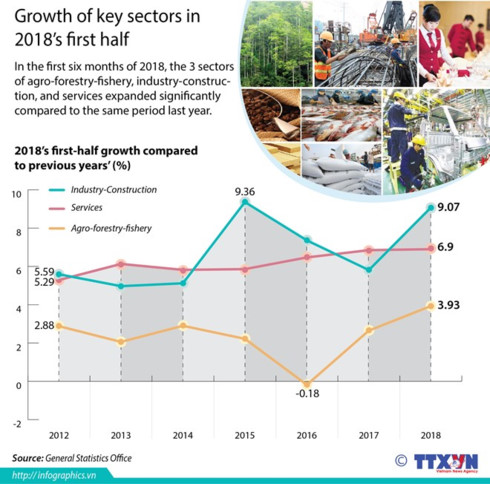 Lotte Duty Free opens second outlet in Vietnam
Lotte Duty Free, a subsidiary of Lotte Group, will co-operate with a local firm to open a new airport duty free store in Cam Ranh International Airport of Nha Trang, which is a part of its plan to solidify its foothold in Vietnam, according to newswire Koreaherald.   
The new store will mark its second airport outlet in Vietnam as well as Southeast Asia, and its seventh overseas location.
The company has secured exclusive rights to run the store until 2028, taking up 1,680 square metres at Cam Ranh International Airport's new terminal, according to officials.
The Nha Trang business will be run by local joint venture Phu Khanh Duty Free, in which Lotte has a 60 per cent holding. The company expects to attain some KRW700 billion ($644 million) in sales over the upcoming 10 years of operation.
Its revenue target is considered feasible as Nha Trang has recently become the largest tourist destination in central Vietnam, attracting some 1.2 million foreigners last year.
Lotte Duty Free CEO Jang Sun-wook stated that it aims to open additional outlets in Vietnam's major cities like Hanoi and Ho Chi Minh City over the next three years.
Furthermore, its positive results with the first outlet in Danang International Airport also contributed to their confidence.
Earlier in November last year, Lotte Duty Free officially opened its first outlet in Vietnam at Danang International Airport, also through a joint venture with Phu Khanh Duty Free, after starting pilot trading operations in May. This was the first duty-free outlet in Vietnam established by a Korean operator.
At the time, Lotte Duty Free CEO Jang Sun-wook stated that Lotte Duty Free would thrive in the Vietnamese market by offering a combination of differentiated services.
According to newswire The Investor, on February 14, Lotte Duty Free reported that the firm's outlet at Danang International Airport earned $463,649 in net profit.
Regarding local players in the duty-free sector, over the course of 25 years, the Southern Airports Services JSC (SASCO) has proven itself to be the most competent player in the field of airport services in Vietnam.
As of May, the firm ran 20 duty-free stores of international standard, selling more than 12,000 items from well-known international brands. The shopping precinct has proven to be the most commercially attractive area in airports . Boasting more than 30,000 traditional handicraft items and regional Vietnamese specialties, SASCO Shop provides enjoyable shopping for tourists.
According to its financial statement for the third quarter of last year, the duty-free chain contributed a large part to SASCO's consolidated revenue. Notably, in the last nine months of last year, the firm earned VND818 billion ($35.64 million) in revenue from duty-free stores, equalling VND91 billion ($3.96 million) per month.
DHG approved to abolish FOL
Hau Giang Pharmaceutical JSC (DHG) has recently been approved to lift the foreign ownership limit (FOL) to 100 per cent, according to information published on its website.  
The move will open the doors for old and new investors to increase their holdings in Vietnam's biggest publicly-traded drug maker.
At present, Taisho Group from Japan is the biggest foreign shareholder in DHG after the purchase of 650,000 shares, or 0.5 per cent of the charter capital, to increase its holding to 24.95 per cent, equaling 32.606 million shares.
This year, DHG aims to make a net revenue of VND4.017 trillion ($178.53 million), down 1.1 per cent compared to the actual revenue in 2017, while its pre-tax profit is set to rise by 6.7 per cent on-year to VND768 billion ($34.13 million).
The runner-up is FTIF Templeton Frontier Markets Fund with 7.95 per cent. Meanwhile, State Capital Investment Corporation (SCIC) is the biggest stakeholder with 43.3 per cent.
Regarding the business results of DHG, despite having Taisho Group on board, DHG still saw a 4.4 per cent fall on-year in its gross profit in the first quarter of 2018.
DHG made a net revenue of VND908.4 billion ($40.37 million) during the period, up 3 per cent on-year and meeting 25.67 per cent of the company's annual target.
The drug maker also reported a gross profit of VND378.4 billion ($16.8 million), down 4.4 per cent on-year, thus meeting 22.3 per cent of the company's yearly target. DHG blamed the fall on the rise in the cost of goods sold during the period.
This year, DHG aims to make a net revenue of VND4.017 trillion ($178.53 million), down 1.1 per cent compared to the actual revenue in 2017, while its pre-tax profit is set to rise by 6.7 per cent on-year to VND768 billion ($34.13 million).
Italian companies eye Vietnamese furniture and interior design market
Italian companies are looking for opportunities to enter the Vietnamese market and capitalise on the rising demand for furniture and interior design.
A delegation of seven Italian companies in the field of furniture, kitchen, lighting, and artistic mosaics paid a working visit to Vietnam last week to explore the market and find potential partners. The well-known Italian brands include Badari Lighting, Cantori, Diemme Cucine, Formitalia, Officina Luce, Sicis, and Versace.
According to Paolo Lemma, chief representative of ITA in Vietnam, Vietnam's furniture imports over the last three years grew at an average annual rate of 33 per cent. Italy leads in the EU and is third worldwide as a source market, accounting for almost 7 per cent of Vietnam's furniture imports.
In addition, Vietnam's urbanisation rate grows by 3.4 per cent each year, making it the fastest in Southeast Asia. The supply of residential buildings, hotels, and resorts is increasing at an annual average of 20 per cent, especially in Hanoi, Ho Chi Minh City, and main tourist destinations. The development of the country's real estate market is expected to continue to have a major impact on high-end furniture demand.
To tap into the market's growth, ITA/ICE Italian Trade Commission—the Trade Promotion Section of the Italian Consulate General in Ho Chi Minh City—and Federlegno Arredo Eventi have organised a premier business mission to Vietnam to explore the market for Italian furniture and interior design products.
The mission included a full immersion programme for the Italian delegates to get to know the state of the Vietnamese real estate industry and furniture trends in the country. The delegation met with major Vietnamese property development corporations and visited a number of high-end residential projects as well as luxury furniture showrooms in the city.
The first meeting was with Hoa Binh Corporation, one of Vietnam's five leading general contractors in large-scale projects such as the Le Méridien four-star hotel, Saigon Centre Complex, the expanded terminal at Tan Son Nhat International Airport in Ho Chi Minh City, and Cocobay Danang. The delegation also had business meetings with Coteccons Group and Boho Décor, Cofico JSC, Phat Dat Real Estate Development Corporation, and Cao Dong Design.
Italian furniture and interior design companies want to expand their presence in Vietnam as the country is a fast-growing market with a large population and rising income levels. The EU-Vietnam Free Trade Agreement (EVFTA) is also expected to open up new opportunities for both Vietnamese and European companies, including those from Italy.
EPTC signs agreement to purchase electricity of Trung nam Group
Electric Power Trading Company (EPTC) under Electricity Vietnam Group (EVN) signed a deal to buy electricity with Trungnam Solar Power on Tuesday.
According to Trungnam Solar Power, work on the solar power plant will start on July 7 at the Trung Nam wind power farm in Bac Phong and Loi Hai communes in the central coastal province of Ninh Thuan. With a total capacity of 204MW, it is scheduled for completion in June 2019.
The plant covering 264 hectares is designed with over 705,000 battery sheets connecting with 45 inverter convert station and the national grid. It costs nearly VND5 trillion ($216.8 million). It is expected to produce between 401 and 450 million kWh of electricity per year.
Once it is operational, the plant will supply more electricity for the national grid in Ninh Thuan Province particularly and the country generally.
After a long time for negotiation, Trung Nam will sell electricity at a price of VND2,086 (US$9.35 cent) per kWh, according to the agreement with EPTC.
Speaking at the signing ceremony, deputy director of EVN Le Khac Hung highly appreciated Trungnam Group and its Solar Power subsidiary promising EPTC will work closely with investor to operate the project on set schedule.
Viber community officially introduced in Vietnam
Viber, one of the popular communication applications on mobile devices, officially introduced its community in Vietnam yesterday in Ho Chi Minh City (HCMC). This signals its promising return with more services for users.
"Vietnam is a very potential market to us. Right at its debut, Viber has become one of the major choices of the Vietnamese to keep in contact with others. It is now our honor to introduce the international Viber Community to the Vietnamese market", said Anubhav Nayyar, Head of the Marketing and Business Development of Viber in the Southeast Asian area.
In this event, Viber presented its Beauty Community, Pet Lover Community, and Football Community, which are now taking full advantage of all features serviced by Viber to connect and manage their groups.
Thanks to Viber's new features, members of these communities can access all the history of their groups and participate in group talks using such actions for messages like inserting GIF, stickers, photos, video along with the traditional text. All these are approved by the group's administrator.
Viber ensures the confidentiality of all users in that their phone numbers will be hidden from other members' view. The only information available in the chat room is members' names.
Senior administrators of the community will monitor the roles of all members. They can add new members and assign anyone administrator or senior one, ban or block members if needed, and decide which members are allowed to participate in which conversations or invite new people into the community.
Senior administrators can develop their community more and change its status to public by providing link sharing, or they can hide it at any time. They can also activate the feature to earn money in accordance with the community's policy and goals. Viber, in this case, will help to boost the revenues.
Senior administrators can assign junior ones the task of helping them censoring conversations via the option of erasing one or all messages of any member, pinning notes to guide conversations. Administrators can add or remove members when needed.
New procedures for sales promotions remain complicated
New procedures for sales promotion programs are still complicated, as seen in a number of new Government decrees drafted by the Ministry of Industry and Trade, businesses have complained.
This is in contrast with the fact that the Government praised the ministry last year for simplifying and eliminating 675 procedures.
In May this year, the ministry officially approved a comprehensive plan for further simplifying a host of administrative procedures and investment and business conditions within the ministry's jurisdiction.
This is the first effort toward administrative procedure simplification in 2018 and the third of its kind for the industry and trade sector.
However, some new decrees have made doing business more difficult.
On May 22, the Government issued a new decree on sales promotion activities, where Decree 81 replaced Decree 37/2006. Written by the trade ministry, the new decree takes effect from the middle of this month.
According to Article 17 of the new decree, traders must notify their local department of industry and trade of their promotion activities at least three days before the start of the program.
Specifically, they must send out documents announcing the contents of their programs in accordance with the approved model document. If multiple traders are running a joint program, the document should state all their names and their specific responsibilities.
For the first time, submissions of notifications of promotion campaigns can be made online instead of by the physical submission of documents.
At first glance, the regulations appear to be a significant achievement for administrative reform, removing business conditions for enterprises wishing to launch promotion programs without permission.
However, some enterprises found the regulations unnecessarily complicated. They cited the first appendix of the new decree, noting that they are also being asked to enclose copies of relevant agreements or contracts.
This means if a program has hundreds of traders from various provinces and cities involved, hundreds of agreements or contracts must be included in the submission to their local watchdogs.
The second appendix asks traders to report the results of their programs. They are told to store receipts and relevant documents for their reports in line with prevailing regulations. The move is intended to facilitate the inspection, management and supervision efforts of the regulators.
The top official of a beer production company told the Daily that if as many as 200 of his agents were to run a promotion campaign across the country, he would have to store hundreds or even thousands of minutes or winning affirmations for his reports.
As such, the situation will create major problems for traders like him. Further, promotions are the result of the internal management of a business, so an enterprise should be held solely accountable for the results of its promotion campaign if problems arise, he added.
Meanwhile, local watchdogs will have to spend a great deal of time checking piles of applications, copies of agreements or contracts, minutes and winning affirmations.
As such, the new decree will also cause State management agencies a slew of unnecessary consequences.
The Anam among world's leading luxury resorts
The Anam, a new 117-villa and 96-room resort overlooking the pristine Long Beach in central Vietnam, has been selected to join Traveller Made, an exclusive network of the world's top luxury properties and tourism operators.
The Anam underwent a stringent pre-selection process by two steering committees presided over by luxury hoteliers and incoming agencies. The resort was selected based on its ability to provide luxurious one-of-a-kind travel experiences.
"To join Traveller Made's community so soon after our grand opening in April last year is a fantastic achievement. It's a seal of approval that connects us to the top people in travel agencies and we look forward to introducing Traveller Made's clients to our breathtakingly beautiful part of the world," Pham Van Hien, chairman and owner of The Anam, said in a statement.
Binh Thuan aims to become national sea tourism hub
The south-central province of Binh Thuan has seen a 12 percent growth in the number of visitors so far this year, thanks to the locality's efforts to develop a safe and friendly tourism environment and enhance service quality.
In June, Binh Thuan welcomed 430,000 visitors, pushing the total number of tourists to the province to around 2.6 million in the first six months of 2018, a rise of 11.6 percent year-on-year.
Of the total, 334,000 were foreigners, mostly Chinese, Russian, Korean, and Thai – a rise of 13.9 percent for this majority demographic year-on-year.
Binh Thuan's tourism revenue in the January-June period was estimated at 6.35 trillion VND (279 million USD), up 18.8 percent year-on-year.
In recent years, Binh Thuan has become popular among tourists thanks to its beautiful landscapes, stunning beaches, and friendly and safe environment. It has 192km of coast featuring idyllic beaches, impressive landscapes, a clean environment, along with many national historical and cultural relics and festivals.
The provincial Department of Culture, Sports and Tourism has coordinated with the Tourism Association of the province to launch a summer promotion programme for 2018, with reductions in hotel and tourism service prices by 10-50 percent across the province, along with many other promotional offers.
To complete its goal of luring 5.75 million visitors in 2018, including 670,000 foreigners, and a revenue of 12.85 trillion VND (565.4 million USD), the province will continue applying comprehensive measures such as raising public awareness of building a culture of healthy and friendly behaviour for tourism activities.
The department will closely inspect accommodation facilities and travel agents, control service prices to make sure goods and service prices are the same as listed prices, and strictly handle any violations.
The provincial tourism sector will also increase the quality of products and tours, with top priorities on sea and island tourism, aiming to turn Binh Thuan into a sea sports-tourism hub for the nation.
Seminar talks export of farm produce, seafood export to Middle East, Africa
The Foreign Ministry held a seminar in Hanoi on July 5 on external relations and the export of farm produce and aquatic products to the Middle East and Africa. 
Speaking at the event, Deputy Foreign Minister Vu Hong Nam said Vietnam and countries in the Middle East and Africa share long-standing friendships that lay the foundations for all-round cooperation, especially in trade, industry, and investment. 
Nam emphasised the Middle East and Africa's strong purchasing power with a total population of over 1 billion people. 
South African Ambassador to Vietnam Mpetjane Kgaogelo Lekgoro said South Africa has a market-oriented agricultural economy, including food, cereals, animal husbandry, processed meat, and farm produce. The country imports agricultural products and food, mostly wheat, chicken meat, palm oil, soybeans, fish, and boneless seafood. However, Vietnam accounts for only over 1 percent of South Africa's imports. 
The deputy head of the Ministry of Agriculture and Rural Development (MARD)'s Agro Processing and Market Development Authority, Tran Van Cong, said the Middle East and Africa are yet to impose strict requirements or certifications for agricultural products. The two sides are also yet to sign a free trade agreement while tariffs and technical barriers remain unstable. 
Payment risk is high as regional importers are unfamiliar with opening a letter of credit, and many of them ask for deferred payment while Vietnamese businesses prefer immediate payment, forcing many partners to seek other foreign suppliers. 
Deputy head of the MoIT's Department of Asia-Africa Markets Do Quoc Hung hailed the Middle East-African region as a promising market with 70 countries and a population of over 1.6 billion. The region has a huge demand for goods, especially farm produce and aquatic products, due to severe environmental conditions.
He said rice will continue to be a major currency earner in the near future. 
In order to facilitate the export of farm produce and aquatic products to the region, Hung suggested refining the legal framework, mechanisms, and policies, alongside prioritising the signing of trade agreements. 
Both sides need to actively promote bilateral collaboration via the joint committee channel, he said, adding that Vietnam needs to boost trade promotion and help firms join exhibitions and fairs to popularise their brands. 
The MARD, the Ministry of Industry and Trade, the Vietnam Food Association, and export enterprises need to establish a cooperation mechanism to boost export to the region, he said, adding that the two sides should raise firms' awareness of the potential of each other's market. 
Participants at the event shared experience and discussed payment in export activities, economic diplomacy, and support for businesses.