Last update: 08:30 | 08/07/2018
Two ventures at the top of the food chain in Vietnam

Established by Vietnamese owners, Golden Gate and Redsun now run more than 300 restaurants under 30 brands across the country.
It is no secret that Vietnamese love eating out.
It is also a fact that nation has achieved renown as one of the best places in the world for street food.
Jostling for space in this culinary milieu, and succeeding handsomely, are Kichi-kichi, Gogihouse, SumoBBQ and ThaiExpress.
These are no strange names to Vietnamese who love dinning out. They are among most popular grill and hotpot restaurant brands in the country. However, not a lot of restaurant goers are aware that they are established and run by Vietnamese.
In 2005, with the help of two friends, Dao The Vinh, an entrepreneur in his early 30s, opened the first Ashima mushroom hotpot restaurant on Phan Dinh Phung Street in Hanoi after falling in love with a local hotspot dish during his trip to the "heaven on Earth" city of Shangrila in Yunnan, China.
Ashima succeeded beyond the expectations of its founders, who simply thought they were doing what they loved. In just two years, the number of Ashima restaurants had increased to six, three of them in Ho Chi Minh City.
The fast growth of Ashima caught the eye of Vietnamese private equity firm Mekong Capital, which invested US$2.6 million in Hoang Thanh Joint Stock Company, which was renamed Golden Gate in 2017.
Golden Gate was given a major makeover with the support of its investor Mekong Capital. The venture fund helped turn Golden Gate into a restaurant chain operator by introducing several restaurant concepts.
In 2010, the owner of Ashima opened the Kichi-Kichi rotary express hotpot restaurants, and the Sumo BBQ grill and hotpot restaurants.
But its golden era did not come until 2013 when it established a food distribution and processing center in Hanoi and introduced several new food brands, notably Gogi House, 37th Street and Ba Con Cuu (Three Lambs). Its revenue then exceeded VND500 billion (US$22 million) for the first time, up more than 60% over the previous year.
Its rapid growth story did not end there. In the following years, Golden Gate continued setting up new restaurant chains including American dining style Cowboy Jack's or Vuvuzela beer clubs and City Beer Station. Its earnings skyrocketed to reach VND1.2 trillion (US$52.7 million) in 2014 and went on to triple that amount to VND3.3 trillion (US$145 million) last year.
The restaurant chain has logged a nearly seven-fold jump in revenue within four years since 2013. This success is even more impressive considering that its gross profit margin stood at 62% in 2017. To put it another way, only 38 out of every 100 dong from clients' pockets was paid for food cost. Its biggest expenses are employee salaries and space rentals, which account for more than 20% of total revenue.
Golden Gate earned VND250 billion (US$11 million) in profits last year, which might not be an impressive sum in itself, but when considering the charter capital of VND64 billion (US$2.8 million), its return on equity ratio has jumped to nearly 400%, something very rare for Vietnamese firms.
Mekong Capital has announced that it recouped its investment in Golden Gate 9.1 times after selling its holdings in the company to Standard Chartered Private Equity (SCPE), the private equity arm of Standard Chartered Bank, in 2014. Since then, Golden Gate has set ambitious targets of increasing its number of restaurants to 400 in four years and posting revenues of US$200 million in 2018.
While its impressive track record puts Golden Gate on course to meet its new targets, in the longer run, higher aims could see it run into stiff competition in the restaurant sector.
At the moment, one of the enterprises that can go head-to-head with Golden Gate in the grill and hotpot segment is Redsun ITI. 
Founded in 2008, the company, which is a member of the Goldsun Group which operates in three sectors – food and restaurants, household goods, and packaging and printing, now operates 12 restaurant brands and 140 restaurants across the country.
Different from Golden Gate's approach of creating "made-in-Vietnam" brands, Redsun sees franchise as its long-term strategy. In the first three years of its development, it bought four international brands including Thai Express and Seoul Garden.
But as it often takes time to seek franchise owners' approval to adjust the concept to suit Vietnamese tastes, Redsun ITI created its own restaurant franchises to take advantage of market opportunities, Le Vu Minh, the company's vice president of Franchising, R&D, and International Relations, told the Vietnam Investment Review.
The company launched its first franchise concept, named King BBQ, in 2011 and began to offer franchise opportunities in 2014. The brand now has a strong presence in the market with 75 restaurants nationwide, 15% of which are franchised outlets.
On the back of this success, Redsun ITI introduced a second concept known as Hotpot Story in 2017. The company has already sold Hotpot Story franchises after opening 10 restaurants each in Hanoi and Ho Chi Minh City.
Value of pepper exports feeling the grind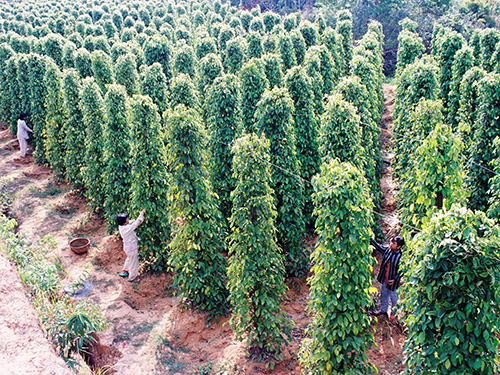 The average price of exported pepper saw a sharp drop during the first half of this year and any rebound is forecast to be difficult to achieve in July and the later months of the year, according to the Agro Processing and Market Development Authority (AgroTrade) under the Ministry of Agriculture and Rural Development.

Vietnam exported around 132,000 tons of pepper valued at US$453 million during the first six months of 2018, up 5.1% in volume but down 36.2% in value over the same period last year.

Major consumers of Vietnamese pepper in the first five months included the US (making up 18.7% of market share), India (9.6%), Pakistan (5.4%), Germany (4.3%) and the United Arab Emirates (4.1%).

The decline in export value was attributed to the 61% decrease in export price compared to the same period last year, falling to just US$3,438 per ton.

On the domestic market, as of June 23 pepper prices had fallen to between VND53,000 and 56,000 per kilo, around VND3,000 less than the same period last year and VND2,000 less than the early months of this year.

Many growers cut down plantation areas and switched cultivation to focus on other trees due to the continued price decline and disease outbreaks in pepper farming.

The AgroTrade says to deal with this situation, farmers should coordinate with businesses to receive technical training assistance and to ensure output markets for their products.

Measures must be devised to prevent farmers from spontaneously planting pepper trees en masse and to enhance promotional and brand building activity for each region and locality to sustainably develop the pepper industry.
Russia's World Cup market buy into Vietnam's refreshing lychees

Around 20 tons of Bac Giang lychees have been exported to Russia to serve the 2018 FIFA World Cup market this year, according to the Bac Giang provincial Department of Industry and Trade.
The Ministry of Agriculture and Rural Development reported on July 3 that 207,100 tons of lychees had been sold as of July 2, while the harvest season will be coming to an end in the next 5-6 days.
Dao Xuan Cuong, vice director of the Bac Giang provincial Department of Industry and Trade, said in addition to the key market of China, Vietnamese lychees have been sold in more than 30 countries and territories around the world, including the EU, US, Canada, Japan, the Republic of Korea, Singapore, Thailand and Australia with a total amount of more than 1,000 tons, worth US$1.8 million.
This year, lychees have been shipped to Russia to serve the World Cup market. Hong Xuan Cooperative has coordinated with Logistics NYV JSC in supplying 20 tons of lychees to Russian customers, with 2 tons supplied to Americans and 6.5 tons to Japanese consumers so far.
Since the early crop, nearly 60 tons of Thieu lychees have been exported to the Europe.
Phan Van Dung, director of Hong Xuan Cooperative, said lychees exported to Russia were grown according to GlobalGAP standards with many strict criteria on food hygiene and safety.
Russian and European customers highly valued the quality of Vietnamese Thieu lychees, which are more delicious than those of Thailand or China.
Raw material shortage, low prices stifle cashew industry

Input shortage and unhealthy competition cause many cashew factories to suspend operation.
The domestic cashew industry has been in crisis for many months now, with almost 80% of its factories grinding to a halt.
Industry insiders attribute the crisis to low prices and a shortage of raw material to process.
A recent Vietnam News Agency report said just 12 of 33 cashew factories were still operating in the Mekong Delta's Long An Province.
The situation was even worse in the southeastern province of Binh Phuoc, where up to 80% of small to medium enterprises have halted production.
Nguyen Duy Tan, CEO of a cashew exporter in Long An Province, told the Thanh Nien newspaper that cashew businesses have been performing poorly since October 2017.
Unhealthy competition among local firms was part of the problem, said Nguyen Duc Thanh, chairman of the Vietnam Cashew Association (Vinacas).
He said small to mid-size firms were disrupting the market by selling cashew for US$9.16-US$9.27 per kilo to traders against the market price of US$9.49 per kilo.
Over the last two years, an increasing number of households have joined the cashew industry, attracted by the high profits it was yielding.
However, with low entry barriers, the number of small and micro enterprises overcrowded the local market, and caused prices to plummet. Many companies could barely manage to break even and others suffered losses.
This also meant that Vietnamese cashew's export prices dropped to its lowest mark in recent years.
This has had impacts beyond Vietnam.
India, the world's second largest cashew exporter, sought government intervention when it was not able to compete with Vietnam's current cashew prices. Importers in the US and EU have also suffered, having to lower the prices of their inventory to match the new market price, the Thanh Nien report said.
Vinacas also pointed out that raw material shortage was another reason many firms have suspended their operations. Lower prices were also a factor in this situation. Cashew global consumption rose by 3.5%-5% because of lower prices, which created in turn a shortage of raw material for the local processing industry.
Vinacas vice chairman Ta Quang Huyen said that Vietnam imported 283,000 tons of raw cashew in the first five months of the year. This was on top of 370,000 tons from domestic supply and purchases from Cambodia via border trade.
It takes 4.3 kilos of raw cashew to produce one kilo of cashew kernel, and the industry had already exported 141,000 tons of cashew kernels in the first five months of 2018, meaning that the entire supply of 653,000 tons had been used up.
In this context, some enterprise leaders have expressed concern about the industry's aim to increase the value of cashew export to over US$3.7 billion this year
Since local cashew producers have little or no inventory, they have to wait for raw material supply to resume before they can reopen their factories, Huyen said.
Global cashew output is expected to increase 4% in 2018, and demand for cashew products is estimated to increase 5%, he added.
Tran Van Hiep, head of the trade promotion board at Vinacas, struck an optimistic note, saying cashew prices are expected to recover soon.
Vietnam still remains the world leading cashew provider, the 13th consecutive year that it has retained this position.
The VNA report said that Vietnam aims to account for 65% of global cashew supply, valued at US$5.7 billion this year.
According to the Ministry of Agriculture & Rural Development, Vietnam exported US$3.52 billion worth of cashew in 2017. Its top three importers are the US (29%); the Netherlands (17%); and China (15%).
MobiFone divests from TPBank to restructure capital

MobiFone wants to sell all shares in Tien Phong Bank (code: TPB) at the offering price of VND29,510 on the Ho Chi Minh City Stock Exchange (HSX) to earn roughly VND163.8 billion ($7.2 million).

Vietnam Mobile Telecom Services One Member Limited Liability Company (MobiFone) has just announced plans to sell all of its shares in Tien Phong Commercial Joint Stock Bank (TPBank). MobiFone is the representative of the state holding in TPBank, holding 5,549,914 shares, equivalent to 0.95 per cent of the stakes.

At the price of VND29,510, the TPB stocks that MobiFone holds roughly VND163.8 billion ($7.2 million), while its 2017 financial statement identified the investment in the corporation to value only VND48.6 billion ($2.14 million).

MobiFone divests from TPBank to restructure its capital and focus on production and its major business sectors, reducing most of its investment in other companies and organisations.

This year, TPBank sets the growth target of outstanding loans and bonds at 20 per cent, for total deposits at 10.55 per cent, the ratio of bad debts at under 2 per cent, and pre-tax profit at VND2.2 trillion ($97 million), up 82.42 per cent. At the end of the transaction session on June 29, the price of TPB stock was at VND27,500.

TPBank was established in 2008 with the participation of strategic shareholders such as DOJI Gold and Gems Group, FPT Group, International Finance Corporation (IFC), Vietnam National Reinsurance Co-operation (VINARE), and Singaporean financial corporation of SBI Ven Holding Pte., Ltd.

Earlier, there were two deals where Mobifone withdrew capital from TPBank and SeABank. In last February and in April 2016, MobiFone failed to sell shares in SeABank as bidders showed no interest. The second and third quarters in the year are considered the divestment and equitisation season.
Autogrill VFS F&B opens eight F&B outlets at Cam Ranh
Airport restaurateur Autogrill VFS F&B recently delivered eight exciting food and beverage (F&B) concepts to the newly-opened international terminal at Cam Ranh International Airport in south-central Khanh Hoa province in an ambitious expansion of its dining offerings.
"We are delighted to be able to extend our gastronomic commitment at the impressive new terminal," said Mr. Simon Stansfield, Managing Director of Autogrill VFS F&B. "This is a clear demonstration of our commitment to bringing both the best global food to our airport locations and a continuation of our development strategy."
"The story of Cam Ranh's departures is an impressive one, having seen a ten-fold increase over the past five years and now servicing nearly 2 million annual departures. With this line-up of F&B outlets we look to creating an even better experience for these passengers and have a highly-motivated and well-trained team ready to exceed all expectations. We provide our guests true variety, with the very best of Vietnamese cuisine standing alongside international icons that deliver authentic tastes and flavors set in modern and vibrant dining environments."
The UK's favorite coffee chain, Costa Coffee, has opened in two locations, one at the check-in area and the other on the main concourse behind customs. The outlet at check-in is joined by a Big Bowl, a Vietnamese "pho"-based concept developed for airport F&B by Autogrill VFS F&B and now celebrating its 18th opening.
"Whether it be part of your daily routine or your last taste of Vietnam, we want everyone to be able to enjoy an authentic pho experience while they are in Cam Ranh Airport," said Mr. Stansfield. "This opening will ensure all travelers get the opportunity to taste all of their Vietnamese favorites."
The airside line-up also includes the popular and successful Burger King hamburger chain as well as a Puro Gusto coffee outlet that delivers delectable espresso and the specialty flavors of Italy.
Continuing the international theme, it also introduces a Crystal Jade Kitchen, one of the most prominent Cantonese restaurant chains in Asia and reflecting the airport's strong Asian traffic as well as the popularity of Cantonese cuisine.
There is something for everyone at the two Star Cafés conveniently located at the departure gates. Vietnamese coffee sits alongside a full variety of convenience-based F&B options that can be enjoyed in-store or taken on board flights.
Autogrill VFS F&B now runs around 100 points-of-sale in airport F&B in Vietnam, including facilities at Cam Ranh, Tan Son Nhat, Noi Bai, Da Nang, and Phu Quoc airports.
Masan Consumer subsidiary teams up with Jinju Ham
Masan Consumer Corporation (UPCoM: MCH), announced on July 2 that its wholly-owned subsidiary the Saigon Nutri-Food JSC (SNF) has signed a strategic partnership with the Jinju Ham Co., a leading South Korean processed meat producer.
Jinju Ham acquired a 25 per cent stake in SNF via a primary issuance and the entity will be renamed "Masan Jinju".
"Our aim is to improve the experience of Vietnamese consumers by providing innovative and delicious products," said Mr. Truong Cong Thang, Masan's Chairman and CEO. "We will not only develop products that are delicious but will also focus on nutrition and affordability. I look forward to partnering with Jinju to transform the processed meat segment and deliver on our mission in the near future."
Vietnam's processed meat market has the same dynamics as South Korea and China's 20 years ago; in its early stages of development and contributing less than 1 per cent to the overall meat market. "We believe that synergizing our respective platforms will enable Masan Jinju to drive up processed meat's contribution to 20-50 per cent over the long-term, similar to China and South Korea today," said Mr. Park Jungjin, CEO of Jinju Ham. "Our objective is to be at the forefront of this transformation and build a leading position over the course of the next five years,".
New innovations under the strategic partnership are expected to be launched in the second half of this year.
Jinju Ham, established in 1963, is the oldest sausage producer in South Korea, with market leading positions in the sausage and home meal replacement segments. It has over 30 years of experience in the processed meat market and has developed best-in-class R&D and technological know-how.
The strategic partnership will create significant synergies that will ultimately benefit Vietnamese consumers: combining Jinju Ham's cutting-edge know-how with Masan's deep understanding of Vietnamese consumers and brand building capabilities.
Masan Consumer Corporation, a subsidiary of Masan Group Corporation, is one of Vietnam's largest branded food and beverage companies with market leadership in large consumer categories such as seasonings, convenience food, and beverages.
Its portfolio includes some of Vietnam's most trusted and loved brands such as Chin-su, Nam Ngu, Tam Thai Tu, Omachi, Kokomi, Vinacafé, Wake-Up, Vinh Hao, and Quang Hanh.
NextTech a founding member of blockchain association

The NextTech Group and 15 companies active in blockchain technology in Asia, the Americas, and Africa are the founding members of the International Blockchain Technology Association (IBTA), headquartered in New York.
The association was officially launched within the framework of the Global Small and Medium Enterprise Conference held in Beijing, China on June 23 and 24.
The IBTA is a global not-for-profit organization with members including businesses, government agencies, universities, research institutes, and independent experts who apply blockchain technology to promote economic growth.
Its focus is on providing in-depth knowledge on blockchain, holding seminars and events on a regional and global scale, offering training on knowledge dissemination, and building capacities in the future.
Members will be updated on the latest information, knowledge and trends in blockchain in a variety of fields such as technology, economics, and law, provided practical lessons, and benefit from expanded relationships with other professionals in a particular field.
NextTech is honored to have been voted on to the Executive Board along with five other companies from Japan, South Korea and China working together to promote the application of blockchain technology in society.
Blockchain is a breakthrough distributed data warehousing technology that transparently translates IT systems and has become an important trend in the world of technology in recent years. In Vietnam, the NextTech Group is one of the pioneers in developing blockchain applications in many areas, such as e-know your customer (e-KYC), logistics, and e-commerce.
Settling on becoming the "Southeast Asian Rocket", the group is pursuing Rocket Internet's "boot camp" model. It is present in six countries in Southeast Asia as well as the US.
CBRE: HCMC office and retail space short of supply

There was no new supply in Ho Chi Minh City's office market in the second quarter of the year, according to CBRE's Q2 Quarterly Report highlighting the city.
Asking rents for Grade A and B increased quarter-on-quarter and year-on-year. Grade A recorded 7 per cent quarter-on-quarter and 17 per cent year-on-year growth, driven by rapid absorption and limited supply. Similarly, asking rents for Grade B, while not increasing as much as Grade A, also showed 7.3 per cent growth year-on-year.
Net absorption over the last year saw rapid growth. Vacancy rates in both grades were below 5 per cent. Some tenants at a few Grade B office buildings relocated to other buildings with prime locations or relocated to expand, but this did not overly affect market performance.
In terms of demand, tenant profiles remained the same. Major tenants still originate from traditional sectors such as manufacturing (22 per cent), banking/finance/insurance (22 per cent) and technology/media/IT (17 per cent). In terms of tenant nationalities, Asia-Pacific maintained 61 per cent of total enquiries compared to 15 per cent coming from Europe, the Middle East and Africa (EMEA).
Looking forward, Ms. Dang Phuong Hang, Managing Director of CBRE, expects that Grade A rental will maintain its increasing trend, though at a slower rate, because of limited available supply from now until late 2019 or early 2020. Vacancy rates will also decrease slower because of Grade A's higher rentals. Grade B is expected to see more stable and healthy performance because of its small but more constant supply from now until 2019. The market from 2018F - 2020F will still be a landlord's market.
There was also no new supply in the city's retail market. Market performance, which includes asking rents and vacancy rates, as a result, did not see any significant changes. The supply of retail space in the CBD area continues to be limited because there was not much progress made on the construction of most future supply and the launch dates of some were delayed until next year.
The gap between asking rents in the CBD area and non-CBD area will widen in the next two years, when many retail podiums are expected to be handed over and large-scale shopping centers will be located outside of the city center, where the population density is high and personal incomes are improving. "With limited office supply in the CBD area and the difficulty of leasing retail podiums in the non-CBD area, we expect the combination of co-working space and retail podiums will become more popular in the next two years," Ms. Hang said.
Conference discusses building of e-finance system

The Ministry of Finance (MOF) held a conference on July 3 to discuss the financial sector's roadmap to integrate in the fourth Industrial Revolution (Industry 4.0) and the building of the e-government structure.
Addressing the event, Director General of MOF's Department of Financial Informatics and Statistics, Dang Duc Mai, said that the financial sector has surveyed models and solutions of e-government transformation deployed by several countries in the world, thus working out an appropriate roadmap and targets for the transformation of the sector.
The ministry has also applied the technological achievements of the fourth industrial revolution in its management and in the building of an e-finance system, he added.
Accordingly, IT has been applied to support the management of State budget revenue and expenditure, electronic payments and government bonds, taxation and e-customs, public assets and public debt, and the supervision of financial markets.
He called for the synchronous promulgation of procedures and policies to facilitate the development of the relevant sectors and areas, particularly those regarding tax policies and the financial system.
Participants at the event contributed their opinions on the roadmap on the transformation to a digital government and the role of technology in reforming Vietnam's public financial system, among others.
Government guarantee issued for Vinh Tan 4 power plant expansion project

The Prime Minister recently decided to add the Vinh Tan 4 Thermal Power Plant Expansion project to the list of priority projects subject to consideration for the issuance of government guarantees in 2018.
The Government leader also decided to increase the limit of foreign loan guarantees by an additional US$160 million for investment projects in 2018, while approving the contents of the letters of guarantee and assigning the Ministry of Finance, on behalf of the Government, to sign guarantee letters for the JBIC/NEXI export credit contact loan agreement.
The PM told the Ministry of Justice to issue a legal opinion on the letter of guarantee and the guarantor, assigning Electricity of Vietnam (EVN) to take charge of effectively implementing the project in accordance with the scheduled progress and to fully allocate equity in line with the annual progress of the project.
The Vinh Tan 4 Thermal Power Plant Expansion project will cost roughly VND23.9 trillion (US$1.05 billion) in total, featuring one turbine with a 600MW capacity and generating an annual output of around 3.9 billion kWh.
Scheduled to be put into formal operation in late 2019, the extended plant will contribute significantly to ensuring the supply of power in service of socio-economic development in the South Central region, while enhancing the level of trust, stability and economic operation of the national power system.
Vietnam strives to complete mechanism for wholesale market growth

The Ministry of Industry and Trade has held a conference on wholesale market growth to listen to opinion of local and international enterprises in order to boost consumption and production.
By late 2017, there are around 8,539 markets in the country and 75 percent of which are located in countryside districts. Most of them are retail markets while there are merely 83 wholesale markets making up 0.97 percent of total.
Wholesale markets are formed and located in residential areas and clusters which are road traffic links with developed infrastructure or concentrated agricultural production.
Specifically, the northern province of Thanh Hoa and the central province of Quang Binh both have 11 markets each while Hanoi with six markets, HCMC, the Mekong delta provinces of Dong Thap, Tien Giang and the northern province of Nam Dinh each has three markets, the northern province of Hung Yen with four markets; most of them sell agro-products.
Tran Duy Dong, head of the domestic market agency under the ministry, said wholesale markets play vital role in socioeconomic development in each locality particularly and the country generally.
Markets supply essential commodities such as food, foodstuff products, and consumer products to satisfy people's demand as well as offer employment to locals and help increasing state budget.
However, wholesale markets have several remaining including poor facility and sluggish management model; plus repair work facing difficulties. Besides, inspectors find it hard to trace back the origin of food and firefighting and hygiene in wholesale are not as clean as expected.
According to Mr. Bui Ba Chinh, Head of the National Bar Code Center of Vietnam under the Ministry of Technology and Science, food safety is the most important for the wholesale markets' growth because they distribute agro-products; hence, enterprises should take heed to register their own tool code and bar code which will help consumers trace back the origin of food.
Additionally, many nations require tool code and bar code; therefore, agro-produce with bar code will have more chance for export.
Manager of Spain's Mercasa Ricardo Lopez Pietsch who are managing 23 wholesale markets in his country said that his company brought farmers to wholesale market in special developed-agricultural districts which helps farmers to understand clearly about market demand; accordingly, they will grow high quality products which meet consumers' demand. Market system in Spain have freezers and warehouses as well as retail sections.
Merchants and assistants in wholesale are trained regularly; besides, they receive periodical medical check-up. Vets also pay visits to the markets to ensure food safety.
Mr. Dong said that for wholesale markets' development, it needs to perfect mechanism and policy to call for investment in markets. Last but not least, wholesale markets must be built in huge areas with good facilities to attract people and there are different payment ways.
Southeast Asian startups visit Vietnam
The Saigon Innovation Hub (SIHub) has just welcomed six Malaysian and Singaporean startups from the program 'Runway to the World', a network of exchanging startup businesses around the world in order to expand their market globally.
Accordingly, the visit of the startups aims to research its market and form new commercial connections with local entrepreneurs. They will also receive mentorship in forming the most suitable business models to successfully penetrate a targeted market. 
There are six mentors who will aid six corresponding startup teams, including Mr. Tran Hung Thien – General Director of the market research firm GCOMM, Mr. Pavel Poskakukhin – Deputy Director of Deloitte Vietnam.
The six startups taking part in the program are owners of BuildEasy, practical solutions for real estates in the Southeast Asian area; TAG La, a gadget to find lost possession; Teleme, an application for healthcare on mobile phones in Malaysia; Telepod, a system to share e-scooters; 42Race, a social platform for fitness exercises; and PostCo, a network to solve the problem of missed deliveries in Singapore.
Ms. Nguyen Phi Van, chairwoman of the consultation board of SIHub, said that besides the six assigned mentors, other mentors who are now members of the SIHub community are also willing to introduce those six groups to potential partners.
The program is a collaboration between the SIHub, the Malaysian Global Innovation & Creativity Center (MaGIC), and Quest Ventures.
Lack of skilled labor keeps local firms from going global

Up to 67% of Vietnamese enterprises want to go global within the next three years, but difficulties in finding and retaining highly skilled workers prevent them from expanding to foreign markets, according to specialist professional recruitment consultancy Robert Walters.
Speaking at a news conference held on July 3 in HCMC on the results of a survey on attracting and retaining foreign labor for expansion to international markets, Adrien Bizouard, Vietnam country manager of Robert Walters, attributed the difficulties of 5,000 surveyed Southeast and Northern Asian enterprises in attracting and retaining talent to candidates' high salary requirements and low qualifications.
The survey found that the first factor of interest for employees of Vietnamese enterprises is their promotion prospects, followed by the enterprise's reputation and ability to contribute to the economy and community. The third factor that attracts talent is high income and benefits.
Vietnamese enterprises, like others in Asia, are failing to retain labor. Some 57% of staff at Vietnamese and other Asian enterprises claimed the absence of transparency in these firms' changes and decisions had made them quit their job.
Besides this, other reasons such as a shortage of training courses and cultural differences were also uncovered at the conference.
The representative of Robert Walters suggested enterprises should map out a plan to attract and retain labor and should offer training and promotion opportunities to their staff. It is necessary to clarify messages and business orientation in the initial stages and throughout the implementation of policies.
In addition, enterprises were asked to consider transferring their staff from existing positions to other positions to foster working efficiency.
EVN to purchase electricity from Trung Nam Group

Trung Nam Solar Power JSC, a member of Trung Nam Group, inked a power purchase agreement with Electric Power Trading Company (EPTC) under State utility firm Electricity Vietnam Group (EVN) in Hanoi City today, July 3, company officials said.
EPTC will purchase electricity from Trung Nam at a price of VND2,086 (US$9.35 cent) per kWh, according to the agreement.
A solar power plant owned by Trung Nam, with a total capacity of 204MW, will cover more than 264 hectares of the Trung Nam wind farm in the south-central coastal province of Ninh Thuan.
Work on the plant will start this Saturday, July 7, and is scheduled for completion in June 2019. It costs an estimated VND4,994 billion, or some US$216.5 million.
The plant is expected to produce between 401 and 450 million kWh of electricity per year. As such, the plant will supply more electricity for the national grid in Ninh Thuan Province, and the country as a whole.
In August 2016, Trung Nam Group started work on a 105.75MW solar power plant in the province.
Earlier, the group had developed a few energy projects including the 70MW Dong Nai 2 hydropower plant and the Krong No.2 and Krong No.3 hydropower plants, with a combined output of 48MW, in the Central Highlands province of Lam Dong. As of November 2017, all of its hydropower plants had generated more than 1 billion KWh.
Trung Luong-My Thuan expressway project faces delays

The Trung Luong-My Thuan expressway project, passing through Tien Giang Province's Cai Lay District, may not be completed by late 2020 as planned, as site clearance work at some points along the route is facing obstacles.
Addressing a meeting today, July 3, which was attended by the Ministry of Transport and Tien Giang provincial People's Committee, Nguyen Ngoc Son, director of the provincial management board for traffic construction investment projects, said 96% of the site clearance work had been handed over to the project owner, equivalent to 49.9 kilometers of the road's full length of 51.1 kilometers.
However, the project still faces multiple bottlenecks due to its complicated soil conditions in some areas, stated Phan Anh Dung, director of Trung Luong-My Thuan BOT JSC.
He added that the relocation of infrastructure construction works on the area the expressway runs through might take up to three months for completion if regulations on public tenders are to be observed, which will affect the project's progress as site clearance was expected to be completed this month.
Dung suggested the provincial government should appoint a specific contractor to deal with the weak foundation soil and relocate the remaining electric poles to save time instead of letting the project management board organize a program to select contractors. He also called for complete site clearance before July 31.
Responding to Dung's proposal, a representative of Cai Be District voiced concern over missing the deadline, noting that a section of National Highway 30 had seen encroachment. The local authority, thus, proposed extending the deadline until September.
Speaking at the event, Deputy Minister Nguyen Nhat called on the authorities of the province and its districts to take urgent and appropriate action to facilitate site clearance work.
Sustainability project to benefit coffee farmers
Louis Dreyfus Company (LDC) has launched a coffee sustainability project, which will benefit some 3,000 farmers in the Central Highlands provinces of Dak Lak, Dak Nong and Gia Lai.
The three-year project, worth US$1 million, will train farmers in climate change resilience techniques, agro-chemical management and work safety.
The project is a collaboration of LDC with global coffee and tea company Jacobs Douwe Egberts (JDE) and leading agricultural solutions company Syngenta.
Hidde Eikelboom, LDC Vietnam CEO and Country Head of Coffee, said the project reaffirmed LDC's commitment to increasing Vietnam's production of sustainably grown coffee, while improving long-term profitability for the farmers who grow it.
LDC has been present in Vietnam since 1998, with coffee merchandizing, processing and agronomy as its main operating activities.
"We will work with Vietnamese coffee farmers to meet the growing industry demand for product traceability and food safety, while ensuring farmers' welfare," added Duoc Nguyen, LDC Vietnam coffee sustainability manager.
Cindy Lim, head of sustainable productivity, Syngenta Asia Pacific, noted that the project would equip coffee farmers in the Dak Lak region with practical skills to grow coffee, using inputs such as crop protection products more efficiently. She stressed that farmers needed to increase their production sustainably, supplying safe and affordable beans, while minimizing their environmental impact.
Do Ngoc Sy, JDE's sustainability manager for Asia Pacific, emphasized that the company recognized the various environmental and social issues arising out of coffee cultivation. As part of its responsible sourcing program, the company engages openly with direct suppliers such as LDC to tackle these sustainability challenges, he said.
Becamex Tokyu launches apartment project in Binh Duong
Becamex Tokyu Co., Ltd, a joint venture between Japan's Tokyu Corporation and Becamex IDC Investment and Industry Development Corporation, has put up for sale apartments of its second project named Midori Park The View, shortly known as The View, in Binh Duong New City in the southern province of the same name.
The project with 604 luxury apartments is developed in the Midori Park widely covered with greenery and water surface. The View boasts a swimming pool and guest rooms for residents among other amenities, and has a Japanese-quality operation system.
A two-bedroom apartment of the project is priced at some VND1.1 billion.
Becamex Tokyu Co., Ltd was established in March 2012 with an aim to develop an urban complex in Binh Duong New City, and has seen its real estate projects sought after by customers.
To date, 406 apartments of the Sora Gardens I project have found their owners. Also, 68 units of the villa project series "Haruka Residence" and "Haruka Terrace" in the Midori Park have nearly been sold out.
In Binh Duong New City, besides real estate projects, the company is developing commercial and utility functions for residents, such as the Hikari Food Court and Shopping where families with young children can enjoy meals together. The company is calling on investors for education and healthcare service development projects.
In addition, Becamex Tokyu Bus Co., Ltd, a wholly-owned subsidiary of Becamex Tokyu, is operating six routes and eight lines connecting Thu Dau Mot City with Binh Duong New City. The company has promoted the transportation-oriented development model in Binh Duong New City applying the famous "Tokyu Tama Garden City" model, which is developed by Tokyu in Japan.