Bancassurance to boost bank profits
Last update: 16:58 | 15/06/2018
Partnerships with insurance firms are expected to bring in a huge amount of cash for Vietnamese banks, who want to diversify their non-interest income.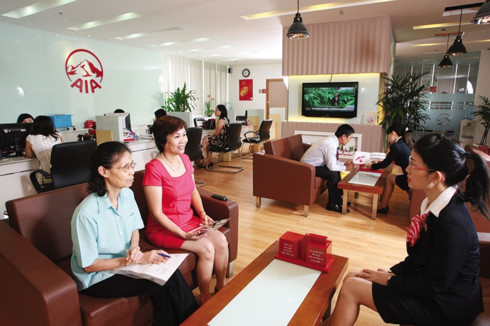 As Vietnamese banks look to expand their business beyond the usual credit activities, shaking hands with insurance firms seems to be a good option. The practice, called bancassurance, involves a bank distributing insurance products to its own network of customers and sometimes even developing a joint financial product with the insurer.
The banks earn a commission every time their customers sign an insurance contract, adding to their income.
According to SSI Research, Techcombank is currently the king of bancassurance in Vietnam, taking up 23.1 per cent of the market share for this distribution channel.
The 2017 annual report of the bank shows that its annual premium equivalent for bancassurance products reached VND649 billion ($28.5 million), up by 44 per cent from 2016.
CEO Nguyen Le Quoc Anh recently said that he hoped to earn at least VND10 trillion ($440 million) of premiums from the exclusive 15-year partnership with Manulife Vietnam, displaying the bank's confidence in its bancassurance business.
Similarly, bancassurance is forecast to add VND1.4 trillion ($61.6 million) to the annual non-interest earnings of VPBank between 2018 and 2020. VNDirect Securities pointed out in their latest research paper that VPBank has already earned VND900 billion ($39.6 million) of initial premiums from its exclusive contract with AIA, signed just last October.
Other banks are also receiving upbeat forecasts for their bancassurance activities. Vietcombank, for example, is expected to carry out its first exclusive bancassurance deal in 2019. Viet Capital Securities believed that the state-owned banking giant will collect VND11.4 trillion ($502 million) of initial premiums from the contract, 18 per cent of which will be recorded in 2019 alone.
"In addition to that amount of money, Vietcombank will also collect other fees from its bancassurance deal. We heard that the bank is seeking help from an independent advisor on this matter," wrote analysts of the brokerage.
Industry experts held that bancassurance will soon grow in popularity in Vietnam, as it is a win-win situation for both banks and insurers. On the one hand, banks can diversify their sources of income, reducing the heavy reliance on lending and the risks of bad debts. On the other hand, insurers can penetrate the vast customer database of financial institutions and expand beyond the traditional agency distribution model.
Reports show that the contributions of bancassurance sales in Vietnam jumped from just 1 per cent in 2013 to over 10 per cent of all insurance distribution channels in 2017. This is a much smaller amount than in other Asian markets such as Thailand, Indonesia, Singapore, and Hong Kong, where bancassurance contributes between 30 and 50 per cent of the overall insurance distribution.
Jude Gomes, chief partnership distribution officer of Manulife Vietnam, told VIR that he expects bancassurance to take up 40 per cent of all distribution channels for insurers in the near future.
Gomes said that as the relationship between banks and insurers matures, the market will see significant improvements in the way banks and insurers collaborate, from addressing challenges of infrastructure and customised propositions to building capabilities and up-skilling the banks' workforce to moving forward together in the long term.
"Bancassurance is all about the alignment of visions and values, management focus, and a co-ordinated approach with long-term commitment, exhibited by both the bank and the insurer. Manulife Vietnam always makes sure to choose a bank partner with an aligning vision and long-term goals supported by committed management," said Gomes.
CEO of AIA Vietnam, Wayne Besant, told VIR that he is also very optimistic about the future of bancassurance in Vietnam. The insurer has so far signed eight contracts with Vietnam-based banks.
He revealed that the annual premium equivalent for its bancassurance has sky-rocketed by 300 per cent in the year-to-date.
"We believe that our partnerships with banks will grow even stronger in the coming years, along with the rising popularity of bancassurance in general," said the CEO.
VIR