Consultant proposes lower-cost plan for HCM City airport expansion
Last update: 16:05 | 14/05/2018
VietNamNet Bridge – A state-owned consultancy has proposed adjustments to the expansion plan for HCM City's Tan Son Nhat international airport that would result in much lower costs than one proposed by the French consultancy ADPi.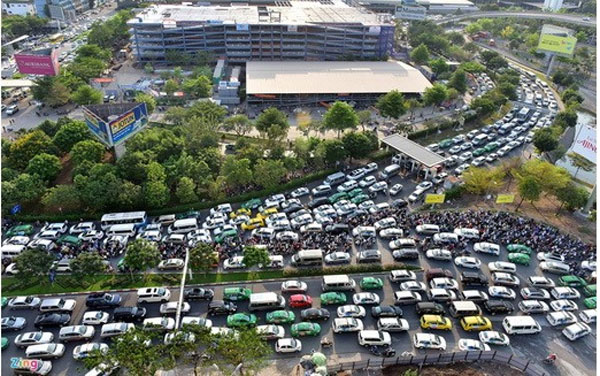 Traffic gridlock on streets leading to Tan Son Nhat airport in HCM City. The city plans to expand the airport to the south to be able to serve 50 million passengers a year. VNA/VNS Photo Manh Linh
ADPi's proposal to expand Tan Son Nhat airport has been approved by the Prime Minister, but the government asked Airport Design and Construction Consultancy One Member Ltd Company (ADCC) to review ADPi's plan to see if costs could be reduced, according to Nguyen Bach Tung, director of ADCC.
Tung said that ADCC's plan would keep most of ADPi's recommendations, but would lower costs by VND10.7 trillion (US$470 million) by redesigning a terminal and the airplane aprons surrounding it.
ADCC said the total investment would be VND25 trillion ($1.1 billion), compared with VND35.7 trillion ($1.56 billion) proposed by ADPi earlier.
Of the amount ADCC proposed, more than VND7.6 trillion would be used for a passenger terminal, VND5.2 trillion for an airfield, and VND3 trillion for a cargo terminal, with the remaining capital would be for other technical infrastructure. 
Tung said a park and a lake should also be built to improve the drainage system in the northern area of the airport.
In the southern area of the airport, ADCC proposed building a passenger terminal on 120,000 sq. m. instead of 200,000 sq. m. as proposed by ADPi.
He said that the adjusted design would still be able to accommodate 20 million passengers per year.
ADCC proposed building the aprons in a more linear manner to save land, but said the taxiway design proposed by ADPi should remain the same.
ADCC also proposed building more flyovers connected to the airport to ease traffic congestion around the area.
The proposed flyovers include one from Hoang Van Thu and Nguyen Van Troi streets passing over Thang Long Street and then connecting with Phan Thuc Dien Street.
Another flyover would be built from C12 Street passing over Cong Hoa and Truong Chinh streets and connecting with Le Trong Tan Street.
Dinh Viet Thang, director of the Civil Aviation Authority of Viet Nam (CAAV), agreed with ADCC's proposal to build the new terminal on an area of 120,000 sq. m, with the condition that it serve 20 million passengers per year. 
Thang said that other parts of the ADCC proposal should follow those recommended by the ADPi plan, which has been approved by the PM.
Deputy Transport Minister Le Dinh Tho said the plan to expand Tan Son Nhat must ensure minimal impact on residents and require as little site clearance as possible.
The proposal by ADCC must be reviewed by CAAV before it is submitted to the Ministry of Transport, which will consult other agencies before May 21, according to CAAV.
In late March, Prime Minister Nguyen Xuan Phuc approved the expasion of the airport to the south as proposed by ADPi after ongoing debate over whether to expand to the north or south. 
The first consultants hired by HCM City authorities had proposed expanding the airport to the north.
But ADPi argued that a similar passenger terminal built to the north, instead of the south, would cost twice as much, at about VND36 trillion, while the terminals – old and new – would not be connected.
Under the ADPi proposal, part of the land north of the airport, which includes a golf resort and 16ha of vacant land managed by the Ministry of National Defence, will be used for support facilities, including a cargo terminal, aircraft repair station, and logistics services, but not until 2025.
The airport is expected to serve at least 50 million passengers a year.
Tan Son Nhat International Airport, the country's busiest airport located in HCM City's Tan Binh District, has become seriously overloaded, forcing many flights to wait in the air to land. 
The airport has a design capacity of 25 million passengers, but the passenger throughput in 2016 was 32 million and in 2017 over 36 million.
Vietnam is also planning to build Long Thanh International Airport in the neighbouring province of Dong Nai to handle 60-70 million passengers per year. It is expected to reduce overcrowding at Tan Son Nhat airport.
However, the airport will not be completed until 2025 or possibly even later, which experts have attributed to a lack of capital and slow compensation progress.
Source: VNS