Land prices around HCM City jump
Last update: 14:38 | 14/05/2018
The appreciation in land prices seen in HCM City in recent time is spreading to its adjoining provinces, according to traders and agents.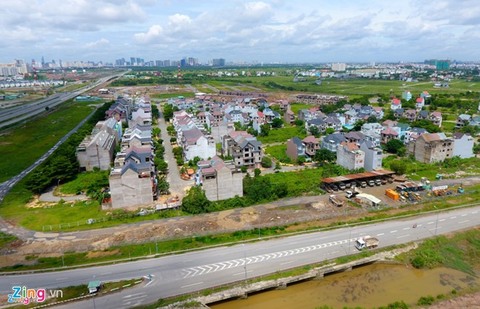 Bien Hoa city, Long Thanh and Nhon Trach in Dong Nai Province are seeing prices surge as are places in Binh Duong and Long An Provinces.
Thuy Diem, a broker in HCM City's District 7, told Viet Nam News that prices in border areas between Long An and HCM City have risen sharply.
"They have gone up by 30-40 per cent since the end of last year, and will continue to rise."
She thought the prices are increasing because housing projects are being developed there.
"Many projects have been developed and many HCM City residents have moved to live there. That is what is pushing land prices up here."
Land prices in Nhon Trach are also up by 40 per cent.
Online newspaper vnexpress.net reported that land prices in Can Giuoc and Can Duoc districts of Long An Province have increased by 30 per cent.
From VND5.5-7 million in 2016, prices have now risen to VND10-14 million (US$438-614), it said.
In Nhon Trach District of Dong Nai Province, prices are up 60-100 per cent, it said.
In Binh Duong Province, prices in Lai Thieu Town bordering HCM City's District 12 have jumped to VND23 million ($1,000) per square metre from VND18 million ($789) five months ago.
Huynh Phuoc Nghia of the HCM City University of Economics is quoted in the report as saying the land price hikes have spread to a radius of 25-50km.
In the last one year prices in Dong Nai, Long An, Binh Duong have surged, but even in more distant places like Binh Phuoc, Lam Dong and Phu Yen prices are rising.
He attributed it to the development of infrastructure.
"Many infrastructure works have been completed in Nhon Trach, Bien Hoa, and Long An making the higher prices acceptable," he said.
But experts are sounding a warning that buyers should be careful since speculators could be manipulating prices.
There are cabals of brokers who specialise in manipulating land prices, they said.
Land prices cannot be predicted and do not follow any rules, and so buyers should be careful, Nghia said. VNS