Last update: 08:20 | 17/04/2018
777 investors register to buy OCB shares     
Up to 777 investors have registered to buy shares of Orient Commercial Bank (OCB) at an auction due on April 17, according to Ha Noi Stock Exchange.
At the auction, Vietcombank will sell all of its 6.67 million OCB shares at a starting price of VND13,000 (57 US cents) per share.
The total number of shares that investors have registered to buy is more than 73.3 million, 11 times higher than the auctioned shares. The investors include eight institutions and 669 individuals.
The northern bourse said OCB's charter capital had reached VND5 trillion (US$220 million), with more than 110 units nationwide.
Last year, the bank earned VND816 billion in after-tax profit, double the amount in 2016. Its total assets increased by 32 per cent to VND84.3 trillion. Meanwhile, lending surged by 25 per cent to reach more than VND48.1 trillion.
Offloading holdings at OCB is one of Vietcombank's moves to comply with the central bank's Circular 36, which allows commercial banks to hold shares in a maximum of two other credit institutions, with the stake in each not exceeding 5 per cent of the total equity of that institution.
Apart from OCB, Vietcombank currently holds shares in Eximbank and Military Bank.
Da Nang High-Tech Park tries to attract more investment
After seven years in operation, Da Nang High-Tech Park is one of three high-tech parks in Vietnam receiving the government's especially preferential treatment to lure greater investment.
The park aims to promote technological innovation, technology incubators, and science and technology market development for the central and central highlands regions.
The government and Da Nang municipal administration have invested nearly US$84 million in upgrading Da Nang High-Tech Park's infrastructure.
Covering more than 400 hectares, Da Nang Hi-Tech Park currently houses 10 projects with a total investment capital of US$250 million, three of them are 100% foreign invested projects.
Doan Ngoc Hung Anh, Deputy Director of the Park's Management Board, said since the beginning of this year an increasing number of domestic and foreign investors has visited the park to seek investment opportunities thanks to the government's especially preferential policy and the successful organization of the APEC Leaders' Week 2017.
Mr. Hung Anh said, "We are outlining a plan to accelerate investment attraction and introduce the park on media overseas. We have met potential investors and introduced them to our preferential policies. During APEC Leaders' Week in Da Nang, we had an opportunity to connect with a number of investors. A big investment project is likely and if it's successful, it will create a momentum for the development high-tech parks in Da Nang."
Da Nang Hi-tech Park is one of three key national hi-tech parks together with Hoa Lac Hi-Tech Park in Hanoi and Ho Chi Minh City Hi-tech Park to enjoy the government's preferential treatment in investment attraction. New investment projects in these parks will be completely exempted from land lease fees for the project's entire duration and from the compensation for land clearance. The projects that are worth US$132 million or more will be entitled to a preferential tax rate of 10% for 30 years, exemption of corporate income tax and tax reduction and exemption for import goods.
Overseas Vietnamese investors, experts, and workers or foreigners working directly in the park and their family members including parents, wives, offspring or adopted children under 18 years old  will be likely granted with multiple entry visas or visas with validity suitable with entry purposes.
Huynh Duc Tho, chairman of Da Nang People's Committee, said, "The directions are correct and efficient. They will bring in a great source of revenue, especially create a high skilled workforce and help the city grow rapidly in many aspects."
Following the success of the APEC Economic Leaders' Week 2017, this year Da Nang will continue to prioritize funding infrastructure improvement, connect transportation routes within the high-tech park, put into operation bus routes from the city center to the hi-tech park, and build houses for workers and kindergartens for their children. In its development plan, Da Nang identifies IT and tourism its top priorities.
Ceramic exports to Argentina rise sharply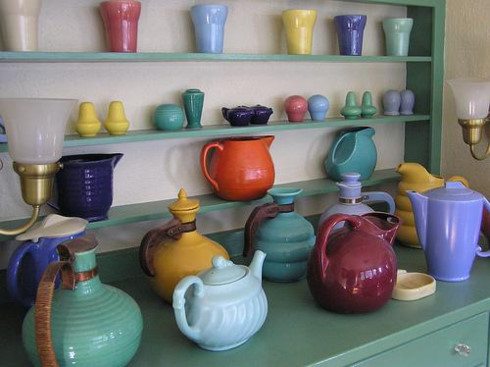 Despite Argentina accounting for just 0.3% of the total value of Vietnam's trade in ceramic products, exports to the market skyrocketed by 476.12% to US$309,600 during the first two months of the year when compared to the same period of last year.
February's exports of ceramic products amounted to US$29.3 million, a drop of 43% against January's figures. This was the first month to have suffered a decline after five consecutive months of growth. As a result, exports of the product for the first two months of the year reached US$80.9 million, up 14% against the corresponding period last year.
The US remained the key importer of Vietnamese products, accounting for 22.3% of total export value with US$18 million (up 21.01%), trailed by Japan, Taiwan, Thailand, and the Philippines.
The general picture for February was that most export markets saw a decline compared to January, particularly Russia (down 91.11%) and Thailand (down 77.52%).
US giants voice their policy concerns
While trending toward investment expansion in Vietnam, US investors are seeking the government's support to solve their policy concerns regarding the renewable energy, mechanical engineering, beverage, and IT sectors.
A group of 33 US investors of the US-ASEAN Business Council (USABC)-their biggest involvement to date-last week met with Vietnamese ministries to present their future plans and concerns. They included powerful brands such as General Electric (GE), Coca Cola Company, ExxonMobil, Amazon, Suntory PepsiCo, Dow Chemical Company, and AES-VCM.
"Over the years, we invested in manufacturing, capacity building, and training, and we will continue to do so in the years to come. The focus for GE's business activities are power generation, oil and gas, healthcare, and aviation-all of which offer great opportunities in Vietnam. We are also really keen to work with Vietnam in regards to Industry 4.0 and other digital areas," said a GE representative.
Having operated in Vietnam for 25 years, GE now boasts 2,000 employees and a number of state-of-the-art manufacturing facilities in the country that deliver components to the rest of the world.
"We are very proud to have diversified activities in Vietnam with power generation and hydro and has plants-last week, we also announced plans in solar energy. In oil and gas, the Blue Whale project with ExxonMobil is a big priority for GE," the representative added.
The US conglomerate, however, raised its concerns over paper invoicing in Vietnam, which caused difficulties for foreign investors.
"It's normal to have a lot of paper invoicing requests in Vietnam. We really urge Vietnam to move to digital invoicing. When we do big projects, we have to have hundreds of different suppliers all handling paper invoicing, which becomes quite complicated and could result in some mistakes caused by human error," he warned.
The Ministry of Finance recently launched a digital invoicing system applied to a limited number of enterprises as an initial step. It will take time, thus, to meet investors' expectations.
US oil and gas giant ExxonMobil is fast-tracking its Blue Whale project in the central region of Vietnam. It could become the largest foreign-invested project ever seen in Vietnam and substantially change the US' position at the foreign investment table.
"We have made progress with the completion of basic works over the past two years and are now ready to commence with engineering design. However, prior to this, we need to complete a government guarantee. We have not yet completed negotiations. That, effectively, is a critical part of the project, affecting when it starts and when it will finish. Our plan still is to commence power and gas production in 2030," said a representative of ExxonMobil.
Another US energy firm that is keen on expanding its activities is AES-VCM Mong Duong Power Co., Ltd. In 2015, the company completed the Mong Duong 2 thermal power plant in Quang Ninh province and is now looking for its next projects in Vietnam.
"Our priority at the moment is the Son My 2 gas-fired thermal power project, on which we partner with PetroVietnam and PetroVietnam Gas. However, we need governmental support to join the project," said an AES-VCM official.
In IT, Amazon Website Services (AWS), which marked its official entry into Vietnam in early 2017, looks forward to solving concerns in draft cyber security laws in order to expand its business and investment in Vietnam. This issue affects not only AWS, but also other digital economy and technology companies.
"Currently, the draft law requires the data of Vietnamese citizens to stay in Vietnam. It means that foreign companies who want to invest in Vietnam and provide services for Vietnamese citizens have to build data centres in Vietnam in order to operate in the market. This will increase costs for firms who want to expand business in Vietnam," said an Amazon representative.
In the lucrative healthcare sector, global pharmaceutical company GSK, which has been active in Vietnam for 20 years, worries about growing issues related to legal entities.
"Like other foreign pharmaceutical companies operating in Vietnam, GSK needs a solution regarding the growing concern related to legal entities. It would enable multinational pharmaceutical companies to be efficient and flexible about partnerships, allowing them to work with local companies to maintain quality, supply, and safety," said Daniel Millard, chief representative of GSK Vietnam.
To date, the US had registered to invest an accumulated US$10.5 billion in Vietnam. If investments of US subsidiaries in third countries is taken into account, the amount reached US$14 billion.
"Business activity started slowly for Americans here, but now we see US companies and investors active in almost every sector of Vietnam's economy. Among other things, we support a path leading to a free trade agreement (FTA) between our two countries. For an FTA to move forward, it will need to be viewed as beneficial and fair by all parties. The American business community in Vietnam stands ready to do our part to make this goal a reality," Adam Slitkoff, executive director of the American Chamber of Commerce in Hanoi, said.
As investors flood Đồng Nai, housing market strains
     
The real estate market in the southern province of Dong Nai still lacks a strategy to develop and attract high-powered investors, despite its many inherent advantages.

Dong Nai has a convenient and well-connected location that is on the main road of National Highway 1A and HCM City – Long Thanh – Dau Giay expressway. Plans are being drawn to build the country's largest international airport, Long Thanh, in the province.

Dong Nai's tourism sector is growing significantly thanks to the construction of Pham Van Dong road linking Tan Son Nhat international airport with Dong Nai's Bien Hoa City and the expansion of the National Highway 1A, reducing travel time between HCM City and Dong Nai Province.

In addition, at the end of 2017, HCM City approved the construction of the Metro No. 1 line connecting Ben Thanh station (District 1, HCMC) to Bien Hoa City.

Dong Nai is one of the leading localities in attracting foreign direct investment (FDI). Last year, the province attracted US$1.25 billion of FDI and disbursed $1.1 billion. This capital flow is mainly used to develop factories in industrial zones. Nicknamed "the capital of industrial parks" in recent years, Dong Nai has also been developing its services and entertainment.

Millions of workers and thousands of foreign engineers are living and working in the province with high income levels, indicating a huge demand for housing. According to a survey by the Construction Department of Dong Nai Province, 80 per cent of employees in the province see a need for more sustainable housing.

Despite this need and the province's many advantages, however, the development of the real estate market in Dong Nai is lagging. Su Ngoc Khuong, investment director at Savills Viet Nam, told the newspaper Bao dau tu that Dong Nai currently has about 300 projects that have been clearing ground with financial backing from buyers.

However, these projects are mostly small-scale, spontaneous and unplanned, without large high-end projects. There are barely any plans for apartments and street-side villas, even as the number of wealthy people who want such accommodations is rising.

Khuong added that the province can meet its development potential only with better planning by authorities and greater efforts to attract professional investors.

At present, the real estate market of Dong Nai is very active in the segment of land, as investors purchase plots and wait to sell them at a higher price. The market is especially high-powered in Long Hung, Tam Phuoc and Hoa An communes.

In these regions, the projects are mainly plots of dozens of hectares, subdivided by investors or sub-investors for constructing infrastructure and then reselling. From late 2017 until now, land prices in these areas have increased quite significantly, from 10-20 per cent.

In particular, in Hoa An Commune (Bien Hoa City), adjacent to Di An Town (Binh Duong Province), residential land of 100 square metres, with a certificate of land use right (red book), will be sold at a price of VND1.2 billion. Similarly, in many places in the central area of Bien Hoa, housing prices also constantly fluctuate with an average monthly increase of 10 per cent over the previous month, ranging from VND60-80 million per sq.m, in recent months.

The most notable attraction of Bien Hoa City is the project of Long Hung open economic eco-urban area, located along the Dong Nai River, adjacent to HCM City. In early 2017, this project was offered at an average price of only VND7-8 million per sq.m, but now it has increased to VND16.5 million per sq.m. Despite the price increase, the liquidity of this project is quite high.

Nguyen Thanh Lam, deputy director of Dong Nai Department of Construction and chairman of the Dong Nai Real Estate Association, said that in 2016, when the information of Long Thanh International Airport was launched, investors poured money into Dong Nai to purchase land, making the real estate market of the province more active, but the local government also had difficulty in controlling selling prices.

Many spontaneous projects have disrupted the general planning of Dòng Nai; therefore, the province has strengthened market management by dividing the land into smaller plots to be sold to developers and investors.

At present, Dong Nai real estate market is bouncing back, but only on a small scale and with activity largely driven by investors. Most of the secondary investors are buying for profit, while people in need of housing struggle to find move in-ready accommodations.

According to Lam, in the outskirts of the province, many new projects have been opened for sale and many of them have been sold out. No one has come to live in the projects, however, because while technical infrastructure including roads and utilities is in place, social infrastructure like schools and hospitals is lacking.

The investors who purchased the units in the projects must therefore wait for the social infrastructure to be built before they can sell to homebuyers. This situation represents a waste of resources, Lam said, that would be better spent on real estate development and investment in areas where people could move in immediately.
Excess loans to be permitted beginning May 1
     
Credit institutions and foreign banks will be allowed to grant loans to some prioritised borrowers in excess of lending limits regulated by law beginning next month.

Under Decision No.13/2018/QD-TTg, which will take effect May 1, the Prime Minister can consider approving loans exceeding credit limits in electricity, coal, oil and gas, transport and other prioritised industries, based upon the Prime Minister's instructions.

According to the State Bank of Viet Nam, the new regulation seeks to help lenders and borrowers develop initiatives to carry out their projects, which are important to the nation's socio-economic development.

To qualify for the loans, borrowers are required to prove they possess no non-performing loans in the three consecutive years before the loan application date, while their debt ratio must be less than three times their equity capital, according to their latest quarterly or yearly financial statements.

Their projects must also assist in the nation's socio-economic development, improving people's living standards in the selected industries or other priority sectors, as approved by the National Assembly or the Prime Minister.

To receive loans over the regulated credit limits, the projects must be considered feasible, as appraised by the lenders, while the financial status of the borrowers is required to be solvent.

Credit institutions are requested to make excess loans in conformity with the law, in which the loans must not exceed four times the borrowers' equity capital.

Currently, the lending limits of credit institutions and foreign bank branches are regulated in Circular 36, which states that total loans and extensions of credit outstanding to one client is not allowed to exceed 15 per cent of equity capital of the lender, while total loans and extensions of credit outstanding to a client and an associated entities do not exceed 25 per cent of the equity capital of the lender.

Circular 36 also regulates that total loans and extensions of credit outstanding to one client are not allowed to exceed 25 per cent of equity capital of non-bank credit institutions, while total loans and extensions of credit outstanding to a client and an associated entities do not exceed 50 per cent of equity capital of non-bank credit institutions.

According to the National Financial Supervisory Commission, outstanding loans in the banking system, as of the end of March, were estimated to have risen by 3.5 per cent against December last year, of which loans in Vietnamese dong increased by 3.3 per cent and accounted for 91.9 per cent of total outstanding loans.

The commission also reported that medium- and long-term loans during this period increased by 4.3 per cent against December last year, while the rising rate for short-term loans was 2.6 per cent. It pushed the medium- and long-term loan ratio up some 53.2 per cent, against 52.8 per cent in December last year.

In the first three months, the rising rate of mobilised capital was almost equal to that of the credit growth, posting an expansion of 3 per cent.

In the first quarter of the year, interest rates averaged 0.6 per cent to 1 per cent per year for non-term and one-month deposits, and 4.3 per cent to 5.5 per cent for one- to six-month deposits. The rate for six- to 12-month deposits was set at 5.3 per cent to 6.5 per cent, and 6.5 per cent to 7.3 per cent for deposits above 12 months.

Commercial banks also listed the short-term lending rates at 6 per cent to 6.5 per cent per year for prioritised industries and 6.8 per cent to 9 per cent for normal loans.

The rate applied for medium- and long-term loans was 9.3 per cent to 11 per cent.
Many Italian firms consider Vietnam ideal market for investment

There are numerous optimal factors for foreign businesses, including Italian ones, to do business in Vietnam, said Stefano Balsamo, founder of the Diplomatia association and Vice Chairman of J.P. Morgan in Italy.

He made the remark at a workshop on sustainable investment in Vietnam held by the Diplomatia association and the Vietnamese Embassy in Rome on April 12.

Balsamo said he had visited Vietnam and was impressed with the hospitality and friendliness of local people. It is also noteworthy that Vietnamese people's consumption is growing.

Sharing his firm's experience in Vietnam, Vice Chairman at Piaggio & C. SpA Matteo Colaninno said in 2008, thanks to the Vietnamese administration's provision of favourable conditions, all necessary procedures for Piaggio's production activities were handled quickly. The company's production scale expanded and its products made in Vietnam were exported to other countries in 2009.

Vietnam is open to foreign direct investment and able to solve administrative procedures swiftly, he noted, adding that it is a young and dynamic country with an abundant workforce and high growth rate.

He said for Piaggio, Vietnam is an ideal investment market and also a bridge for the company's products to access other Southeast Asian and Asian markets.

For his part, Vietnamese Ambassador to Italy Cao Chinh Thien briefed participants on Vietnam's economy and policies for foreign investors, noting that the country is an emerging Asian market which has a population of more than 93 million with increasing middle class and an average economic growth rate exceeding 6 percent annually over the last 10 years.

The local business environment has improved and is highly valued by the international community. The World Economic Forum ranked Vietnam's competitiveness 55th among 137 economies, up five places. The country also climbed 14 places to 68th position among 190 countries and territories in the World Bank's competitiveness rankings.

Thien said his country is also a gateway to access the vast ASEAN market with more than 600 million people.

Vietnam-Italy relations have been flourishing, especially since they signed a joint statement on a strategic partnership in January 2013. Italy is one of the biggest European trade partners of Vietnam while Vietnam is the top ASEAN trade partner of Italy. Bilateral trade approximated 5 billion USD in the last three years. However, cooperation potential remains huge considering the scale of the two economies and purchasing power.

An important thing is that the two economies do not compete but are complementary to each other, he said, noting that once the EU-Vietnam Free Trade Agreement takes effect, it will help both economies. These factors are optimum conditions for the two countries' businesses to enhance investment and business partnerships.

The Vietnamese Government is implementing policies to improve national competitiveness, restructure the economy and change the growth model with a focus on restructuring public investment, State-owned enterprises and the finance-banking system. It encourages sustainable and responsible investment, especially in high technology, environmentally friendly industries and smart agriculture.

Ambassador Thien affirmed that the Vietnamese Embassy in Italy is ready to assist Italian investors to do business in Vietnam.

Vietnam sets to have 15,000 effective agricultural cooperatives

The Ministry of Agriculture and Rural Development (MARD) along with the Vietnam Farmers' Union (VFU) and Vietnam Cooperative Alliance (VCA) have signed a coordination programme to implement the National Assembly's target of having 15,000 agricultural cooperatives and cooperative alliances operating effectively by 2020.

Speaking at a conference in Hanoi on April 12, Minister of Agriculture and Rural Development Nguyen Xuan Cuong said cooperatives play a significant role in developing agriculture.

He called on the political system and economic sectors to join hands to realise the goal.

The MARD and VCA have issued a joint resolution continuing reforming and developing cooperation in agriculture in 2016-2020 and signed collaboration programmes with 39 provinces nationwide.

Le Duc Thinh, Deputy Director of Economic Cooperation and Rural Development Department under the ministry, said the two sides have worked together to train managerial officials of cooperatives, support them to make business plans, connect businesses and cooperatives and build chains of safe food stores.

The VFU Central Committee and the MARD also inked a pact in March 2013 helping farmers develop agricultural economy and build new rural areas in 2012-2020.

The VFU has opened 14,700 training courses for 734,600 members of the union, cooperatives and cooperative alliances and provided vocational training for 362,000 workers in rural areas over the past six years.

In 2017, the country had about 4,400 effective agricultural cooperatives.

Hoa Binh hydropower plant expansion approved

Deputy Prime Minister Trinh Dinh Dung has approved a proposal on investment in expanding the Hoa Binh Hydropower Plant. 

The investment aims to raise the national power network's peak power and maximise utilisation of water discharged from the plant in the flood season for generating power.

It will also help improve frequency modulation capability and stablise the frequency of the national electricity system and reduce the working intensity of available turbines of the plant, thus prolonging the life of equipment and saving maintenance and repair costs. 

With total investment of nearly 8.6 trillion VND, the expanded project will include two turbines with total capacity of 480MW. 

Once completed, the plant's average power is expected to reach 479 million kWh per year, while its electricity mobilisation during peak hours will increase to 264.4 million kWh per year. 

The project is scheduled to be put into operation in 2022 or 2023.

The Hoa Binh hydro power plant, located in the northern province of Hoa Binh, is the second largest hydropower plant in Vietnam, after the Son La hydro power plant, with an annual electricity output of over 10 billion kWh. 

It was listed as an important project with relation to national security under a Government decision signed on January 20, 2017. 

Textile, garment firms suggested focus on value

Vietnamese textile and garment firms should pay more attention to technologies and their value chains to sustain their growth, a conference on textile value chains heard on April 12.

Economist Tran Du Lich said Vietnam is one of the top five garment and textile exporters, and is likely to increase its exports by 4 billion USD this year to 35 billion USD.

Le Quoc An, former president of the Vietnam Textile and Apparel Association, said Vietnam has a young workforce with 65 percent of the population being younger than 50, and so workers find it easier to adapt to new technologies.

Vietnam also has free trade agreements (FTAs) with many countries, and is currently negotiating with more, which increases the competitiveness of its products overseas, he said.

However, its productivity is relatively low compared to countries such as Malaysia and China since it still mostly relies on the inefficient cut-make-trim model, and textile firms rely on their customers to provide the fabric, designs and specifications and they provide only the labour and bring little added value, he said.

They should adopt advanced technologies and techniques to move away from simple manual work and add more value such as integrating technology 4.0 in their research, production and marketing, he said.

"Improving our value chain is one of the best ways to keep our textile and garment industry growing, especially as machines are very likely to replace human labour in the next 10 years."

Businesses should also allocate resources to training workers to adopt these technologies, he said.

Besides, firms with similar profiles should collaborate so that they could jointly negotiate for bigger orders, and firms in each value chain should link up so that production, marketing and logistics can be coordinated more easily, he said.

When choosing partners, businesses have to pay attention to each other's qualities and strategic goals, and need to trust each other, he said.

Pham Xuan Hong, Chairman of the HCM City Association of Garment, Textile, Embroidery and Knitting, said the Government should support the development of the industry by continuing to sign FTAs and easing procedures to enable foreign firms to invest in Vietnam and bring newer technologies.

Vietnam, Russia boost strategic economic partnership

Russia is the guest of honour at the ongoing 28th Vietnam International Trade Fair (Vietnam Expo 2018), one of the biggest trade promotion activities held annually in Vietnam.

"The invitation of Russia as the guest of honour at the Vietnam Expo 2018 is one of the moves to further the strategic partnership with Russia. Russia has a special position in relations between the two Governments," Doan Duy Khuong, Vice President of the Vietnam Chamber of Commerce and Industry (VCCI) told the Vietnam News Agency.

Over the past nearly two decades, economy and trade have been the highlights in ties between Vietnam and Russia, with robust growth seen in the oil and gas and energy sectors, Deputy Minister of Industry and Trade Tran Quoc Khanh said. 

"Vietnam is the only strategic partner of Russia in the Asia – Pacific region, with the partnership established in 2001. The two countries have enjoyed time-tested and close-knit relations in all fields," he said.

The Vietnam-EAEU free trade agreement, effective in October 2016, has significantly contributed to boosting Vietnam – Russia economic cooperation, he added.

Russia has poured more than one billion USD in Vietnam, ranking 23rd out of 119 nations and territories investing in the country.

It is Vietnam's second biggest foreign investment destination, worth nearly 3 billion USD via projects funded by the Vietnam National Oil and Gas Group (PetroVietnam), TH True Milk Group and the Hanoi – Moscow Trade Centre.

Two-way trade topped 5.3 billion USD in 2017, representing a year-on-year rise of 35 percent.

In the first two months of this year, the figure reached 657.7 million USD, up 45.3 percent year on year.

The two countries are working to raise the figure to 10 billion USD by 2020.

Vietnam is encouraging investment in various fields, such as renewable energies, support industry, high and green technology, mechanical manufacturing, chemistry and oil, pharmaceutical chemistry, ICT, health care and tourism, Deputy Minister Khanh said at the April 11 plenary session "Russian-Vietnamese partnership in Trade and Economic Fields: the development strategy," which formed part of the Vietnam Expo 2018.

Vietnam will continue building policies and creating a favourable environment for foreign investors, "giving special attention to Russian investors," he said.

VCCI Vice President Khuong spoke about Vietnam's cheap labour force, abundant natural resources, favourable geographic location and international integration, alongside Russia's strengths in engineering, science-technology and energy.

"Vietnam has a stable political and socio-economic situation with strong economic growth rate and perspective. Vietnam has full foundation to become an attractive market for Russian enterprises and investors," Khuong said.

Leading Russian groups are displaying products like machinery, precision mechanics, automation equipment, industrial biotechnology and high-tech electronics at the expo. 

The State Corporation ROSTEC is the largest Russian company in electronics. It is one of the biggest and oldest Russian investors in Vietnam, providing military engineering and technology for Vietnam.

Viktor Kladov, Director of ROSTEC International Cooperation and Regional Policy, told Vietnam News Agency the company was "very positive about Vietnam's investment environment".

"We have deeply involved in cooperation with Vietnam in various fields. We are mostly known as Vietnam's strategic partner in terms of military engineering and defence production. However, ROSTEC is expanding its investment in other civilian fields, including health care, automotive, electronics, aerospace, aviation engines and agriculture technology," Kladov said.

"ROSTEC is producing vaccines and pharmaceuticals for Vietnam, using local resources. It is also conducting a technical study to produce and assembly commercial trucks as well as unmanned trucks in Vietnam to support the mining sector," he elaborated.

He praised the diligence of Vietnamese workers in the group's rubber plantation, adding that the group provides technology transfer and training package to build the skill of locals working for ROSTEC.

"The Vietnam Helicopter Corporation is a strategic partner of the Russian Helicopters, part of ROSTEC Group. The company uses skilled Vietnamese experts and delivers qualified services and support for the Russian Helicopters," he said.

Anastasia Ivanova, Director of International Cooperation of the Russia Export Centre, described Vietnam as "Russia's key investment and export destination in Asia, replacing China" as human resources are cheap and high quality.

The Russia Export Centre provides financial assistance, seeks partners and analyses markets for Russian firms that wish to invest in Vietnam.

The centre has launched a Russia Commercial House in HCM City to help importers and exporters of the two countries exchange information and seek partners, according to Ivanova.

She suggested the two nations support each other's business activities while calling on Vietnamese and Russian business communities to take come up with initiatives and projects to move forward and realise future targets.

Quang Ninh plans One Commune, One Product fairs

The northern province of Quang Ninh plans to organise monthly fairs for agricultural products under the One Commune, One Product (OCOP) programme from June to December this year to promote consumption of the commodities.

The fair will be held from Friday to Sunday of the last week of each month at the Ha Long Big C commercial centre in Ha Long City.

The event will feature 35 booths run by local firms, cooperatives and units involved in the OCOP programme, highlighting products already recognised by the programme.

The provincial People's Committee said the move aims at increasing recognition of local products among residents in the province and visitors, thus assisting with the development of the programme.

The OCOP programme was initiated by the Ministry of Agriculture and Rural Development in 2008. Quang Ninh was the first locality nationwide to implement the project from 2013.

Concluding the first stage from 2013-2016, Quang Ninh developed 210 OCOP products, including 99 meeting 3-5 star standards. More than 180 economic establishments and households joined the programme. 

A chain of OCOP points of sale have been open in all 14 districts, towns and cities with product values up 20-30 percent

During the second stage, the province will strive to have 250 high-quality OCOP products by 2020, including at least 12 provincial-level products of four to five stars, six others qualified to join the national value chain, and one to two products competitive enough in the global market. 

To that end, Quang Ninh will zone off production area and complete production chain, from seedlings to harvest, preservation, processing and consumption. Further attention will be paid to personnel training and technology transfer. 

It will also mobilise the involvement of agriculture and rural development, science-technology, industry and trade, tourism, cultural and financial sectors together with scientists and businesses in the effort. 

Each year, units and households joining the programme must vie for a competition to choose the best OCOP products which will receive trade promotion support. 

The locality will develop the "One Commune, One Product" (OCOP) programme into an important economic development scheme.
Efforts to improve tourism promotion activities
With more than 10 millions foreign visitors recorded in 2017, Vietnam ranks high in the most prominent tourism market. To achieve this outstanding result, tourism promotion activities play a vital part. However, much is needed to be done to improve the work.
Quang Ninh province which is rich in tourism development advantages, has focused on investing and building a brand for the local tourism. After various efforts, Quang Ninh Department of Tourism admits that with small-scale investment and limited promotion capabilities, it is tough to bring Vietnam tourism status to a new level.
 "In the progress of promoting for local tourism, sometimes many localities don't report back to the National Administration of Tourism and Ministry of Culture, Sports and Tourism. It leads to the problem in which information is mismatche," said Trinh Dang Thanh, Deputy Head of Quang Ninh Department of Tourism
The financial aspect is also mentioned; the annual budget used for promotional activities and tourism promotion in general is inadequate and often too small. Standing at 2 million USD, the number is relatively modest compared to Singapore, Thailand and other countries in the Southeast Asia which have spent over dozen, to hundred million USD on promotional activities.
Vice Chairman of the Viet Nam National Administration of Tourism Ha Van Sieu  said: "Overseas and international tourism promotion activities require enormous capital and it can only be achieved through mobilizing capital from all sources."  "We are suggesting setting up a tourism promotion fund to serve this purpose," he added.
This responsibility rests upon the hand of Vietnam Administration of Tourism, in addition to radical changes in the promotional processes and methods. It is imperial to utilize digital marketing tools and reap other 4.0 Industry benefits to incorporate them into the Vietnam tourism. 
Ha Long Bay, Ninh Binh province, Da Nang city, Hoi An Ancient Town and Phu Quoc island all have developed their own brand of tourism and position themselves in the international markets. However, the unsolved problem is to expand the scale of Vietnam tourism in an effective and sustainable manner. With abundant and untapped potential, Vietnam needs to tackle these problems to affirm and heighten the position of its tourism in the region and in the world.
VinaPhone targets 61.6 million USD pre-tax profit
National mobile network operator VinaPhone targets a pre-tax profit of 1.4 trillion (61.6 million USD) in 2018, a year-on-year increase of 6.7 percent.
As a wholly-owned subsidiary of Vietnam Posts and Telecommunications Group (VNPT), VinaPhone was established for the main business of telecommunication products and services, namely information technology and broadcasting services.
Its development plan for 2017-2020 period targets a total revenue of more than 183.84 trillion VND (8 billion USD) and profit of nearly 5.9 trillion VND (260 million USD), equivalent to a growth of 8 percent and 10 percent per year, respectively.
In terms of business results of 2017, VinaPhone recorded over 39.8 trillion VND in sales and services and over 1.3 trillion VND in pre-tax profit. In addition to this, VinaPhone has contributed approximately 1.22 trillion VND to the State budget.
Last year, the corporation hit 34 million telephone subscribers, including 3.1 million fixed-line subscribers and 31.1 million mobile subscribers, besides 4.6 million internet subscribers.
VinaPhone's total investment last year was 646.5 billion VND.
Phu Tho province calls for more Japanese investments
The northern province of Phu Tho hopes Japanese businesses will continue expanding investments in the Vietnamese locality and commits to creating favourbale conditions for their operation.
Chairman of the provincial People's Committee Bui Minh Chau made the remarks at a conference in Tokyo on April 12 to promote Japanese investments in Phu Tho.
The event was jointly held by the Vietnamese Embassy in Japan, the Japan External Trade Organisation (JETRO), and the ASEAN-Japan Centre, with the participation of representatives of over 50 Japanese businesses and investors.
Chau highlighted the province's advantages such as its proximity to Hanoi's Noi Bai International Airport as well as the modern and synchronous port system and socio-economic infrastructure.
The province has great potential in manufacturing, assembling industry, construction material production, hi-tech agriculture and forestry, he said.
There is also a large room in tourism development as Phu Tho is home to two world cultural heritage recognised by UNESCO, which are the worshipping of Hung Kings and the traditional "xoan" singing, he added.
The chairman noted that Japanese firms are running seven projects worth nearly 40 million USD in the province, mainly in the fields of wood processing, garment-textiles and footwear.
Vietnamese Ambassador to Japan Nguyen Quoc Cuong said relations between the two countries are at the best stage and thriving in all spheres, particularly economy, trade and investment.
Apart from big companies, small-and medium-sized enterprises from Japan are increasing investments in Vietnam, he said, noting that 1,800 Japanese businesses have registered to partake in the Japan Business Association in Vietnam, making it the largest association of its kind in the world.
The ambassador hoped through the conference Japanese enterprises will choose Phu Tho as a reliable investment destination.
Lang Son expects to serve 2.7 million tourists in 2018
The tourism sector in the northern mountainous province of Lang Son is striving to receive 2.7 million visitors in 2018, including 408.000 foreigners, raking in 970 billion VND (42.7 million USD).
Director of the provincial Department of Culture, Sports and Tourism Nguyen Phuc Ha said to realise the target, Lang Son has implemented a number of measures to develop tourism markets and diversify tourism products such as ecotourism, resort tourism and cultural-spiritual tourism. 
In addition, Lang Son has worked with tourism management agencies of China's Guangxi province to promote tourism cooperation in the border area, he added. 
Lang Son province has also paid attention to creating tourism links between its localities and developing tourist destinations in Bac Son district and Lang Son city, notably the tangerine forest in Bac Son and hydrangea garden in Mau Son Tourism Site of Loc Binh district.
According to the department, the province welcomed more than 910,800 tourists in the first three months of 2018, a rise of 10.8 percent year-on-year and equivalent to 33.7 percent of the year's plan. Of the figure, 108,900 are foreign visitors.
Earnings from tourism services in the period hit 305 billion VND (13.4 million USD), up 11.7 percent against the same period last year. 
In early 2018, Lang Son organised various activities to foster tourism like the second Lang Son Culture, Sports and Tourism Week, a peach blossom festival and a cuisine festival.