Achain offers solutions to Blockchain scalability
Last update: 11:14 | 11/03/2018
Achain, a public blockchain platform, offered solutions to problems related to blockchain scalability and adoption at the Viet Nam Blockchain Week on March 7 and 8.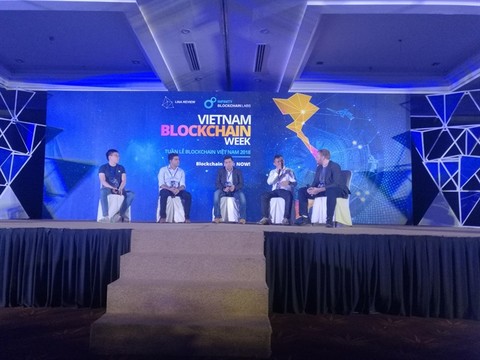 Achain's representative (left-most) taking part in a discussion on blockchain scalability. – Photo courtesy of Achain
As more people use blockchain, the network inevitably slows down, and the solution lies in reducing the time needed to record data in a block as well as the time it takes for members of a blockchain peer-to-peer network to reach a consensus.
Many companies are studying solutions as the mass adoption of blockchain continues.
During a panel discussion, Achain proposed two solutions for this.
One is a new, unique consensus it has created called result-delegated proof of stake (RDPoS), which is a system that allows delegated members in a blockchain network to validate data input.
It also examines each data block before inputting it to determine the appropriate members to increase processing speed.
Achain also proposed the forking theory in which it can create different forks (subchains) through which developers of future blockchain applications can gain access to users of the original blockchain and gain more exposure.
The team plans to build a value exchange protocol for Achain forks in future so that information can flow freely through the forks.
This will ultimately create a blockchain economy. – VNS