Richer hues in hospitality
Last update: 17:24 | 12/03/2018
The Vietnamese resort and hospitality sector is growing steadily to meet the growing demand of the tourism industry. However, developers and service providers alike have to diversify their products to meet the increasingly colourful needs of customers.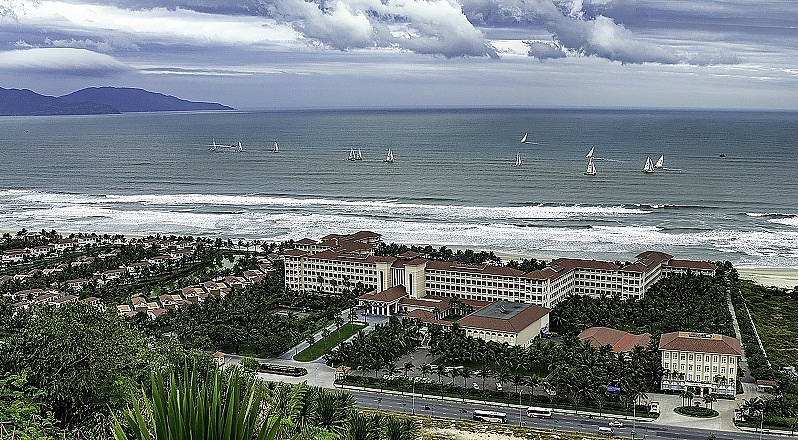 Bach Thuy Ha, chairwoman of Q-Mama Holdings JSC, the owner of the Q-Mama BBQ & Buffet restaurant chain in districts 5 and 1 of Ho Chi Minh City, shared that she has been considering building a five-star hotel in the city for a long time.
"The concept of modern five-star hotels has long been in Vietnam. I have thought a lot about how to make my future hotel different from the existing ones, into one which can attract both international travellers and high-end domestic customers. Our answer is to diversify our products and let Vietnamese people access the services of a five-star hotel right in their place of residence," said Ha.
As a result, Q-Mama's five-star hotel with a luxury hotel banquet hall was launched in late 2017.
Ha said that the project will be built out as a combination of modern services, including a five-star luxury hotel for the needs of relaxation, accommodation, recreation, and especially a haven offering healthcare and beauty services.
"In addition to setting up a five-star hotel complex, we also provide food, entertainment, refreshment, and special health and beauty services to meet the increasingly sophisticated demands of guests," she said.
Ha was not the first entrepreneur to diversify her hospitality services in Vietnam. In October 2017, Indochina Capital Corporation, founded by American businessman Peter Ryder, teamed up with Vanguard Hotels to launch Wink Hotels, a visionary hotel brand redefining affordable luxury in Vietnam and Indochina.
The Wink Hotels brand is designed for young travellers, promising to be a perfect combination of modernity, creativity, and efficiency based on the solid foundations of traditional Vietnamese values.
Ryder, co-founder of Indochina Vanguard Hotels—the joint venture to invest the Wink Hotels chain—said that the core meaning of Wink is reflected in the strength and the persistence of the Vietnamese spirit by catching up with people's fast lifestyle and constantly changing yet distinctly local culture.
Michael Piro, co-founder of Indochina Vanguard Hotels and COO of Indochina Capital Corporation, said that Wink Hotels will be available throughout Vietnam, not only in key locations such as Hanoi, Ho Chi Minh City, and Danang, but also in other big developing cities. The first hotel in the chain is scheduled to open in Ho Chi Minh City in the third quarter of 2019.
Escaping traditional hotel concepts
Mauro Gasparotti, managing director of Savills Hotels, acknowledged that in order to develop more in the future, hotel and resort owners should diversify their products rather than just follow the traditional concept.
"Our experience with international partners shows that the Vietnamese market still lacks diversity compared to other destinations such as Thailand and Indonesia," he said.
Types especially in need of innovation, Gasparotti suggested, are the healthcare resorts, wellness resorts, spa resorts, poshtels, and co-working hubs, as well as design and art boutique resorts, high-tech hotels, and selected services hotels—just to name a few areas that see growing demand not only domestically, but globally as well.
Morris Sim, marketing director from Next Story Group, one of the leading international groups to manage and develop hotels, also confirmed that the shared economy and digitalised tools have a great impact on the hospitality market.
"Digitalised channels and social networks are bringing people closer and make it easier to share information. In addition, the Y and Z generations have new demands for working, living, playing, and learning, therefore, the demand for hospitality is showing an increased number of facets."
Bruce Musick, co-founder of Indochina Vanguard Hotels and CEO of Vanguard Hotels, said, "We want to change and disrupt the local hotel industry by challenging passé, outdated notions of hospitality and developing a truly innovative and exciting brand that resonates with young and young-at-heart local and regional travellers."
Impressing growth at resort and hospitality
According to World Economic Forum's Travel and Tourism Competitiveness Report 2017, Vietnam stood at the 67th position, compared to the 75th in 2015 and the 89th in 2009.
Hotel and resort performance has been strong, especially in Hanoi and Ho Chi Minh City, where occupancy growth in 2017 was outstanding with levels averaging 81 and 73 per cent, respectively. Danang and Nha Trang saw large increases in arrivals which improved year-on-year occupancy, and despite more new openings, there was a slight increase in average room rates.
With a record of more than 13 million international tourist arrivals in 2017, Vietnam is aiming to reach 20 million in 2020 and gain a total of $35 billion in revenue from the tourism sector at the end of this decade.
The dramatic increase in the number of international visitors to Vietnam is largely due to Vietnam's greater infrastructure investment strategy implemented over the past few years. Vietnam has been investing more in developing the country's infrastructure network than any other Southeast Asian country. Large-scale projects included the construction of 2,000 kilometres of new highways, metro systems in Hanoi and Ho Chi Minh City, and expanding, upgrading, and building new airports nationwide.
Adam Burry Senior vice president, JLL Hotels and Hospitality Group
Adam Burry Senior
We have seen an increasing number of internationally-branded hotels open in Vietnam over the past 24 months and expect further diversification of hotel management companies and brands in the market.
As observed elsewhere in Southeast Asia, we expect growth beyond international hotel brands. Home-grown hotel brands are likely to come to the forefront, particularly catering to domestic travellers. We are seeing domestic hotel brands being established in Ho Chi Minh City and Hanoi in the budget and mid-scale segments, and expect these chains to grow at a rapid pace nationwide.
Vietnam should not be seen as just a tourism destination, as the country's rapid economic development (led by industrial manufacturing and production) has driven demand to the market. Furthermore, increased connectivity, combined with new hotel product offerings, has made the country ever more important as a MICE destination.
Another trend is the need to serve millennials, a challenge and an opportunity for hoteliers. Millennials are usually health-conscious and environmentally conscious.
In addition, the advancement of technology will see biometric recognition, virtual reality, and robotics all finding roles in the industry. New technology will increase operating efficiency, as hotels will increasingly rely on automation, biometric identification, and driverless transport.
Moreover, Vietnam's gastronomical offerings are proving a further attraction for returning visitors, especially from Asia. The country is quickly becoming a 'foodie' destination with a vastly improved food and beverage scene.
With a 62 per cent occupancy rate and 82 per cent of tourists being international travellers, the Vietnamese hotel and resort industry offers huge potential for tourism revenue.
Prof. Augustine Ha Ton Vinh Chairman, Stellar Management Corporation
Prof. Augustine Ha Ton Vinh
Foreign investors and gaming operators, have now made their move—and the clear-cut regulatory framework lifted the bar to allow them entrance. The new casino decree was hailed as a breakthrough by both domestic and international investors, many of whom are closely following the developments, waiting for an opportunity.
Several investment groups and two major Vietnamese business corporations—Vingroup and Sun Group—heeded the invitation of the government to develop the Van Don and Phu Quoc integrated resorts. A new international airport for Van Don is being built along with new highways to the Chinese border provinces. Sun Group is putting vast resources into the project.
Phu Quoc, on the other hand, is already a destination for international tourists. Its integrated resort will open to visitors as well as gamblers in the near future. The development of the gambling industry, coupled with easy access to integrated resorts, will certainly benefit investors as well as the economy.
The Vietnamese government aims to turn the country into even more of an international tourist destination and investors will have plenty of input about the gaming industry's needs and what they will offer.
Kenneth Atkinson Executive chairman, Grant Thornton Vietnam
Kenneth Atkinson
The Vietnamese tourism sector has much more room for development but is also facing many challenges. It is now considered underfunded, a growing industry with inadequate capital for promotion and marketing.
The country's budget for tourism promotion is currently $2 million per year, compared to $200 million and $105 million for Indonesia and Malaysia, respectively.
The country also has a visa policy which is seen as less attractive than those of many other countries in the region. Vietnam is offering visa exemptions for only 24 countries, compared to 162 countries in Malaysia and 57 countries in Thailand.
Meanwhile, with the recent fast growth of the condotel segment—a property type which is leased like hotel rooms—is in risk of oversupply. Condotels have been present in Vietnam for less than two years, but their supply has seen a sharp increase due to the market's quick adaptation. Their developers are increasingly committing to guarantees of good rental yields, often from 8-10 per cent.
Ahmed Mobashshir Director, Bricsa Consulting
Ahmed Mobashshir
Vietnam has a strong geographical location in Southeast Asia, with half of the land surrounded by the sea and most of the region being a tropical paradise.
Vietnam, as a tourist destination, is supported by strong market fundamentals—rich cultural offerings, diverse destinations, relative safety and security, increasing international and domestic tourism demand, strong investment potential, and geographical location.
In Southeast Asia, especially in comparatively less developed tourism markets like Vietnam, connectivity and language barriers have been major challenges in terms of global tourism development in the past. However, the prospects of growth and development in the last couple of years speak volumes.
This is because young Vietnamese have embraced the changes that have come with the onset of globalisation, which is one of the reasons behind the compound growth of tourism reaching nearly 50 per cent in the last few years.
The Vietnamese tourism market boasts high demand as well as supply, so growth is expected to soar in the next decade. There are many areas that need to be covered, and investment through bilateral trade agreements and foreign direct investment need to materialise to support the growth.
VIR