Last update: 18:20 | 10/11/2017
Reference exchange rate down by 4 VND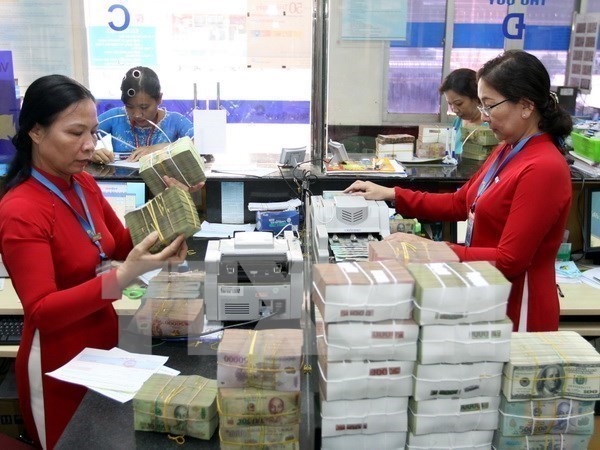 Reference VND/USD exchange rate on November 10 morning is at 22.465 VND per USD as set by the State Bank of Vietnam (SBV), down 4 VND compared to the previous day.
With the current  +/- 3 percent VND/USD trading band, the ceiling exchange rate is 23.131 VND per USD and the floor rate is 21.793 VND per USD.
The exchange rates remained stable at major commercial banks in early hours on November 10 morning.
Vietcombank, Vietinbank and BIDV kept both rates unchanged from the previous day at 22, 680 VND (buying) and 22,750 VND (selling), per USD.
APEC 2017: Hong Kong pins hopes on Vietnam market
Many Hong Kong firms are investing in Vietnam and looking for potential projects, said chief executive of Hong Kong Carrie Lam Cheng Yuet-ngor said.
In an interview with the Vietnam News Agency ahead of her attendance at the APEC Economic Leaders' Meeting in the central city of Da Nang, she lauded growing cooperation between Hong Kong and Vietnam, particularly in economics, trade and investment. 
Hong Kong (China) is the 6th biggest trade partner of Vietnam, while Vietnam is the 3rd biggest trade partner of Hong Kong in ASEAN.
The official said she believes the partnership would thrive after the Hong Kong – ASEAN free trade agreement is signed this November.
The number of Hong Kong tourists to Vietnam has soared as the country keeps offering more attractive tourism products, Carrie Lam added.
She said Vietnam houses beautiful sea ports and diverse tourism potentials that could enable bilateral cooperation in the sector.
NA Vice Chairman welcomes ExxonMobil Vice President
Vice Chairman of the National Assembly Phung Quoc Hien held a reception for Paul Greenwood, Vice President of Africa and Asia Pacific Business Development at ExxonMobil Gas and Power Marketing in Hanoi on November 9.
Lauding Greenwood's visit to Vietnam to attend the APEC 2017 Economic Leaders' Week, Hien appraised ExxonMobil's participation in the gas exploitation and investment project at Ca Voi Xanh (Blue Whale) field.
The project will help Vietnam ensure national energy security and lay a foundation to construct and operate its gas power plants in the central region, he said, noting that the Vietnamese National Assembly will create favourable conditions to ensure sound implementation of the project in line with Vietnamese and international regulations.
For his part, Greenwood stressed that the Ca Voi Xanh project is important to the corporation in bolstering its cooperation with Vietnamese Government in exploiting and producing oil and gas products.
ExxonMobile expects to receive support from the Vietnamese Government and National Assembly so that the cooperative project can be successful to bring benefits to both sides.
Ca Voi Xanh field is about 100 kilometres east of the central coast. The Prime Minister approved the construction of four gas-fired power plants in the central provinces of Quang Nam and Quang Ngai with total capacity of 3,000 MW using gas from the field. The PM also agreed to use part of the gas taken from the field to develop oil refinery industry.
Over the past 135 years, ExxonMobil has evolved from a regional marketer of kerosene in the US to the largest publicly traded petroleum and petrochemical enterprise in the world. It operates in most of the world's countries and is best known by familiar brand names: Exxon, Esso and Mobil. It makes products that drive modern transportation, power cities, lubricate industry and provide petrochemical building blocks that lead to thousands of consumer goods.
Spanish fashion retailer opens store in Hà Nội
Hundreds of guests, including models and fashionistas, attended the opening of Zara, a Spanish Inditex store, in Hà Nội on Wednesday night. The store, which features Zara clothing and accessories, is the second in Việt Nam by the world's biggest fast-fashion retailer. The first was opened in HCM City last September.
Covering more than 4,500sq.m in the Vincom Bà Triệu Shopping Centre, the three-storey store, presents collections for men, women and children from the Spanish brand.
The store in Hà Nội is one of the 4,500 eco-eficient stores worldwide opened by the Spanish retail giant Inditex. The stores use at least 20 per cent less electricity and 40 per cent less water than conventional stores. By using technologically innovative systems, these stores have reduced energy and water consumption.
The newly opened store also uses Radio Frequency Identification (RFID) to keep track of inventory and restock its clothing racks more quickly.
In the World's Most Valuable Brands issued by Forbes, Zara stands at the 51th position with the brand value as of May 2017 is US$11.3 billion.
According to Forbes, the clothing retailer has more than 2,200 stores in 93 countries and is the flagship brand of the Inditex Group. Zara is renowned for its ability to develop a new product and get it to stores within two weeks, while other retailers take six months.
Spain is the biggest market with 436 stores, followed by China (193 stores), France (129), Italy and Japan (100 each). The US has 78 stores as of January 2017.
2nd Ornamental Fish Festival opens in HCM City     
The second Ornamental Fish Festival opened at Le Van Tam Park in HCM City's District 1 on November 9, with 120 ponds of fish and 50 booths displaying materials and equipment used for breeding.
The festival offers ornamental fish enthusiasts a chance to learn more about different species of fish, promotes their breeding and is a forum for aficionados to exchange experiences.
There will also be a conference on developing the market for ornamental fish.
HCM City is the country's ornamental fish breeding hub, with nearly 88ha of breeding ponds and more than 290 breeding establishments.
The city targets production of 140-150 million ornamental fish this year, a year-on-year increase of 10-15 per cent.
With demand expected to remain strong, businesses and breeders in the city seek to expand linkages in production and boost sales to both the domestic and export markets.
The festival is part of the sixth Hi-Tech Agriculture and Food Industry Fair (Hi-Tech Agro 2017) being held at the park from November 9 to 13.
Organised by the Investment and Trade Promotion Centre of HCM City, the Department of Agriculture and Rural Development, the HCM City Agricultural Hi-Tech Park and the HCM City Food and Foodstuff Association, the fair has 300 booths set up by 220 companies from HCM City and elsewhere.
Besides showcasing hi-tech agricultural products, fresh and processed foods and foodstuffs, the event also has 80 booths exhibiting food processing equipment and technologies.
The expo seeks to help businesses introduce their products directly to consumers, improve product quality and generally enhance the competitiveness of Vietnamese agricultural products and processed foods in the domestic market. 
Binh Duong Province: a leader in hi-tech investment     
The southern province of Binh Duong is continuing to improve its business climate in an aim to attract investment in hi-tech industries and take advantage of the fourth industrial revolution.
Tran Thanh Liem, chairman of Binh Duong People's Committee, in an interview with Viet Nam News, said: "The fourth industrial revolution will have a great impact on the province's socio-economic development and help businesses apply science and technology so they can make hi-quality products."
"But it will bring both opportunities and challenges. If investors know how to take advantage of the opportunities, they will improve competitiveness and build advanced production systems," he added.
"To attract foreign investment, we plan to issue a range of policies and incentives related to administrative procedures and land and facility construction, especially in hi-tech industries."
"The province has already become a popular investment destination, especially for Taiwanese, Japanese and Korean investors," Liem said. "It shows the province's role in Viet Nam's FDI attraction in general and the Southern Economic Zone in particular."
Binh Duong has made great strides in improving its water and power supply, road network, waste treatment facilities, and in providing available land for new projects.
The province has invested a great deal in road infrastructure, facilitating connections with HCM City, the Mekong Delta and the Central Highlands region, among others.
Major transport routes, including Binh Duong Boulevard and My Phuoc-Tan Van Highway, connect local Industrial Parks (IPs) with seaports and airports in the southern region.
The province is also the leading province in the country in IPs, new urban areas and services.
In addition to the existing IPs, the province plans to open new industrial zones to attract more foreign investment.
In recent years, more and more investment has been poured into Việt Nam via foreign direct investment (FDI) and official development assistance (ODA).
Binh Duong Province is the country's second-highest FDI recipient, following HCM City.
In the first nine months of 2017, the province had a record-high FDI compared to the same period in any previous year, reaching 140 per cent of its annual target.
Nguyen Thanh Truc, director of Binh Duong Province's Department of Planning and Investment Department, said that total FDI investment reached almost $1.97 billion in the first nine months, up 27 per cent over the same period last year.
Today, the province is giving priority to FDI projects with high technology and large-scale urban and service development projects.
In the first nine months, it attracted 148 new projects valued at a total of $1.165 billion.
Another 87 capital expansion projects added a total of $765 million, and around 90 per cent of the projects targeted industrial zones.
Binh Duong is now home to a total of nearly 3,000 FDI projects from 60 countries and territories, worth more than $27.7 billion.
To create a better investment climate, the province's leaders and authorities regularly meet with investors and businesses to help them resolve problems.
"Improving the infrastructure system and creating an open dialogue with foreign investors are the keys to attracting investment," Truc told Viet Nam News.
Vu Ngoc Khiem, chief representative of Global Sources, a Hong-Kong based B2B media, said many FDI firms, especially those from Taiwan (China), had been expanding and shifting their production to Viet Nam, especially Binh Duong, which is home to manufacturers of garments, textiles, furniture, shoes and hardware.
Leading Taiwanese-owned firms, including furniture maker Kingtec, window blinds manufacturer Global View, and garment and fabric makers Huge Bamboo and Motong were among those with high potential, he said.
"The key factors that investors consider are technologies, infrastructure and highly skilled human resources," Khiem said. "A shortage of skilled staff is one of the challenges facing FDI firms as many of them have moved to HCM City to earn better salaries."
Charles Yeh, sales director of Taiwan-based Global View Co. Ltd, said: "We've built a new factory in Binh Duong on an area of 72,000 square metres with 2,000 skilled workers. The province is an attractive destination for Taiwanese. We've noticed that the number of foreign investors visiting the province has increased significantly year on year."
"With the fourth industrial revolution, the company will have better conditions to continue to uphold our technical innovations in production," he told Viet Nam News.
"To create a better investment climate, the province's leaders and authorities should work regularly with investors to learn about their challenges and help solve their problems related to business operations by making reasonable adjustments," he said.
Japanese investors are also making significant investments, including more than $5.2 billion in 249 projects this year.
Japan remains the second biggest investor in Binh Duong Province behind Taiwan (China), accounting for 18.7 percent of the province's total FDI capital, according to Truc.
Major Japanese projects in Binh Duong include the $1.2 billion Tokyu Binh Duong property project, the $450 million Wonderful Sai Gon Electrics project in the Viet Nam– Singapore Industrial Park, and the $95 million Aeon Mall shopping centre.
Kawaue Junichi, general consul of Japan in HCM City, said: "Many Japanese companies are continuing to choose Binh Duong to invest, which shows the attractiveness of the business climate here."
During a recent meeting with Binh Duong's leaders, James Ha, chairman of the South Korea-based Sae-A Group, said that nearly 19,000 employees of the group's 70,000 staff were working in Viet Nam.
The Sae-A Group operates in the field of textile and garments, but plans to invest in electronics and hi-tech in the future, according to Ha.
South Korea is Binh Duong's third-largest investor after Taiwan and Japan, with 619 projects valued at more than $2.69 billion.
In the first months of 2017, South Korean investors continued to pour money in Binh Duong, with 16 new projects and 17 projects that registered to increase capital, amounting to total investment of $306 million from the country.
From now to 2020, Binh Duong plans to call for investment in 20 projects in transport infrastructure, healthcare, education, and other fields. 
Korea Brand Entertainment Expo 2017 kicks off in HCM City     
More than 100 Korean companies and 400 foreign enterprises are taking part in the three-day Korean Brand & Entertainment Expo 2017 (KBEE 2017), which opened in HCM City on Wednesday.
The expo aims to promote Viet Nam – Korea relations through cultural and commercial exchanges. It is part of the activities to celebrate the 25th anniversary of diplomatic relation between the two nations.
The Korea Brand & Entertainment Expo, one of the biggest events organised by the Korea Trade & Investment Promotion Agency (KOTRA), promotes the Korean Wave and products to foreign consumers and businesses.
This event features famous celebrities from the two countries, including Song Ji Hyo of iKON (Korea), who is the official ambassador of KBEE 2017 HCMC; SNUPER (Korea) and singer Noo Phuoc Thinh, who appear as special guests; and KRUNK, an iconic artist from YG who is a special ambassador of the programme.
The exhibition consists of four main activities: business-matching with trade and investment promotion activities; and experimental programmes with activities such as a home-shopping show for Korean products, a Korean wave make-up demonstration by Korean artists, and a Korean style make-up show.
In addition, there is K-wave in which KBEE ambassadors and famous Korean artists take part in fan meetings and fan-signing events as well as promote Korean products to Vietnamese consumers; and K-pop music performances by Korean stars, all of which promise to be an exciting environment for Vietnamese audiences.
Held in Thailand for the first time in 2010, the Korean Brand & Entertainment Expo has been held in many countries, and is one of the largest events promoting Korean brands and entertainment to global consumers. 
Large trade fairs open in north and south     
Two large fairs featuring industrial and agricultural products in the Mekong Delta and the northern delta opened on Wednesday, attracting hundreds of visitors.
In An Giang Province, the Mekong Delta Industry and Trade Fair, held by the provincial Investment and Trade Promotion Centre in cooperation with the Ministry of Industry and Trade's Trade Promotion Agency, will feature products of 150 enterprises from in and outside the province in 250 booths.
The fair will introduce commodities such as consumer goods, foodstuffs, household appliances and footwear, as well as garments, electronics, furniture interior decoration and construction materials.
The Mekong Delta Fair for Industry and Trade is an annual event held in the provinces of the Mekong Delta to facilitate localities, investors and businesses in the region in particular, and the whole country in general, to meet and seek partners, thereby expanding business markets.
Taking place in the Golden City Urban Zone in Long Xuyen City's My Hoa Ward, the Mekong Delta Fair for Industry and Trade - An Giang 2017 is scheduled to last until November 13.
In the framework of the 2017 fair, there will also be a conference on the supply-demand connection to be held today.
Meanwhile, in the northern province of Thai Binh, the Northern Delta International Fair for Agriculture opened, with the participation of 200 domestic and foreign enterprises introducing their products in 300 booths.
This is an activity within the framework of the National Trade Promotion Programme held every year, bringing in many opportunities for cooperation and development in the agriculture sector and rural areas.
The international agricultural fair is being held in Thai Binh Province since 2005. Through each year, the scale of the fair has expanded in both quantity and quality, attracting many investors, domestic and foreign enterprises.
Speaking at the opening ceremony, Bui Huy Son, director of the Trade Promotion Agency, highly appreciated the effort to organise the international agricultural fair of the Thai Binh Province for the past 12 years.
The fair, with many useful products for agricultural production such as farming machines, bio-products, and processing machines, will allow businesses to reach consumers, promote products, and seek opportunities to join hands with domestic and foreign enterprises.
In addition, there will also be an exhibition area for socio-economic and cultural achievements of the Thai Binh Province. The VNS fair of the northern delta will take place until November 14. 
HCMC's IIP rose the highest in five years     
The industrial production index (IIP) of HCM City in the first 10 months recorded the highest year-on-year growth at 7.75 per cent over the past five years.
The HCM City Department of Industry and Trade said the city's IIP in the last two months of 2017 will increase sharply over the previous months and the IIP in 2017 may increase about 8.4 per cent in comparison with the IIP in 2016.
The manufacturing industry will continue to be the engine for growth of the municipal industry because it has now accounted for 75 per cent of the total production value in HCM City.
In terms of industry structure, the department said four major industries, food processing, chemicals - rubber, mechanics and electronics - information technology saw a year-on-year increase of 12.67 per cent in the first 10 months, higher than the average growth rate of the IIP in HCM City.
Nguyen Phuong Dong, deputy director of the HCM City Department of Industry and Trade, said the department had offered support to local industrial enterprises in accessing preferential capital, improving competitiveness, expanding the market, and connecting with foreign direct investment (FDI) enterprises.
In December, the Support Industry Development Centre under the Department of Industry and Trade would organise an event to hunt for suppliers in the support industry 2017, he said.
"This is an opportunity for local industrial enterprises to find suppliers and connect with domestic enterprises, FDI enterprises and end-user enterprises in the fields of electronics and mechanical engineering of automobiles, motorcycles and trucks," he said. 
Deputy PM asks to adjust power tariffs     
Deputy Prime Minister Vuong Dinh Hue has asked the Ministry of Industry and Trade (MoIT) to quickly complete its plan for electricity tariff adjustment. However, the increase should be at the lowest level, he said.
Hue said the country's consumer price index (CPI) in the first nine months of the year was under control, creating favourable conditions for adjusting prices of some items.
"CPI growth rate in the January-September period showed that inflation this year could meet the National Assembly's set targets of less than 4 per cent. However, there would be many factors affecting prices in the year-end months, such as increase of input and material as well as rising goods demand for the upcoming Tet (Lunar New Year) holiday," he said.
He added that price management should be cautious to curb inflation to less than 4 per cent, thus reducing costs for businesses and supporting the economy's growth.
The deputy PM's requirement was raised as power tariffs have not been adjusted for two years, resulting in lack of investment capital for developing new power resources.
For petroleum products, he asked the ministry to cooperate with MoF in continuing to manage the market following Decree No. 83/2014/ND-CP and suitably using the price stabilisation fund to control prices, especially on holidays and when there was a continuous increase in world petrol prices, to avoid high inflation.
He asked the Ministry of Agriculture and Rural Development to instruct localities to closely follow changes in the agricultural products market. The ministry should co-operate with MoIT in ensuring supply-demand balance of necessary products such as rice, food, sugar, he said.
The Ministry of Transport should undertake calculations with the MoF to negotiate and reduce fees of Build-Operate-Transfer (BOT) stations with the target to reduce at least a half of the audited stations in 2017.
He also required the Ministry of Health to instruct localities to complete adjustment of healthcare services fees outside the payment scope of the health insurance fund.
He noted that the Government should closely manage prices of aviation, education and training, BOT, construction, drugs and milk for children under six years and seaport services.
The State Bank of Viet Nam was, meanwhile, required to continue managing monetary policies flexibly in co-operation with financial policies to curb inflation. 
HN to license large projects by year-end     
 Ha Noi will give investment licences to a series of large projects by the year-end after the capital city has synchronously implemented solutions on improving investment and business environment, the People's Committee said.
The projects include the Ta Thanh Oai solid waste treatment project with registered capital of US$220 million, Nidec Corporation with registered capital of $400 million, Soc Son plant producing power from waste with registered capital of $319 million and a horse racecourse with registered capital of $420 million.
According to the committee, earlier, the Taxation Department, Customs Department, Department of Justice, Department of Planning and Investment and people's committees of districts organised meetings with enterprises to remove difficulties and obstacles faced by the business community operating in the city to promote production and business.
Meanwhile, Ha Noi's authorities have instructed municipal departments and districts' authorities to support investors and enterprises from business registration to implementation of a project and remove difficulties in the process of a developing project. 
One of the key tasks is to accelerate the application of information technology in business registration and tax declaration, creating the most favourable conditions for enterprises in this field.
According to the draft report on the implementation of the socio-economic development plan in 2017 and the key tasks in 2018, the People's Committee of Ha Noi expected the capital city to attract $3.575 billion in foreign direct investment for this whole year.
Next year, Ha Noi will continue improving the investment and business environment and encouraging innovation and development enterprise, promoting economic growth.
The city also continues to restructure the economic sectors to reform economic growth models and increase productivity, quality, efficiency and competitiveness in production and business.
It will focus on increasing efficiency in state management of Ha Noi's state offices to further improve the investment and business environment. 
Ba Ria-Vung Tau, an ideal investment destination     
With its goal of becoming a facilitator and partner to businesses, the Ba Ria-Vung Tau Province government has constantly reformed and built a transparent institution to create favourable conditions for investors a level playing field for businesses.
Ba Ria-Vung Tau has thus become an ideal destination in the eyes of many investors.
Located in the southern key economic zone and nearly 100km from the country's largest economic hub, HCM City, Ba Ria - Vung Tau boasts many strengths and its maritime economy, including tourism, ports, oil and gas, and seafood exploitation and processing, has great potential.
The province's potential is in fact unique in Viet Nam.
It is the largest steel, gas, electricity and nitrogen producer in the country, ensuring uninterrupted supply of inputs and fuel for large projects by strategic investors.
In the last few years the province has made relentless efforts to build comprehensive, modern infrastructure to facilitate trade, and has gradually transformed its growth model from mainly exploiting natural resources to services, tourism, ports, and hi-tech agriculture.
With its Cai Mep – Thi Vai port complex, ranked among the top ports in Southeast Asia and one of only 19 in the world that can handle 190,000 dead weight tonnage (DWT) vessels, the province will be a gateway for international trade and trans-shipment in Southeast Asia.
This is also the only port complex in Viet Nam from where container ships can sail directly to Europe and America.
In tourism, besides continuing to exploit existing attractions like Con Dao and Binh Chau Hot Spring, the province plans to develop some world-class sites.
The province has completed the coastal road from Vung Tau City to Xuyen Moc District, forming a unique beach tourism route with luxury hotels and resorts along the pristine coast. But there are still many sites where investors can develop classy tourism projects.
Besides 14 general industrial parks with comprehensive infrastructure, the province also has two industrial parks specialising in supporting industries: Phu My 3 and Da Bac.
Work on the US$5.4 billion Long Son Petrochemical Complex will start soon and it is expected to go on stream in 2022, providing a big push for economic development.
The province has approved a programme for high-tech agricultural development for up to 2020 with a vision to 2025, which envisages setting aside more than 5,000ha in various localities for high-tech agriculture.
Investors in high-tech agricultural projects will always be welcomed with many incentives.
To meet the increasing needs of local development, Ba Ria - Vung Tau has invited leading domestic and foreign experts and consultants to help it draft zoning plans harmonised with the southern key economic zone's master plan approved by the Government.
The province has made active efforts to put in place mechanisms and removed investment hurdles that could have prevented it from achieving the "big dreams, big ambitions" Prime Minister Nguyen Xuan Phuc wants it to have.
Nguyen Van Trinh, chairman of the province People's Committee, said: " Ba Ria - Vung Tau will try to reduce the time taken for granting investment licences and building permits, modernise customs to reduce clearance time ... and at the same time build a transparent and investor-friendly government."
Nguyen Hong Linh, member of the Central Party Committee, secretary of the province Party Committee and chairman of the province People's Council, said: "Ba Ria - Vung Tau is committed to building a facilitating government and actively improving policies to turn the province into an attractive place for well-intentioned local and foreign investors.
"The province's vision is to attract investors selectively, with a focus on large projects, modern technology, high value-addition in the fields of industry, ports, port services and logistics, tourism, and high-tech agriculture."
The province has attracted more than $27 billion worth of foreign investment in over 300 projects and VND250 trillion from Vietnamese firms in nearly 500 projects.
In 2017-20 the province hopes to attract US$4 billion worth of FDI in 80 projects, VND100 trillion worth of domestic investment in 90 projects and VND15 trillion in 15 public-private partnership projects. 
Water and energy exhibitions open in HCM City     
More than 14,000 people are expected to visit VIETWATER 2017 and RE & EE VIETNAM 2017 exhibitions, two leading international events on water supply, sanitation, water resources, purification and energy, which opened on Wednesday in HCM City.
The three-day events have attracted more than 480 companies in the water and energy sectors from 38 countries and territories.
The companies are showcasing their products and services at 14 international pavilions: Australia, Belgium, China, the EU, Finland, Germany, Hungary, Japan, Korea, SME Tokyo, Singapore, Chinese Taipei, Thailand and the UK.
They have brought the latest technologies, solutions, equipment and products to the exhibitions, which are expected to help promote business partnerships between local and international enterprises, contributing to the sustainable development of water and energy activities in Viet Nam.
Products include pumps, valves, fittings, chemicals, purification products, desalination equipment, boilers, water measurements and controls, and other services and products in the water supply, sewerage and purification sectors.
For instance, companies from Taiwan displayed energy management systems and Long Chen technology which is used in water purifiers, Walrus pumps and cashido, which is a kind of water purifying equipment.
At the opening ceremony of the event, organisers said that water and energy were essential industries for a nation's socio-economic development.
They are used in all businesses and operations in industry, and services and construction, as well as agriculture, livestock, aquaculture and residential living.
The demand for water and energy continues to increase day by day, with demand for energy expected to increase to an estimated 13 per cent annually in the next four years.
The government aims to increase clean water access in the water industry by 95-100 per cent by 2025.
Water and energy are two important sectors which have direct influence on socio-economic development.
Over the past few years, Viet Nam has made efforts to improve water and renewable energy resources, promote international cooperation, absorb advanced technologies, and integrate with global development trends as well as attract investment in these two industries, according to the Deputy Minister of Construction Phan Thi My Linh.
Organising international exhibitions creates a good platform for businesses, organisations and individuals to exchange experiences, promote technology transfer, cooperation and investment, she said.
"The Ministry of Construction pays close attention to the efficiency and necessity of organising an international exhibition on water supply, sewerage and renewable energy," she said.
Within the exhibition's framework, seminars, conferences and workshops will take place concurrently on a number of topics, such as "Towards Sustainable Water Development – International Experience", "Toward Developing Renewable Energy and Energy-Efficiency Projects in Viet Nam" and "Viet Nam – Urbanisation towards Sustainable Development".
One of the highlights of the exhibition is the drinking water tower, which is part of a community water project the ministry is working on in cooperation with the Australian Water Association, Viet Nam Water Supply and Sewerage Association, Australian Department of Foreign Affairs and Trade, SkyJuice, and Khanh Hoa's People Committee.
This project will provide 20,000 litres of water per day at two primary schools in Khanh Phu and Lien Sang communes in Khanh Hoa Province.
The project is hoped to contribute to sustainable water development in Viet Nam. The drinking water tower will be showcased outside the exhibition area and will be moved and placed at the two schools after the exhibition.
The exhibition was organised by UBM and Viet Nam's Water Supply and Sewerage Association, with support from the Ministry of Construction, International Water Association, Singapore Water Association, Taiwan Water Association, Korean Water Association and other energy associations, including Viet Nam Energy Conservation and Energy Efficiency Association, Viet Nam Automation Association, Energy Conservation Centre HCM City, and the EU-Vietnam Business Networks, among other associations.
The exhibitions are being held at the Sai Gon Exhibition and Convention Centre in District 7 in HCM City. 
VN, China promote trade ties
The Viet Nam-China trade relationship has seen strong development. China is now Viet Nam's key export market and its biggest trade partner, said Bui Huy Son, director of the Viet Nam Trade Promotion Agency under the Ministry of Industry and Trade.
Son told a conference to help businesses of the two countries search for co-operation opportunities held in Ha Noi yesterday that bilateral trade had seen a high growth rate. With cultural similarities and favourable geographical locations, China was a potential trade market for Viet Nam.
According to the Vietnamese General Department of Customs, by the end of September this year, Viet Nam's exports to China reached $22.2 billion in January-September period, marking a year-on-year increase of 62.2 per cent. Its imports also rose by 15.9 per cent to $41.7 billion. Viet Nam's total import-export turnover with China was $63.9 billion or 25.1 per cent higher from the corresponding period last year.
China's Customs Department said Viet Nam had become the country's biggest trade partner in ASEAN and its 9th biggest overall.
Notably, since the beginning of the year, Chinese imports from ASEAN countries have fallen by one per cent. However, its import turnover from Viet Nam has maintained double digit growth.
According to a representative from the Chinese Ministry of Commerce, trade opportunities between the two countries are set to expand thanks to the two countries strengthened bilateral relationship.
The visits of high ranking leaders from the two countries in recent years together with co-operation agreements are evidence of growing ties, he said.
In the last two decades, Viet Nam has actively integrating into the world economy. This creates a favourable environment for the two countries' firms to operate in each other.
Viet Nam and China also signed investment co-operation agreements at the event, aiming to balance trade between the two countries, enhance exports of Vietnamese products to China and attract Chinese firms to Viet Nam.
The event was attended by leaders from the two countries' ministries, agencies and associations and more than 100 import-export companies of dragon fruits, rubber, tra fish, rice and garment and textiles. 
Conference to solicit investment in VN food processing industry     
Investment opportunities in the food processing industry and technology transfer from foreign investors will be among the key topics to be discussed at a conference in HCM City on November 15.
According to the Viet Nam Trade Promotion Agency, despite developing strongly in recent years the food processing industry has not met domestic demand, meaning a huge opportunity exists for investors.
Viet Nam is one of the world's largest exporters of many kinds of farm produce, but it mainly exports raw products with low added value.
Therefore, attracting investors with modern processing technologies would be among the keys to developing the food processing industry, Vietrade said.
The Investment Promotion Conference on the Food Processing Industry, held by Vietrade, the Foreign Investment Agency and others, is among a series of activities by the Viet Nam International Food Industry Exhibition (Vietnam Foodexpo 2017) to be held in HCM City from November 15 to 18.
Vietnam Foodexpo, the country's top trade promotion event for agricultural products, seafood and food, will have 600 booths set up by more than 450 exhibitors from 31 Vietnamese cities and provinces besides over 20 countries and territories.
On display will be fruits and vegetables, seafood, beverages, tea and coffee, food ingredients, processed foods, and food processing technologies and equipment.
With France being the Country of Honour, 33 French companies and industry groups will introduce some of their finest products and brands from the processed meat, dairy, farm produce and food processing machinery sectors.
Speaking at a press briefing in HCM City yesterday, Ta Hoang Linh, Vietrade deputy director, said the exhibition would contribute to the development of the food industry, promoting brands, products and services and enabling Vietnamese foods to expand market share in both domestic and export markets.
The exhibition would also serve as a catalyst for technological innovation, thereby increasing productivity, quality and safety, he said.
There would also be a Vietnam Food Forum, the Saigon International Cooking Contest and an exclusive area for large supermarket chains such as Hapromart, Lotte Mart and Big C to directly meet with local suppliers, he added.  
Food and beverage expo returns to Ha Noi     
The 2017 VietFood, Beverage and Professional Packing Machines (VietFood & Beverage-ProPack) international exhibition has returned to Ha Noi.
The second annual show kicked off with an opening ceremony held on Wednesday, gathering over 200 participants from 11 countries and territories.
The exhibition, taking place at the Ha Noi International Exhibition Centre in 91 Tran Hung Dao Street, will last until November 11.
It has been successfully held in HCM City for 22 years annually and was held in the capital city for the first time last year. Both cities will now host the expo every year.
Vietfood & Beverage-ProPack 2017, a prestigious and professional event in the food industry, attracts well-known domestic and international brands. This year, the event in Ha Noi has more than 200 pavilions of exhibitors from South Korea, Greece, Singapore and Denmark, as well as Bulgaria, Japan, Taiwan, Thailand and India, along with China and Viet Nam.
Products displayed at the exhibition include vegetables (fresh, dried, canned, processed), seafood (cooked, frozen), agricultural products (coffee, tea, cashew, pepper) and food ingredients, as well as beverages and confectionery, in addition to machinery and equipment, packaging and food preservation products and franchise opportunities.
Local companies make up about half of the 200 participants.
For the first time this year, the event will host a business from Greece, Kronos S.A., an industrial and commercial enterprise of canned fruits and vegetables.
Michalis Luchounas, Export Commercial Director of Kronos S.A., told Viet Nam News the company was established in 1971 and had been selling products in Việt Nam now for three years.
"We have an agent in HCM City, selling peaches under the brand 'Kronos'. Our business is growing well in the Vietnamese market, which is a very potential market for us," Luchounas said. "Our factory in Greece produces many kinds of fruit but we are starting with the peaches in Viet Nam as they are much favoured here. Our products are mainly consumed by coffee shops and beverage companies."
Kim Eung Hwan, from the Agriculture Services Bureau and Agriculture Products Distribution Division in Chungnam province of South Korea, told that the company would display many products and local specialties.
He added that his province was introducing organic and clean agriculture products, which had been sold in some supermarkets in Viet Nam for some years now.
"We are very grateful to VietFood & Beverage-ProPack 2017 for creating opportunities for us to meet with local buyers and investors, thus expanding our opportunities for exchanges and investment," Kim Eung Hwan said.
Nguyen Quang Chien, Director of the Phan Thiet Seafood Co., Ltd said this was the second time his company had attended the expo.
"In addition to the Vietnamese businesses that are participating in the event, there are also foreign companies that are promoting their products. I think that besides product quality, local businesses also need to focus on the product designs and services to compete with foreign competitors," Chien said.
The expo is organised by the Viet Nam National Trade Fair and Advertising Company (Vinexad), collaboration with the HCM Food and Foodstuff Association (FFA), the Viet Nam Beer-Alcohol-Beverage Association (VBA),
In August, the exhibition in HCM City attracted 512 companies and 608 pavilions from 20 countries and territories, including Poland, South Korea, Malaysia, India, Thailand and China.
The event drew over 15,300 visitors. Working sessions enabled 3,000 businesspeople to secure deals.  
28 provinces, cities approve urban development programmes     
Twenty eight out of 63 provinces and cities have so far approved their urban development programmes, under the Decree 11/2013/ND-CP about management and investment in urban development.
Besides, 23 others were underway to develop or adjust their urban development programmes, according to the Ministry of Construction.
The ministry said that these programmes were necessary to contribute to ensuring harmonious and sustainable urban development.
Focus would be placed on completing the legal framework for urban development to ensure consistency and tighten management, the ministry said, adding that existing regulations about urban development were still proving to be ineffective.
The ministry is working on drafting a law on architecture.
The Decree 11/2013/ND-CP issued on January 14 aimed to ensure the consistence between local and national socio-economic development planning and synchronous urban infrastructure development. 
OPIC CEO signs commitments with JBIC and NEXI     
Overseas Private Investment Corporation (OPIC) has inked a memorandum of understanding (MoU) with Japan Bank for International Cooperation (JBIC) and Nippon Export and Investment Insurance (NEXI).
Under the agreement, OPIC, the US government's development finance institution, aims to tackle development challenges and to bolster investment in infrastructure, energy, and other critical sectors throughout Asia and the Indo-Pacific region, the Middle East, and Africa.
The MoU was signed by OPIC President and Chief Executive Officer Ray W. Washburne, JBIC Chief Executive Officer and Executive Managing Director Tadashi Maeda, and NEXI Chairman and Chief Executive Officer Kazuhiko Bando.
During his remarks on Monday in Tokyo to American and Japanese business leaders, President Donald J. Trump stated that the agreements are "a major development that will advance our shared interests in the region."
Each MoU develops a framework for co-operation between the agencies to bolster support for investment in emerging markets by mutually collaborating on projects that meet policy objectives and by co-ordinating business development efforts.
"These agreements will allow us to have a broader impact while strengthening the continued work between the US and Japan," Washburne said. "Through focusing on infrastructure and energy projects around the globe, we can enhance the position of our respective private sector companies in an increasingly competitive global market."
The MOUs follow the recent Japan-US Economic Dialogue, when the governments of Japan and the United States committed to bolstering energy and infrastructure projects in emerging markets.
To date, OPIC, JBIC, and NEXI have co-ordinated support for several projects together, including a 370MW natural gas-fired power plant in Jordan and a private equity fund supporting the renewable energy value chain in India and South Asia.
From Tokyo, Washburne is traveling to Viet Nam in conjunction with President Trump's visit to the Asia-Pacific Economic Cooperation Chief Executive Officer Summit.
OPIC is a self-sustaining US government agency that helps American businesses invest in emerging markets. Its services are available to new and expanding businesses planning to invest in more than 160 countries worldwide. Because OPIC charges market-based fees for its products, it operates on a self-sustaining basis at no net cost to taxpayers. All OPIC projects must adhere to best international practices and cannot cause job loss in the United States. 
Product origin info to be enhanced     
The General Department of Customs has ordered the management of origin and labels of imported products to be enhanced.
The move comes in the wake of a probe into Khaisilk's trade fraud of selling "Made-in-China" products under the Vietnamese brand, which caused a stir.
Accordingly, customs departments across the country must enhance their management of product origin and labels following the Government's Decree 19 on product origin, Decree 43 on labeling and Ministry of Finance's Circular 38 on customs management procedures.
Special attention must be paid to Vietnamese companies' products that were produced abroad and then imported into the country.
All violations must be reported to the General Department of Customs.
According to current regulations, organisations and individuals placing goods in circulation must be in charge of labeling, and the labels must provide clear and accurate product information.
The Khaisilk fraud was uncovered more than a week ago when a company which bought Khaisilk-branded scarves at a Khaisilk store on Hang Gai shop in Ha Noi found one scarf with two tags – one with "Khaisilk Made in Viet Nam" and the other with "Made in China."
Hoang Khai, chairman of the group which is considered a top Vietnamese silk brand, later admitted that the scarves were actually imported from China.
On Saturday (November 4), Deputy Prime Minister Truong Hoa Binh asked the Ministry of Industry and Trade in coordination with relevant ministries to clarify violations of Khaisilk and report the findings before December 15.
Customs' statistics showed that imports of silk products from China were worth US$1.2 million in the first nine months of this year, while the figures were $2.3 million in 2016 and $4 million in 2015. From 2015 to September 2017, Viet Nam imported more than 8,800 silk scarves from China, worth some $35,800.
In another development, the Ha Noi Department of Taxation recently reported on the tax payments of Khaisilk's store on Hang Gai Street.
Accordingly, the store, which is owned by Nguyen Thu Nga and began selling silk products from January 2004, earned revenue of VND14 billion in the January-September period and paid tax of more than VND200 million for the period.
The company earned VND15.6 billion in 2015 and VND16.11 billion in 2016 as revenue, and paid taxes worth VND234 million and VND241 million, respectively.
The tax department said that the store was not in arrears of taxes.
Earlier, the General Department of Taxation had asked the municipal tax department to report on the performance of tax payment of Khaisilk Group and its stores in Ha Noi.      
VNA/VNS/VOV/SGT/SGGP/TT/TN/Dantri/VNEVET