Last update: 18:59 | 12/10/2017
'Most liveable city' in Vietnam has bright future in real estate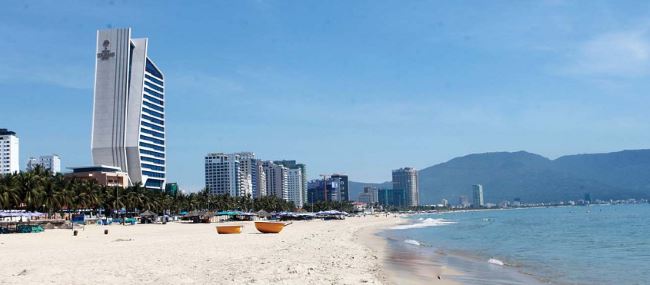 Over the past decade, the pace of Danang's development has been truly remarkable. The forward-looking city is rightfully proud of its new infrastructure and modern transportation systems as well as of its progress in lifestyles, social security, and food safety. And of course, the renowned charm and positive attitude of its citizens cannot be overlooked. Now, looking forward to APEC with an almost breathless enthusiasm, the 'goodwill city' may anticipate an even brighter future.
The APEC Economic Leaders' Week will take place in Danang this November. The event is a summit with leaders of 21 member economies attending. Thousands of official delegates, foreign and local reporters, international business people, and global leading entrepreneurs are set to descend on Danang.
A business summit with high-ranking leaders in the APEC business advisory council will take place, as will the Inter-Ministerial Conference on Foreign Affairs.
Being the venue for this international event has put the world's focus on Danang and Vietnam's real estate market.
According to the Savills research team, local market indices have been very positive. Danang's GDP increased 8.1 per cent year-on-year in the first half of 2017. Registered FDI increased by a stunning 269.5 per cent year-on-year, with approximately $14.3 million disbursed. City credit growth reached a six-year high of 7.5 per cent in the first half of 2017.
Tourism is the key industry and the driving force of the city. In the first half of the year, visitor numbers increased by 72.2 per cent on-year to over 1.2 million, with Vietnam's total visitor numbers up by approximately 33.2 per cent on-year, at 3.2 million. The city has been steadily emphasising its credentials as a regional economic and tourism centre, and this is confirmed by the increasing number of international direct flights.
The real estate market is tightly linked to macro-economic health and local economic development. A great deal of foreign direct investment (FDI) has been directed into property, particularly into the residential, leasing, tourism, and industrial segments.
The Danang hospitality market has 86 three- to five-star hotels providing about 9,400 rooms. Average room rates are up 11 per cent with 22 per cent revenue growth per year. Average occupancy is up to 72 per cent. Five-star hotels are performing best, which shows Danang is an ideal destination for international visitors.
Demand from domestic travellers also keeps growing. Condotel absorption is high at about 70 per cent, with the developer-led rental profit share programme continuing to receive a lot of attention.
Having officially entered the Danang market in 2007 when the first resort property projects came to the market and opening its representative office in 2016, Savills is receiving an increasing amount of enquiries, both nationally and from major Asian cities. They are by people seeking to purchase homes in Danang because of the clean air and the issues they are having with air quality and congestion in the cities where they are currently based.
The new Han Market project is a step in the right direction for the city, creating a central area for pedestrian traffic which will reduce emissions and make the city more tourism-friendly at the same time. There are also major public transit projects currently being planned for the city, which are necessary in order to ease pollution and, in effect, make the city both greener and smarter.
Since Danang was chosen to host the APEC Economic Leaders Week, the city has become an even more vibrant market. This has been supported by its many infrastructure development projects, a wide array of real estate products, and social and cultural development strategies coming along nicely. The APEC event and overall market development will maintain Danang's significant growth potential. 
Many experts affirm that the city becoming an international events destination represents a great opportunity. As ever, all opportunities must be grasped and acted upon strategically.
Developing infrastructure and event works and gaining more international attention as a quality venue will further promote city development. To make the most of this potential, Danang needs to take these chances to mature and turn domestic and foreign investment appeals into greater tourism, economic, cultural, and social development success.
IKEA keen on Vietnam
Swedish furniture giant IKEA is planning to penetrate into Southeast Asian and South America countries, including Vietnam, with an ambition of dominating the world's furniture market.
In Southeast Asia, the group plans to come to Vietnam and the Philippines, expanding on its existing store networks in Thailand, Singapore, and Malaysia. Vietnam will be the destination that IKEA is aiming for in its development plans in the near future, according to CEO Mr. Torbjorn Loof.
Under the plan, IKEA will open its first store in these markets within the next five years. This year it wants to open 22 new stores, with 25 to open every year in the future.
The group's retail sales, including franchise and customer services, were estimated at $45 billion in its most recent fiscal year. Mr. Loof added that this year's sales growth is lower than last year but is expected to increase to 8-9 per cent per year in the years to come.
The company is seeking growth momentum after recently focusing solely on expansion in China and Russia. It currently has more than 400 stores in 49 markets across Europe, North America, the Middle East, Asia, and Australia.
Although it has no outlets in Vietnam, IKEA products are still of interest to Vietnamese families through portable channels. Many Vietnamese enterprises are also outsourcing partners of the company.
Vietnam is an ideal destination for foreign furniture makers, especially those from China. More Chinese businesses have set up wooden furniture processing factories in the country in order to take advantage of preferential tariffs importers are offering to Vietnamese exports.
According to the Vietnam Timber and Forest Products Association (Vifores), one-third of the 500 foreign-invested wooden furniture enterprises in Vietnam are from China and Taiwan. 
Vietnam is also one of the largest wood exporters in the region. Wood export turnover can reach the targeted $8 billion this year, Mr. Nguyen Ton Quyen, Secretary General of Vifores, has insisted.
Wood and wooden product export turnover stood at $3.57 billion in the first six months of this year, up 13.6 per cent compared to the $3.14 billion recorded in the first half of 2016. Export turnover came in at $700 million each month on average during the first nine months.                       
Heineken Vietnam among leaders in sustainable practices
Heineken Vietnam was recognized as an excellent example of applying sustainable practices in its operations and having a positive impact on people, the planet, and prosperity, at the 4th Vietnam Corporate Sustainability Forum (VCSF) on October 10 in Hanoi.
The company shared its success story at the forum, on how driving a sustainability agenda has helped its business and the community grow together, with the key being to create an inclusive value chain that includes circular economic ideas, transparency, and integrity in business and sustainability reporting.
Circular economics is best demonstrated via its application of biomass and biogas. Four of the six Heineken's breweries in Vietnam brewed using 100 per cent carbon-neutral biomass energy this year. It therefore cut its CO2 emissions by 50 per cent against the 2014-2016 period, providing a steady source of income to the local rice farmers it buys the "waste" rice husks from and significantly lowering its costs while avoiding oil price volatilities.
Biogas, meanwhile, is used by capturing gases released by its waste water treatment plants and reusing it as a fuel source. By 2019, the company aims to brew 100 per cent of its beverages using renewable energy.
Deputy Minister of Natural Resources and Environment, Mr. Vo Tuan Nhan, said the use of biomass and biogas in the daily operations of Heineken's breweries is a practical and breakthrough initiative that brings benefits to many stakeholders, including the community.
Heineken Vietnam has committed to using local suppliers wherever possible and has created around 190,000 jobs throughout its supply chain and purchases only local packaging materials. It contributed VND33.5 trillion ($1.54 billion) to Vietnam's economy in 2016, or 0.75 per cent of GDP.
The company is also one of the very few pioneers in Vietnam to adopt sustainability reporting using the global reporting initiative (GRI) standard, with it continuously publishing a GRI-accredited comprehensive annual sustainability report in Vietnam for three years in a row, announcing its achievements and future directions for sustainable development as well as its challenges.
Deputy Secretary General of the Vietnam Chamber of Commerce and Industry (VCCI) and Deputy Chairman of the Vietnam Business Council for Sustainable Development (VBCSD), Mr. Nguyen Quang Vinh, said the GRI standard sets a distinctive and desirable standard for sustainability reporting and facilitates transparency and integrity thanks to its structured principles ensuring reporting validity and quality.
"Heineken has taken the lead in standardized sustainability reporting practices in Vietnam by proactively applying and adhering to GRI standards, an unprecedented practice made by a non-listed company that we consider desirable and truly appreciate," Mr. Vinh added.
For its continuous sustainability efforts, Heineken Vietnam was recognized as the third most sustainable company in Vietnam in VCCI's Corporate Sustainability Index in 2016.
VCCI Chairman Mr. Vu Tien Loc said that Heineken has made significant and long-standing contributions to Vietnam's socioeconomic development. With its vision and commitment to sustainability and its innovative application of advanced business models and solutions, the company effectively supports the UN's Sustainable Development Goals (SDGs) and Vietnam's national sustainability agenda.
"With what the company has accomplished and its solid promise to advance the achievements, Heineken Vietnam will continue to play a progressive role in Vietnam's long-term growth and remain a trusted companion of the country on its journey to a better and sustainable future," he added.  
Established in 1991, Heineken Vietnam Brewery (formerly Vietnam Brewery) is a joint venture between the Saigon Trading Group (Satra) and Heineken. It currently has six breweries in Vietnam: in Ho Chi Minh City, Quang Nam, Da Nang, Tien Giang, Vung Tau, and Hanoi. 
Deputy PM advocates sustainable business models
Deputy Prime Minister Vu Duc Dam held a working session in Hanoi on October 10 with the Executive Board of the Vietnam Business Council for Sustainable Development (VBCSD) within the framework of the Vietnam Corporate Sustainability Forum 2017.
The event which opened in the capital city yesterday is exploring methods to scale up business solutions to sustainability challenges.
According to Chairman of the Vietnam Chamber of Commerce and Industry (VCCI) Vu Tien Loc, as one of the 193 UN member countries adopting the 2030 Agenda with 17 sustainable development goals (SDGs), Vietnam has asserted its vision and resolve to, together with the world, follow the path to green growth.
Its Government has issued a national programme on sustainable development and set up the National Council for Sustainable Development, he said.
VCCI also established the Vietnam Business Council for Sustainable Development, which gathers hundreds of enterprises volunteering to act as the core of sustainable business models in the country, he added.
Speaking at the working session, Deputy PM Vu Duc Dam emphasised the need to continue promoting creativity and establish more favourable conditions for the business community to further participate in the implementation of the sustainable development goals of the UN.
The Deputy PM also acknowledged the positive contribution made by the business community to stabilising the macro economy.
Deputy PM Dam asked the VCCI and intermediary institutions such as VBCSD to organise more forums and dialogues to help enterprises, state agencies and organisations in solving issues arising in the process of developing, planning, and implementing related policies and mechanisms.
Hanoi launches start-up ecosystem portal
The Hanoi municipal People's Committee in coordination with VPBank held a launching ceremony for the city's start-up ecosystem portal and a large-scale co-working space in support of the start-up community at the VPBank building on Lang Ha Street, Hanoi on October 10.
The StartupCity.vn portal is built with the aim of creating an online platform to connect start-up business opportunities in a simple and systematic manner. The portal will also serve as a useful tool for investors to seek investment opportunities in Vietnam.
In addition, through StartupCity, start-up enterprises can present their projects and call for investment while exploring new business opportunities and following technology tendencies and issues of concern.
The start-up ecosystem portal, which is automatic and free of charge, is developed under the guidance of experts from Israel, a nation famous for its successful start-up nation model.
"StartupCity.vn is a vivid example of how local government could contribute to the speed development of the technology industry of the country. StartupCity.vn will help attract international businesses, connect capital with start-up demands, create new jobs, encourage creative ideas and improve economic value for the ecosystem," Nguyen Duc Chung, Chairman of Hanoi municipal People's Committee said at the launching ceremony.
At the ceremony, a large-scale co-working space for use by the start-up community, named UP@VPBank, was launched at the 21st floor, VPBank building on 89 Lang Ha Street, marking the establishment of a leading large-scale co-working space in Vietnam.
The co-working space is expected to provide enterprises with the most high-class office space in Vietnam at reasonable costs. In addition, at UP@VPBank, start-ups and innovation enterprises will have opportunities to meet, work and connect directly with investors and supporting services.
So far, 130 enterprises have registered to work at the co-working space and 63 have received funds from VPBank.
VPBank has pledged to spend at least US$1 million to implement solutions in support of the start-up community in 2017-2018.
Forum looks to scale up business solutions to sustainability challenges
The Vietnam Corporate Sustainability Forum 2017 took place in Hanoi on October 10, seeking to scale up business solutions to sustainability challenges.
Opening the event, Chairman of the Vietnam Chamber of Commerce and Industry (VCCI) Vu Tien Loc said that as one of the 193 UN member countries adopting the 2030 Agenda with 17 sustainable development goals (SDGs), Vietnam has asserted its vision and resolve, together with the world, to follow the path to green growth.
The Government has issued a national programme on sustainable development and set up the National Council for Sustainable Development.
VCCI also established the Vietnam Business Council for Sustainable Development, which gathers hundreds of enterprises volunteering to act as the core of sustainable business models in the country.
Loc cited the "Better Business, Better World" report issued by the Business and Sustainable Development Commission as saying that sustainable business opportunities to realise the Global Goals in the four surveyed economic systems could create a market worth an estimated US$12 trillion by 2030. Achieving the Global Goals in these four systems could create 380 million new jobs by 2030, almost 90 percent of them in developing countries.
The report also states that Asia will have the most business opportunities created by sustainable development, he noted, describing this as a wonderful momentum for Vietnamese firms to follow a more sustainable and humane development path.
Kamal Malhotra, UN Resident Coordinator in Vietnam, said the business community should be considered an important part of the economy, not just a channel to mobilise capital.
It is necessary to boost financial sources, improve manpower quality and devise cooperation solutions to promote the development of private businesses. Meanwhile, the private economic sector needs to have joint plans and actions on corporate rights and obligations, he added.
Nguyen Quang Vinh, Vice Chairman of the Vietnam Business Council for Sustainable Development, said the achievement of the 17 SDGs depends much on the actions of business. He noted that the number of companies making sustainability reports has doubled over the last five years.
However, Vinh admitted that most enterprises have trouble in their approach to the SDGs while the global awareness of sustainable development remains low. Business influence in the sustainable development process is still modest.
To do better business for a better world, it is crucial to support enterprises in combining the SDGs with their development strategies and to gear the financial system towards sustainable investment orientations, Vinh said.
Sunwah expands real estate investment in HCMC
Hong Kong's Sunwah Group has announced its investment in a high-end housing project in HCMC.
Johnson Choi, general director of Sunwah Vietnam, said the Sunwah Pearl project at 90 Nguyen Huu Canh Street in Binh Thanh District would be the third largest property development of Sunwah in Vietnam after Sunwah Tower on Nguyen Hue Boulevard in District 1 and Saigon Pearl on Nguyen Huu Canh Street, also in Binh Thanh District.
Sunwah Pearl will be developed by Bay Water Co Ltd, a subsidiary of the group. Covering more than 19,000 square meters, the project will have one 45-floor block and two 50-floor blocks with a total of 1,342 apartment units of one to three bedrooms measuring from 52 to 128 square meters each. The lowest price will be VND55 million per square meter.
Sunwah Pearl will also have other amenities such as riverside park, swimming pool, shopping center, supermarket, gym and spa center, conference center, restaurant, coffee shop, picnic area, amusement park, children's playground and kindergarten.
A source from the HCMC Department of Planning and Investment earlier said domestic enterprises had got involved in the project, which Sunwah Vietnam Real Estate Limited later bought into.
Sunwah Group has been operational in Vietnam for 47 years in sectors such as aquaculture, property, financial services and coffee trading with a total investment of over US$1 billion.
At a ceremony to announce the Sunwah Pearl project, Johnson Choi said the group would continue expanding its businesses in Vietnam.
Stimulus program lures 300,000 domestic tourists in Jan-Sept
Nearly 300,000 Vietnamese bought domestic tours in the first nine months of 2017, about 27% higher than in all of 2016, helped by a stimulus program jointly organized by the HCMC Tourism Association (HTA), airlines and a railway firm.
In the program, Saigon Railways, Vietnam Airlines, Vietjet and Jetstar Pacific have offered promotional tickets to tour operators, helping partly lower tour prices by at least 25%.
"The tourism stimulus program has produced positive results. The number of tourists traveling by train has increased significantly," said Nguyen Thi Khanh, vice chairwoman of HTA.
Over 38,000 train tickets were sold within the program in January-September, a three-fold increase compared to all of 2016, she said.
Saigon Railways has launched 30 more passenger cars on the HCMC-Nha Trang route. In the coming time, the company will put new cars into service on other routes, especially those to Danang City, and improve service quality to attract more customers.
HTA member enterprises are carrying out promotional programs in the last three months of 2017 and preparing plans for 2018. From 2018 onwards, the program will focus on certain localities to boost tourism development. HTA is also inviting other travel firms to join the program.
"Some domestic air carriers have hiked airfares recently. However, HTA is working with them to launch new promotions for domestic tourists," Khanh said.
HTA and airlines have plans to hold a meeting next week to discuss promotional programs for 2018.
Dialogue begins over investment difficulties in Nam Định
A meeting between provincial leaders and representatives of 500 enterprises in Nam Định Province was held on October 10.
The meeting was held in the spirit of openness and frankness to remove difficulties and obstacles for enterprises investing in Nam Định.
The Association of Small and Medium Enterprises (SMEs) of the northern province proposed specialised agencies to reduce the rates of social insurance, health insurance and unemployment insurance premium, as the rates are still high as compared to workers' wages.
Speaking at the meeting, the association's chairman, Trần Xuân Ngữ, said banks needed to reduce administrative procedures for SMEs when they borrowed investment capital to develop production and business.
According to Ngữ, investment procedure streamlining in the province was still slow, the process of compensation and site clearance of a number of projects was extended, and the environmental treatment in some industrial parks and clusters was limited, making it difficult for investors.
Jin Kook Kim, general director of Nam Định YoungOne Company Ltd, which specialies in producing and trading clothes, knitwear, textiles and garments in Hòa Xá Industrial Zone, said the price of water had accelerated, so the company expected local authorities to allow them to exploit underground water for production, which would help reduce costs.
In addition, Kim said that there were too many inspections conducted in one year, affecting the corporate operation.
Director of Toản Xuân Company Ltd, Trần Quốc Toản, said the province should research and establish high quality agricultural production areas, build chains of safe veggies, meat, eggs and of special local products.
"The province also needs to organise agricultural trade promotion programmes and give preferential mechanisms for enterprises investing in agriculture and rural areas," said Toản.
Chairman of Nam Định People's Committee, Phạm Đình Nghị, affirmed that the province's viewpoint would always favour enterprises. The province has issued a resolution on reforming administrative procedures, enhancing competitiveness and attracting investment, he said.
The People's Committee has also established the Nam Định Investment and Enterprise Promotion Centre in order to create an open mechanism for enterprises to invest in the province.
In addition to nine industrial zones, Nghị said the province had zoned 44 industrial clusters to meet the demand for investment and development of production and business of investors. The province would not use the local budget but will call for private enterprises to invest in infrastructure construction.
The provincial agencies shall strictly implement the direction of the Prime Minister over the inspection and examination of enterprises and avoid the duplication in the inspection and audit activities. It is not allowed to inspect a business many times a year, unless there are signs of violations to regulations.
There are 4,800 enterprises in Nam Định. Its set target is to attract US$3 billion of foreign direct investment and more than VNĐ30 trillion ($1.3 billion) from domestic investment in the 2016-20 period.
175 businesses participate in MTA Hà Nội 2017
Some 175 businesses are participating in the 5th International Precision Engineering, Machine Tools and Metalworking Exhibition & Conference (MTA HANOI 2017) which began in Hà Nội on Wednesday (October 10).
Covering an area of 4,300sq.m, the three-day exhibition will showcase offerings and products covering a broad technology scope relevant to the manufacturing sector.
More than 71 per cent of exhibitors at the event are from 19 countries and territories such as Beijing Jingdiao, Carl Zeiss, Makino and Mitsubishi Electric, as well as Mitutoyo, Sodisk and QES.
BT Tee, general manager of UBM VES and the organiser, said the event had returned at a timely moment in support of the local manufacturing scene, which has consistently grown over the past few years.
Moon Min Wan, general director of Marposs Việt Nam, said they have been participating in both the MTA Việt Nam and MTA HANOI 2017 show, and found that MTA has been a dedicated platform allowing participants to get access to the very latest technologies and services available in the entire manufacturing process.
Not only has it provided support to international players wanting to gain a foothold in Việt Nam, but the MTA HANOI 2017 has also positioned itself as a launch pad for local suppliers to enhance their industry presence.
Local industry pioneers such as Tinh Hà, Vạn Sự Lợi, Bibus, T.A.T and Bảo Sơn have large booths at the expo. It also welcomed a number of local newcomers showcasing a wide assortment of manufacturing and metal-working solutions, including Trương Nguyễn, Fil Việt Nam, Vision Equipment and Lasertech, as well as CNC Việt Nam and Nhật Hà.
MTA HANOI 2017 will also have seminars, interactive workshops and lively panel debates on some of the current issues affecting the manufacturing and precision engineering sectors. 
BDDIF to sell 10.47 million shares of Bidiphar
Bình Định Development Investment Fund (BDDIF) has registered to sell 10.47 million shares, equal to 20 per cent of Bình Định Pharmaceutical and Medical Equipment JSC's charter capital.
The transaction is expected to be conducted between October 16 and November 11, the pharmaceutical company (Bidiphar) announced.
BDDIF holds 17.46 million Bidiphar's shares, or 33.34 per cent of its capital. The fund's ownership is expected to decrease to 13.34 per cent after the transaction.
Bidiphar began trading on the Unlisted Public Company Market (UPCoM) under the sticker DBD on January 16 this year. Its share prices have climbed some 40 per cent from VNĐ35,000 a share, to around VNĐ49,000 (US$2.16) this week.
At this price, BDDIF's divestment value is estimated at VNĐ500 billion ($22 million).
Bidiphar posted total revenues of VNĐ1.44 trillion last year, up 14 per cent year-on-year, of which the pharmaceutical turnover accounted for 91 per cent, hitting VNĐ1.31 trillion. However, its net profit reached VNĐ141.5 billion, down 34 per cent year-on-year. 
Hòa Bình Reservoir opens 7 floodgates
The Hòa Bình Reservoir under the Hòa Bình Hydro-power Company has opened seven floodgates, after heavy rains caused a rapid rise in the water level.
Five floodgates were opened on Tuesday night and two others were opened on Wednesday morning. This was believed to be the largest flood discharge in 10 years within the reservoir.
Nguyễn Văn Quang, deputy chief of the National Steering Committee on Natural Disasters Prevention and Control, said at an urgent meeting on Wednesday morning that if the water flowing into the reservoir continues to rise, the reservoir might open other floodgates.
By 9am on Wednesday, the water level of the reservoir reached 117.4 metres, with the water flowing into the reservoir at 12,960cu.m per second.
Previously, the committee on Tuesday ordered the reservoir to open one floodgate on Wednesday to lower the water level. However, due to the rapidly rising water level, the reservoir actively opened six floodgates on Tuesday night and Wednesday morning, Quang said.
Quang said the constantly discharging water from the reservoir would cause impacts on lowland. Therefore, he asked the company to inform all the relevant agencies and people who could be affected by the water discharge, so that they can better prepare for it.
Relevant agencies were tasked with taking measures to ensure safety for the dykes, he added.
In another movement, the committee required on Wednesday the Sơn La Hydro-power Plant to suspend all its turbines from operation and to not release water to the downstream of Đà River. 
Enterprises advised to focus on organic fruit, vegetable exports to EU
Vietnam's fruit and vegetable businesses should eye on organic products for export to the European market, experts said at a workshop in Hanoi on October 11.
According to Secretary General of the Vietnam Fruits and Vegetables Association Nguyen Huu Dat, Vietnam's export of fruits and vegetables is forecast to increase in the coming time. 
Besides major markets such as the US, Australia, and Japan, businesses are seeking to make inroads into the EU given its potential.
Statistics showed that Vietnam earned more than 2.6 billion USD from shipping fruits and vegetables abroad, representing a year-on-year increase of 44.2 percent. 
The EU is evaluated a promising market for Vietnamese fruit and vegetable, however, it has strict requirements on food safety. Therefore, the export turnover of Vietnamese fruits and vegetables to the EU only stood at 100 million USD.
The regulations on pesticide residues in fruits and vegetables are one of the factors to hinder Vietnamese businesses to penetrate into the market, Dat said.
He suggested businesses improving cultivation in the net houses to achieve higher technical economic efficiency.
Apart from food security, products must meet the Hazard Analysis Critical Control Point (HACCP) and GlobalGAP standards on manufacturing, processing and packaging, he added.
Ruggero Malossi, a specialist of the European Trade Policy and Investment Support Project (EU-MUTRAP), said the EU limits the use of some chemicals to ensure food safety and avoid environmental losses, so imported products must be controlled.
Experts proposed ministries and departments soon build proper strategies for each market and facilitate the transport of such competitive fruits as dragon fruits, longans, rambutans, grapefruits and mangoes.
Businesses should concentrate on areas to develop key export products while investing in phytosanitary treatment, preservation and deep processing technologies to meet requirements of foreign markets.
PVI and Vietnam Airlines launch travel insurance
PVI Insurance Corporation and Vietnam Airlines Corporation on Wednesday launched a comprehensive travel insurance package, TripCARE, to give customers complete peace of mind during each trip.
The insurance is provided by two firms in co-operation with Chubb Vietnam Insurance Company Limited as a reinsurer.
TripCARE has been available from September 29, 2017, on www.vietnamairlines.com. This is a product reserved for passengers of Vietnam Airlines when buying air tickets for domestic travel or departing from Việt Nam, in which, personal accident benefits amount to VNĐ1.6 billion (US$70,267) and medical expenses total up to VNĐ1 billion. Newborns (aged 7 days to under 2 years) travelling with TripCARE insurance will enjoy free insurance.
Deputy General Director of Vietnam Airlines, Trịnh Ngọc Thành, said the co-operation with PVI was one of the steps taken by Vietnam Airlines to understand the needs of customers for products and services when buying air tickets, affirming the company's ongoing efforts to bring safe and comprehensive passenger services to Việt Nam.
TripCARE Travel Insurance marks the first time an insurance company in Việt Nam has successfully sold travel insurance via the website of an airline.
Reference exchange rate down for fourth day
The daily reference exchange rate for VND/USD was revised down for a fourth day in a row since the beginning of this week, standing at 22,453 VND /USD on October 12, a decrease of 6 VND from the rate set on October 11.
With the current trading band of +/- 3 percent, the ceiling rate applied to commercial banks during the day is 23,127 VND and the floor rate 21,779 VND/USD.  
The opening hour rates at major commercial banks also followed the declining trend. 
Vietcombank listed the buying rate at 22,685 VND and the selling rate at 22,755 VND per USD, down 5 VND from the previous day. 
The rates listed by Vietinbank were also slashed by 5 VND to 22,685 VND (buying) and 22,755 VND (selling) per USD. 
The greenback is being bought at 22,685 VND and sold at 22,755 VND per USD at BIDV, both 5 VND lower than the respective rates listed on October 11.
VN-Index rallies for a third day
Shares extended gains on October 11 on the HCM Stock Exchange with the benchmark VN-Index rising 0.41 percent to close at 813.95 points, expanding its three-day rally to 0.76 percent.
Seventeen of the top 30 largest shares by market value and liquidity on the southern bourse gained while 11 declined.
Real estate giant VinGroup (VIC) was the biggest gainer with growth of 5.2 percent. Lender BIDV (BID), PV Gas (GAS), PetroVietnam Drilling and Well Services Corp (PVD), IT group FPT (FPT), Saigon Securities Inc (SSI), insurer Bao Viet Holdings (BVH) and brewer Sabeco (SAB) rose between 0.5-1.6 percent.
"The rally today was mostly attributable to the positive movement of large-cap stocks amid high selling pressure in the market with a wide divergence amongst groups of stocks," Bao Viet Securities Co's analyst Tran Duc Anh wrote in a October 11 report.
Bank stocks diverged widely, with BIDV (BID), Eximbank (EIB) and VPBank (VPB) advancing while Sacombank (STB), Vietinbank (CTG), Vietcombank (VCB) and Military Bank (MBB) declined.
Notably, Sacombank dropped by 6.4 percent following the surprise news that the bank is seeking shareholders' approval to transfer its listing to the Hanoi Stock Exchange under the new code SCM.
Overall market conditions were negative with decliners outnumbering advancers by 155-116 and 72 stocks flat.
According to Saigon-Hanoi Securities Co (SHS), third-quarter earnings results of listed companies are gradually being released, supporting the market. 
However, negative factors including prolonged net selling by foreign traders and modest liquidity have shown that investors remain wary.
Analysts predicted the VN-Index will likely head to the next target of 815 points on wide divergence.
On the Hanoi Stock Exchange, the HNX-Index inched up 0.08 percent to end October 11 at 108.65 points. The northern market index fell 0.16 percent on October 10.
Liquidity rose on October 11 with 228.5 million shares worth a combined 4.4 trillion VND (194.2 million USD) traded in the two markets, up 24.7 percent in volume and 19 percent in value compared to the previous day.
Foreign investors were net sellers for a third straight day with total net sell value of 557.4 billion VND.
VPBank launches one million USD startup support project
The Vietnam Prosperity Joint Stock Commercial Bank (VPBank) on October 10 officially rolled out its one million USD startup support project 'VPBank StartUp' to aid the development of Vietnam's start-up community.
During 2017-2018, VPBank Startup will spend at least one million USD to directly endorse start-ups. It will also set aside 6.5 billion VND (286,130 USD) to support startups at the hi-end working space, UP@VPBank, operated by the bank and the Up Co-working space.
Founder of the UP Co-working space Do Hoai Nam said that businesses will have access to a top notch working space at the UP@VPBank at a reasonable cost. Also, UP@VPBank will offer assistance to innovative startups and financial technology firms to promote creativity and competitiveness.
They will get financial, accounting and legal support from investors, and have opportunities to work together, connect and cooperate to realise the goals of "start-up city" and "start-up nation", he added.
VPBank Startup marks a major stride for the bank's corporate social responsibility activities.
Experts said that Vietnam poses huge potential to become a start-up nation, including golden population, young labourers and talent in high technology. The country has seen more than 100,000 start-ups established.
Ford Vietnam recalls 119 cars over airbag failure
Ford Vietnam said it is recalling 119 Ford Ranger and Ford Everest cars manufactured in Vietnam for checking and replacing failed airbags.
Of those, 113 vehicles are Ford Ranger Wildtrak 3.2 pickup trucks which were the bestsellers in the Vietnamese market. The cars were produced between October 29, 2016 and January 27, 2017.
The remaining cars are Ford Everest 2.2L AT 2WD models, manufactured between December 10, 2016 and January 12, 2017.
The recall is attributed to failure in their airbag activation devices, which might cause the safety equipment to not inflate when a collision occurs.
These cars will be recalled until September 30, 2020, with repair time taking just two hours per vehicle.
The Vietnam Register has recommended clients of Ford Vietnam to bring their cars for quality check to ensure safety.
HCM City welcomes more than 29,900 newly established firms
An additional 29,921 new enterprises were established in Ho Chi Minh City this year by September, with total capital exceeding 396 trillion VND (17.4 billion USD).
Although the number of new firms rose only 13 percent, registered capital surged 84.5 percent year on year.
Some 44,087 enterprises registered to change their fields of business in the period with total additional capital of more than 218 trillion VND (9.6 billion USD), up 11.2 percent in number of businesses and 49.6 percent in capital from last year.
Of the new firms, one-member limited companies made up the highest proportion (58.6 percent) with 17,546 enterprises, followed by two-member limited companies (28 percent) with 8,387 enterprises, joint-stock companies (11.9 percent) with 3,581 enterprises, and private firms (1.4 percent) with 404 enterprises.
In terms of sectors, real estate had the largest pool of newly established companies (39.5 percent) with total registered capital of nearly 156.7 trillion VND (6.9 billion USD). The retail, automobile repair and motorbike industries also occupied a high proportion (16.2 percent) with total capital of more than 64.3 trillion VND (2.8 billion USD).
In order to have 500,000 enterprises by 2020, the city is working to transform household businesses into enterprises. To date, nearly 1,400 home businesses have switched into companies.
Hưng Yên creates more favourable conditions for enterprises
Authorities of Hưng Yên will continue to create favourable conditions for enterprises' production and business activities to ensure high efficiency and sustainable development in business.
Chairman of the People's Committee of the northern province of Hưng Yên Nguyễn Văn Phóng said this at a meeting held on October 10 between provincial authorities and more than 300 entrepreneurs in Hưng Yên Province on Việt Nam Business Day.
At the meeting, Nguyễn Xuân Dương, chairman of the Hưng Yên Business Association, said enterprises in the province have made important contributions towards improving economic structure and development of the province.
Trần Quốc Văn, director of the Hưng Yên Department of Planning and Investment, said to support and develop the business and improve the business environment, the provincial authorities have directed departments and agencies to regularly review and simplify administrative procedures, reducing time to process these procedures for people and enterprises.
As a result, time was reduced by 50-60 per cent for handling administrative procedures and by 30 per cent for solving administrative procedures in the land and environmental protection areas. Departments and local authorities are continuing to implement programmes on supporting enterprises.
Meanwhile, Phóng highly appreciated efforts of local enterprises in renovating management method and technology, raising the efficiency of operation, obeying regulations, fulfilling financial obligations and actively participating in social security activities.
He said that with regard to the proposals of the business community, Hưng Yên People's Committee has asked the departments and localities to receive proposals from businesses and come up with solutions to support them. They should hold dialogues to get information and remove difficulties of enterprises, along with proposing policy changes to central State offices.
For enterprises, Phóng said they should speed up the construction of approved projects, use land economically and effectively, and realising commitments on environmental protection.
Enterprises should also enhance further renovation of technology to increase productivity and reduce production costs, he said. 
In another development, the northern province of Hưng Yên attracted 182 investment projects in the first nine months of 2017, up 44 per cent year-on-year, according to local authorities.
During the period, registered capital of domestic and foreign projects reached more than VNĐ12 trillion (US$528.12 million) and more than $145 million, respectively.
The province is currently home to 1,619 projects, with total registered capital exceeding $8.44 billion.
Hà Tĩnh green lights 76 investment projects
Central Hà Tĩnh Province approved in principle 76 projects over the past nine months, including three foreign-invested projects, with combined investment capital of over US$330 million, local authorities said.
Among these projects is a $55.3 million-maritime tourism complex, developed by An Giang Dragon Hà Tĩnh Co; a $54 million hotel and trade centre complex, financed by Việt Trung Investment Co; and another eco-tourism project, valued at $13.4 million.
So far, the province is home to 740 projects, capitalised at $4.38 billion. Of them, 69 were financed by foreign investors from 15 countries and territories with capital totaling more than $11.63 billion.
Japan, South Korea, Brunei and Australia, as well as the US, Thailand, Philippines and Laos, along with Singapore, Taiwan and Hong Kong, are the province's leading sources of foreign investment.
Under this year's investment promotion programme, the province plans to lure potential investors from Japan, South Korea and Germany with the help of those currently investing in the province.
The province is calling for investment in hi-tech farming, support industries, tourism and services, as well as high-quality personnel training projects and waste and wastewater treatment projects.
The Thiên Cầm and Xuân Thanh tourism sites and Kẻ Gỗ Lake eco-tourism spot are also seeking foreign investment.
To attract more investors, the province will continue to speed up administrative reform, perfect infrastructure facilities, accelerate land clearance and foster investment promotion activities.
Provincial authorities will also hold dialogues with entrepreneurs and investors in the locality to get recommendations and help resolve problems.
175 businesses participate in MTA Ha Noi 2017     
Some 175 businesses are participating in the 5th International Precision Engineering, Machine Tools and Metalworking Exhibition & Conference (MTA HANOI 2017) which began in Ha Noi on Wednesday (October 10).
Covering an area of 4,300sq.m, the three-day exhibition will showcase offerings and products covering a broad technology scope relevant to the manufacturing sector.
More than 71 per cent of exhibitors at the event are from 19 countries and territories such as Beijing Jingdiao, Carl Zeiss, Makino and Mitsubishi Electric, as well as Mitutoyo, Sodisk and QES.
BT Tee, general manager of UBM VES and the organiser, said the event had returned at a timely moment in support of the local manufacturing scene, which has consistently grown over the past few years.
Moon Min Wan, general director of Marposs Viet Nam, said they have been participating in both the MTA Viet Nam and MTA HANOI 2017 show, and found that MTA has been a dedicated platform allowing participants to get access to the very latest technologies and services available in the entire manufacturing process.
Not only has it provided support to international players wanting to gain a foothold in Viet Nam, but the MTA HANOI 2017 has also positioned itself as a launch pad for local suppliers to enhance their industry presence.
Local industry pioneers such as Tinh Ha, Van Su Loi, Bibus, T.A.T and Bao Son have large booths at the expo. It also welcomed a number of local newcomers showcasing a wide assortment of manufacturing and metal-working solutions, including Truong Nguyen, Fil Viet Nam, Vision Equipment and Lasertech, as well as CNC Viet Nam and Nhat Ha.
MTA HANOI 2017 will also have seminars, interactive workshops and lively panel debates on some of the current issues affecting the manufacturing and precision engineering sectors. 
VIP Infrastructure offloads 11.3 million CII shares     
Singapore-based VIP Infrastructure Holdings Pte Ltd has completed the sale of 11.3 million shares of HCM Infrastructure Investment JSC (CII), reducing its ownership from 8.76 per cent to 4.17 per cent.
The Singaporean firm is no longer a major shareholder of CII, the Vietnamese company announced on Tuesday.
The transaction was conducted between September 25 and October 6.
At a price of some VND32,000 per share at the time, the divestment was valued at more than VND360 billion (US$16 million).
Compared with the peak of over VND40,000 per share in March, CII's price has lost some 20 per cent of its value. However, the share has still gained 14.3 per cent since the beginning of this year.
VIP Infrastructure Holdings Pte Ltd is 100 per cent owned by Philippines' Ayala Corporation, which invested in CII from 2012.
According to CII, due to changes in the accounting policy in the Philippines, Ayala wanted to divest partly from CII before October 31 to book this profit in its financial statement.
In a related development, Ireland's DC Developing Market Strategies Public Co Ltd has registered to buy two million CII shares between October 3 and November 1.
CII reported revenue of some VND1 trillion in the first half of this year, about a two-fold increase over the same period of last year. Its net profit reached VND1.6 trillion, seven times more than the same period last year and exceeding the net profit target for the whole of 2017. 
Shares mixed on two exchanges     
Shares moved in the opposite direction on the two stock exchanges on Thursday morning as large-cap stocks continued to widen divergence.
On the HCM Stock Exchange, the VN-Index increased 0.33 per cent to close at 816.67 points. Meanwhile, the HNX-Index on the Ha Noi Stock Exchange edged down 0.35 per cent to 108.27 points.
Large-cap stocks continued to be a major supporter on HCM City's bourse with 18 of the top 30 largest shares by market value and liquidity advancing and 10 declining.
Banks also extended gains.
Except for Vietcombank (VCB) which was down 0.3 per cent, the other six listed lenders gained value, of which VPBank (VPB) was the largest gainer with a growth of 1.9 per cent. Vietinbank (CTG), Military Bank (MBB) and BIDV (BID) rose by less than one per cent each.
Besides banks, large companies in the food-beverage and retail sectors also advanced, including Vinamilk (VNM), brewer Sabeco (SAB), FPT Corp (FPT) and Mobile World Group (MWG).
Meanwhile, all three listed banks on Ha Noi's exchange slumped between 0.3 and 1.4 per cent each.
The HNX30 Index tracking the top 30 largest shares by market value and liquidity on the northern bourse also decreased 0.31 per cent.
Liquidity declined sharply with just 96.3 million shares worth VND2.1 trillion (US$91.8 million) being traded on the two markets.
The afternoon session starts at 1pm.
Interest rate cut targeted for end months     
The State Bank of Viet Nam (SBV) will instruct commercial banks to try and cut interest rate in the remaining months of the year.
It is among SBV's monetary policies that will be applied in the remaining months of the year, SBV announced on Tuesday.
According to SBV, it is ready to support liquidity for credit institutions, aimed at ensuring the safety of the banking system and stabilising deposit interest rates.
Besides this, the central bank also required credit institutions to take measures to reduce operating costs and improve business efficiency to create favourable conditions to reduce lending interest rates for priority sectors and business areas.
Lending in the remaining months of this year will continuously focus on prioritised areas of agricultural production, export business, production of small and medium-sized enterprises, auxiliary industry and high-tech production.
The central bank reported that credit growth in the first nine months this year was 11.02 per cent, higher than the rates of 10.46 per cent and 10.78 per cent in the same period of 2016 and 2015, respectively.
During the period, lending to prioritised industries rose against last year, of which loans to agriculture and rural development, and high-tech production were up 17 per cent and 25.12 per cent, respectively.
Liquidity of the banking system in the first nine months was relatively good. The average ratio of lending to deposits (LDR) of the system reached some 87.2 per cent, higher than the 87 per cent recorded at the end of the second quarter and much higher than late 2016 (85.47 per cent) and 2015 (85.6 per cent). The LDR in dong was 88 per cent and in foreign currency was 73 per cent.
Average ratio of short-term funds used for medium and long-term loans of credit institutions during the period was estimated at some 33.4 per cent, slightly down compared with 34.5 per cent in late 2016. 
Budget revenue hits 70% of target     
State budget revenue in the first nine months of the year totaled VND843 trillion (US$37 billion), up 13.9 per cent year-on-year and equivalent to 69.5 per cent of the annual target.
The information was released by the Ministry of Finance (MoF) during a conference held in Ha Noi on Wednesday.
The finance ministry said direct revenues from production and business activities were low due to reductions in contributions from some major manufacturing sectors such as crude oil and gas, automobiles, mobile phones, and cigarettes.
Of the total, VND663.7 trillion came from domestic tax collections, up 11.4 per cent year-on-year and representing 67 per cent of the yearly target, the MoF said.
The MoF attributed the rise in total domestic revenue to higher indirect revenues, such as tax payments from housing and land (up 24.2 per cent), personal income tax (up 21.1 per cent), charges and fees (up 51.3 per cent), and income from lottery activities (up 12.4 per cent).
Forty-three out of the 63 localities nationwide collected over 72 per cent of the estimates and 58 reported higher budget collection than the same period last year.
Budget revenues from crude oil climbed 15 per cent year-on-year to reach VND34 trillion, hitting 88.9 per cent of the annual target.
Meanwhile, revenues from import and export activities reached VND214 trillion, equivalent to 75.1 per cent of the annual target, and up 10.5 per cent year-on-year.
Total State budget expenditure in the nine months stood at VND904.6 trillion, or 65.1 per cent of the year's estimates, the ministry said.
Of the estimate, budget investment for development was VND166.6 trillion, an increase of 4.1 per cent year-on-year and accounting for 46.6 per cent of the yearly plan.
Regular expenditures over eight months were estimated at nearly VND660 trillion, equaling 73.6 per cent of the year's estimate, up 7 per cent over the same period last year.
Payments for debts and aid totalled VND75.35 trillion in the period, meeting 76.2 per cent of the annual estimate. 
Workshop updates start-ups on new tech trends     
Start-ups in Viet Nam can now seek opportunities to apply the latest technologies to reform their business models.
This was discussed at a workshop held in Ha Noi on Tuesday as part of the Techfest 2017. The workshop aimed to connect experts, small- and medium-sized enterprises (SMEs) and start-ups to create sustainable value chains.
Chief executive officers (CEOs) of start-ups as well as investors and young tech enthusiasts had a chance to talk to leading experts and gain information on new tech trends.
The workshop was also intended to raise local investors' awareness about technology and help CEOs from various fields realise the likelihood of the application of technology in their spheres.
It was also an ideal opportunity for CEOs, investors, start-ups, and experts to network, share and learn from each others' experiences.
The Techfest Vietnam 2017 is scheduled to take place in Ha Noi mid-November to promote the start-up ecosystem in Viet Nam, and to link domestic and international start-ups by luring investment for start-up firms, providing policy consultancy on innovation, honouring start-ups and organisations for active contributions to the start-up community.
The 2016 Techfest attracted nearly 170 investors and more than 3,000 visitors.
With its young population, Viet Nam is working towards becoming a startup nation in the Asia-Pacific Economic Cooperation (APEC). The Government is targeting one million effective enterprises by 2020.
Treasury mobilises VNĐ2.1 trillion via Government bonds
The State Treasury of Việt Nam successfully mobilised VNĐ2.1 trillion (US$92.5 million) through Government bond auctions at the Hà Nội Stock Exchange (HNX) on Wednesday.
The bonds were offered for four tenures: five years valued at VNĐ1 trillion, and seven years, 10 years and 30 years with VNĐ500 billion for each term.
The five-year bonds sold at a total value of VNĐ1 trillion, with a winning yield of 4.52 per cent, 0.13 percentage points lower than bonds of the same term sold at the previous auction on October 4.
Similarly, VNĐ500 billion worth of seven-year bonds sold at the auction had an interest rate of 4.83 per cent per annum, equal to the previous sale on September 13.
The 10-year bonds brought in only VNĐ300 billion with a winning yield of 5.42 per cent, equal to the sale during the October 4 session.
The 30-year bonds did not see a winning volume.
A total of VNĐ300 billion was raised in the sub-session sales for the five-year and seven-year terms.
From early this year to date, the State Treasury has mobilised nearly VNĐ151.180 trillion through Government bonds issued on the HNX.
Vietjet, Qatar Airways sign interline agreement
Vietjet on Thursday announces its two-phase interline partnership with Doha-based Qatar Airways.
Accordingly, the first phase, which came into effect in September, enables Qatar Airways passengers to travel to and from destinations in Việt Nam and Taiwan served directly by Vietjet.
The next phase will soon allow Vietjet passengers to fly to more than 150 points around the world on Qatar Airways using a single reservation across both airlines' networks.
"We are delighted to welcome Vietjet to our growing roster of interline partners as it allows us to provide a more seamless experience for our passengers," Qatar Airways Group chief executive Akbar Al Baker said.
He said the agreement with Vietjet will offer passengers even more choice, providing them an easy connection in HCM City or Hà Nội before transferring to their Qatar Airways flights.
"This partnership is a pillar of Vietjet's strategy to diversify our services, aimed at offering our passengers travel opportunities to points over the world. We will continue to partner with other airlines based on advanced technology platforms to better benefit our passengers," Vietjet vice president Nguyễn Thị Thúy Bình said.
Qatar Airways is commencing two non-stop operations connecting Hà Nội and HCM City with Doha, with two daily flights and 10 weekly flights, respectively.
Previously, Vietjet and Japan Airlines agreed on an interline agreement for their flights between Japan and Việt Nam, their domestic services and their flights between Việt Nam and other Asian countries.
The two carriers also committed to co-operate in various areas, including a frequent flier partnership, aircraft operations and maintenance, and ground handling services and training.
Metalex Vietnam 2017 draws over 500 int'l brands
The international exhibition on machine tools and metalworking solutions for production upgrade (Metalex Vietnam 2017) officially kicked off in Ho Chi Minh City on October 12.
The event drew the participation of more than 500 brands of 25 countries, including Germany, Turkey, Thailand, Japan and host Vietnam.
Suttisak Wilanan, Deputy Managing Director of Reed Tradex, the organiser, said the event introduces the latest machine tools and metalworking solutions to businesses, thus helping them speed up production.
A number of conferences will be organised in the framework of the exhibition to deliver professional metal processing solutions and offer chances for firms to expand their business in one of the most dynamic markets in ASEAN.
Speaking at the event, Ureerat Ratanaprukse, Consul General of Thailand to Ho Chi Minh City, said that Metalex Vietnam 2017 will contribute to raising the efficiency of manufacturing and support industries, as well as create a platform for science and technology development, innovation and sustainable economy.
The exhibition, which runs until October 14, is taking place together with the Vietnam Electronics Assembly 2017 on international machinery and technologies for electronic parts and components manufacturing industry and another on support industry products.
Exports of electric cable grow 37.5% in 9 months
Exports of electric wire and cables increased by nearly 37.5% to US$944.97 million in the nine months up to October, reports the General Department of Vietnam Customs.
China was the largest consumer of Vietnamese products at US$317.73 million (up 186% against the same period last year), followed by Japan with US$203.09 million (up 42%) and the Republic of Korea with US$88.48 million (up 55.9%).
There has been a healthy increase in exports of electric wire and cables across most markets, primarily to the UK (up 475% to US$4.78 million), Malaysia (up 116% to US$9.47 million), Taiwan (up 99% to US$3.61 million) and Thailand (up 83.5% to US$30.17 million). Exports to Indonesia and Australia saw a decline, however, of 33% and 10% respectively.
Footwear businesses manage to conquer domestic market
Footwear and handbag businesses have prioritized exporting their products over selling them domestically as profits are higher overseas and government incentives make it a more attractive proposition.
According to the Vietnam Leather, Footwear and Handbag Association (Lefaso), the people of Vietnam purchase more than 180 million pairs of shoes annually while domestic production only meets roughly 40% of that demand. 
Lefaso has more than 500 member companies involved in producing leather shoes, bags and providing tanned leather materials and production machinery and equipment. But only few are capable of supplying products on the domestic market.
Phan Thi Thanh Xuan, Lefaso General Secretary, explained that this is because the footwear and handbag sector has faced a significant number of difficulties in recent times, due in no small part to the fact that most materials for production were imported. Thus, large-scale producers can reduce costs if they make export products. 
Meanwhile for the domestic market suffers as businesses can only produce at a small scale because they just need to produce a limited number of products. The wide availability of counterfeit and fake, low-quality products is also detrimental to the industry.
That's why major businesses often focus on manufacturing goods for export while the domestic market is for smaller scale enterprises, said Ms Xuan.
Nguyen Tri Kien, director of Minh Tien Garment Company, said it is much more difficult to develop the domestic market than export markets as it requires better customer services and efforts to promote their images and brands and manage well delivery and production chains.
Nguyen Van Khiem, General Director of Thuong Dinh Footwear Company, echoed Mr Kien's view, saying that despite having great potential for the domestic market, businesses still find it hard to conquer customers if their brands are little known. Furthermore, they have to face tough competitions with imported products as well as fake and counterfeit goods.
In spite of numerous difficulties, footwear businesses believe it is high time to dominate the domestic market in a way that has thus far not been possible.
To gain a firm foothold on the domestic market, Mr Kien underscored the need to tackle the problem of fake and counterfeit products and ensure material sources for production and brand names, improve the quality of products and devise long-term strategies for customer services to build up loyal customers and ensure they get repeat business.
They should also branch out and increase their potential customer base by creating a chain of shops and set up e-commerce options as online sales become commonplace, he added.
Solustri Jordanp, an Italian expert, said that the key to success in the footwear industry is to cultivate a brand identity through recognizable products and reputable quality of products.
Ms Xuan also proposed that it is incumbent on the state to devise proper policies to enhance the market transparency and control. Businesses should be assisted in building quality standards and stepping up communications on identifying fake and counterfeit products.
VNPT EPAY, Woori Bank co-operate in online payment
VNPT EPAY and Woori Bank Việt Nam signed a co-operation agreement on online payment services on Wednesday. The two sides committed to priotising each other's services to create convinient products for their customers.
In particular, the two sides will co-operate in providing electronic wallets, collection and payment assitance and an online payment portal.
Châu Nguyên Anh, director of VNPT EPAY, said the agreement marks a new direction for cooperation between international banks and local payment companies, with the goal of expanding the scale and geographic boundaries of payment, targeting users in different territories.
VNPT EPAY is one of the market leaders in payment portal platforms for online services and e-commerce partners. With 10 years experience in the field of electronic payment, VNPT EPAY has served more than 1 million customers, 400 connected partners and more than 2,000 payment acceptance points.
Woori Bank Việt Nam is a South Korea bank aiming to become the leading foreign banking system in Việt Nam.
Insurance premium surges 21.6% in nine months
The total premiums collected by insurance companies in the first nine months of 2017 surged by 21.6 per cent year-on-year, to more than VNĐ75.23 trillion (US$3.31 billion).
Of the total sum, the revenue from life insurance premiums was more than VNĐ45 trillion and from non-life insurance premiums was nearly VNĐ30.17 trillion, up 31 per cent and 12.2 per cent, respectively, the Ministry of Finance reported on Wednesday.
During this period, insurance companies invested VNĐ231.3 trillion into the economy, a rise of 22.3 per cent compared to the corresponding period in 2016. Of the total, VNĐ194.97 trillion was from life insurance companies.
They also paid VNĐ21.12 trillion as compensation to customers.
The Insurance Association of Việt Nam predicts that this year, the growth of the life insurance sector will be 25 per cent and that of the non-life insurance sector will be 14 per cent.
The growth is a result of the increasing awareness among people and companies about the role of insurance, the association said, adding that the country's economic growth, targeted at 6.7 per cent in 2017, will be an added advantage to the growth of the insurance market.
Anphabe kicks off Vietnam Happiness at Work Summit 2017
Anphabe has launched Vietnam Happiness at Work Summit 2017 today in the presence of more than 600 CEOs and HR managers from top organisations in the country.
With the topic of "Driving sustainable growth through happier workforce," the event was held within the framework of Anphabe's annual "Thought Leadership" series, bringing a new platform for the leadership and management teams to join to learn, share experiences, and obtain a thorough grasp of the latest trends in shaping an engaged, efficient, and loyal workforce.
More than 25 local and international speakers will attend the event, discussing five important angles: "Happiness Trends," "Happiness Essentials," "Happiness & Business," "Happiness Leadership," and "Happiness Innovation." Each angle comprises of multiple topics with interesting and surprising formats.
At the event, Anphabe officially introduced ANPHA Community, which includes leading CEOs and HR directors who are all committed to sharing and updating advanced methods for human resources management with an aim to elevate the standards of the HR community and the Vietnamese workforce.
Moreover, in 2017, Unilever Vietnam (The Best Place to Work between 2013 and 2016) will become Anphabe's strategic knowledge partner, who also holds the position as the chair of the Steering Committee of ANPHA Community, committing to contributing resources to the project.
"Anphabe's long-standing mission is 'To Shape Vietnam's Happy Workforce.' We also understand that it is impossible to accomplish this mission alone and that we need the help of the people and enterprises. Therefore, ANPHA Community will be a bridge to connect us with appropriate resources and bring out more useful and practical activities to the community," said Thanh Nguyen, CEO of Anphabe.
At the event Anphabe also officially kicked-off Vietnam Best Places to Work Survey 2017.
Over the past four years, this annual survey has established a solid trust and attracted the enthusiastic participation of the business community thanks to its high accuracy, reliability, and up-to-date information of the important HR and workforce trends.
In the ever-changing world of Industry 4.0, what will happens to jobs, workforce, and the working environment in Vietnam 4.0? This is the main issue of human resources trends that Vietnam Best Places to Work Survey 2017 aims to discover this year.
Besides, the survey continues conducting in-depth assessments of Employer Brand Health (based on industry talents) and Employee Happiness at Work  (based on company employees) for the top 500 Vietnamese businesses to help the management teams capture and improve key personnel indicators.
Based on objective assessments from employees in 26 industries, enterprises with good results will be honoured in the top 100 Vietnam Best Places to Work. In order to encourage and acknowledge efforts to improve the human resources policy of Vietnamese businesses, the organisers also decided to add another category: Top 50 Vietnam Best Places to Work–Vietnamese Enterprises.
By tentative schedule, in March 2018, Anphabe will announce the final results of Vietnam Best Places to Work 2017.
SonKim Land shakes hands with famous food brand Pourcel Château
Son Kim Land Corporation has announced its partnership with international food and beverage brand Pourcel Château to launch a chain of food and café restaurants in the prime locations in Ho Chi Minh City.
Jacques Pourcel, president of Pourcel Château Company said: "We believe in the development of the food industry in Vietnam in the future. With talented chefs, who have been successful all over the world for many years, this time, we introduce our talents with the desire to bring to Vietnamese consumers the fine and high-class culinary experiences of France."
The partnership of SonKim Land and Pourcel Château reaches long-term and sustainable cooperation in order to bring about higher benefits to both parties and contribute to the development of the Vietnamese food industry.
"The Pourcel Brothers, Jacques and Laurent, have won three Michelin honorable stars in their chef's career, starting in the South of France in 1998. We are very delighted to cooperate with Pourcel Château, a prestigious partner with extensive experience and expertise in the field of restaurants in this project," Nguyen Hoang Tuan, president of  SonKim Land said. "It can be seen that many Michelin stars, after opening restaurants in Hong Kong and Singapore, have turned these places into the destinations of famous culinary experiences."
SonKim Land is a successful and reputable real estate developer in the Vietnamese market, focusing on high-class and luxury projects such as Gateway Thao Dien, Serenity Sky Villas and The Nassim.
Participating in F&B is a strategic advance of SonKim Land, supplementing its core business of hospitality and real estate with the aim at providing perfect and ultimate living experience to the customers in SonKim Land's projects. Currently, SonKim Land has 25 premises available for restaurants in the prime locations of Ho Chi Minh City, including districts 1 and 3.
Son Ha looking to increase overseas activity
The plan to add capital to Son Ha International Joint Stock Company (Son Ha)'s existing project in Myanmar is considered a part of its strategy to expand operations aboard as the domestic stainless steel products market is seeing fierce competition.
Son Ha was considered one of the Vietnamese leading manufacturers of stainless steel household and industrial products with soar growths in revenue, however, within recent five years, the domestic market has become more competitive with the join of both domestic and foreign competitors. Thus, Son Ha is forced to find solutions to create basic for the new development step, expansion its presence in aboard, is one of these solutions.
In 2016, Son Ha exported its products to 30 countries around the world, including difficult markets like the Middle East, North America, and Northern Europe. Foreign markets make up 11 per cent of the company's total revenue.
Along with increasing exports to foreign markets, Son Ha plans to seek investment opportunities abroad to infiltrate overseas markets. The initial target is Myanmar where Son Ha built a factory, followed by potential markets such as Laos, India, and Turkey.
According to the initial plan, Son Ha will co-operate with NNC Golden Brand JSC to expand its existing factory with a total added capital of $960,000, $720,000 of which will be contributed by Son Ha and $240,000 by NNC. However, according to the current adjusted plan, Son Ha will contribute $840,000 and NNC $120,000.
Besides, the company will try to find a way to return to some old markets that it previously exported large quantities to, such as the US and Brazil.
Regarding the domestic market, the company will decrease its holdings in member company Son Ha Saigon JSC, while simultaneously delineate business markets with Son Ha Saigon. Notably, Son Ha will focus on operating in the northern market, while Son Ha Saigon will hold the southern market.
Besides, in mid 2017, Son Ha completed the purchase of Truong Tuyen Trading Co., Ltd., which is famous for manufacturing stainless steel tanks. After the purchase, Truong Tuyen Trading Company was renamed Truong Tuyen Industry and Services Company Limited.
The Truong Tuyen brand is still intact, offering products and services such as plastic basins, stainless steel tanks, RO water purifiers, nd solar water heaters. Truong Tuyen will build its strategy around its stainless steel tank products.
Hanoi looking to strengthen UK link
Hanoi and British Business Group Vietnam (BBGV) met today to discuss measures to strengthen economic partnership in the future.
The event attracted the participation of Vietnamese and Bristish firms operating in banking and finance, insurance, transport, logistics, consultancy services, marketing, education and training, healthcare, and tourism and hospitality.
The firms included Harvey Nash, Coninco, Santa Fe, Crown, Concordia International School Hanoi, Crunchy Fog, Ecorem Aiei, Mazars, and Rolls Royce International Limited Vietnam.   
The discussions focused on the concerns of Bristish businesses in Vietnam, including administrative procedures, business licensing, land use, construction and investment issues, labour, tax, and customs.
Addressing the event, Nguyen Doan Toan, Deputy Chairman of the Hanoi People's Committee, said, "The UK is one of Hanoi's biggest foreign investors. The event provided a good opportunity for Vietnamese and British businesses to seek business and investment partnership opportunities."
"Hanoi will continue taking strong action to improve the business environment and make it more favourable and transparent. In particular, the city will make administrative reforms at all levels to create a driving force to attract investment for future development," he noted.
Regarding trade, Toan said that in 2016, Hanoi's export turnover towards the UK hit $524 million, making up 4.9 per cent of the city's total. The city's import value from the UK hit $142 million, accounting for 0.6 per cent of the total. Import items included materials for animal feed production, farm produce, and pharmaceuticals.
The number of British tourists arriving to Hanoi has also increased in recent years. In the first nine months of this year, the city welcomed 45,347 tourist arrivals from the UK, up 170 per cent on-year.
To date, Hanoi is home to 66 valid British-invested projects with a total investment capital of $416.7 million, ranking 13th among foreign investors in Hanoi.
The projects include 17 in education and training worth $51.56 million in total, 15 others in science and technology worth $4.5 million in total and 10 others in manufacturing and processing worth $26.87 million in total.
Some big British projects include the $302-million green technology city project, British University Vietnam's $35.48-million education project and CHEE WAH Vietnam's $15-million manufacturing project.
Banpu seeking new ideas after coal fails to fire
Banpu Public Co., Ltd., a Thailand-based firm engaged in power production and coal mining, intends to look for more opportunities in developing renewable power in  the central province of Thua Thien-Hue, after its proposed coal-fired thermal power project was deemed incompatible with the national development plan.
Voravudhi Linananda, CEO of Banpu, last week told local authorities that, "With our capacity and strengths as well as with our research, Banpu Group looks forward to co-operating with Thua Thien-Hue to invest in the development of energy resources in the province. We also want to invest in a project for biomass energy production."
The capital for said biomass project has not been revealed, but Banpu's proposed 1,200-megawatt (MW) coal-fired thermal power project had estimated costs of $1 billion. The moves are a part of the company's expansion strategy in Vietnam, Indonesia, and Malaysia
A memorandum of understanding on the development of the power project was signed between Banpu and the province last year, but Thua Thien-Hue officials had expressed the caveat that the Thai investor was only on the first step of conducting research on the project and the final decision would be made after that. The coal-fired project was planned to be built in Phong Dien district, far removed from the province's beach resort and tourism areas, according to the Thua Thien-Hue's Planning and Investment Department.
The project, however, complied with neither the country's power development plan nor the province's power strategy for the 2011-2020 period, with a view towards 2030. But the province could be willing to adjust its plans if the coal-fired project was committed to using innovative technology, providing a high environmental safety level, and choosing a location far removed from its beach resort and tourism areas.
The company's business operations are divided into two segments: coal and power. Between it and its subsidiaries, Banpu operates coal and coal-related
businesses ranging from investment, exploration, and development to production of both thermal and coking coals in Thailand, Indonesia, China, Australia, and Mongolia.
Linananda said, "While ensuring high-efficiency and environmentally-friendly technology is applied in all power plants in the pipeline, all projects in the construction phase will move forward to meet their commercial operation date targets.  This is to underline the company's commitment to creating sustainable value for shareholders and stakeholders, as a leading Asian power generating company."
"The coal price has hit rock bottom. Some mines may encounter high production costs and shut down. We have seen an opportunity, however. We are interested in mines in the same areas as our mines in Indonesia, China, and Vietnam, where the demand for power will rise. Such mines are newly opened or still in the development process," he said.
The company saw investment opportunities through mergers and acquisitions after the coal price bottomed out. In 2000, Banpu acquired 30 per cent of the registered capital in Amata Power (Bien Hoa) Ltd., a power production company in southern Vietnam. It also invested in a wholly owned subsidiary, Banpu Power Vietnam I.
Automobile demand may reach 600,000 by 2025
Annual demand for automobiles in Vietnam may stand at 600,000 units by 2025, the Ministry of Industry and Trade (MoIT) told a conference on the automobile industry and opportunities for manufacturing development in Vietnam on October 12.
A representative from MoIT forecast that the period from 2020 to 2025 will be boom time for automobiles in Vietnam, with demand at some 600,000. It is therefore necessary to develop the domestic automobile industry to reduce imports. If domestic automobile manufacturing can meet demand, especially in vehicles of less than nine seats, import turnover will be cut by $3-7 billion in 2025 and $5-12 billion in 2030.
This would contribute to improving Vietnam's trade balance and macroeconomic stability.
The domestic automobile sector, however, faces a host of difficulties, including tough competition, especially after 2018, when taxes on automobiles imported from ASEAN come down to 0 per cent.
In order to reach government targets, manufacturers and enterprises must link together and cooperate to develop the sector.
To promote the development of the automobile industry and promptly issue practical policies, MoIT expects to cooperate with enterprises to bolster links between manufacturing and assembling enterprises and those manufacturing components, with support from the government through the program to develop support industries, which has been approved by the Prime Minister.
As at the end of 2016, there were about 176 automobile manufacturing and assembling enterprises in Vietnam, with a total capacity of about 500,000 units per year.
Large brands include Truong Hai (Thaco), Toyota, Hyundai, Honda, Chevrolet, Ford, Mitsubishi, and Nissan, which meet about 70 per cent of demand for vehicles of less than nine seats.
Many have developed their capacity, such as Thaco and Hyundai Thanh Cong.
"We have to cooperate through using products from Vietnamese enterprises to boost the domestic automobile sector in the time to come," Mr. Pham Van Tai, Deputy Director of Thaco, said on the sidelines of the conference.
Many opinions were expressed by enterprises and authorities on the status of the industry and solutions to resolve problems. Calls were made to boost the automobile industry and the related support industry.
Vietnam Airlines & PVI Insurance Corporation launch TripCARE
Vietnam Airlines (VNA) and the PVI Insurance Corporation held a launch ceremony on October 11 in Hanoi for TripCARE Comprehensive Travel Insurance.
TripCARE is being provided by the two corporations in cooperation with Chubb Vietnam Insurance and is for passengers of Vietnam Airlines buying tickets on its website for domestic flights or flights departing from Vietnam.
It has a high level of coverage and comprehensive benefits. Personal accident benefits are VND1.6 billion ($70,400) and medical expenses up to VND1 billion ($44,000). In particular, newborns (aged from seven days to two years) traveling with TripCARE customers are insured for free.
Mr. Trinh Ngoc Thanh, Deputy General Director of VNA, told the launch that its cooperation with PVI is one of the steps VNA is taking to understand the needs of customers, aiming to provide products, services, and packages when they purchase tickets. "It also affirms our continuous efforts to conduct safe flights with comprehensive services," he added.
Mr. Truong Quoc Lam, General Director of the PVI Insurance Corporation, said the launch of TripCARE marks the first time a Vietnamese insurer has successfully sold a travel insurance product through an airline's e-commerce site. "The cooperation between two leading brands in Vietnam provides optimal support and safety on every journey for all passengers of Vietnam Airlines," he said.
VNA operates 90 routes with an average of 400 flights a day. It has a fleet of modern aircraft of various types, such as Boeing 787 Dreamliners, Airbus A350-900 XWBs, Airbus A330s, and Airbus A321s.
The PVI Insurance Corporation has developed a retail network nationwide, with 33 member units and 3,000 agents, and leads in the field of major industrial insurance such as aviation, energy, marine, and technical assets.
Chubb is the world's largest asset insurance corporation and is listed on the New York stock market. Chubb Vietnam Insurance provides premium and specialized insurance services in assets, marine, finance, energy, and health.
Bao Viet shares experience in sustainable development goals
Bao Viet shared its experience in deploying sustainable development goals at the Vietnam Corporate Sustainability Forum 2017 (VCSF) on October 10.
Deputy Director of Operations Management and Member of the Steering Committee for Sustainable Development at the Bao Viet Group, Mr. Tran Huy Trung, took part in a session on implementing initiatives for meeting sustainability development goals (SDGs).
He spoke of how to approach and integrate SDGs into the strategic direction of business development and the implementation plan for SDGs in the value chain.
He also made proposals and recommendations to the government and relevant agencies on contributing to the creation of an enabling environment for the achievement of the SDGs in Vietnam.
"Sustainable development is one of the strategic objectives of Bao Viet, in both its business strategy and its practical activities," he said. "Bao Viet wishes to contribute, with the government and related agencies, to bringing sustainable development into reality and at the same time spreading sustainable values among Vietnam's business community."
Mr. Trung also presented the insurer's experience in developing a Sustainable Development Report under the global reporting initiative (GRI) standard.
Compliance with the GRI standard allowed Bao Viet to provide a holistic picture of its key issues and their implications and how they can be managed. Through the discussion of trends, reporting standards and experience sharing during the reporting period, Bao Viet and its partners came to agreement on important issues.
As an active member of the Vietnam Business Council for Sustainable Development (VBCSD) and as Vice Chairman of VBCSD from 2017 to 2020, Bao Viet is keen to deepen its involvement in VBCSD's Executive Board, jointly develop action plans and new initiatives to support and promote sustainable business in Vietnam's business community, and spread sustainable values to the community.
Bao Viet recently received the Silver Award for its 2016 Integration Report and the Best Sustainability Report 2016 at the Annual Report Competition (ARC).
It has also consistently done well in international Annual Report and Sustainable Development Report awards, receiving Top 18 Sustainability Reports Worldwide and four Platinum Awards for the Best Sustainability Report in the Insurance and Financial Services Industry.
Bao Viet is also the first company in Asia to reach the highest position in both Asia's Best Integrated Report and 2016 Best Sustainability Report of the Year from CSR Works International.
South Korea likes Vietnamese squid and octopus
South Korea continues to be the Number 1 importer of squid and octopus from Vietnam, accounting for 34 per cent of total exports, according to the Vietnam Association of Seafood Exporters and Producers (VASEP).
As at August, the country had imported squid and octopus worth $136 million this year, for growth of around 40 per cent year-on-year.  
The total value of squid and octopus exports in the first eight months of this year reached $402 million, up 55 per cent year-on-year. Fresh and frozen squid products accounted for the highest proportion, at over 39 per cent.
Squid and octopus have maintained stable export growth, largely due to the flexibility of exporters in adjusting product structures and markets.
Japan and China are also major importers of Vietnamese squid and octopus, with global production and a favorable exchange rate being factors behind Japan increasing its imports from Vietnam.
It imported over $94 million worth of squid and octopus from Vietnam in the first eight months, an increase of 43 per cent year-on-year.  
China recorded the highest growth in the first eight months, up 182 per cent year-on-year to $30 million.
Vietnam has also become the largest provider of shrimp to South Korea, with a 49 per cent market share. The result comes one year after the free trade agreement between the two countries became effective.
South Korea continues to be Vietnam's largest source of imports, with a nine-month trade deficit of $23.3 billion, up nearly 58 per cent year-on-year, Mr. Nguyen Bich Lam, General Director of the General Statistics Office (GSO), told a press conference on September 29 announcing socioeconomic figures for the first nine months of the year.
Samsung Pay available for Visa cardholders
Samsung Vina and Visa, the world's leading organization in digital payments, have announced that Samsung Pay is now available in Vietnam for Visa cardholders of Vietinbank, Citibank, and Shinhan Bank Vietnam.
According to Visa, Samsung Pay could not be coming at a better time as Vietnamese consumers are well positioned to embrace the arrival of mobile payment technology.
Visa's Consumer Payment Attitudes Survey 2017 shows that 85 per cent of Vietnamese consumers have already made purchases using their mobile phones, driven by smartphone availability (40 per cent) and ease of use (37 per cent) compared to cash.
"We're excited to be providing Visa cardholders with access to Samsung Pay mobile payments in Vietnam," said Mr. Sean Preston, Visa Country Manager for Vietnam, Cambodia and Laos. "Given their strong appetite for new technology we're confident Vietnamese consumers will embrace Samsung Pay as a faster and more convenient payment method."
A secure and easy-to-use mobile payment service, Samsung Pay can be used to make purchases almost anywhere that credit and debit cards are accepted. By incorporating Samsung's proprietary Magnetic Secure Transmission (MST) technology, together with Near Field Communication (NFC), Samsung Pay will be compatible with the majority of existing and new payment terminals.
"We believe that Samsung Pay will add more value to our Galaxy ecosystem and bring consumers' mobile experience to the next level," said Mr. Nguyen Quang Hien Huy, Vice President and Head of IM Business at Samsung Vina. "We are also excited to be partnering with Visa, one of the world's leaders in digital payments, on this project. The partnership reinforces our commitment to maximizing Vietnamese consumers' satisfaction with a payment service that is simple, secure, and available almost everywhere."
Samsung Pay transactions are protected by multiple layers of security, including the Visa Token Service, a technology that replaces sensitive payment account information found on payment cards, such as the 16-digit account number and card expiration date, with a unique code that can be used to safely process payments. By using a token, it ensures actual card account details are not exposed during a mobile payment transaction.
"While speed and ease of use are the major advantages of mobile payments over cash, payment security plays an equally crucial role in ensuing consumers feel confident when they reach for their mobile phones to pay," Mr. Preston added. "This is where our Visa Token Service adds tremendous value to the mobile payments experience, by protecting consumers' payment data during transactions."
KB Securities acquires 99.4% of MSI
Maritime Securities Incorporated (MSI) has been renamed KB Securities Vietnam Co. after an extra-ordinary shareholders meeting on October 9 that saw important proposals approved to meet the needs of its new development strategy, including the election of new Board members and new Board supervisors, and additional legal representatives.
On October 4, the State Securities Commission (SSC) approved MSI removing its foreign ownership limit altogether. South Korea's KB Securities then acquired 29.82 million shares, or 99.4 per cent of MSI, on October 6 for $33.2 million.
Three new Board members were unanimously elected: Mr. Cho Nam Hoon, Mr. Jun Sang Hoon, and Mr. Rho Seung Joon, replacing Mr. Nguyen Duc Hoan, Ms. Doan My Binh and Mr. Thai Anh Tuan.
The new Supervisory Board now consists of Ms. Dinh Thi Lien Huong, Ms. Pham Thi Bich Thuy, and Mr. Oh Cheol Wu, who take over from Ms. Ha Thi Bich Hanh, Ms. Nguyen Thi Minh Lan, and Ms. Bui Thi Bich Thao.
KB Securities is a wholly-owned subsidiary of the KB Financial Group (KBFG), South Korea's leading financial institution with the largest customer base and the most extensive branch network. The group wields solid capital prowess and enjoys strong brand loyalty. KBFG and key member companies such as KB Kookmin Bank, KB Securities, KB Insurance, KB Card, and KB Capital have 33 overseas networks in 13 countries across Asia, Europe, Oceania, and North America.
Born from a merger of KB Investment & Securities and Hyundai Securities in mid-2016, KB Securities has owner's equity of $3.7 billion and enjoys strong support and synergy from KBFG to enable stable and sustainable growth.
The deal to acquire MSI is part of the group's plan to expand its operating network in Southeast Asia, including in Vietnam and Indonesia, and was advised by KOTRA, AWR Lloyd Consulting Limited, and Bae, Kim & Lee LLC.
Cultural exchange attracts over 200 entrepreneurs
More than 200 entrepreneurs from across the country participated in a cultural exchange in Hanoi, on October 11, which was held by the National Assembly's Economic Committee and the Institute of Training and Economic Development (ITED) on the occasion of the Vietnam Entrepreneurs Day (October 13).
During the event, themed "For a stable and prosperous finance-economy", delegates and economic experts focused their discussions on a number of issues and put forward challenges and solutions to Vietnamese businessmen and industrialists in the current period of integration, industrialisation and modernisation, and in anticipation of the strong waves of the fourth Industrial Revolution throughout the world.
In his speech, NA Vice Chairman Phung Quoc Hien praised the participating entrepreneurs and spoke highly of the NA's Economic Committee and the ITED's initiative to organise such a meaningful programme, which helps to encourage businesspersons and industrialists around the country to exert increased efforts and seize any opportunities for economic development, with the motto "Convergence – Enrichment - National Construction".
He called on the entrepreneurs to increase their investment in training highly skilled human resources in order to meet the requirements of the current situation; to accelerate the application of science and technology in production and business; to strengthen the competitiveness of products and brand building; to ensure the rights and health of consumers; to protect the environment; and to make meaningful contributions to social security activities.
Interwoven into the exchange programme were several pieces of musical performances praising and honouring Vietnamese businesspeople, who are the pioneering soldiers in implementing the Party's Doi Moi (Renewal) policy and are an important force in the country's economic development cause.
Under the framework of the programme, the organising committee presented a number of outstanding entrepreneurs with symbolic models of Vietnam's national emblem. Delegates also offered incense to President Ho Chi Minh at the K9-Da Chong Historical Relic Site in Hanoi's Son Tay town.
Focusing on growth model innovation
Vietnam's gross domestic product (GDP) increased by 7.46% in the third quarter of 2017, compared to 6.28% growth rate in the second quarter, helping Vietnam's overall economic output in the first nine months of the year to grow by 6.41%, meaning the growth rate in the fourth quarter must be at least 7.31% if Vietnam is to meet its full-year target of 6.7%.
Contributing to the country's overall economic growth of 6.41% in January-September was the processing and manufacturing industry – which posted a growth rate of 12.8%, the services sector 7.25%, and the agricultural sector 2.78%. International tourist arrivals in Vietnam in the nine months remained high with more than 9.4 million arrivals, a year-on-year rise of 28.4%. The tourism sector hopes to welcome a total of 13 million foreign visitors in 2017. January-September growth was also buoyed by exports, which climbed 19.8% compared to the same period last year (6.7%) to an estimated US$154 billion, exceeding the year's target of 7%.
In order to ensure high and sustainable economic growth, in the last quarter of 2017 as well as in the coming years, it is necessary to focus on growth model innovation with a gradual shift from breadth to further depth in economic development by restructuring all sectors and adopting technological advances in both industry and farming. As the total social investment in the last nine months increased by 12.1% over the same period in 2016, equal to 33.9% of GDP, the goal of reducing the dependence of economic growth on increasing investment capital is still difficult to realise, especially when the efficiency of investment remains slow with the incremental capital output ratio (ICOR) after nine months still about 5.3.
The promotion of economic restructuring should be consistent with the new economic growth model. Although the structure of the economic sector in the past nine months has continued to shift, the pace has been slow. There are no real breakthroughs in the agriculture, forestry and fishery sectors.
The GDP growth in 2017 is positive. However, it is necessary to maintain macroeconomic stability as it is a prerequisite condition for fast and sustainable economic growth. Although inflation remains well controlled with average CPI growth of only 3.79% in the first nine months of 2017, some large balances of the economy remain unstable.
Though State budget collection in January-September reached VND786.3 trillion, equal to 64.9% of the yearly estimate, total expenditure was VND851.5 trillion (61.2% of the yearly estimate), the State budget deficit was estimated at VND65.2 trillion - putting high pressure on the public debt limit. In addition, as of September 20, the credit growth rate reached 11.02% (the rate of the same period last year increased 10.46%) - higher than the growth rate of 9.59% of the total means of payment and the growth rate of 10.08% (the same period in 2016 increased by 12.02%). The capital mobilisation of credit institutions may have potential risks, especially in the context of high bad debt at commercial banks and the credit growth target for the whole year of 21-22%. Meanwhile, Vietnam's export value till September of this year increased by nearly 10% to nearly US$120.7 billion while imports surged 16% to US$124.6 billion. This has pushed the trade deficit to US$3.9 billion.
In order to ensure fast and sustainable economic growth, it is necessary to develop facilitative policies and mechanisms, and create a favourable business environment for enterprises to achieve the set target of 6.7% economic growth this year. In addition to the overall measures, focus should be placed on short and long-term sustainable solutions in order to take advantage of all opportunities and conditions to accelerate growth in 2017, while supporting sustainable development, enhanced competitiveness and innovative growth models. Long-term economic development solutions need to focus on reforming procedures, reducing expenditure and shortening the time for businesses. Breakthroughs are determined to drastically improve the business environment, create confidence and encourage enterprises to invest and expand their production and business operations. The focus is on the private sector, which still has untapped potential for development.
Tollgate operator reports VND253.1 billion revenue in quarter three
HCMC Infrastructure Investment JSC (CII) has put its third quarter revenue from its build-operate-transfer (BOT) road toll stations at VND253.1 billion (US$11.1 million), a year-on-year rise of 23.5%.
If revenue from other tollgates is included, the total in the first quarter would rise to around VND702 billion (US$30.8 million), up 17.5% against the same period last year.
Accumulated revenue from Ca Na tollgate grew 79.1%, the highest growth rate compared to others under CII, helped by a toll fee increase in Ninh Thuan 2 road project since April this year.
In the year to September, the company had seen its accumulated revenue rising 6.9% year-on-year.
More investors have shown interest in infrastructure projects since the Government adopted new investment policy which favors public-private partnership, according to the company. However, CII noted, the number of financially viable projects is small, resulting in fierce competition among companies.
CII has been investing heavily in large-scale projects, and even purchasing some of the projects which have been already up and running since 2016.
The HCMC-based infrastructure developer is expected to need an estimated VND3.4 trillion (US$149.6 million) in the next three or four years to finance its road and real estate projects.
CII is known for major infrastructure projects such as Saigon 2 Bridge and the expanded Hanoi Highway in HCMC. It is drawing up a plan to build an elevated road from the city center in District 1 to Tan Son Nhat International Airport in Tan Binh District. 
Interest rates may dip further in Q4
Interest rates could fall in the fourth quarter of 2017, according to a National Financial Supervisory Commission (NFSC) report on Vietnam's economic and financial performance in the first nine months.
The Dollar Index, low inflation, good G-bonds sales, high credit growth and bad debt settlements are the key factors which can send interest rates down, according to Tuoi Tre Online newspaper.
Inflation might be curbed at below 4%. Government bond sales have also met over 80% of the full-year plan and the current bond yield is 1-1.5% lower than in the beginning of 2017.
Bad debts are being settled in line with the National Assembly's Resolution 42. Data of NFSC shows that as of late September, loans had increased 11.5% compared to late 2016.
Medium and long-term loans continued to drop and accounted for 54% of the total.
Real estate investment and construction loans fell slightly from 17.1% in December 2016 to 16.8% in late September 2017. Particularly, construction loans accounted for 10.3% while real estate credit made up 6.5% of the total.
The proportion of loans for household production rose sharply from 11.2% in late 2016 to 15.7% in late September 2017.
Loans for agro-forestry-fisheries and retail declined.
According to NFSC, capital mobilization in January-September grew 1.2% compared to late 2016. As of September, the average Vietnam dong deposit rate edged down 0.03-0.05% per year compared to late June 2017 and remained unchanged from early 2017.
Loan interest rates fell slightly, especially for priority sectors. Interest rates inched down 0.5-1% per year for priority sectors and 4-5% per year for prestigious clients.
Enterprises need flexibility to handle PR crises
 Vietnamese businesses should be flexible when they have to cope with public relations (PR) crises, said Duong Thu Huong, PR director of IDG Ventures Vietnam and CEO of Interactive Co Ltd, Forbes Vietnam.
Speaking at a seminar on experiences in solving PR crises jointly held by the Saigon Times Group and the 2030 Businessmen Club on October 10, Huong and other participating business executives agreed that social media crises could occur anytime due to a variety of reasons.
TTT Corporation general director Le Tri Thong said one crisis is different from another, so solutions to each crisis are only workable in that particular event.
There are 14 principles for dealing with PR crises, of which 13 are often resorted to by businesses worldwide. In a developing country like Vietnam whose legal system is insufficient, so the 14th principle of flexibility is equally important.
Enterprises should immediately admit mistakes, sincerely apologize to customers, and let the full story known publicly before the press or rivals break the news.
Another principle is that companies caught in PR crises must listen to all sides, including rivals, partners, agencies and media, especially social networks, to develop sound coping strategies.
It is crucial to prepare contingency plans for staff to contribute to mitigating damage. Large corporations may have special teams dedicated to managing communication crises. Communication crises may cost companies material and human assets, so they should practice prudence. Enterprises must avoid reckless words and actions.
Huong said many big firms in the world would not choose to hold press conferences to discuss their mistakes as they might not give goods responses to all the tough questions asked, which would make matters worse.
Companies should employ consultants, experts or lawyers to help them sort out problems and solve them.
Corporate culture and leadership's prestige will help keep the public confidence intact. Therefore, it is essential to develop corporate culture as soon as the company is established.
Businesses should stand ready to deal with any crises.
Ha Xuan Anh, chairman of Son Viet Garment JSC, said his company will handle PR crises with a strong sense of responsibility and sincerity.
Many businesses have become more mature since they went through PR crises, Huong added.
VNA/VNS/VOV/SGT/SGGP/TT/TN/Dantri/VNEVET