Last update: 18:18 | 11/10/2017
Central bank issues plan to develop card payment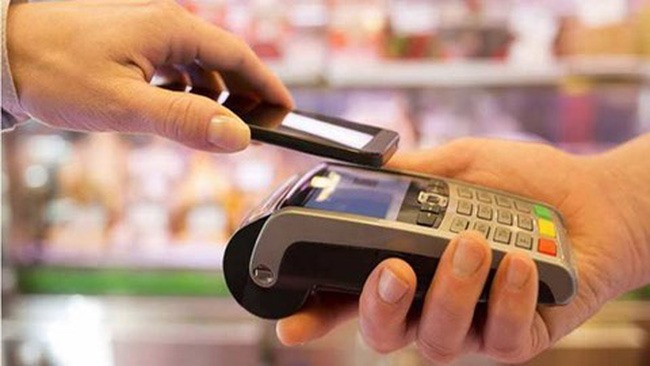 The State Bank of Viet Nam has issued a plan to develop card payment using card readers at points of sale (POS) and mobile points of sale (mPOS) from 2017 to 2020.
The plan is aimed at boosting the non-cash payment in Viet Nam, as approved in Decision 2545/QD-TTg dated December 30, 2016, by the Prime Minister.
Accordingly, the ratio of cash to total payment instruments will be below 10 per cent by the end of 2020.
The plan sets a target of gradually increasing the number and value of card payment transactions using card readers. By 2020, the whole market will have over 300,000 card readers installed at POS to process around 200 million transactions per year.
E-payment in e-commerce will be also promoted to achieve the targets of having 100 per cent modern supermarkets, shopping malls and distribution centres installed with card readers by 2020, which would enable consumers to make non-cash payments when purchasing goods.
By 2020, 70 per cent of electricity, water, telecommunications and communications service providers will accept non-cash payment of charges, while 50 per cent of individuals and households in major cities will use non-cash payment instruments in their shopping and consuming activities.
The percentage of people aged over 15 years having bank accounts will be also targeted to increase to at least 70 per cent by the end of 2020. 
Financial stocks lift market
Shares closed on Monday's trade on a positive note on the two national stock exchanges as the banking, securities and steel sectors continued to support the market.
The VN-Index on the HCM Stock Exchange edged up 0.14 per cent to close at 808.96 points. Viet Nam's key stock index increased just 0.4 per cent last week.
On the Ha Noi Stock Exchange, the HNX-Index also picked up 0.71 per cent to end at 108.75 points, expanding last week's gain of 0.3 per cent.
The market has continued its uptrend on the two exchanges but moved sideways with alternate ups and downs in recent weeks.
Financial and steel stocks remained buoyant and the main supporter for the market, while construction and building materials, oil and gas and healthcare were the main factors on the downside.
"The market fluctuation with the differentiation of stocks and sectors showed that the general investment sentiment is mixed ahead of third quarter business results," analysts at BIDV Securities Co wrote in a note.
The banking sector showed positive results.
All 10 listed banks gained value on the two exchanges, of which the Big Four (including four largest banks by market value and total assets) – Vietcombank (VCB), Vietinbank (CTG), BIDV (BID) and Military Bank (MBB) – perked up by less than 1 per cent.
In addition, good prospects for the steel sector also helped leading companies such as Hoa Phat Group (HPG), Hoa Sen Group (HSG) and POM Steel Corp (POM) rally. HPG and POM increased by over 1 per cent while HSG inched up 0.2 per cent.
Big securities companies, including Saigon Securities Inc (SSI), HCM Securities (HCM), VNDirect Securities (VND), MB Securities (MBS) and Sai Gon-Ha Noi Securities Co rose between 0.6-5 per cent.
On the defensive side, the biggest stocks that weighed on the market included VinGroup (VIC), down 1.1 per cent; Petrolimex (PLX), down 0.8 per cent; PetroVietnam Drilling and Well Services (PVD), down 1.1 per cent; and PV Gas (GAS), down 0.4 per cent.
According to Bao Viet Securities Co, sideways movement may still be seen in coming sessions but with the upcoming third-quarter earnings results of some listed companies, the market is unlikely to tumble in the short term.
Liquidity was positive with a total of over 226 million shares worth a combined VND4.4 trillion (US$194 million) being traded in the two markets, up 32.2 per cent in volume and 42 per cent in value compared to last week's daily trading. 
Kido Frozen Foods to pay 14% dividend
Kido Frozen Foods (KDF) has declared a dividend of 14 per cent to shareholders for 2017.
It will be paid next month.
KDF has 56 million outstanding shares following its listing 56 on UpCom late last month.
It reported pre-tax profit of VNĐ168 billion ($7.3 million) for the first nine months of this year.
The company remains the leader of the in-cream market with a share of 40 per cent.
KDF is a subsidiary of giant food producer KIDO Group and owns the popular Merino and Celano ice-cream brands.
The company plans to produce a new line of frozen products like sausages, canned foods and processed foods. 
VAMC increases rates on bad debts it purchased
The Việt Nam Asset Management Company (VAMC) has announced increases in reference interest rates on the bad debts in Vietnamese đồng and US dollar it purchased.
Accordingly, the reference rate for debts for the Vietnamese đồng is 9.9 per cent and 4.9 per cent for debts in United States (US) dollar per year. These rates are 0.3 percentage points and 0.5 percentage points higher than the rates applied in 2016.
The reference interest rate for debts in euro, however, is lower by 0.1 percentage points to 4.7 per cent.
The VAMC's interest rates on bad debts are calculated based on the average 12-month deposit rates of four commercials, namely Agribank, BIDV, Vietinbank and Vietcombank.
Latest statistics showed that VAMC bought a total sum of more than VNĐ266.3 trillion (US$11.7 billion) of bad debts as of the end of August.
The company expected to buy additional VNĐ35 trillion to VNĐ40 trillion worth of bad debts from credit institutions in the remaining months of this year.
The VAMC now has a charter capital of VNĐ2 trillion which is planned to increase to VNĐ5 trillion in 2018 and VNĐ10 trillion in 2020.
According to a recent report by the National Financial Supervisory Committee, the bad debt ratio of Việt Nam was at 2.9 per cent as of September.
Credit institutions handled VNĐ47 trillion of bad debts in January-July, 31.7 per cent of which was sold to the VAMC.
Ninh Thuận revokes licences of delayed projects
Southern Ninh Thuận Province People's Committee has revoked licences of six projects and cancelled investment plans of five other projects in the province.
Phạm Văn Hậu, vice chairman of the provincial People's Committee, said it has established a working team including staff at the departments of Planning and Investment, Natural Resources and Environment, and Agriculture and Rural Development, and leaders of districts to follow progress and address shortcomings of delayed projects.
In addition, the province also undertook inspections to deal with snail-paced works and review reasons for delay of projects.
By the end of September, Ninh Thuận had 324 projects with total registered capital of more than VNĐ63 trillion (US$2.77 million).
However, a report of the provincial Department of Planning and Investment showed that there were 62 snail-paced projects while another 12 were facing difficulties.
The revoking of licences of delayed projects has shown the province's determination to avoid wastage of land resources.
Quang Tri prioritises highly-efficient projects in IP, EZ
Central Quang Tri province is prioritising investors who want to invest in highly efficient projects in local industrial parks and economic zones, particularly in Quang Tri Southeast Economic Zone.
The province is having its eyes on wind and solar power projects, as well as ports and airports.
According to Vice Chairman of the provincial People's Committee Nguyen Quan Chinh, Quang Tri has shifted towards large-scale and high-tech projects, restricting small-scale projects that take up too much land, or may face delays or harm the environment.
It is calling for investment in Quang Tri Southeast Economic Zone and Lao Bao special economic zone to take advantage of the East-West Economic Corridor, Chinh said.
The province has also worked to improve local investment policies and enhance its competitiveness and business climate. It has authorised 27 projects worth a total 4.5 trillion VND (198 million USD) in the first nine months of 2017. Chief among these include the water supply facility in the Southeast Economic Zone, Huong Phung 1 wind power plant and Huong Phung and La To hydropower plants.
Quang Tri is currently home to 14 foreign direct investment projects with the total investment of 46.65 million USD.
Sacombank launches Visa Platinum Cashback credit card
Sài Gòn Thương Tín Commercial Joint Stock Bank (Sacombank) on Tuesday (October 10) began issuing the Visa Platinum Cashback credit card with unlimited cashback of up to 5 per cent on all transactions.
Customers applying for the card between October 10 and December 31 can get 100 per cent cashback for their first transaction worth VNĐ500,000 or above.
Card holders can get a maximum of VNĐ3 million cashback for transactions in foreign countries within 60 days from the activation of the card, and up to VNĐ500,000 for online transactions within 30 days.
They can get another VNĐ500,000 if their total online spending within 30 days is worth VNĐ10 million or more.
Card holders will enjoy regular cashback of 3 per cent for spending abroad and world-wide travel insurance with a coverage of VNĐ10.5 billion.
RoK wants to invest in waste treatment in Can Tho
The Korean Institute of Industrial Technology (KITECH) wants to study cooperation opportunities in the Mekong Delta city of Can Tho to build waste treatment plants.
Director of KITECH Gun Young Jung expressed the wish at a working session with Vice Secretary of the municipal Party Committee Pham Gia Tuc in Can Tho on October 10.
He said the RoK has new cutting edge and environmentally friendly waste treatment technology which is suitable with the economic development orientation and climate change adaptation in the Mekong Delta.
Waste will be recycled and reused or changed into energy to serve local daily activities, he added.
Tuc hoped to soon cooperate with the KITEC in this field and noted that the city discharges 700 tonnes of waste on a day while the waste treatment system could deal with only 400 tonnes per day.
He asked the RoK to expand investment in medical and solid waste treatment.
Can Tho has available 15 hectares of land for the construction of waste treatment plants, Tuc said, adding that the city welcomes investors using modern and environmentally friendly technologies.
Local authorities will provide the maximum support in terms of administrative procedures, tax incentives and land usage for investors, he affirmed.
One-billion-VND houses lead HCM City's real estate market
The high-end property segment in Ho Chi Minh City is experiencing a lull, with supply exceeding demand whilst cheap apartments and land lots priced around 1 billion VND (44,000 USD) are in high demand, mostly from graduates and newlyweds.
About 95 percent of real estate put up for sale in recent months were sold. Heaven Cityview project in District 8, offering apartments from 900 million VND (39,600 USD), nearly sold out its products. Meanwhile, thousands of customers intend to purchase homes valued below 1 billion VND at Tecco Town Complex in Binh Tan district. Citi Esto project in District 2 providing apartments from 1.2 billion VND (52,800 USD) has also received a positive response from customers.
Regarding the land lot segment, Kim Oanh Group has sold 90 percent of lots in its SingaCity urban area project in District 9. The group plans to offer some 2,000 land lots and houses to meet demand.
According to Le Hoang Chau, Chairman of the Ho Chi Minh City Real Estate Association, the city's property market will undergo a drastic shake-up to handle disparity between demand and supply in the next few years. The market has seen major changes with a switch from high-end projects to mid and low-end segments.
A survey from the CB Richard Ellis Vietnam Co., Ltd (CBRE) showed that 7,600 real estate units were put up for sale in the third quarter, 60 percent in the mid-end segment.
DKRA company, a property service supplier, reported that more than 4,800 mid-and low-end apartments were purchased in the third quarter. Meanwhile, 80 percent of the 1,500 land lots for sale were snapped up by customers in the period.-VNA
Japanese electronics manufacturer to build third plant
The TNI Holdings Việt Nam Group and Japanese Meiko Electronics Việt Nam Company agreed to construct the third electronics plant in Việt Nam.
They signed a memorandum of understanding (MoU) to this effect on Monday.
Under the MoU, Meiko Electronics Việt Nam Company, one of the world's leading manufacturers of printed circuit boards and electronic assembly, would lease land area and infrastructure in Quang Minh Industrial Park (IP) belonging to TNI Holdings Việt Nam, in Hà Nội's Mê Linh District, for the establishment of its plant with a total investment of some US$50 million.
The Japanese investor chose TNI Holdings Việt Nam due to its integrated and modern infrastructure, competitive policy environment and high quality services.
In 2006, Meiko Electronics Group cooperated with TNI Holdings Việt Nam (former Việt Nam Investment Development Group – VID) to build its first electronics plant in Thạch Thất Industrial Park. The plant used to be one of 10 largest FDI projects and the largest foreign electronics production project in Việt Nam at that time.
Speaking at the signing ceremony, Nguyễn Phi Hùng, TNI Holdings Việt Nam's chairman, said over the past 10 years, the group has seen the growth of Meiko Electronics Việt Nam Company at its IP.
"The choice of the company to build the third plant has shown strong confidence in TNI Holdings Việt Nam," Hùng said.
The group has been one of the leading IP developers in the country by attracting more than 400 investors into its IPs, including 300 foreign ones from Japan, mainland China, the US and Germany, as well as South Korea, Thailand, Hong Kong and Taiwan.
Currently, it has 10 large scale IPs and residential areas, with a total area of 2,300ha. Its IPs have attracted more than $3 billion FDI capital with big brand names in the world, including Honda, Sumitomo Wirings, Marumitsu and Meiko, as well as Brother, Hitachi, Terumo and Ajinomoto, in addition to Pegasus (Japan), Cargill (the US) and CP (Thailand).
The group has created jobs for thousands of people, contributing to the State budget in provinces where it has IPs.
TNI Holdings Việt Nam plans to expand its current IPs such as Quế Võ 3 (Bắc Ninh), Đồng Văn 3 (Hà Nam), Bỉm Sơn (Thanh Hóa) and Minh Quang (Hưng Yên) and to build new ones in Hưng Yên, Hải Dương and Vĩnh Phúc provinces in the future to meet the demand from the increasing number of tenants.
Vietnam seeks ways to boost fruit, veggie exports to EU
Experts and businesses discussed ways to maintain and expand EU markets for Vietnam's fruit and vegetable exports at a seminar in Ho Chi Minh City on October 9.
The EU is a potential market for fresh fruit and vegetables of Vietnam, but the country could face a decline in export revenue and stricter supervision from the EU if it fails to meet food safety requirements.
Le Thanh Hoa, Deputy Director of the Vietnam Sanitary and Phytosanitary Notification Authority and Enquiry Point under the Ministry of Agriculture and Rural Development, said in 2013, the EU suspended imports of fresh fruit and vegetables from Vietnam after detecting plant quarantine problems. 
Although improvements by Vietnamese ministries, sectors and businesses have helped fresh fruit and vegetables be re-exported to the EU, shipments to this market have yet to live up to expectations, he noted.
In the first nine months of 2017, the country recorded more than 2.6 billion USD in total exports and 1.1 billion USD in imports of fruit and vegetables, respective rises of 44.2 percent and 78.2 percent year on year.
Asian markets remained the top destination for the Vietnamese products, followed by the EU, which has imported 680,000 tonnes of vegetables, fruit, flowers and other agricultural products since the beginning of 2017.
Despite good export growth, Vietnamese businesses may face the barriers of safeguard measures, plant protection and quarantine laws, and food safety standards.
Ruggero Malossi, a specialist of the European Trade Policy and Investment Support Project (EU-MUTRAP), said the EU has high requirements for food safety, and that's why the production of fresh agricultural products must comply with legal regulations.
Among the main requirements, exporters must apply a concrete quality control process during processing and packaging. They must also ensure their products' traceability.
Vietnam uses the hazard analysis and critical control points (HACCP) approach to ensure quality and safety in the fishery sector. It should also apply HACCP on the production, harvesting and processing of fresh fruit and vegetables, Malossi said.
Meanwhile, Dam Quoc Tru, a Vietnamese specialist of EU-MUTRAP, asked ministries and sectors to build an appropriate strategy for each market and provide convenient transportation services for Vietnam's strong products like dragon fruit, longan, rambutan, grapefruit and mango. They should also involve the private sector in inspection and quarantine.
Meanwhile, businesses have to develop concentrated areas for producing key export products, a prerequisite for sustainable agricultural production. It is also necessary for them to stay updated on quarantine, preservation and processing technologies to meet the growing requirements of importers, Tru added.
Four estate agents to distribute FLC Hạ Long project
FLC Group and four property agents -- Diamond Invest Holdings, Mland, CEN Land and Lộc Sơn Hà -- on Monday signed a co-operation agreement for the sale of the FLC Hạ Long project.
Speaking at the signing ceremony, Đàm Ngọc Bích, FLC Group's deputy general director, said among all the products in the first phase of the project, FLC Halong Bay Golf Club and Luxury Resort has been most welcomed in the real estate market of north-eastern Quảng Ninh Province.
"It was the reason we continue to introduce the condotels and villas in the second phase through the four agents. They have experience in the sale of many property projects in the northern region, especially in Quảng Ninh," she added.
Tô Chí Công, vice chairman of Diamond Invest Holdings Company (DIH), said FLC Hạ Long is one of the pilot projects for the condotel and golf course villas in the north. The project is expected to bring high profits to investors.
Nguyễn Thị Dung, marketing director of CEN Land, said FLC Grand Hotel Hạ Long has been one of few projects offering committed profit of 12 per cent per year, which was much higher than the average of 8-10 per cent of almost condotel projects nationwide.
She added that the profit from a condotel in the project could be VNĐ20-50 million per month with room capacity of 30-60 per cent.
Beginning construction in March 2016, the FLC Hạ Long complex is scheduled to officially launch in 2018.
It was designed and constructed by famous constructors, including Schmidt Curley (the US), R Design Worldwide (Singapore), S Design (Spain), Flagstick (the United States) and Việt Nam's FLC Faros Company.
The complex has a 1,000sq.m five star swimming pool, restaurants, hotel, an international convention centre able to receive 1,500 guests, a 100ha golf course and an entertainment area.
Its golf course came into operation in June with several big competitions such as Hà Nội Notary Golf Challenge 2017 and KLF Golf Tournament 2017 being held.
Bac Giang expands industrial parks
The northern province of Bac Giang will plan the development of new industrial parks (IPs) in the locality from 2020 – 2030, according to Tran Vu Thong, Vice Head of the province's industrial parks management board.
The new IPs in the vision include the Nham Son, Yen Lu and Xuan Phu – Huong Gian in Yen Dung district; Hop Thinh in Hiep Hoa district; Bac Lung and Kham Lang – Yen Son in Luc Nam district; and the Tan Thinh – Quang Thinh – Huong Son in Lang Giang district.
The management board has proposed that the province adds the IPs to the provincial IP development master plan and submit it to the Prime Minister for approval.
Thong also noted the need for specific measures to attract experienced and financially capable investors to develop infrastructure of the IPs. At the same time, the province should invest in infrastructure facilities outside IPs to facilitate investment mobilisation.
The People's Committees in districts where the future IPs are located are urged to work harder in land clearance for the IPs.
Located 50 km to the northeast of the capital city of Hanoi, Bac Giang has huge potential for developing electronics, electricity appliances, agricultural product processing, mechanical engineering, chemicals, and construction materials.
The province is currently home to six IPs, namely Dinh Tram, Quang Chau, Song Khe – Noi Hoang, Van Trung, Viet – Han (Vietnam – Republic of Korea) and Hoa Phu.
The Dinh Tram IP has 119 investment projects, including 61 domestic ones, worth 1.73 trillion VND (76.12 million USD), and 58 foreign ones worth over 325 million USD, while the Quang Chau IP has 18 investment projects, 16 of which are foreign-invested. The Trung Van IP houses 54 projects, and the Song Khe – Noi Hoang has 33.
Land clearance and infrastructure construction are underway in the Hoa Phu and Viet – Han IPs.
The province's industrial production value in the first nine months of this year reached 78.36 trillion VND (3.44 billion USD), up 32.8 percent year on year.
Achievements accomplished after one-year since implementation of the Vietnam-Eurasian Economic Union Free Trade Agreement (VN-EAEU FTA) are opening up new opportunities for promoting cooperation between Vietnam and the region, with great potential for development.
The EAEU, including five member countries, namely Russia, Belarus, Kazakhstan, Armenia and Kyrgyzstan, began operations on January 1, 2015. The EAEU is a large market of 183 million people which is connected based on the free movement of goods, capital, services and people.
Since its establishment, more than 50 countries and international organisations have officially announced their readiness to sign cooperation agreements with the EAEU and more than 30 countries have intended to sign a FTA with this union. Vietnam is the first partner to sign a FTA with the EAEU.
At a press conference held in Hanoi on October 5 to mark one year since the FTA took effect, Dang Hoang Hai, director of the European Market Department under the Ministry of Industry and Trade, said that the EAEU selected Vietnam to sign the FTA as the two sides have a long-lasting relationship in addition to the large number of Vietnamese people who study in the EAEU member countries.
EAEU member countries also acknowledge Vietnam as an open country. Vietnam has signed many FTAs with other partners across the world, demonstrating the activeness and economic integration of Vietnam.
Minister in charge of Customs Cooperation of the Eurasian Economic Commission (EEC), Mukai Kadyrkulov said "The EAEU and Vietnam are always connected by close, friendly relations and EAEU member countries consider Vietnam as a reliable strategic partner in the Asia-Pacific region".
According to the EEC, EAEU's exports to Vietnam from October 2016 to July 2017 was estimated to increase by over 32% compared to the same period in 2015-2016 while Vietnam's exports to the EAEU countries went up by 28%.
EAEU and Vietnamese enterprises have also found new markets for several types of goods, including radio engineering devices produced in Vietnam and paper and cardboard produced in the EAEU.
Vietnam's radio engineering devices are preferred by consumers in the five member countries of the EAEU, with exports of the devices from Vietnam to the EAEU increasing over 900 fold. Meanwhile, the import of paper and cardboard from the EAEU to Vietnam has increased by more than 2,700 fold.
According to Mukai Kadyrkulov, the balanced growth in import and export activities shows that the FTA between Vietnam and the EAEU was built based on the principles of equality and transparency.
However, statistics from the Ministry of Industry and Trade show that enterprises from both sides have yet to take full advantage of the agreement.
Vietnam has only taken advantage of 20-30% of incentives from the FTA and the same to member countries of the EAEU. Therefore, authorised agencies are making efforts to encourage enterprises from the two sides to actively learn about the markets of each other.
Mukai Kadyrkulov said that more joint ventures between Russia and Vietnam and between Belarus and Vietnam will be established in Vietnam in the areas of machinery manufacturing and goods production in order to meet the demands of ASEAN countries and create more jobs for Vietnamese people.
In addition, customs agencies of the EAEU and Vietnam are working to implement information exchange mechanisms on goods and transport vehicles between countries signing the FTA.
Achievements gained in the past year are only the beginning of greater incentives for enterprises in the future, which are expected to create new cooperation opportunities and the motivation for expanding partnership between enterprises of the two sides.
Focusing on growth model innovation
Vietnam's gross domestic product (GDP) increased by 7.46% in the third quarter of 2017, compared to 6.28% growth rate in the second quarter, helping Vietnam's overall economic output in the first nine months of the year to grow by 6.41%, meaning the growth rate in the fourth quarter must be at least 7.31% if Vietnam is to meet its full-year target of 6.7%.
Contributing to the country's overall economic growth of 6.41% in January-September was the processing and manufacturing industry – which posted a growth rate of 12.8%, the services sector 7.25%, and the agricultural sector 2.78%. International tourist arrivals in Vietnam in the nine months remained high with more than 9.4 million arrivals, a year-on-year rise of 28.4%. The tourism sector hopes to welcome a total of 13 million foreign visitors in 2017. January-September growth was also buoyed by exports, which climbed 19.8% compared to the same period last year (6.7%) to an estimated US$154 billion, exceeding the year's target of 7%.
In order to ensure high and sustainable economic growth, in the last quarter of 2017 as well as in the coming years, it is necessary to focus on growth model innovation with a gradual shift from breadth to further depth in economic development by restructuring all sectors and adopting technological advances in both industry and farming. As the total social investment in the last nine months increased by 12.1% over the same period in 2016, equal to 33.9% of GDP, the goal of reducing the dependence of economic growth on increasing investment capital is still difficult to realise, especially when the efficiency of investment remains slow with the incremental capital output ratio (ICOR) after nine months still about 5.3.
The promotion of economic restructuring should be consistent with the new economic growth model. Although the structure of the economic sector in the past nine months has continued to shift, the pace has been slow. There are no real breakthroughs in the agriculture, forestry and fishery sectors.
The GDP growth in 2017 is positive. However, it is necessary to maintain macroeconomic stability as it is a prerequisite condition for fast and sustainable economic growth. Although inflation remains well controlled with average CPI growth of only 3.79% in the first nine months of 2017, some large balances of the economy remain unstable.
Though State budget collection in January-September reached VND786.3 trillion, equal to 64.9% of the yearly estimate, total expenditure was VND851.5 trillion (61.2% of the yearly estimate), the State budget deficit was estimated at VND65.2 trillion - putting high pressure on the public debt limit. In addition, as of September 20, the credit growth rate reached 11.02% (the rate of the same period last year increased 10.46%) - higher than the growth rate of 9.59% of the total means of payment and the growth rate of 10.08% (the same period in 2016 increased by 12.02%). The capital mobilisation of credit institutions may have potential risks, especially in the context of high bad debt at commercial banks and the credit growth target for the whole year of 21-22%. Meanwhile, Vietnam's export value till September of this year increased by nearly 10% to nearly US$120.7 billion while imports surged 16% to US$124.6 billion. This has pushed the trade deficit to US$3.9 billion.
In order to ensure fast and sustainable economic growth, it is necessary to develop facilitative policies and mechanisms, and create a favourable business environment for enterprises to achieve the set target of 6.7% economic growth this year. In addition to the overall measures, focus should be placed on short and long-term sustainable solutions in order to take advantage of all opportunities and conditions to accelerate growth in 2017, while supporting sustainable development, enhanced competitiveness and innovative growth models. Long-term economic development solutions need to focus on reforming procedures, reducing expenditure and shortening the time for businesses. Breakthroughs are determined to drastically improve the business environment, create confidence and encourage enterprises to invest and expand their production and business operations. The focus is on the private sector, which still has untapped potential for development.
HCMC to complete removal of Saigon sea port this year
Saigon Port Company is removing wharfs and other properties in the port's area and the removal is expected to complete by the end of this year, according to a representative from the HCMC Department of Transport.
After site clearance is complete, the area will be handed over to Ngoc Vien Dong Company, investor of the technical infrastructure construction project at Nha Rong-Khanh Hoi port.
The department has proposed the city People's Committee to consider approving the policy of keeping part of wharfs to receive international passenger vessels to the city.
According to the Prime Minister's decision, five wharfs in the Saigon river must be removed before 2010 comprising Tan Cang Saigon (Saigon Newport), Ba Son shipbuilding plant, Nha Rong-Khanh Hoi, Tan Thuan and Rau Qua (vegetable fruit).
However, the wharf removal has been very low for the last ten years. So far, only Tan Cang Saigon has been removed since 2014.
DWG contributes 42 percent capital to establish B2X Vietnam
Digital Worldplace Group (DWG) has just approved cooperative plan with B2X Care Solutions (Singapore) and Care Solutions GmbH (Germany) to establish B2X Vietnam Corp.
As if plan, B2X Vietnam has its chartered capital of up VND 6billion. Of these, DWG contributed VND 2.95billion, equal to 49.1 percent capital. B2X Vietnam will operate in consulting, supplying software services, IT… aiming to implement the VND 40 billion project.
For the first half of this year, DGW announced its revenue reached VND 1,6trillion with after-tax profit of VND 29billion and being completed 52.7 percent of its yearly target.
Foreign printing and packaging equipment providers eye Vietnamese market
Foreign providers of machinery and equipment in the packaging and printing industry are increasingly promoting their products to penetrate the Vietnamese market, as seen at the international exhibition Vietnam Print Pack 2017 that kicked off in HCMC on October 5.
The exhibition is taking place at the Saigon Exhibition and Convention Center in District 7, featuring 480 booths of 300 enterprises from 11 countries and territories.
Hank Kan, business and marketing director of SBL Machinery Co Ltd., a Taiwanese manufacturer and provider of packaging machinery, said the company's products are shipped to European countries for many years. However, SBL has recently seen great opportunities for selling its products to Vietnam, as the country is attracting heavy foreign investments while its production is posting strong growth.
Hank Kan said the company wants to promote its products to local producers, and finds a major distributor who will represent SBL in the Southeast Asian nation.
He believed at least Vietnam-based Taiwanese companies will order SBL's products, adding that producers from other countries may do so, as the company's products are of high quality and competitively priced.
This is the first time Konia Minolta Business Solutions Vietnam has exhibited its products – digital label printers and inkjet printers - at the annual event. Le Minh The, its head of business and marketing division, said the printing products manufactured on the latest technology is very easy to use, helping enterprises save time.
Nguyen Van Dong, chairman of the Vietnam Printing Association, said printing and packaging exhibitions in the Asia have recently attracted many exhibitors and visitors, as Southeast Asian nations have achieved strong growth in the printing industry, especially the packaging segment.
Many enterprises told the Daily that Vietnam holds strong appeal to worldwide producers to build factories here, as the country has competitive advantages in terms of market and manpower. Meanwhile, domestic producers seeking to enhance competitiveness have no way but to improve their production efficiency.
Besides, the demand for consumer goods, packaged foods, bottled beverages and pharmaceuticals is rising, leading to an increase in packaged products.
Industry insiders said packaging is the decisive factor behind customers' decision to purchase a product. Customers are more demanding, requiring packaging to be not only convenient but also safe and environmentally friendly. Therefore, enterprises in the packaging sector that want to survive should apply advanced technology.
According to foreign experts and companies, the local packaging sector has yet to develop. Thus, many providers of machinery and equipment for producers have realized considerable potential and major advantages in Vietnam. This is why they have joined exhibitions, and some have set up their offices in order to provide their products in a timely manner.
The organizers of Vietnam Print Pack 2017 – the Vietnam National Trade Fair and Advertising Company (Vinexad) and Yorkers Trade and Marketing Service Co Ltd. - said the local packaging and printing industry has developed quite high, with average expansion at around 15-20% of production value. Hence, the domestic market is quite appealing to international machinery and equipment providers.
The 17th expo will wrap up on Sunday.
Ben Tre targets sustainable agricultural development
The Mekong Delta province of Ben Tre has replaced rice by coconut, fruit trees, vegetables and aquaculture in an area of 7,548 hectares under a project to restructure the local agriculture. 
Nguyen Van Buoi, Deputy Director of the provincial Department of Agriculture and Rural Development, said that 3,206 ha of sugarcane have also been transferred to coconut planting. 
Thanks to the restructuring, the average income of a local farmer increased from 21 million VND (924 USD) in 2013 to 32 million VND (1,408 USD) in 2016, he said. 
The province has rolled out several models which combine production with consumption, Buoi said, citing the clean rice value chain model of the Thach Phu Rice-Shrimp Cooperative which covers nearly 100 ha and produces about 5 tonnes of rice per ha. 
According to the provincial Department of Agriculture and Rural Development, agricultural development in Ben Tre has remained unstable and unsustainable in the context of climate change. 
Along with complex developments of natural disasters and diseases, mechanisms and policies connecting businesses and farmers have failed to prove effective, the department said. 
Vo Thanh Hao, Secretary of the provincial Party Committee, said Ben Tre will improve the efficiency of communications work to raise public awareness of agricultural restructuring, develop and complete the value chain and build new-style rural areas. 
At the same time, the province will upgrade and complete technical infrastructure in service of production, and review and adjust agricultural production planning adaptable to climate change, he said. 
More attention will be paid to scientific and technological applications in production, with priority given to high-tech, and building geographical indications and labels for a number of major local agricultural products, Hao said. 
Ben Tre will also develop plants, livestock breeds and fisheries adaptable to climate change, intensify trade promotion, synchronously implement mechanisms and policies to promote production and business in a stable and environmentally friendly manner, create favourable conditions for farmers and businesses to access preferential, scientific, technological and credit loans, and improve the quality of human resources in rural areas, he added.
Forum looks to scale up business solutions to sustainability challenges
The Vietnam Corporate Sustainability Forum 2017 took place in Hanoi on October 10, seeking to scale up business solutions to sustainability challenges.
Opening the event, Chairman of the Vietnam Chamber of Commerce and Industry (VCCI) Vu Tien Loc said as one of the 193 UN member countries adopting the 2030 Agenda with 17 sustainable development goals (SDGs), Vietnam has asserted its vision and resolve to, together with the world, follow the path to green growth. Its Government has issued a national programme on sustainable development and set up the National Council for Sustainable Development.
VCCI also established the Vietnam Business Council for Sustainable Development, which gathers hundreds of enterprises volunteering to act as the core of sustainable business models in the country.
Loc cited the "Better Business, Better World" report issued by the Business and Sustainable Development Commission as saying that sustainable business opportunities to realise the Global Goals in the four surveyed economic systems could create a market worth an estimated 12 trillion USD by 2030. Achieving the Global Goals in these four systems could create 380 million new jobs by 2030, almost 90 percent of them in developing countries.
The report also said Asia will have the most business opportunities created by sustainable development, he noted, describing this as a wonderful momentum for Vietnamese firms to follow a more sustainable and humane development path.
Kamal Malhotra, UN Resident Coordinator in Vietnam, said the business community should be considered an important part of the economy, not just a channel to mobilise capital. 
It is necessary to boost financial sources, improve manpower quality and devise cooperation solutions to promote the development of private businesses. Meanwhile, the private economic sector needs to have joint plans and actions on corporate rights and obligations, he added.
Nguyen Quang Vinh, Vice Chairman of the Vietnam Business Council for Sustainable Development, said the achievement of the 17 SDGs depends much on businesses' actions. He noted that the number of companies making sustainability reports has doubled over the last five years.
However, Vinh admitted that most enterprises have trouble in their approach to the SDGs while the global awareness of sustainable development remains low. Businesses' influence in the sustainable development process is still modest.
To do better business for a better world, it is crucial to support enterprises to combine the SDGs with their development strategies and gear the financial system towards sustainable investment orientations, Vinh said.
SMEs need to improve transparency for easier access to capital
Information transparency is one of the key factors that help small and medium enterprises (SMEs) get funding from credit institutions, said experts at a conference on financial solutions for SMEs held by the State Bank of Vietnam in Hanoi on October 5.
Can Van Luc, an expert in finance and banking, said SMEs are classified as those with an average number of employees covered by social insurance in the preceding year of no more than 200 each. Besides, their total capital in the preceding year should not exceed VND100 billion (US$4.4 million) and turnover in the preceding year not higher than VND300 billion.
There were about 590,000 operational SMEs in Vietnam as of late 2016, with 68% of them micro enterprises.
SMEs mainly get funding from the State budget, foreign investment, stocks and bonds, business partners, credit, and their own capital. 
Luc said many SMEs lack access to finance, which hinders their growth. The reason is that SMEs are not attractive to credit institutions because they have poor credit and high operating costs.
Credit institutions have not had specific products and services for SMEs, and complicated procedures have caused slow capital disbursement.
According to Luc, most SMEs have poor business governance and lack transparency, use obsolete technologies and unskilled laborers, and are unable to meet the banks' lending criteria. Besides, they lack business strategies, strong brand, competitive products, assets as mortgage, risk insurance, and deep understanding of financial policies.
Hoang Thi Hong, chairwoman of the Small and Medium Enterprise Development Fund (SMEDF) under the Ministry of Planning and Investment, said SMEs need to make their information transparent if they want to get access to financial support. The most important information that credit institutions need before they make lending decisions include the SMEs' total assets, owner's equity, annual revenue and profit, and business performance.
Hong suggested SMEs actively work with credit institutions, create effective business plans, enhance their understanding of the Government's financial and supporting policies, cooperate with each other, and improve management skills.
For credit institutions, they should launch products and services aligned to SMEs' specific characteristic, with simple lending procedures and favorable interest rates.
According to Doan Duy Khuong, vice chairman of the Vietnam Chamber of Commerce and Industry (VCCI), SMEs account for 97% of Vietnam's total number of enterprises and 45% of the country's gross domestic product (GDP). They contribute 31% to the State budget, and employ over five million workers.
Tien Giang's fishermen enjoy bumper catch
Fishermen of the Mekong Delta province of Tien Giang have caught nearly 80,000 tonnes of seafood since the start of the year, a rise of 2.2 percent year-on-year.
The figure represented 80 percent of the province's plan of catching 98,000 tonnes of seafood this year.
Local authorities have encouraged local fishermen to build new, high-capacity vessels, to prepare modern equipment and to raise their efficiency.
Tien Giang boasts a coastline of 32 kilometres and holds great potential for the fishery sector.
Bad debt stands at 2.51 percent in late July
The banking sector's total bad debts stood at 2.51 percent as of the end of July 2017, falling from 2.55 percent at the end of 2015, according to a report by the State Bank of Vietnam (SBV) to the National Assembly.
Saigon Giai Phong daily cited the report as saying that total settled bad debts in 2016 was 118.5 trillion VND (5.2 billion USD), according to the bank, adding that the figure in the first half of this year was 46 trillion VND.
As part of efforts to realise a National Assembly resolution and a Prime Ministerial decision on tackling bad debts, the SBV has issued a number of guiding documents and directed the implementation of the policies.
Credit institutions are also building plans for the work with measures matching their reform plans.
The SBV has also worked with six banks and the Vietnam Asset Management Company (VAMC) to implement bad debt settlement measures mentioned in NA Resolution 42/2017 QH14.
The VAMC has also finalised the project to restructure and enhance its capacity in 2017-2020.
Precision engineering show draws businesses from 19 nations, territories
Visitors to the fifth International Precision Engineering, Machine Tools and Metalworking Exhibition and Conference
Around 175 enterprises from 19 nations and territories are attending the fifth International Precision Engineering, Machine Tools and Metalworking Exhibition and Conference (MTA), which kicked off in Hanoi on October 11.
According to BT Tee, General Manager of UBM VES – the organiser of the exhibition, the exhibition takes place in the context that Vietnam's mechanical sector is developing rapidly and has gained outstanding achievements.
Therefore, the event, the largest and most comprehensive edition ever since its inception in 2010, is expected to serve as a venue for businesses to meet, exchange technologies, seek cooperation opportunities and expand their markets.
It sees the participation of foreign top-notch enterprises in the manufacturing industry such as include Big Daishowa, Beijing Jingdiao, Carl Zeiss, Doosan Infracore, Mitsubishi Electric, and Nikon, together with those from Vietnam such as Cybertech, Tinh Ha, Bibus, and Van Su Loi.
The three-day MTA HANOI 2017 is expected to draw almost 5,000 trade visitors from about 15 countries and regions. The previous edition, held on April 26-28, 2016, attracted more than 4,600 foreign trade visitors.
The similar exhibition was organised in Ho Chi Minh City on July 4-7.
Quang Ninh's economic growth sets record
The northern province of Quang Ninh's economic growth set a record of 9.6% in the first seven months of the year, which is the highest figure over the recent five years. 
The northern province contributed VND21,000 billion to the State budget. The total retail sales and services revenues, tourism and social investment witnessed respective growths of 16.5%, 25% and 10.6%. 
Quang Ninh Province has been listed among top five localities in the Provincial Competitiveness Index (PCI) over the recent years.
The PCI on Viet Nam's business environment conducts an annual business survey, assessment and ranking of the economic governance quality of provincial authorities in creating a favorable business environment for development of the private sector.
In the upcoming time, the province heads to strengthen State management on tourism, land and environment, tackle environmental pollution issues, complete key infrastructure projects as well as take measures to fight smuggling and trade fraud. 
13 ministries join hands to tackle obstacles for businesses
The Ministry of Science and Technology and 12 related ministries and agencies will join hands to eliminate at least 50% of goods in Group 2 subject to specialized inspection measures before customs clearance.
A conference is being organized from October 11-13 in the northern province of Vinh Phuc, which attracts the participation of 13 ministries and agencies and other associations and professionals. 
Earlier on August 9, 2017, the Government issued Resolution No. 75/NQ-CP, assigning the Ministry of Science and Technology to cooperate with other relevant ministries and agencies to check and reduce at least 50% of goods in Group 2 subject to specialized inspection measures before customs clearance.
The Government assigned the Ministries of Industry and Trade, Transport, Agriculture and Rural Development and Health to lessen the proportion of imported goods under inspection at customs clearance from 30-35% to 15%. 
The goods in Group 2 are products and commodities that threaten safety and affects human health. 
After the presentation of the Ministries of Transport, Culture, Sports and Tourism, Labor, Invalids and Social Affairs and Natural Resources and Environment on reviewing the list of goods in Group 2 and other legal documents, open discussions will be organized. 
Ministry of Industry, Trade simplifies administrative procedures in seven sectors
The Government has issued Resolution No. 100/NQ-CP on simplification of administrative procedures and citizenship papers related to the population management under the charge and management of the Ministry of Industry and Trade. 
The administrative procedures in seven sectors will be simplified, including electricity, chemical safety, industry explosion materials, import-export, transaction office, emulation and reward and international trade. 
Earlier, Minister of Industry and Trade (MoIT) Tran Tuan Anh signed Decision No. 3610a/QĐ-BCT promulgating plans to reduce and simplify investment and business conditions in State management in the 2017-2018 period.
Accordingly, 675 business and investment conditions were cut down, 63 conditions higher than the expected plan and equivalent to 55.5% of the total conditions. After the reduction, the remaining conditions are 541.
Can Tho leader orders review of logistics capacity
A plan for improvement of logistics services in the Mekong Delta city of Can Tho should be based on the state of the sector to devise workable development solutions, said Truong Quang Hoai Nam, vice chairman of the city.
Nguyen Minh Toai, director of the municipal Department of Industry and Trade, has presented a draft plan on developing logistics services in Can Tho until 2025.
Toai said the municipal government is working on the plan following the Prime Minister's Decision 200/QD-TTg on the action plan for improvement of competitiveness and development of Vietnam's logistics by 2025.
Toan said the plan is to lure investors into logistics infrastructure projects in Can Tho in a bid to enhance connectivity between the city and other parts of the country; set up some large-scale logistics businesses; and support enterprises to develop logistics in a modern and professional manner to guarantee competitiveness.
He also mentioned the use of new technology and the organizing of training courses for employees to prop up trade and restructure enterprises in the sector.
Having taken the draft plan into consideration, the city's vice chairman Truong Quang Hoai Nam expressed his dissatisfaction with the plan, saying relevant districts should review the sector.
"It is vital to assess the current situation of grass-roots logistics so that (we) can improve capacity," Nam said.
He said the plan's cornerstone is to transport goods, especially from the outlying districts of Co Do, Thoi Lai, Phong Dien and Vinh Thanh to key consumption places in the quickest and most economical way.
He asked relevant agencies to check the whole system comprising logistics, warehouse areas, and roads among others between now and December.
New regulations on banking guarantees for home purchases
The State Bank of Việt Nam has issued a circular to amend Circular No 07/2015 on bank guarantees.
Under the Circular No 13/2017, which will take effect on November 15, commercial banks must issue guarantees for buyers of future property within 10 days from the date the real estate purchase contract is signed.
The guarantee means that banks would implement financial obligations to the buyers on behalf of the housing developers in case they fail to hand over the property before the committed deadline without adequately refunding the advances.
The maximum guaranteed amount would be equal to the amount the developers are allowed to receive in advance from the buyers.
Banks eligible to provide a guarantee for home purchases must meet two requirements. Firstly, their establishment and operation licences should have regulations on guarantees and secondly, banks are not banned from providing guarantees in the period of being under special control.
The central bank will announce eligible banks for providing guarantees for future home purchases on its website. Banks that are removed from the list must still continue to implement its guarantees until the validity of the agreements.
The central bank on Tuesday announced that two more banks, Woori Việt Nam and CIMB Việt Nam, are eligible to provide a guarantee for home purchases.
More than 30 banks in Việt Nam are now eligible to provide guarantees for future home purchases.
Sacombank seeks shareholders' nod to transfer listing to HNX
Sài Gòn Thương Tín Comercial Joint Stock Bank (Sacombank), currently listed on the HCM City Stock Exchange as STB, is seeking shareholders' approval to transfer its listing to the Hà Nội Stock Exchange under new code SCM.
Accordingly, Sacombank will cancel its registration of STB at the Việt Nam Securities Depository Centre (VSD), delist from the southern bourse, re-register SCM at VSD and finally list SCM on the Hà Nội Stock Exchange.
This may come as a surprise to investors because the code STB has been associated with Sacombank for the past 11 years.
Sacombank was the first bank to launch its IPO at the initial price of VNĐ200,000 (US$8.8) per share in 1996 and also the first to list on the national bourse in July 2006.
In 2012, STB was included on the VN30, which consists of the largest stocks by market capitalisation.
However, in 2015-16, Sacombank struggled with a huge stockpile of bad debts.
It was only in May this year that approval was granted for the 10-year restructuring plan of Sacombank.
Dương Công Minh, who became chairman of Sacombank on June 30, 2017, has been speeding up efforts to resolve bad debts.
In the first nine months of this year, Sacombank announced it handled bad debts worth VNĐ2 trillion and posted pre-tax profit of VNĐ900 billion, even higher than its targets for the full year.
Vietnam's soft drink exports to the ROK rise
Vietnam's soft drink export to the Republic of Korea (RoK) has increased 7 folds over the last four years as tropical fruit drink meets the taste of many Koreans.
According to the Korean Agro-Fisheries Trade Corp (aT), this fourth largest economy in Asia imported US$250 million worth of soft drinks last year, where US$103.7 of the value were paid to Vietnam.
A representative from aT stated that Vietnamese soft drinks have become more popular in the RoK.
Besides Vietnam, the RoK has also imported soft drinks from Thailand, the US, Germany and China.
The RoK has been the third-largest trade partner of Vietnam only after China and the US since the Vietnam-RoK Free Trade Agreement (VKFTA) came into force in December 2015. In the first half of this year, the two countries' total import-export value reached US$29.1 billion, rising by 45.5% against the same period last year. Products, which enjoy tax incentives obtained high growth, such as seafood (up to 28%) and fruit and vegetables (up to 12%).
Hung Yen lures 182 investment projects in nine months
The northern province of Hung Yen attracted 182 investment projects in the first nine months of 2017, up 44 percent year-on-year, according to local authorities.
In the period, registered capital of domestic and foreign projects reached more than 12 trillion VND (528.12 million USD) and more than 145 million USD, respectively.
The province is currently home to 1,619 projects, with total registered capital exceeding 110 trillion VND (4.84 billion USD) and 3.6 billion USD.
Lam Dong has more high-tech flower, vegetable growing project
The People's Committee of the Central Highland province of Lam Dong has approved a new high-tech flower and vegetable growing project.
The Dalat Hasfarm Company, Da Lat City will invest 337.5 billion VND (15 million USD) in the agricultural project on 29.4 hectares in Phuc Tho commune, Lam Ha district.
The project, including 21.2 hectares of greenhouses and other auxiliary facilities, is expected to be operated by January 2020.
It project to supply 400 tonnes of vegetables, 50 million flowers and about 250 million flower seedlings per year for domestic and international markets.
HCM City set for biennial int'l woodwork fair     
Riding on its successful performance two years ago as Asia's leading exhibition of wood processing solutions for the furniture sector, the biennial Viet Nam International Woodworking Industry Fair (VietnamWood) will return to HCM City with greater momentum from October 18 to 21.
VietnamWood has managed to gather world-class suppliers to provide the optimal manufacturing solutions needed to bolster the growth of the woodworking industry and market in Viet Nan.
Seven international pavilions at the exhibition set up by the US, France, China, Germany, Sweden, Taiwan, and Canada will bring in a large diversity of woodworking machines and components.
Many suppliers of high-performance woodworking machinery and equipment from Europe, America, Oceania and Asia will gather under one roof to constitute a one-stop business trading platform for woodworking players looking to upgrade their operations.
Organised by the Viet Nam National Trade Fair & Advertising Company (Vinexad) and Yorkers Trade & Marketing Service Co, it will be held at the Saigon Exhibition and Convention Centre.
Veg, fruit exporters must up safety standards     
Vietnamese exporters of fruits and vegetables must improve hygienic standards of their products to avoid technical barriers imposed by the EU market, experts said at a meeting held on Monday in HCM City.
The meeting, organised by the Ministry of Industry and Trade and the European trade policy and investment support project (EU-Mutrap), discussed ways to expand the export market for Vietnamese fruit and vegetables.
Nguyen Huu Dat, secretary general of the Viet Nam Fruit and Vegetable Association, said the country could face technical barriers if it failed to meet the EU's food safety and hygiene standards.
Asian markets remain the top destination for Vietnamese products, followed by the EU, which has imported 680,000 tonnes of vegetables, fruits, flowers and other farm produce this year.
The EU requires growing standards for shade net houses as well as international certifications in plant quarantine and product traceability, Dat said, adding that exporters should leverage their strengths in the processing of vegetables, fruits and nuts.
Dam Quoc Tru, consultant for the EU-Mutrap project, said sanitary and phytosanitary (SPS) standards within the framework of WTO regulations were designed to protect the health of humans, animals and plants from risks associated with hazardous species, additives, contaminants, toxins or disease-causing organisms contained in food, drinks, plants and products.
To minimise negative impact on trade, the agreement sets out principles to guide the development and enforcement of SPS measures, based on international standards, guidelines and recommendations.
The Ministry of Industry and Trade, Tru said, should propose potential markets for export as well as negotiate with other countries on plant quarantine measures.
It should also develop market access strategies and focus on major markets where Vietnamese products have advantages, such as dragon fruit, longan, rambutan, pomelo and mango.
Concentrated production areas for key export products are needed, and policies on investment in technology for plant quarantine should be created to meet the requirements of importing countries, according to Tru.
Ruggero Malossi, international consultant for the EU-Mutrap project, said that Europe required high standards on food safety, including the limited use of pesticides, traceability, marketing standards, labeling and packaging and contaminants.
"Strict compliance with the maximum pesticide residue level and the prevention of microbial contamination are pre-conditions for entering the European market," he said. "Products containing illegal pesticides or higher amounts than allowed will be withdrawn from the EU market."
Malossi told Viet Nam News that buyers in several EU member states use higher maximum residue levels than what is officially regulated. Most supermarkets have their own standards (codes of practices) regarding pesticides, which are often stricter than legal regulations.
Fresh products have to comply with general marketing standards as well, according to Malossi.
To avoid negative impact on the quality of food and risk to human health, the EU has set limits for several contaminants, especially nitrate and metals.
Contaminants are substances that have not been intentionally added to food, but may be present as a result of various stages of production, packaging, transport or holding.
The EU-Mutrap project, which began in 2012 and ends in 2018, with a total investment of 16.5 million euros (US$19.45 million), aims to promote Viet Nam's integration into global, ASEAN and sub-regional trading systems and enhance EU-Viet Nam trade and investment relations.
For the first nine months of the year, the export value of Vietnamese fruits and vegetables is estimated to be around US$2.64 billion, 44.2 per cent higher than the same period last year, according to the Ministry of Industry and Trade.
The export value is expected to increase to $3 billion by the end of this year, the ministry said. Viet Nam exports vegetables and fruits to 60 countries and territories.
Sustainable development's good for business     
A focus on sustainable development is good for business, and enterprises should see it as critical for long-term growth, Vu Tien Loc, Chairman of the Viet Nam Chamber of Commerce and Industry (VCCI), said on Tuesday.
Therefore, they should intensify their search for solutions to address sustainability challenges, he said at the Viet Nam Corporate Sustainability Forum held in Ha Noi.
"The task becomes especially important in the context of rapid international integration," he added.
Sustainable development would not just bring social and environmental benefits, it would also generate business opportunities, Loc said.
Citing the "Better Business – Better World" report prepared by the Business And Sustainable Development Commission, he said sustainable development would create a market worth US$5 billion and generate 230 million new jobs in Asia by 2030.
Viet Nam is one of 193 United Nations members that have adopted the 2030 Agenda for Sustainable Development, including 17 sustainable development goals (SDGs).
Kamal Malhotra, United Nations Resident Coordinator in Viet Nam, said Viet Nam faced challenges that stem from growth that tended to be less inclusive. Businesses play a vital role in addressing the issue, and they have to find innovative solutions towards achieving the SDGs, he added.
Vo Tuan Nhan, Deputy Minister of Natural Resources and Environment, also stressed the importance of businesses, saying they would be the core force in implementing the SDGs.
"The public and private sectors should continue enhancing co-operation to successfully adapt to climate change impacts and contribute to policies, resources and solutions needed to achieve the SDGs," Nhan said.
Besides climate change challenges, the boom in population was also posing a threat to global food security, the forum heard.
Deputy Minister of Agriculture and Rural Development, Ha Cong Tuan, said that it was critical for Viet Nam to develop a sustainable agriculture sector, because it would bring significant opportunities for the country that has abundant farming advantages.
Sustainable agriculture must reach three goals, Tuan said.
The first goal is to establish a value chain, improve competitiveness and create favourable conditions for investment and building national brands. The second goal is to improve living standards alongside poverty alleviation and the third is to attach agricultural production to environmental protection.
"Sustainable agriculture is an imperative that requires the participation of both Government agencies and businesses," Tuan said.
Nguyen Quang Vinh, VCCI's Deputy Secretary General, said business support for the SDGs was stronger than assumed during the past two years, with hundreds of firms and multinational corporations pioneering sustainable business models in Viet Nam.
"However, the pace of implementation needs to be accelerated," Vinh said.
"Businesses should incorporate the SDGs into their strategies. They should be proactive in enhancing competitiveness, grasping opportunities, renovating and applying advanced business models, especially solutions to sustainability challenges for long-term rather than short-term benefits," he said.
Vinh also said that the VCCI's Viet Nam Business Council for Sustainable Development would soon establish a centre for circular economy (restorative and regenerative as opposed to the linear take-make-dispose economy), which would help businesses scale up zero-waste models at a time natural resources are being exhausted.
Representatives from multinational corporations, including Heineken and Unilever, shared information about innovative solutions that they have come up with to facilitate the implementation of SDGs.
Tran Vu Hoai, vice president of Unilever Vietnam's Corporate Affairs and Sustainable Development, agreed that SDGs should be embedded in business strategies and operations, and that it would bring new opportunities for business development.
Four discussion panels were organised at the conference yesterday afternoon: developing human capital to achieve the SDGs; circular economy; Corporate Sustainability Index; and transparency and integrity in doing business. 
Investors spurn Ba Ria-Vung Tau's IZs     
Industrial zones (IZs) in southern Ba Ria-Vung Tau Province have encountered difficulties in attracting investment due to complicated administrative procedures, insufficient infrastructure facilities and high land rental fees.
The province is currently home to 15 IZs, covering a total area of 8,510ha. Only nine of them are, however, already operational while the remainder are under construction, according to local authorities.
These zones have to date attracted 294 projects, including 143 foreign-invested projects, with combined registered investment capital of US$14.69 billion.
However, only a few of the zones which have favourable geographic locations and complete infrastructure, such as Dong Xuyen, Phu My 1, My Xuan A2 and My Xuan A, reported positive occupancy rate of 90 per cent while the others have seen a much lower rate.
Vo Tuan Cuong, deputy director of My Xuan B1 Tien Hung IZ, outlined prolonged administrative procedures as the biggest concern of enterprises when investing in the province's zones.
Recently, a South Korean investor canceled its project in the zone as the firm did not have the patience to complete all procedures even after it had transferred the deposit to his company, Cuong said.
Over the past 13 years, his zone has lost many other investors, including those from Japan and Taiwan, due to the same reason, he said, adding that shortening the time needed for investment licensing must be recognized by local authorities as necessary for survival.
"We expect the province to have solutions to shorten the time for investment licensing to 7-10 days to facilitate investors, " Cuong told Vietnam News Agency.
Higher land rental fees in Ba Ria-Vung Tau's IZs compared with neighbouring provinces also made investors hesitate, authorities acknowledged.
Land rental fees for 50 years in the provincial zones have become quite high, ranging from $40 to $70 per square metre, much higher than the average rate of $18-45 per square metre in other locations such as Dong Nai and Binh Duong.
Head of the provincial IZs Management Board Nguyen Anh Triet said the current land rental fees are decided by the zones' infrastructure developers instead of his board, which is eligible to make recommendations.
"The current high rental fees affect the zones' ability to attract investment," he said.
Meanwhile, Nguyen Anh Tuan, general director of Sonadezi Chau Duc JSC, investor of Sonadezi Chau Duc IZ said, his firm faced challenges seeking investors due to the province's restricted areas for investment in sectors such as paper, dyeing and footwear, while some others such as plating, fertilizer production and industrial detergents were not recognized as the province's prioritized sectors.
Over the past years, many foreign companies have visited the zone to survey and explore investment opportunities in these reviewed sectors, Tuan explained.
To address these difficulties, secretary of the provincial Party Committee and chairman of the People's Council Nguyen Hong Linh at a recent meeting, said that the province would focus on assisting investors to speed up compensation, site clearance and perfecting the zones' infrastructure to improve occupancy rate of the zones.
The province would change its mindset on attracting investment. If enterprises were committed to focus on environment protection, the province would reconsider granting investment licences.
In a positive move, provincial People's Committee vice chairman Nguyen Thanh Long has approved the province's Department of Planning and Investment's proposal to slash the time for investment licensing by 15 days, instead of the earlier 35 days.
He also asked relevant sectors to foster administrative reform to better facilitate investors.
Workshop updates tech trends for start-ups
Start-up enterprises could seek a number of opportunities to apply latest technologies to reform their business models at a workshop held in Hanoi on October 10 as part of the TECHFEST 2017.
The workshop aims to connect experts, small-and medium-sized enterprises (SMEs) and start-ups to create sustainable value chains.
Chief executive officers (CEOs) of start-up firms as well as investors and young tech enthusiasts had a chance to talk with leading experts and update information in new tech trends.
The workshop is also intended to raise local investors' awareness about high technology and help CEOs from various fields realise the likelihood of the application of technology in their spheres.
It was also an ideal opportunity for CEOs, investors, start-ups, and experts to network, share and learn from others' experiences.
The Techfest Vietnam 2017 is scheduled to take place in Hanoi in mid-November to promote the start-up ecosystem in Vietnam and link domestic and international start-ups via luring investment for start-up firms, providing policy consultancy on innovation, honouring start-ups and organisations for active contributions to the start-up community. 
The 2016 Techfest attracted nearly 170 investors and more than 3,000 visitors.
With young population, Vietnam is working towards becoming a start-up nation in the Asia-Pacific Economic Cooperation (APEC). The Government targets to have one million effective enterprises by 2020.
Reference exchange rate revised down
The State Bank of Vietnam revised the daily reference exchange rate for VND/USD down by 8 VND to 22,459 VND on October 11.
With the current trading band of  +/-3 percent, the ceiling rate applied to commercial banks during the day is 23,133 VND and the floor rate 21,785 VND per USD.
The prices of USD at major commercial banks almost remained unchanged, with Vietcombank and Vietinbank keeping their 10 rates from the previous day.
The greenback is being traded at 22,690 VND (buying) and 22,760 VND (selling) at Vietcombank and Vietinbank.
Meanwhile, BIDV kept its buying rate at 22,690 VND and cut its selling rate by 15 VND to 22,760 VND per USD.-
Deputy PM Trinh Dinh Dung meets ExxonMobil Vice President
Deputy Prime Minister Trinh Dinh Dung has asked the Ministry of Industry and Trade, the National Oil and Gas Group, and the US's ExxonMobil to speed up negotiations on the development and exploitation of the Ca Voi Xanh (Blue Whale) gas field.
At a meeting with Paul Greenwood, ExxonMobil Vice President for Gas and Power Marketing in Hanoi on October 10, the Deputy PM lauded the firm for its engagement in the project, which is significant to ensuring national energy security and operating thermal power plants in the central region.
He reaffirmed the Vietnamese Government's commitment to creating optimal conditions so the project could start pumping gas out from the Ca Voi Xanh field in 2023.
For his part, Greenwood said that the project is important for ExxonMobil in fostering cooperation with Vietnam in exploiting and producing oil and gas products.
He gave some proposals on removing obstacles for the firm and the Vietnamese side to soon reach the final agreement.
The Ca Voi Xanh field is about 100 km east of the central coast. The Prime Minister has recently approved the construction of four gas-fired power plants in Quang Nam and Quang Ngai with total capacity of 3,000MW using gas from the field. The PM has also agreed to use part of the gas exploited from the field to develop the oil refinery industry.
Vinh Phuc province invites investors in India
The Embassy of Vietnam in India and the Confederation of Indian Industry (CII) held a seminar in New Delhi on October 10 to introduce business opportunities in the northern province of Vinh Phuc. 
Speaking at the event, Chairman of the HiTech Group of Companies Deep Kapuria said India is now the 25th largest investor in Vietnam and hoped that Vinh Phuc will offer all possible support to Indian investors in the locality. 
In his speech, Vietnamese Ambassador to India Ton Sinh Thanh said 2017 marks the first year that Vietnam and India have embarked on comprehensive strategic partnership and the 45th anniversary of bilateral diplomatic ties. 
India's foreign direct investment in Vietnam doubled in 2015 and surged 64 percent in 2016. In the first eight months this year, the amount increased 5 percent from the same period last year to 98.7 million USD. 
The figure has so far reached 2.91 billion USD in 152 projects across sectors, placing India the 15th out of 116 countries and territories investing in Vietnam. India is currently the 10th largest trade partner of Vietnam while Vietnam ranks 25th out of 230 trade partners of India. Among the 10 ASEAN member states, Vietnam is the second largest importer of India. 
In January-August, two-way trade soared 42 percent year-on-year and is likely to top 10 billion USD in 2017. 
Thanh said Vinh Phuc is one of the top 10 provinces in terms of competitiveness index and ranks second in the north thanks to favourable geographical location and transport. 
Chairman of the Vinh Phuc provincial People's Committee Nguyen Van Tri said as of the late September, Vinh Phuc was home to 253 projects from 16 countries and territories worth in excess of 3.8 billion USD, three of them valued at 8 million USD were from India. 
Vinh Phuc calls for Indian investment in automobiles, motorbikes and electronic spare parts, software, pharmaceuticals, urban development, hotels, ecological tourist and entertainment areas, education-training, health care, clean agriculture, infrastructure in industrial parks, clean water supply, wastewater and industrial and household sewage treatment, he said. 
Indian enterprises and investors expressed their interest in business environment in Vietnam and Vinh Phuc in particular and found out more about local potentials, strengths and incentives.-
Automobile sales drop 7 percent in September
The Vietnam Automobile Manufacturers' Association (VAVA) on October 10 reported that automobile sales in September drop 20 percent compared to the same period last year and 4 percent over the previous month.
Among total 21,216 units of vehicles sold in September, 11,637 were passenger vehicles, down 7 percent; 8,700 commercial cars, unchanged sales; and 879 special-purpose vehicles, up 4 percent.
Particularly, sales of domestically-assembled automobiles were estimated at 14,739, a fall of 5 percent, while 6,477 imported vehicles were sold in the month, down 2 percent month on month.
In the first nine months of 2017, total sales were 198,253 units, a drop of 8 percent year on year. Both passenger and commercial vehicles saw a fall of 7 percent, while sales of special-purpose cars declined 18 percent.
Sales of domestic-assembled vehicles also slumped 28 percent, while that of imported vehicles rose 8 percent.
September was the fourth consecutive month that the automobile market suffers sale decrease, following a drop of 6 percent in August, 27 percent in July and 0.2 percent in June.
Experts held that major reason behind the situation is a cut of 10 percent in car import tax to 30 percent in early 2017, along with customers' trend of postponing their purchase to wait for lower automobile prices as car import tax from ASEAN country is expected to reduce to zero percent in 2018.
The Ministry of Finance has proposed an exemption of special-consume tax to domestically-produced auto parts to create equal environment for domestically-assembled and imported cars.
France's Olmix inaugurates feed additives plant in Binh Duong
The Olmix Asialand Vietnam, an affiliate of France-based Olmix Group inaugurated an animal feed additives plant with an annual capacity of 5,000 tonnes in Song Than 2 industrial park in the southern province of Binh Duong on October 10. 
It is the first plant of Olmix Group in Asia with a total capital of 2 million EUR. It is built up to Europe's Quality and Safety System for Specialty Feed Ingredients standards.
In the first stage, it plans to churn out 5,000 tonnes of feed additives, equivalent to 15,000 tonnes of animal feed to serve Vietnamese and Asian markets. 
During the second stage, it will raise the total capacity to around 5 million tonnes of feed additives. 
Trinh Quang Thanh, Director of the Olmix Asialand Vietnam company, said the move aims to turn the firm into one of the top three vet medicine and feed additives suppliers in Vietnam. 
Olmix specialises in manufacturing feed additives and vet vaccines using natural algae-based technology. Over the past 22 years, it has spread operations globally and offered solutions for nutrition, hygiene and health of plants, animals and humans to more than 100 countries worldwide. 
Third Mekong Connect to take place in Ben Tre
The third Mekong Connect 2017 will be held on October 25-26 in Ben Tre city, the Mekong Delta province of Ben Tre, focusing on seeking measures to make full use of advanced technology to optimize the value of local products, the organizing board announced on October 10.
Themed "Developing local resources in association with technology strength," the economic forum will be a platform for domestic and international scholars, policy makers and businesses to share stories about promoting local resources to help the region seek new development orientations.
Held by the Vietnam Association of High Quality Products and the People's Committees of four Mekong Delta localities of An Giang, Ben Tre, Can Tho and Dong Thap, the forum will focus on how to promote local products such as coconut of Ben Tre, rice of Can Tho, fish of An Giang, and lotus and tourism of Dong Thap.
Vu Kim Hanh, President of the Vietnam Association of High Quality Products said that this year, the forum will draw representatives from 500 Vietnamese firms, 100 foreign-invested businesses, and 20 international business organisations.
They will discuss the formation of a value chain for each product, the commercialization of the products, changes due to technology development and arising problems.
The event will also help connect local businesses and foreign partners.
Nguyen Huu Lap, Vice Chairman of the Ben Tre People's Committee said that the province has more than 70,000 hectares of coconut farm and the coconut processing industry earns 200 million USD from exports each year.
However, Lap said that the local government is seeking links with other localities to make full use of advanced technology to increase the value of coconut products, including coconut milk.
Tra Vinh: Most SMEs unaware of environment responsibility
Most of small- and medium-sized enterprises (SME) in the Mekong Delta province of Tra Vinh are not yet aware of the social corporate responsibility and responsibility to protect the environment, according to a recent survey.
The manager of the Tra Vinh SME Development Project and the Tropical Environmental Institute announced findings of their survey on awareness of environmental protection and adaption to climate change among the local SMEs on October 10.
Statistics show that more than 1,900 enterprises and over 60,000 household businesses are operating in Tra Vinh, with the SMEs accounting for 98 percent.
According to the institute's deputy director Le Anh Kien, a majority of the SMEs do not acknowledge the linkages between business and the environment and climate change, so that there is an urgent need to change the way they think and act towards the environment.
The two organisations suggested several solutions to raise their awareness of the issues, including the launch of training courses run by state agencies to educate the businesses on laws on environmental protection, land, water resources, and workplace safety and hygiene. They also advised the increase in inspection and stricter penalties in environment-related violations.
The Tra Vinh SME Development Project, underway from 2014 to 2020, is provided a financial support of 12.1 million CAD from Canada, benefiting about 200 businesses and 194,000 people in the province.
Vinamilk expects its Q3 revenue at 591 million USD
Vietnam's largest dairy producer Vinamilk (HOSE: VNM) has estimated its third-quarter revenue at 13.3 trillion VND (591 million USD).
The figure represents an increase of 8.4 percent over the same period last year.
The company also forecast pre-tax profit to rise 5.66 percent to 3.2 trillion VND and post-tax profit to rise 5.46 percent to 2.69 trillion VND.
In the past three quarters, Vinamilk estimates 38.75 trillion VND in revenue and 8.54 trillion VND in post-tax profit, a year-on-year increase of 10.34 percent and 13.6 percent, respectively.
The largest dairy producer targets to hit 51 trillion VND in revenue and 9.73 trillion VND in post-tax profit for 2017.
The nine-month performance would help Vinamilk complete 76 percent and 88 percent of its targeted figures for 2017.
According to Viet Dragon Securities Company (VDSC), Vinamilk could earn 11 trillion VND in post-tax profit.
Shares of Vinamilk (VNM) closed October 10 down 0.3 percent at 148,500 VND per share.
VN-Index edges up at the last minute
Shares rose slightly for a second day on the HCM Stock Exchange this week but the rally was recorded in the last trading minutes thanks to recovery of some large-cap stocks.
The benchmark VN-Index closed October 10 up 0.21 percent at 810.65 points. It inched up just 0.14 percent on October 9.
Major bank stocks continued to advance, backing up the market's sentiment.
Vietcombank (VCB), the biggest listed lender by market value, increased 0.63 percent. VPBank (VPB) rose 1.5 percent, while Military Bank (MBB) picked up 0.7 percent.
However, Vietinbank (CTG) and Eximbank (EIB) fell 0.5 percent and 1.7 percent, respectively and Sacombank (STB) and BIDV (BID) closed flat.
According to analysts at Vietnam Investment Securities Co (IVS), the market seemed to wait for the leadership of the banking group. 
When this group weakened, the market declined but when big banks like Vietcombank and Military Bank advanced, the market rebounded.
This momentum helped the VN-Index surpass the 810 point benchmark.
"However, the over-reliance on bank stocks which have already risen sharply to over the valuation area will restrain the VN-Index to advance further," IVS analysts wrote in a daily report.
Moreover, money flows on October 10 focusing mainly on high-value large caps also affected the overall market movement.
In the VN30 basket (which tracks the top 30 largest shares by market value and liquidity), 14 gained and 10 lost. Besides banks, big gainers included VinGroup (VIC), Mobile World Group (MWG), steelmakers Hoa Phat Group (HPG) and Hoa Sen Group (HSG) and IT firm FPT Corp (FPT).
On the defensive side, dairy giant Vinamilk (VNM), Saigon Securities Inc (SSI), PV Gas (GAS), Kido Group (KDC), DHG Pharmaceutical (DHG) and Kinh Bac City Development Holdings (KBC) were among the losers.
"The market may again have to rely on bank stocks for another advance. The VN-Index will likely move around 810 points but the stocks rising on October 10 may be under profit-taking pressure," IVS analysts forecast.
Liquidity decreased sharply with 183.2 million shares worth total 3.7 trillion VND (162.7 million USD) traded on the two exchanges, down 19 percent in volume and 16 percent in value compared to October 9's figures.
Foreign investors remained net sellers in the two markets on October 10 with net sell value of 83.4 billion VND, lifting the two-day net sell value to 528.4 billion VND.
VIP Infrastructure offloads 11.3 million CII shares
Singapore-based VIP Infrastructure Holdings Pte Ltd has completed the sale of 11.3 million shares of HCM Infrastructure Investment JSC (CII), reducing its ownership from 8.76 per cent to 4.17 per cent.
The Singaporean firm is no longer a major shareholder of CII, the Vietnamese company announced on Tuesday.
The transaction was conducted between September 25 and October 6.
At a price of some VNĐ32,000 per share at the time, the divestment was valued at more than VNĐ360 billion (US$16 million).
Compared with the peak of over VNĐ40,000 per share in March, CII's price has lost some 20 per cent of its value. However, the share has still gained 14.3 per cent since the beginning of this year.
VIP Infrastructure Holdings Pte Ltd is 100 per cent owned by Philippines' Ayala Corporation, which invested in CII from 2012.
According to CII, due to changes in the accounting policy in the Philippines, Ayala wanted to divest partly from CII before October 31 to book this profit in its financial statement.
In a related development, Ireland's DC Developing Market Strategies Public Co Ltd has registered to buy two million CII shares between October 3 and November 1.
CII reported revenue of some VNĐ1 trillion in the first half of this year, about a two-fold increase over the same period of last year. Its net profit reached VNĐ1.6 trillion, seven times more than the same period last year and exceeding the net profit target for the whole of 2017.
CapitaLand Vietnam wins GoHome Awards 2017
CapitaLand Vietnam won "Best Overseas Property Developer (Vietnam)" at GoHome Awards 2017 in Hong Kong, standing out from a crowd of accomplished competitors.
Following changes in the law allowing foreign ownership of real estate in Vietnam announced in July 2015, CapitaLand Vietnam was amongst the first to tap into the international appetite for Vietnamese residential property by marketing its residential developments in Hong Kong.
Chen Lian Pang, CEO of CapitaLand Vietnam, said, "While local Vietnamese make up about 80 per cent of our buyers in high-end projects, the remaining 20 per cent comprise of foreigners with the majority hailing from Singapore and Hong Kong. Our past overseas launches have been well received and the company will continue to bring relevant projects to overseas markets."
GoHome.com.hk is Hong Kong's leading online property platform which focuses on providing value-adding property search for residential, commercial, serviced apartments, interior design projects and related information in Hong Kong and the ASEAN countries since 1999.
The true essence of the GoHome Awards is to encourage the industry elite to set new benchmarks that improve and nurture the industry as a whole. 
The annual awards ceremony, which has been run for the past seven years by property portal GoHome.com.hk, a member of REA Group, recognizes leaders in the property industry for their contribution and performance.
The annual GoHome Awards has become a highly-anticipated event amongst key industry players and has been credited as one of the most prestigious awards within the industry.
Over the years, nearly 100 companies and corporations have received this award for their outstanding achievements and professionalism across various industries.
The awards were presented by Dr. Lawrence Poon Wing-cheung, JP, chairman, Board of Education at the Hong Kong Institute of Surveyors, and senior lecturer at the Faculty of Building Science and Technology of City University of Hong Kong, and Francis Fong, founding and honorary chairman of the Hong Kong Association of Interactive Marketing.
Vung Ang 1 power plant caught red handed
PetroVietnam was found in violation when it ignored the prime minister's directive by permitting the management board of Vung Ang 1 thermal power plant to buy nearly one million tonnes of illegal coal to produce electricity, according to newswire Labour.
Located in Ky Anh town of Ha Tinh province, Vung Ang 1 thermal power plant was invested by PetroVietnam with an initial investment capital of VND22.25 trillion ($976.8 million). As of April 2016, the investment capital was at VND33.57 trillion ($1.47 billion).
The plant has a designed capacity of 1,200MW with two 600MW turbines and was expected to use an annual volume of 2.9 million tonnes of coal to produce electricity. In September 2015, the first turbine came into operation.
Previously, in late 2012, the Ministry of Industry and Trade (MoIT) approved the scheme on supplying coal for thermal power plants. Vung Ang 1 was listed in the group of plants using domestic coal.
However, in April 2015, PetroVietnam permitted the management board of the plant to sign a coal import contract with Hoanh Son Group. However, during the negotiation and signing of the contract, PetroVietnam failed to report to MoIT.
In August 2015, the PM issued Directive No. 21/CT-TTg assigning MoIT to approve the plan of supplying coal for electricity production. Accordingly, the PM asked EVN and PetroVietnam to buy domestic coal from Vietnam National Coal-Mineral Industries Holding Corporation Limited (Vinacomin) and Dong Bac Coal Corporation.
However, PetroVietnam ignored the PM's directive and arbitrarily continued to permit the Vung Ang management board to sign the two appendixes with Hoanh Son to supply an additional 600,000 tonnes of imported coal to Vung Ang 1.
Furthermore, in the document that PetroVietnam submitted to MoIT on September 11, 2015 to report on coal supplies for Vung Ang 1, the coal purchase contract with Hoanh Son was not mentioned.
Thereby, according to the contents of the contract, between May 2015 and January 31, 2017, Hoanh Son supplied 790,931 tonnes of coal worth more than VND1.5 trillion to Vung Ang 1.
Along with the violation in ignoring the PM's directives to use domestic coal for electricity production, PetroVietnam also failed to supervise the origin and quality of the coal supplied by Hoanh Son.
FTA boosts Russia and Belarus deals
One full year after the entry into force of the Vietnam-Eurasian Economic Union Free Trade Agreement, the union has boosted the local establishment of automobile and industrial joint ventures and the exports of both sides.
Belarusian Ambassador to Vietnam Vladimir Goshin said the agreement (VEAEUFTA) has benefited local businesses in Belarus, one of the union's five members along with Russia, Kazakhstan, Armenia, and Kyrgyzstan. The pact has strengthened Belarus' strategic plan to co-operate with Vietnamese partners via joint ventures to produce goods, which will be consumed in Vietnam and exported to other ASEAN markets.
"We consider Vietnam our big springboard to consolidate our strong foothold in Southeast Asia," Goshin  said at last week's press conference on the trade deal's one-year anniversary.
The VEAEUFTA, inked on May 29, 2015, took effect on October 5, 2016.
He revealed that later this year, a Vietnam-Belarus joint venture will put a factory into operation to manufacture and assemble Minsk MAZ-branded trucks in the northern province of Hung Yen, with an annual capacity of 1,500 units.
"Following the FTA, other Belarusian projects concerned with making urban buses and processing milk products will also be implemented in Vietnam in the near future," Goshin said. "The truck- and bus-making projects will be deployed on a pilot basis. Many other Belarusian firms are also planning to invest in Vietnam's industrial sector via joint ventures, from which they can transfer know-how and high technology to Vietnamese partners."
Russia is also pushing its plans to invest in Vietnam to cash in on the FTA's benefits.
Russian automaker GAZ Group said its commercial vehicle lines have enjoyed tax reductions since October last year. GAZ used to be famous in Vietnam with brand names such as Volga or GAZ 53 and 69. With the tax exemption, GAZ is hoping to renew its local trade.        
Under the FTA, lorry import tariffs will be reduced from a current average of 17 to 0 per cent by 2025.
Since last October, the firm has been exporting completely-built units and spare parts to Vietnam thanks to the FTA, according to Andrey Kuznetsov, commercial development director of GAZ.
Other auto firms such as Ulyanovsky Avtomobilny Zavod and KAMAZ are also preparing to export their vehicles to Vietnam in the near future.
It is expected that from now until 2019, the tax reduction will enable each Russian auto exporter to save more than $50 million per year.
"In the near future, there will be many joint ventures between Vietnam and Russia and between Vietnam and Belarus operating in the sectors of machinery and goods production in order to meet the demand of ASEAN markets. This will create many new jobs for Vietnam," said Mukai Kadirkulov, Minister of Customs Co-operation under the Eurasian Economic Commission. "Not only firms from Russia and Belarus, but also those from Kazakhstan, Armenia, and Kyrgyzstan are planning to seek investment opportunities in Vietnam thanks to the FTA."
The FTA has also significantly increased trade co-operation between Vietnam and the union.
Kazakhstani Ambassador to Vietnam Beketzhan Zhumakhanov stated that from October 2016 to July 2017, Kazakhstan-Vietnam trade turnover more than doubled. In this year's first eight months, the figure hit $365 million – with Kazakhstan earning $193 million from exports to Vietnam, and spending $172 million purchasing Vietnam's goods – almost equalling the two countries' trade turnover of $366 million in all of 2016.
According to the commission, from October 2016-July 2017, the turnover gained from the union's exports to Vietnam grew more than 32 per cent year-on-year, while the turnover from Vietnam's exports to the union increased 28 per cent year-on-year.
Russia's trade representative in Vietnam V.N. Kharinov reported that in this year's first seven months, Russia-Vietnam trade turnover expanded by 20 per cent to $2.5 billion, thanks to the FTA.
"In this year's first seven months, the two countries' foodstuff trade turnover doubled year-on-year to $420 million. Russia's foodstuff and pharmaceutical exports to Vietnam increased by 10 and four times, respectively," he said.
VNA/VNS/VOV/SGT/SGGP/TT/TN/Dantri/VNEVET