Uber, Grab rankle Vinasun shareholders
Last update: 11:13 | 11/10/2017
In the last three years, ride-hailing applications Uber and Grab have decimated the business of local taxi firms. Now, taxi companies' foreign shareholders are feeling the pain.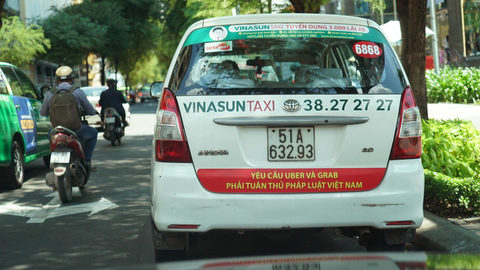 One of the most affected companies is Vinasun, which mainly operates in the south and has VND678.6 billion (US$30.16 million) in charter capital. According to the economic and financial news site cafef.vn, Vinasun has reported slower growth rates in both net revenue and profit since the two apps entered Viet Nam in mid-2014.
From 2010-15, Vinasun's net revenue increased from over VND1.64 trillion to VND4.25 trillion. The HCM City-based taxi company also recorded that its post-tax profit grew from VND179.4 billion to VND329.3 billion. In 2016, however, the company's net revenue grew at a slower pace to reach VND4.5 trillion, while its post-tax profit fell to roughly VND312 billion.
In the first half of 2017, Vinasun performed even worse as its net revenue dropped 16 per cent year on year to VND1.9 trillion and its post-tax profit declined by a third to VND100 billion.
In the past nine months the company also had to cut its payroll by nearly 8,000 employees, down to about 9,200 from 17,170 in 2016. The 2016 figure represented an increase by a fifth from around 14,200 employees in 2013.
Much of the downward trend in Vinasun's business is attributed to strong competition since Uber and Grab entered Viet Nam in 2014, cafef.vn reported.
A large number of drivers that were removed from Vinasun's payroll have turned to work for Uber and Grab.
Lower performance in recent years has sent shares of Vinasun on the HCM Stock Exchange down by 51 per cent from the record high of VND37,580 ($1.67) per share in early December 2014. Vinasun's shares, listed under code VNS, closed Tuesday at VND18,450 per share.
Over time, the fall of Vinasun's shares has caused big losses for shareholders, especially the two Singaporean investment funds TAEL Partners and Government of Singapore (GIC), as those two funds started investing in Vinasun in 2013-14 when the company was at its strongest.
In late 2013, TAEL Partners bought three million shares of Vinasun, equal to a 6.9 per cent stake, via a private placement at VND45,000 per share.
In 2014, TAEL Partners increased its ownership in Vinasun to 18.3 per cent, equal to more than 12.4 million shares, becoming the biggest shareholder of the company.
Cafef.vn reported that the total value of purchases made by TAEL Partners was VND383 billion. As shares of Vinasun have dropped 51 per cent in value, TAEL Partners' investment in the taxi firm has lost 40 per cent, and is now worth VND221 billion.
GIC bought 4.5 million shares of Vinasun in August 2014, equal to a 7.96 per cent stake, for VND203 billion, and its ownership in the taxi firm has remained steady since then.
At the moment, the value of VNS shares held by GIC is around VND96 billion, down 53 per cent from the initial figure. 
VNS